VietNamNet Bridge – Residents living alongside a river in Can Tho City have put coconut trunks around an area wrecked by landslides during the past month to protect their houses.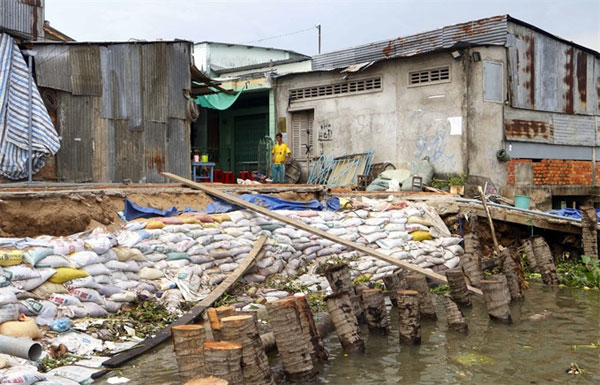 Residents in O Mon District in Can Tho City use coconut trunks to prevent high tides, a key cause of landslides on the bank of the local O Mon River. — VNA/VNS Photo Thanh Liem
Seven landslides hit the city's O Mon District since the beginning of the year, two of them along the banks of the O Mon River, due to high tides.
The latest one occurred on May 10 near the Rach Vam Wharf, on a stretch of river bank in Thoi An Ward, tearing 15 metres of road apart and damaging a local house, which was then dismantled for safety reasons.
The same spot was hit by a prior landslide just three days before the incident, and pulled a house of a local resident down into the river, and damaged 16 other houses. Residents in two of these houses have been evacuated while the other 14 are on the verge of collapsing.
Due to the emergency, local residents bought coconut trunks with their own money and placed them in the river to make a temporary embankment that shields the spot from high tides, said resident Tran Thanh Viet.
"We have to do it ourselves while we wait for solutions from the authorities," he said. "The damage would be unthinkable, should landslides occur again."
They were able to buy enough coconut trunks after three days, at the total cost of VND20 million ($878), he added. "The spot is protected, for now."
Having been aware of the situation, Le Viet Si, chairman of the People's Committee of O Mon District, said that due to limited manpower, all efforts to prevent landslides in the district can only work on a temporary basis.
"We have also asked the city's Steering Committee for Disaster Prevention and Search and Rescue, as well as the Department of Agriculture and Rural Development, for further instructions and solutions regarding the landslides," he said.
An embankment is being built alongside the O Mon River, costing VND416 billion ($18.3 million). The construction is expected to be completed by August next year. It was also hit by a landslide on April 6, which damaged three adjacent houses.
According to Nguyen Quy Ninh, deputy chief of the Office of Can Tho City's Steering Committee for Flood and Storm Control, seasonal transitions are peak time for landslides to occur all over the city.
"We have asked the steering committees of all districts to form inspection teams to evaluate the damages caused by the landslides and propose preventive measures," he said.
The city's authorities are planning different measures, especially ones that don't involve construction, in an effort to save money.
Source: VNS