VietNamNet Bridge – An online gambling ring involving over VND100 billion (US$4.4 million) was busted in Thanh Hoa City on Tuesday.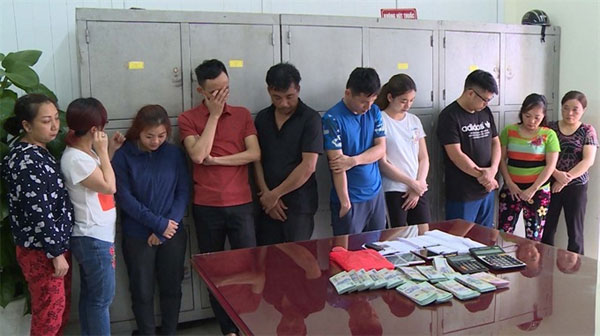 Gamblers of the illegal online gambling ring are arrested temporarily by Thanh Hoa Province's police for further investigation. — VNA/VNS Photo Duy Hung
The ring was led by 30-year-old Nguyen Tung Khanh, a resident of Tan Son Ward in the city.
The city's anti-crime police department has temporarily arrested 10 persons (six women and four men) for further investigation.
The raid and arrest were carried out by a joint team of the city's anti-crime police and local police force of Bim Son City and Thieu Hoa District.
Police raided 16 illegal gambling locations that were used by the ring and seized VND700 million in cash, 24 mobile phones and two laptops.
According to initial investigation of the police, Khang had set up the ring last March. The ring functioned through branches across the northern province of Thanh Hoa, including Hoang Hoa, Dong Son, Yen Dinh, Ngoc Lac, Thuong Xuan and Thieu Hoa districts as well as Thanh Hoa City and Bim Son Township.
The gamblers in the gambling ring kept in touch through Facebook and Zalo.
More than VND100 billion were exchanged since March.
According to the Ministry of Public Security, crimes involving the use of internet to illegally appropriate assets, organise gambling rings, trade fake invoices and launder money were becoming more sophisticated.
Source: VNS