The Ministry of Health (MoH) has proposed to raise the tax imposed on a pack of cigarettes to 2,000 VND (0.088 USD).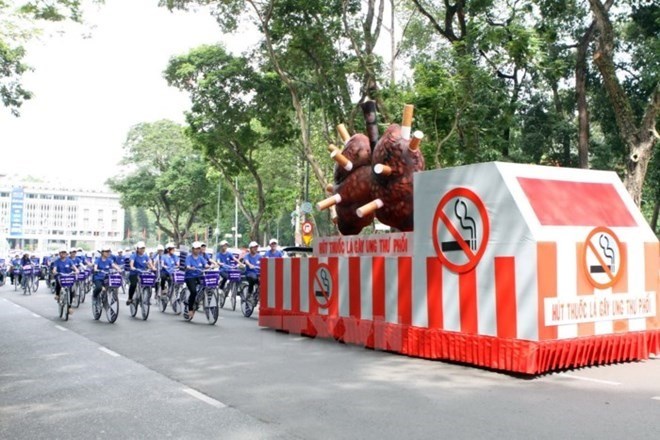 Students march to demand stronger tobacco monitoring.
Meanwhile, the draft law on Special Consumption Tax, which will come into effect in 2020, plans to put a tax of 1,000 VND (0.044 USD) on a pack of cigarettes or increase the tax from 75 to 80 percent of the tobacco's price from 2020 onwards and from 80 to 85 percent from 2021 onwards. Currently, tax on tobacco is 70 percent of their prices.
The taxation policy aims to gain an additional tobacco tax revenue of 6,300 billion VND (280 million USD) per year, decreasing the rate of male smokers by three percent and reducing 300,000 early deaths caused by smoking.
Speaking at a recent press conference hosted by the Ministry of Information and Communications, Phan Thi Hai, deputy director of the Tobacco Consequences Prevention Fund under the MoH, said in 2015, Vietnamese people who smoked spent 31,000 billion VND (1.4 billion USD) on tobacco, while the total treatment expense for smoking-related diseases was 24,000 billion VND (1.05 billion USD).
According to a report of the World Health Organisation (WHO), 40,000 Vietnamese die of smoking-related diseases annually. The number is expected to go up to 70,000 in the coming years.
Some 45.3 percent men aged 15 and above are smokers, while 56 percent start smoking before the age of 20, according to Pham Thi Hoang Anh, director of HealthBridge Canada Organisation in Vietnam.
Experts believe the low price of tobacco products is the main cause leading to its widespread use.
In 2005-06, the per capita income in the country increased 4.7 times, but cigarette prices increased only 2.2 times.
Nguyen Tuan Lam, a WHO representative in Vietnam, said that the percentage of tobacco tax on retail price in Vietnam (35.6 percent) was much lower than the world average (56 percent) and other countries in ASEAN, Thailand (73 percent) and Singapore (66 percent).
"A tax increase of 10 percent is estimated to reduce tobacco consumption by four percent in developed countries and by five percent in developing countries. It will also contribute to reducing the smoking rate among the poor and the young," Lam said. 
By increasing tax to 5,000 VND (0.22 USD) per cigarette pack, Vietnam can stop 1.8 million people from smoking, prevent 900,000 smoking-related early deaths and get 10,700 billion VND (470 million USD) in the State budget.
Many studies have indicated that the smoke from a cigarette contains more than 4,000 chemicals, of which over 200 are toxic and additives, especially nicotine.
In April, Tobacco Consequences Prevention Fund, in collaboration with Vital Strategies, an international healthcare organisation, launched a mass media campaign on the harmful effects of tobacco consumption and its prevention.-VNA