Vietnam, RoK intensify environmental cooperation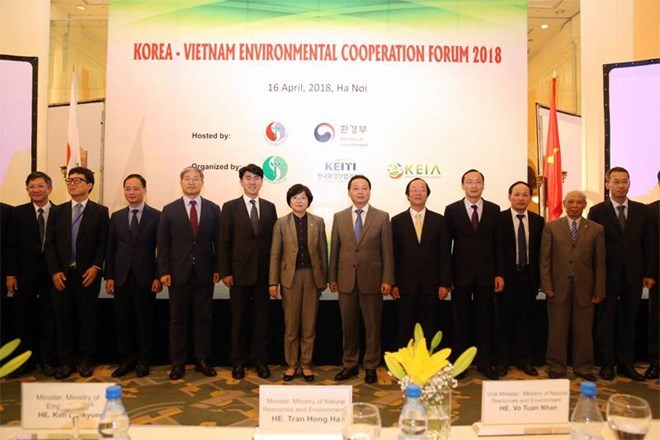 Delegates to the forum. 

Vietnam's central province of Ha Tinh and the Korea Environment Industry and Technology Institute (KEITI) will cooperate to implement a project on building a master plan on improving the sewage system and river water quality in Ha Tinh. 

A memorandum of understanding (MoU) to this effect was signed within the Korea-Vietnam Environmental Cooperation Forum in Hanoi on April 16.

Addressing the forum, Vietnamese Minister of Natural Resources and Environment Tran Hong Ha described the Republic of Korea (RoK) as one of Vietnam's most important strategic partners in environmental protection. 

Vietnam and the RoK are aware of the significance of enhanced bilateral cooperation in environmental protection, in order to ensure sustainable development of both sides, he said. 

The two countries have agreed to expand the bilateral collaboration through the exchange of experience and information, and the transfer of technologies relating to environmental protection and settlement, the minister noted. 

At the same time, they have committed to coordinating at international, regional and sub-regional forums to share viewpoints and consult each other in relevant spheres of mutual concern, according Ha. 

Minister of Environment of the RoK Kim Eun-kyung expressed her hope that state management and environmental research agencies, environmental protection associations and businesses of Vietnam and the RoK will actively exchange information and experience in management, promote technological transfer, and propose specific cooperation projects. 

The forum focused on investment and environment policies in Vietnam and the RoK, investment attraction policies in Ha Tinh, sewage system and river water quality in the province, and environmental technologies in the RoK.

Can Tho wishes to boost cooperation with France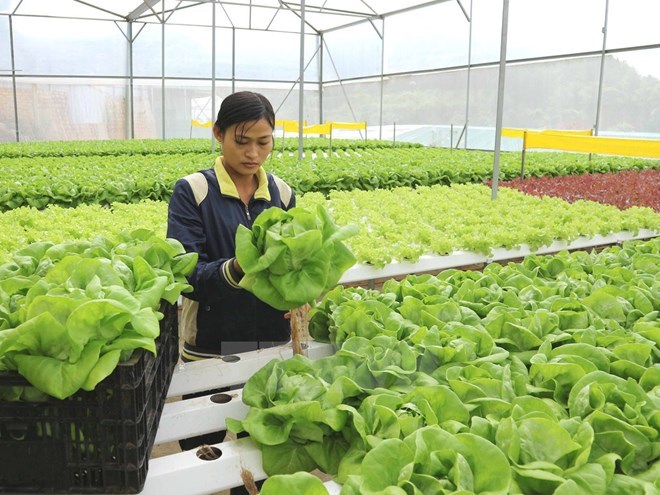 The Mekong Delta city of Can Tho wants to promote cooperation with France in the fields of hi-tech agriculture. 

The Mekong Delta city of Can Tho wants to promote cooperation with France in the fields of hi-tech agriculture, infrastructure, medical equipment and education.

At a working session with French Consul General to HCM City Vincent Floreani on April 16, Secretary of the municipal Party Committee Tran Quoc Trung highlighted a French-funded project to equip medical equipment for the city's General Hospital with a total investment of over 22 million EUR, 19.5 million EUR of which comes from the French Government's loans.

Another project to build Can Tho river embankments in response to climate change, with over 19.5 million EUR in loans from the French Government, has helped the locality deal with river bank erosion and flooding, beautify its urban landscape and promote tourism development.

The city leader wished that the French Consul General will act as a bridge to bring French investors, art troupes and tourists to Can Tho, he said, adding that the city is calling for investment in such areas as infrastructure, transport, health, education and tourism.

The guest was urged to support Can Tho in accessing official development assistance (ODA) sources from the French Government so that the city can build more embankments and bridges, upgrade and buy modern equipment for hospitals and train more health workers.

For his part, Vincent Floreani spoke highly of the recent gigantic development of Can Tho in various fields. On the basis of the fine diplomatic ties between the two nations over the past 45 years, France will encourage its businesses to land investments in Can Tho and its localities to set up twin relations with the city.

The same day, the French delegation had a working session with the University of Can Tho and the municipal Department of Education and Training on cooperation programmes in the field, including French language training in Can Tho, exchange of lecturers and postgraduates, and scholarship granting.

Conference seeks joint efforts in supporting drug addicts to access treatment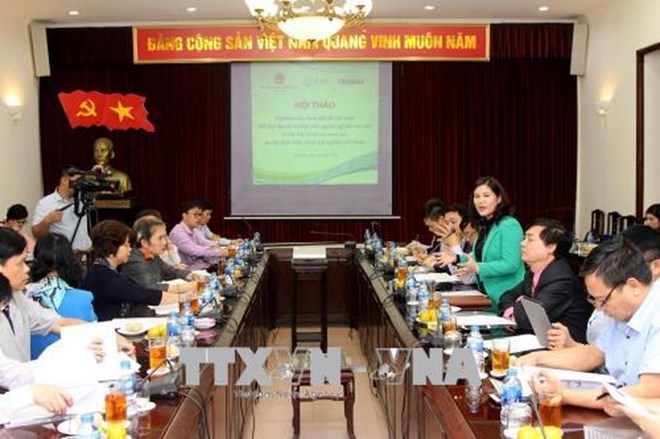 At the conference 

A conference was held in Hanoi on April 16 to discuss a model to provide psychological support and consultations for drug addicts before the court gives decisions on compulsory detoxification methods to them.

Deputy Minister of Labour, Invalids and Social Affairs Nguyen Thi Ha said that detoxification and rehabilitation for drug addicts have been implemented synchronously across the country, while legal documents for the work have been completed.

Many modern models in the world have also been applied in Vietnam, she added.

She noted that as of 2017, Vietnam had over 220,000 drug addicts from walks of life and at different ages, including 100,000 receiving treatment.

However, the number of synthetic drug addicts has continued rising requiring new and more effective treatment methods, she stressed.

Ha suggested that participants discuss possible difficulties and advantages as the model is piloted in Hanoi and Ho Chi Minh City. 

Vu Huy Hoang from the US Substance Abuse and Mental Health Services Administration (SANHSA) held that the model can help improve treatment service quality for drug addicts, while helping controll HIV/AIDS by connecting drug addicts to healthcare services as well as ARV treatment.

The model aims to strengthen coordination among justice, healthcare, social agencies as well as the community in assisting drug addicts in accessing and strictly following healthcare, social and judicial services in the community, thus reducing the relapse risks.

Tuyen Quang: over 116 billion VND allocated to ethnic minorities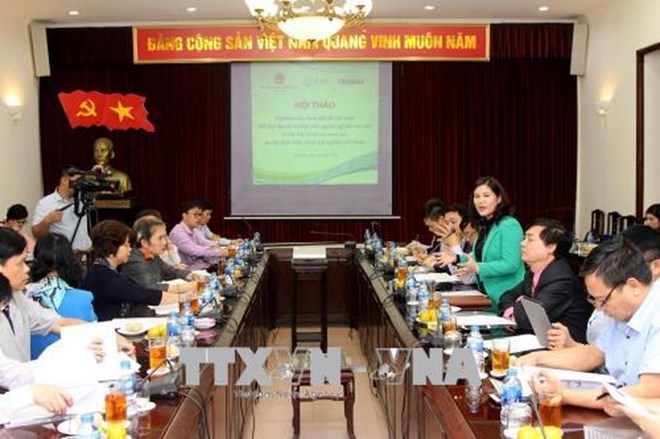 The northern mountainous province of Tuyen Quang has decided to invest over 116 billion VND (5.1 million USD) in 2018 to help people in specially disadvantaged and ethnic minority-inhabited areas build infrastructure, develop production and diversify their livelihood. 
Of the total, over 115.6 billion VND (5.1 million USD) is sourced from the State budget. 
Accordingly, more than 86 billion VND (nearly 3.8 million USD) will be used in infrastructure development such as transport, irrigation systems and cultural houses. 
Livelihood diversification and poverty reduction will get more than 20 billion VND (880,000 USD). Meanwhile, nearly 10 billion VND (440,000 USD) will be used to maintain facilities and improve capacity of the public and local officials. 
The targeted localities comprise Lam Binh, Na Hang, Chiem Hoa, Ham Yen, Yen Son and Son Duong districts. 
Tuyen Quang has 699 villages and hamlets in special difficulties, with ethnic minority groups making up nearly 54 percent of the province's population. 
The province has implemented special policies to support socio-economic development in ethnic minority-inhabited and mountainous areas from 2018-2020.
Japanese firms, Vietnamese students join exchange
At the exchange between 17 firms from the Japanese region of Kyushu and Vietnamese students 

An exchange between 17 firms from the Japanese region of Kyushu and Vietnamese students in five local universities took place in Fukuoka prefecture on April 14. 

Students are from Kyushu University, Ritsumeikan Asia Pacific University, the Japan University of Economics, the Kyushu Institute of Information Sciences and Kyushu Industrial University. 

The event, the second of its kind, enabled students to learn about job opportunities while affording Kyushu firms a chance to recruit qualified students. 

This year, the number of participating firms rose three-fold, namely Kyushu Electric Power, AEON Kyushu, Kyushu Engineering and Okura hotel. Meanwhile, the number of students at the event also doubled. 

The exchange was an annual activity of the Kyushu – Vietnam Friendship Association to introduce companies in Kyushu and upcoming projects in Vietnam, as well as attract more Vietnamese students to local firms after graduation. 

The event was co-hosted by the Kyushu – Vietnam Friendship Association, the Vietnamese Consulate General in Fukuoka, the prefecture administration and the Kyushu Economic Federation.

Continuous efforts to tackle war-left bombs, mines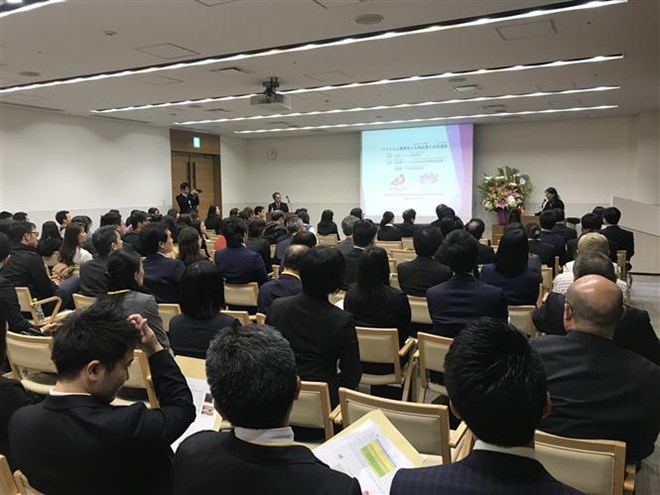 Vietnamese, French researchers explore wide-ranging partnerships

Professor Nguyen Van Minh, Director of the Hanoi National University of Education, speaks at the seminar 

The time-honoured relations and age-old educational and cultural exchange have allowed many Vietnamese and French researchers to explore long and short-term cooperation in the fields.

"French culture and education have made curtain influence on the fields of Vietnam, in terms of architecture, literature, language, among others," Professor Nguyen Van Minh, Director of the Hanoi National University of Education said at a scientific seminar themed "Vietnamese – French cultural exchange: Achievements and perspective".

Meanwhile, Professor Michel Espagne, Director of the French National Scientific Research Centre (CNRS) and Director of the LABEX-TransferS under the École Normale Supérieure said "young French scholars and researchers are increasingly interested in Vietnam's academy and scientific studies". 

French is significant in Vietnam as a significant part of archives in Vietnam are in French and there are many renowned Vietnamese writers who write and publish their books in French, which inspired generations of French writers, according to the professor.

Etienne Rolland-Piegue, Counselor for Cultural and Cooperative Affairs of the French Embassy, who is also Director of the French Institute in Vietnam, described 2018 as a special year for Vietnamese – French cultural exchanges.

"A new approach to studies on Vietnam is taking shape in France," he said, adding that numerous scientific studies were carried out in history, social sciences, humanity, archeology, political science and literature.

Vietnamese and French scholars, lecturers and researchers are seeking to form and develop the international research groups in education, social sciences and humanities from this seminar, and for the bigger aim of contributing to the development of Vietnamese-French strategic partnership. 

Professor Minh reiterated that the traditional relations between Vietnam and France were mainly on culture and education, expecting that the seminar and others in the future will help enhance the reputation of French language.

The two countries' researchers will deal with a wide range of topics, such as educational studies; literature and linguistics; philosophy and religion; history, archeology, ethnology and anthropology; arts; sociology, psychology and social work. 

"We can learn from each other," Professor Michel Espagne said. "The exchange and comparison of orientations of Vietnamese and French scientists can create new knowledge and new studies."

The two-day event, co-hosted by the Hanoi National University of Education and the Paris-based École Normale Supérieure of France, was opened on April 16 in coincidence with the 45th anniversary of the Vietnam – France diplomatic relations.

Vietnam and France officially set up diplomatic ties on April 12, 1973. The two nations decided to establish the Strategic Partnership in 2013.

France regards education and training as a priority in its cooperation with Vietnam, focusing on French language teaching and human resources training at tertiary and post-graduate levels in various areas like economic management, banking, finance, law and new technology.

The French Government allocates about 5 million EUR (6.1 million USD) for cultural cooperation with Vietnam each year, including support for French culture centres in Hanoi (L'Espace), Ho Chi Minh City (Institute of Cultural Exchange with France – IDECAF), Hue and Da Nang.  

As members of the International Francophone Organisation (OIF), Vietnam and France have many cooperation activities within the organisation, especially in teaching French, higher education and parliamentary activities. 

Currently, around 300,000 Vietnamese people are living, studying and working in France, 40,000 of whom have tertiary or postgraduate degrees. Many of them are working in universities, research institutes and administrative agencies of France.

Bo Luy-Lo Gach pagoda relic gets national status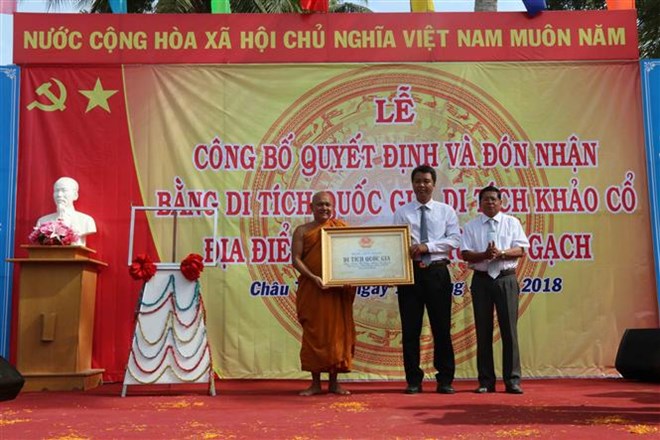 A photo of the ceremony to receive the recognition certificate held on April 16 

The relic complex of Bo Luy-Kompong Thmo pagoda, also known as Lo Gach (Brick-kiln) pagoda, in Chau Thanh district of the Mekong Delta province of Tra Vinh, has been recognised as a national archaeological site. 

A ceremony to receive the recognition certificate was held in the province on April 16.

The architectural relics unearthed at Kompong Thmo pagoda, also known as the Lo Gach pagoda, in Tra Vinh southern province, carry features from the southwest region's Oc Eo Culture, which was heavily influenced by the Indian culture, experts said following a recent excavation at the site.

Located in Luong Hoa commune, the relic site consists of two large-scale areas – one inside the pagoda's complex and the other in the vicinity.

Excavations of an area of 778 sq.m dug up six brick architectural constructions sprawling across an estimated 4,500-5,000 sq. m. 

These constructions were found to share similarities with architectural relics found at Go Thanh relic site in Tien Giang and Go Xoai relic site in Long An. 

Both sites trace back to the Oc Eo civilisation, which was well-known for its canals, temples and tombs built from bricks and stones. Gold sheets that had elephant images carved on them found at the Lo Gach pagoda and in Go Thanh were strikingly alike, as both are Buddhist architectural structures dating back to the period between the 8th and 9th centuries AD. Other findings also include remnants of earthen ramparts to the west of Lo Gach pagoda. 

Tran Thanh Thuong, Director of the provincial Department of Culture, Sports and Tourism, said local authorities will carry out a project to preserve the relic complex, aiming to build it into one of the popular destinations in Tra Vinh in the future.

Currently, Tra Vinh is home to 36 relics, including 14 national and 22 provincial sites.

Lao ethnics in Dien Bien celebrate water splashing festival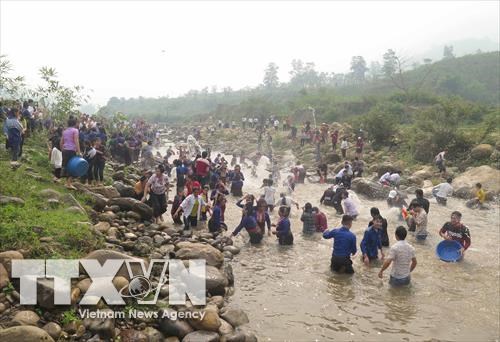 Scene at the water splashing festival 

The Lao ethnic minority group in Na Sang 1 village, Dien Bien district, the northern province of Dien Bien, organised the water splashing festival (Bun Huot Nam) from April 14-16.

Water splashing is among the rituals held during the traditional New Year festival of the Lao ethnic group that lasts from April 14 to 16 every year.

The festival is held to say goodbye to dry season, wash off bad lucks and pray for favourable weather, bumper crops, good health and luck.

The shaman and prestigious and elder people in the village make prayers, splash fragrant water, and tie threads on wrist on all locals.

The festival also includes a rain praying ritual conducted by voluble women, together with a series of folk games and traditional dance.

A typical feature of the event is a water splashing ritual which takes place in a spring in the village.

Luong Sao May, the shaman of Na Sang 1 village, said that the water splashing festival is the pride of the Lao ethnic minority group in the village.

"Through the festival, we wants to promote the cultural identity of the Lao ethnic minority group in Na Sang 1 village to people in the province and across the nation, in order to attract more tourists," she added.

The water splashing festival was recognised as a national intangible cultural heritage by the Ministry of Culture, Sports and Tourism on September 11, 2017.

Na Sang 1 village held a ceremony on April 13 to receive the certificate recognising the festival as a national intangible cultural heritage.

Remains of US servicemen repatriated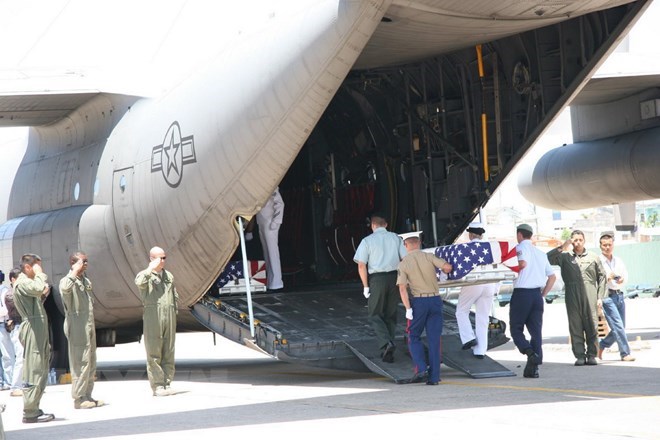 At the ceremony 

A ceremony to repatriate remains of US servicemen missing in action during the war in Vietnam took place at Da Nang international airport on April 15, according to the Foreign Ministry. 

Attending the ceremony were representatives from the Vietnamese Office for Seeking Missing Persons, US Consul General in Ho Chi Minh City Mary Tarnowka, and delegates from the Vietnamese Defence Ministry and the US MIA Office in Hanoi. 

The Vietnamese side handed over to the US side three sets of remains found during the 130th joint search from February – April 2018. Forensic experts have examined the remains and suggested sending them to Hawaii for further verification. 

Speaking at the event, a representative from the US government spoke highly of Vietnam's humanitarian policy as well as the full and increasingly effective cooperation of the Vietnamese government and people. 

It was the 143rd hand-over of remains of US servicemen missing in action since 1973.

Art performance raises funds for Vietnamese pagoda in Japan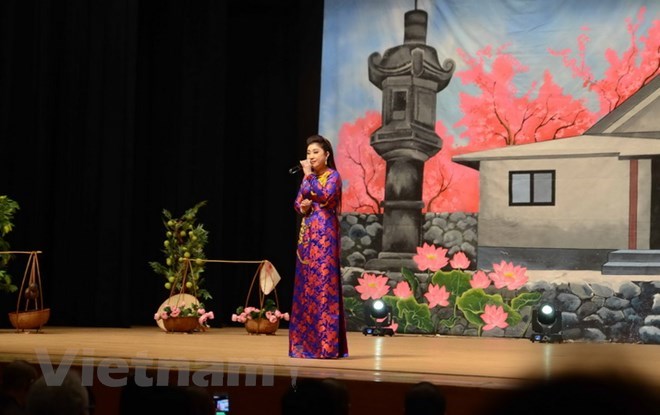 The art performance to raise funds for Dai An pagoda in Saitama prefecture
 

The Vietnamese Buddhist Association (VBA) in Japan on April 15 organised an art performance to raise funds for Dai An pagoda in Saitama prefecture.

Head of the VBA nun Thich Tam Tri said the association was selected to inherit a pagoda in Honjo city, Saitama prefecture, which covers an area of 1,500 sq.m, in late 2017. The pagoda was then renamed Dai An. 

Along with nine other Vietnamese pagodas across Japan, Dai An pagoda will provide spiritual support to the Vietnamese community in Japan in general and Vietnamese expats with difficult circumstance in particular. 

According to nun Thich Tam Tri, a lecture hall and columbarium tower will be built in the pagoda. The pagoda also plans to hold classes of Vietnamese language, contributing to preserving the Vietnamese cultural identity among the community. 

The fund raising event attracted more than 1,800 participants. A similar event event will be held in Hyogo prefecture on April 21.

At present there are around 260,000 Vietnamese people living in Japan. 

The VBA was established in 2014, represented by num Thich Tam Tri. The association has worked hard to guide Buddhists in their social interactions, and educate the younger generation on Vietnam's identities and cultural traditions. It has also become a source of spiritual support for disadvantaged Vietnamese in Japan.

Young work conditions need improving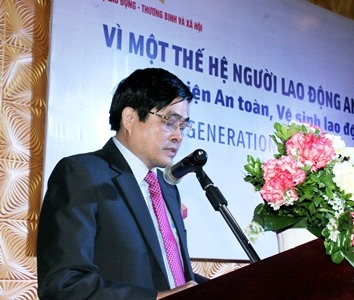 Hà Tất Thắng, director of the Occupational Safety and Health Administration, gives a speech at the forum.



Young workers face higher rates of diseases and accidents than older workers, but fatalities among young workers are less common, according to experts at the forum "For a generation of safe and healthy workers: Improving work safety conditions for young workers" held in Hà Nội on April 16.

The forum was organised by the Occupational Safety and Health Administration under the Ministry of Labour, Invalids and Social Affairs (MOLISA) and the International Labour Organisation (ILO).

The forum was held in response to the World Day for Safety and Health at Work, which will fall on April 28.

During the forum, experts exchange information and experiences related to safe work conditions for young workers, who are between 15 and 24 years old.

Hà Tất Thắng, director of the Occupational Safety and Health Administration, said that as a country with a great number of young workers, Việt Nam had issued different policies and regulations related to ensuring work safety for young workers over the past few years.

The policies and regulations state that enterprises and employers must provide training about work safety for young workers and safe work condition norms in the agricultural, forestry and fishery sectors.

"However, the country still faces challenges in preventing and limiting work accidents in general, and work accidents for young workers in particular, including challenges in improving awareness and skills on work safety," he said.

Thắng expressed his hope that during the forum, experts would find solutions to resolve the challenges and not only improve working conditions and health for young workers, but also promote sustainable work options for them.

"Efforts from the community will be connected to prevent risks and different forms of child labour," said Thắng.

Valentine Offenloch of the ILO said that more than 2.3 million people in the world died annually as a result of work accidents and diseases. Ever year, an additional 313 million people suffer non-fatal work accidents that nonetheless leave serious consequences.

Valentine suggested including content about safe working conditions in curricula in high schools and vocational schools to set up a generation of safer and healthier workers.

Young workers should be encouraged to discuss and raise their opinions about work safety, she said.

Youth and their organisations should be allowed to join the construction and implementation of work accidents and disease-preventing programmes.

Việt Nam saw more than 8,900 work accidents last year, killing and injuring more than 9,100 people, according to the MOLISA.

Mekong Delta district expands shrimp-rice farms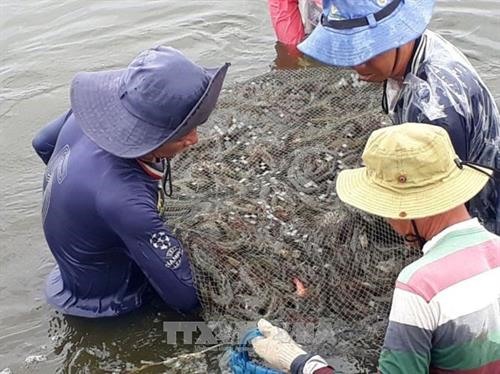 Farmers in Kiên Giang Province's Vĩnh Thuận District harvest black tiger shrimp. 


As profits rise from shrimp-rice rotation models, Kiên Giang Province's Vĩnh Thuận District plans to expand the cultivation area to a total of 10,000ha.

Under the highly profitable model, farmers use the same field to grow blue-legged prawns and white-legged shrimp in the dry season, while rice is cultivated in the rainy season.

Phạm Văn Hậu, vice chairman of the Vĩnh Thuận District People's Committee, said that breeding prawns lasts for six months and shrimp three months.

With such a schedule, farmers can harvest three crustacean crops and one rice crop a year.

The model provides an average profit of about VNĐ300 million (US$13,200) per ha per year, he said.

The district plans to expand the model in Vĩnh Bình Nam, Vĩnh Bình Bắc and Bình Minh communes, which are located along the Cái Lớn River, and in Tân Thuận Commune.

The shrimp bred under this model is considered "clean" because farmers do not use chemicals. In addition, the quality of the field soil improves and provides natural food for the shrimp.

Also, farmers no longer have to worry about selling their products as traders come to their fields to buy the shrimp.

Võ Văn Sữa, who has 3ha of land in Vĩnh Bình Bắc Commune, said he earns a profit of more than VNĐ900 million ($36,600) a year from shrimp and rice. In the past, his family bred black tiger shrimp and did not always earn a profit.

To enhance efficiency, the district will expand the market for blue-legged prawns as farmers are more willing to switch to the model when there is a stable outlet.

"Under the district's agricultural restructuring plan, the district is developing the rotation model, but many farms are still breeding only shrimp," he said. This could lead to polluted water resources and soil degradation, which could damage farms.

This year, the district will register a collective brand for its blue-legged prawn and rice planted under the shrimp-rice rotating model, he said.

Shrimp and rice are two key agricultural products in the Cửu Long (Mekong) Delta district of Vĩnh Thuận, where the soil is affected by aluminum and saltwater intrusion.

The district's blue-legged prawns are sold domestically and also exported to Cambodia. 

Last year, the district bred about 23,880ha of various kinds of shrimp with a total yield of about 12,580 tonnes, up 20 per cent against 2016.

Of the figure, blue-legged prawn accounted for 5,551 tonnes, and white-legged shrimp and black tiger shrimp the rest.

Free surgery for children with cleft lip, palate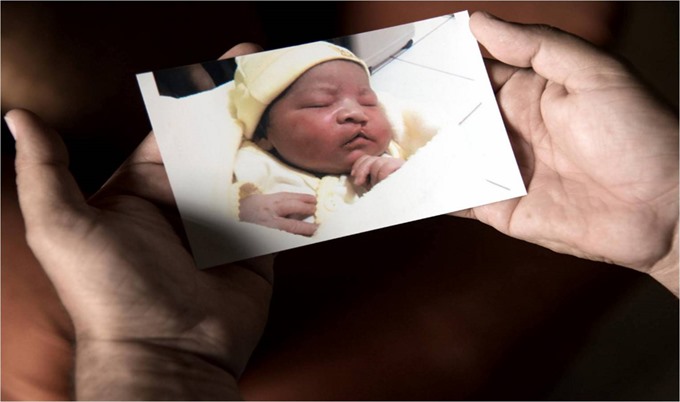 Some 80 children nationwide will be operated this month. — Photo Operation Smile Việt Nam
Vietnamese National Hospital of Odonto-Stomatology in Hà Nội and Operation Smile Việt Nam started the month with charity surgery for children born with cleft lip and cleft palate on Monday.
Some 80 children nationwide will be operated this month.
The children will be provided with free treatment, including surgery, testing, X-ray and post-operation care, until they are discharged from the hospital. They will also be given financial support.
The hospital and Operation Smile Việt Nam plan to organise eight operation programmes of charity surgery this year.
Of these, four programmes will take place at the National Hospital of Odonto-Stomatology, while the remaining will take place in Đắk Lắk, Quảng Ngãi, Phú Yên and Nghệ An provinces.
The project is expected to provide charity surgery to more than 600 children nationwide this year.
Việt Nam Red Cross, Women's Union ink collaboration deal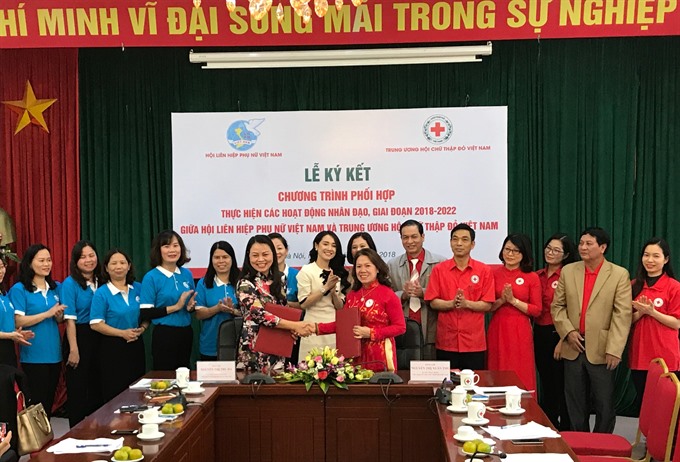 Việt Nam Red Cross (VNRC) and Việt Nam Women's Union sign a joint agreement on humanitarian activities on April 16 in Hà Nội. 


Việt Nam Red Cross (VNRC) and Việt Nam Women's Union will work together in social and humanitarian activities from 2018 to 2022 under the framework of a joint agreement.

The deal was signed in Hà Nội today.

The collaboration aims to strengthen awareness and responsibility as well as collaboration activities of the two sides in the areas of charity, healthcare for the poor and organisational development.

Under the programme, activities will be focused on implementing five major contents, including education and communication to strengthen awareness of members and volunteers on the Party's humanitarian and social welfare policies, international laws on humanity and gender equity and mobilisation sources for building humanitarian constructions and social welfare projects.

The two sides will also work together in organising public healthcare initiatives, inspection and supervision programmes on social welfare policies and implementation of a joint programme called "Companion with frontier women" during 2018-2022. 

Under the framework of the joint programme, VNRC, in collaboration with Việt Nam Women's Union and National Humanitarian Portal 1409, has launched an SMS campaign for mobilising funding for poor women living in border areas of the country. The programme also aims to raise the community's awareness on border issues and the country's border sovereignty.

People can support the campaign by texting BC to 1409 until May 26, 2018. Each text message will contribute VNĐ20,000 ($0.85) to the livelihood fund for poor women in border areas.

The programme's goodwill ambassador, actress Nhã Phương, has called on enterprises, individuals and benefactors to support poor women in the border communes in overcoming difficulties, escaping from poverty and developing household economy.

On April 17, the programme's organisation board will donate the money from the livelihood fund to the first five poor women (VNĐ10 million, or US$445 each) and provide free health check-up, medicines and gifts to 200 poor women in Phong Nặm Commune, Trùng Khánh District in northern Cao Bằng Province.