War-era bomb found in Quang Ninh
Company 319 (under the Defence Ministry) moves the MK82 bomb from the site 
A bomb and mine disposal company on April 13 safely removed a 225-kg bomb believed to be dropped by US planes in 1972 from the construction site of a highway in the northern province of Quang Ninh. 
Company 319 (under the Defence Ministry) discovered the MK82 bomb when clearing unexploded ordnance in Tien Lang commune (Tien Yen district) in preparation for the construction of the Van Don-Mong Cai Highway.  
Post-war bombs and mines have remained a daily threat in Vietnam. 
It is estimated that more than 6.1 million ha of land or 18.71 percent of Vietnam's total area are contaminated with about 800,000 tonnes of bombs, mines and unexploded ordnances (UXO) left by wars, which are scattered over all 63 cities and provinces in the country, with the central region the hardest hit.
Between 1975 and now, bombs and mines killed more than 40,000 people and injured 60,000 others. 
Each year, Vietnam decontaminates from 40,000-50,000 ha of land. However, it will take more than a century to clear all bombs and mines in the country, with an estimated cost of over 10 billion USD, excluding spending on resettlement and social welfare work in the danger zones.
Taste of Australia family BBQ to be held in Da Nang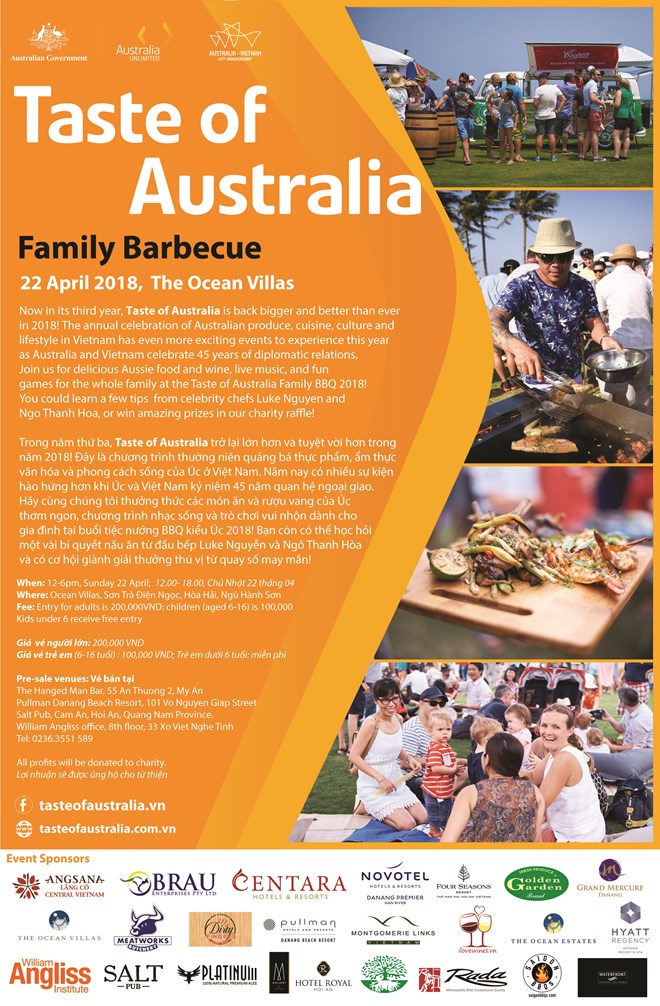 The Australian Consulate General in Ho Chi Minh City will host the annual Taste of Australia Family BBQ, a public outdoor community barbecue for the general public, Australians, Australian alumni and their families, in the central city of Da Nang on April 22.
The event, held from 12:00 to 18:00 at Ocean Villas Da Nang, is part of the Taste of Australia 2018, according to a press release of the Australian Embassy in Vietnam.
"This year, our family BBQ event will be bigger and better than ever as we are also celebrating the 45th anniversary of diplomatic relations between Australia and Vietnam," said Australian Consul-General Karen Lanyon.
Come along to enjoy delicious Australian foods, premium Aussie beer and wines and fantastic live entertainment, including Australian singer-songwriter Nick Barker, she stated.
There are also plenty of activities for the kids including a bouncy castle, slip and slide and cricket, and watch Taste of Australia Ambassador Luke Nguyen and celebrity chef Ngo Thanh Hoa battle it out in an Aussie BBQ challenge, she added.
Participants can also win free nights at 5-star resorts, golf rounds and food and wine vouchers. All profits will be donated to charity.
Farmers cash in on intercropping
Harvesting durian in Đắk Lắk Province's Krông Pắk District. 
Farmers in the Tây Nguyên (Central Highlands) region are earning high incomes from growing perennial fruit trees, which are currently in high demand.

Đỗ Quang Danh, a farmer who grows lychees and longans on a 3.5ha plot of land in Đắk Lắk Province's Ea Kar District, now earns an annual profit of more than VNĐ400 million (US$17,600).

In the past, he planted cassava and beans and earned little profit, he said.

Đắk Lắk, one of the region's leading provinces in intercropping fruit trees in coffee orchards, has more than 12,000ha of land dedicated to growing fruits, according to the provincial Department of Agriculture and Rural Development.  

Deputy Director of the province's agriculture department Huỳnh Quốc Thích said the soil and weather conditions in the province are well suited to fruit cultivation. He also said that when growing coffee and pepper, it is important to have other trees to provide shade and protect them from winds.

Fruit tree cultivation in coffee and pepper orchards has thus proven effective, he said, adding that in Gia Lai Province's Chư Pưh and Chư Sê districts, many farmers have intercropped fruit trees in their orchards.

Biện Tấn Quỳnh, who has a 3ha orchard in Chư Pưh, said: "I began to intercrop avocado, durian, passion fruit and jackfruit trees into my pepper and coffee orchard two years ago."

Last year, a few dozen of the avocado trees began bearing fruit for the first time, and this year around 100 of the trees are expected to produce fruit in his orchard.

Chư Pưh District has about 300ha of fruits that are mostly intercropped in coffee or pepper orchards, according to the Chư Pưh District's Agriculture and Rural Development Division. The district has no concentrated fruit planting area.

Deputy head of the district's agriculture division Nguyễn Long Khánh said the area of intercropped fruit trees has existed for five to seven years.

"Fruit trees are not the district's primary focus, but local authorities are encouraging farmers to intercrop with other plants to increase income," he said. 

According to statistics from Đắk Nông Province, the amount of land used for fruit trees rose from nearly 3,500ha in 2010 to 7,000ha this year.

The most popular fruits grown in the provice are durians, mangos, oranges and mandarins. Cultivation of these fruits is providing farmers with an anual profit of up to VNĐ400-500 million per hectare.      

Đắk Nông Province is committed to developing concentrated fruit growing areas for durians, mangos, avocados, passion fruit and citrus fruits.

Lê Quang Dần, deputy director of the Đắk Nông Department of Agriculture and Rural Development, said that having concentrated fruit growing areas would yield a large quantity of product, and subsequently get farmers a better deal with companies who are buying from them.

Under the instruction of local authorities, farmers have turned thousands of hectares of farmland into fruit orchards. Previously, this farmland had no irrigation facilities and was considered unsuitable for coffee tree growth.  

The Tây Nguyên region, which includes the Đắk Lắk, Lâm Đồng, Đắk Nông, Gia Lai and Kon Tum provinces, has more than 35,000ha of perennial fruits under cultivation. Local farmers are continuing to plant more fruit orchards or intercrop fruit trees in their coffee or pepper orchards.

Ties between apartment management boards and residents to be tightened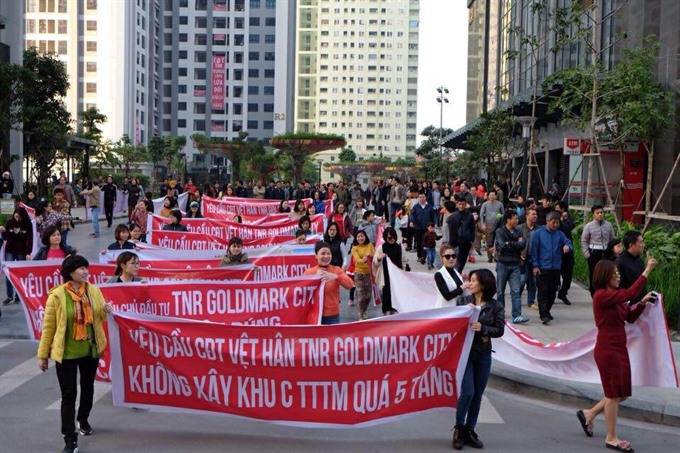 The investor of the Goldmark City project in Nam Từ Liêm District faces protests from residents for changing the design of buildings. — Photo taichinhvietnam.net.vn
Apartment management boards are meant to protect the rights of residents.

But when a dispute between residents and the board arises, things can get ugly.

Opaque financial reports are one major reason leading to conflicts between residents and managing boards.

Residents of Văn Phú Victoria project in Hà Đông District have claimed that the annual operation expenses for the building reach VNĐ17 billion (US$750,000), according to the fees they have paid.

How the money was allocated, distributed and paid remains unknown as the managing board refuses to publish it.

A resident who did not want to reveal his name told Vietnam Television he did not know who held responsibility for undertaking those reports.  

"The total amount of money paid and the sum they calculated do not match," he said.

Residents, therefore, established a supervisory team to watch out for the management board. However, the effort has borne little fruit.

"They do not listen to our opinions to improve the apartment operation. They even find means to obstruct us," said Nguyễn Văn Sơn, a team member.

As many complaints had not been heard, on April 5, an unscheduled meeting was held by residents, asking for answers from the management board.

They, once again, dodged by refusing to give an accurate assessment of financial reports.

"We will answer at the official apartment conference," said Trần Minh Tân, head of the management board.

Conflicts between residents and management boards are common in big cities, especially in HCM City.

By the end of 2017, the city has more than 140,000 apartments. Nguyễn Linh from Phú Nhuận District told Tuổi trẻ (Youth) newspaper that the management board of the complex he lived in decided the operation fees without consulting residents.

According to him, the board has never published reports on fee collection, including services, parking and cable televisions.

"Some people doubt the management board's ability to receive money to let them offer exclusive services for residents. Therefore, we have no choice but to use their services," Linh said.

Experts stress transparency and responsibility as key elements to help residents and management boards live in harmony.

Nguyễn Tiến Dũng, director of Savista Real Estate Company, said that project investors should be transparent in making apartment sale contracts and indicate public space and expenses clearly.

Nguyễn Bích Sơn, director of NPC Company, said that a common standard of living in apartment should have been developed by residents.

As Vietnamese people choose apartments based mostly on the price ranges, they have to tolerate people leading different lifestyles. Sơn recommended customers of construction projects consider living quality and style before investing in an apartment.

Investors, management boards and residents need to respect each other to solve problems, he said.

In late March, to deal with incidents happening to apartments across the city, HCM City People's Committee asked all apartments to establish management boards to ensure safety and make apartments livable for all residents. 

Lack of policies hinders digital signatures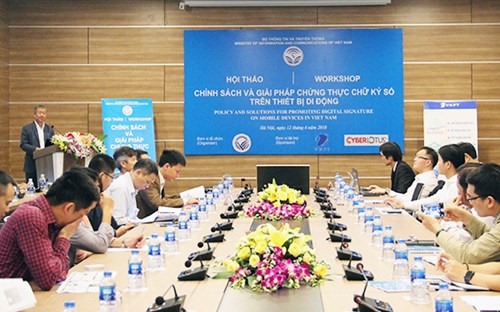 Vague regulations are hindering the use of personal digital signatures in Việt Nam despite rapidly growing demand, an official said on Thursday.— Photo qdnd.vn
Vague regulations are hindering the use of personal digital signatures in Việt Nam despite rapidly growing demand, an official said on Thursday.

Speaking at a conference on policies for digital signature on mobile devices, the National Electronic Authentication Centre (NEAC) director Lã Hoàng Trung said Việt Nam is a country with a young population where more than 70 per cent of people use mobile devices in big cities.

With everything online now, the demand for valid digital signatures in Việt Nam was huge, he said.

Trung, however, said that accounts authenticated by the NEAC to have valid digital signatures were disproportionate from businesses, with individuals accounting for less than 5 per cent.

"The main reason is there are few to none services accepting personal digital signatures while the authentication process is not available on mobile devices," he added.

"The demand is there, the technological solutions are also ready. What Việt Nam lacks is detailed regulations."

Information and Communications deputy minister Nguyễn Thành Hưng said the Government was determined to accelerate the use of information technology in agencies, businesses and all of society.

That will be impossible without the "prerequisite" condition of information security of applications, he said, adding that a mechanism to confirm the safety of an online service for both providers and customers - through digital signatures for example – was very important and necessary.

Hưng said that the Ministry of Information and Communications is drafting and will soon release or submit to higher level policies and regulations on the use of digital signatures on mobile devices.

HCM City eyes 3 transport projects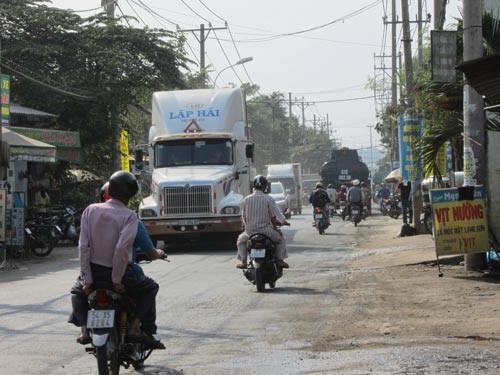 Three transport infrastructure works proposed in HCM City are expected to ease congestion on roads. — Photo nld.com
The HCM City Department of Transport has sought approval from the municipal People's Committee for three transport infrastructure works to be undertaken in build-transfer mode.

The works, including upgrades to Nguyễn Duy Trinh Street and dredging of the Tắt River in District 9 and widening of Trần Đại Nghĩa Street in Bình Thạnh District, are budgeted to cost VNĐ 6.6 trillion (US$290 million).

The District 9 works are expected to ease traffic congestion near Cát Lái Port and connect ports in districts 9 and Thủ Đức.

With an expected cost of some VNĐ4.7 trillion ($206 million), the widening of Trần Đại Nghĩa Street is expected to unclog Provincial Road 10 by sharing some of its traffic.

According to the department, feasibility reports have been done for these projects.

Nhân pockets first win in cycling race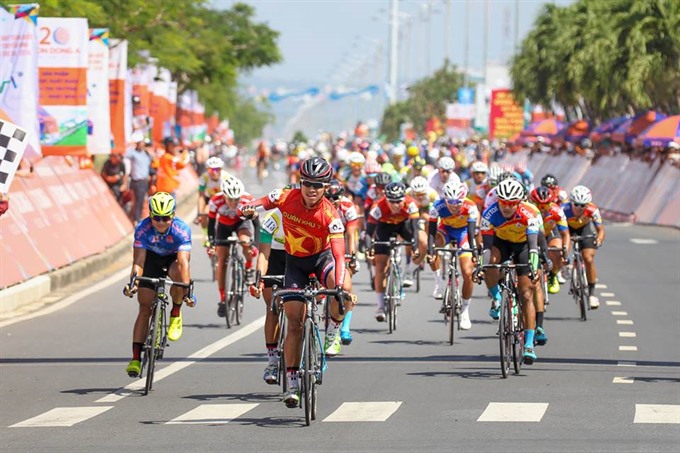 Trần Nguyễn Duy Nhân of the Military Zone 7 crosses the finish line in the 14th stage of the HCM City Television Cycling Tournament yesterday. — Photo of the organisers
Trần Nguyễn Duy Nhân of Military Zone 7 pulled off a shock to win the 14th stage of the HCM City Television Cycling Tournament yesterday.

Nhân was not fancied to triumph, with green jersey holder Lê Nguyệt Minh of Minh Giang HCM City and three-stage winner Nguyễn Thành Tâm of Hạt Ngọc Trời An Giang the favourites.

However, Nhân sprinted from behind to leave the other cyclists behind to win the 94km track from Quy Nhơn to Tuy Hòa City in Phú Yên Province in a time of two hours, 30 minutes and 10 seconds.

It was his first win in the tournament, with Tâm coming second and Minh third.

In the overall rankings, Huỳnh Thanh Tùng of Milittary Zone 7 leads with a total time of 35:49.51. Meanwhile VUS-HCM City leads the team ranking.

In the 15th stage around Tuy Hòa City, cyclists will race 40km. The stage will be aired live on HTV9, and HTV thể thao from 8am.

HCM City apartments face fire risks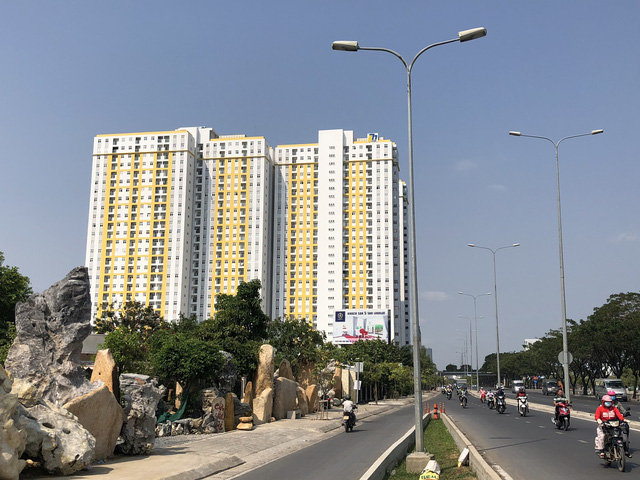 HCM City fire prevention police have announced a list of apartment buildings which have failed to meet fire safety requirements or have failed to be checked for fire safety system before being put into operation.

The list consists of eight apartment buildings in different districts in the city.  

The City Gate Towers on Vo Van Kiet Street in District 8 invested by Hung Thanh Company did not conform to the approved fire safety standards. However, residents have moved in to some 714 out of the 29-storey building's 1,092 apartments.

The Hung Thanh Company is also the investor of Carina Plaza apartment building in HCM City where the fire happened recently, causing 13 deaths and 91 injuries.

Bay Hien Towers in Tan Binh District invested in by Long Hung Phat Company faced the same problem with City Gate Tower. The investors have already let residents live in 72 apartments of the building.

Ngoc Phuong Nam in District 8 which has 25 floors with 216 apartments has not yet undergone fire safety checks, but 128 apartments have been handed over to buyers.

Nguyen Quyen in Binh Tan District, Bac Binh in Binh Thanh District, Cao Oc Xanh in District 9, Ngoc Khanh in District 5, Hung Vuong in District 5 apartment blocks all missed fire safety inspection before being put into operation.

 The HCM City's fire prevention police have asked municipal authorities to deal with the violations and instructed the Department of Construction to tighten control over construction violations in the city.

Many cars hit by stones on Hanoi-Thai Nguyen highway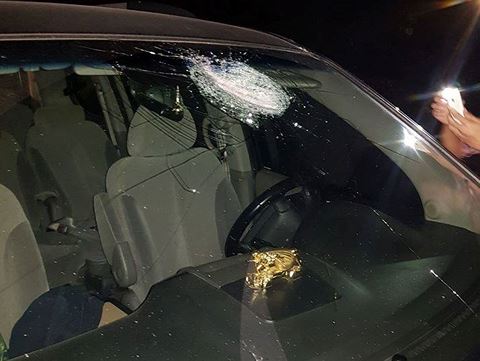 The North-South Construction and Investment Consultancy Company, which manages the Hanoi-Thai Nguyen Highway has reported that several cars were hit by stones on the evening of April 11. 
 
The company has received complaints from several drivers whose cars were broken by stones. The firm will work with management agencies to inspect the case.

Driver Nguyen Thai Vinh in Hanoi said that his car was hit by stones at around 10 pm when travelling through Van Ha Commune, Dong Anh District. Drivers of four other cars reported the same problem, Vinh added.

Early last year, a car was also hit by a big stone on the highway's section through Pho Yen Town, Thai Nguyen Province. The car which was running at 80 kilometres an hour had its windscreen seriously damaged. Luckily, people in the car were safe.

Cao Bang meets standards on education universalisation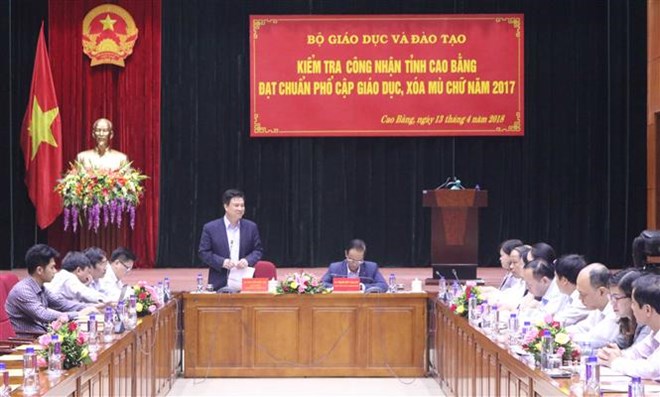 Deputy Minister of Education and Training Nguyen Huu Do speaks at the working session with Cao Bang's authorities 
The northern mountainous province of Cao Bang has been recognised to have met standards on education universalisation and illiteracy eradication in 2017. 

A delegation of the Ministry of Education and Training led by Deputy Minister Nguyen Huu Do made the recognition during a working session with the province's authorities on April 13. 

Specifically, Cao Bang has fulfilled requirements for preschool universalisation, and for primary education universalisation at second level. The province also satisfied requirements for junior high school education universalisation and illiteracy eradication both at first level. 

The standards cover the quantity and quality of teachers, along with teaching and learning facilities and equipment. 

Also in 2017, eight districts of Cao Bang completed illiteracy eradication at first level and five achieved the second level. 

Besides, all communes and towns of the province had community learning centres. 

To build up the achievement, Cao Bang will begin the assessment and classification of different education models while working to enhance the capacity and effectiveness of the network of continuing education centres. 

The province will also assess the outcomes of a project on building a learning society in 2012-2020.

Deputy Minister Nguyen Huu Do hailed the provincial administration for taking effective measures in popularising education and reforming teaching methods for better education quality and sustained outcomes of education universalisation. 

He recommended that the province prepare resources to build facilities serving the development of a learning society and pay more attention to strengthening community learning centres.
Diverse activities mark Vietnam's Ethnic Culture Day 2018