VietNamNet Bridge – Local women in a small town in Soc Trang Province are working together to escape poverty. A special interest free loan from a local collective bank is responsible for bringing hope into the lives of these disadvantaged farmers.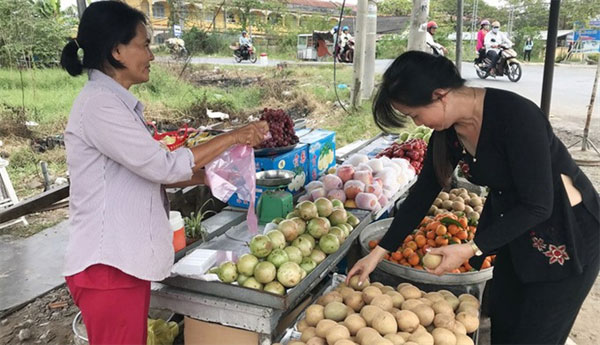 Dao Thi Dau (left) with her fresh fruit stall, which was purchased using a loan from the special bank. — Photo tuoitre.vn
The bank is worth the small sum of just a few million dong, which the local women contribute to each month. Each member has their turn to take out an interest free loan for agricultural production or trading activities, and then returns the money to be used for other members' loans.
Just a small sum of money has helped change the lives of many local women in Dai Ngai Town.
Dao Thi Dau is among those women. In late 2016, Dau was in a desperate situation after finding out that her husband could no longer work due to serious illness. She left her children and ill husband at home to work as a domestic helper in HCM City, hoping that she could earn a little money to pay for his treatment.
The job didn't go well though, and Dau had to return home after just four months. Owning no cultivable land, she was forced to work any job local people would hire her to do, but things got harder when her husband's health deteriorated.
Last June, Dau hit a brick wall. Her family had nothing to eat, and she did not know how to escape her declining situation.
Fortunately, a member of the town's Women's Union Association came to visit her family and asked her to join the association.
Dau agreed, although she said she did not expect much more than some words of encouragement.
But Dau had her expectations proved wrong when she was given priority for a loan from the special bank.
With the sum of just under VND1 million (US$44), Dau decided to purchase the necessary items to become a fruit seller. After just one month, she had earned enough profit to purchase a fruit trolley.
"I sell fruit from 5am to 8pm. I can earn VND80,000 ($3.5) of profit each day. I don't have to worry about not having anything to eat," Dau told Tuoi tre (Youth) newspaper.
She now sells fresh flowers to earn even more money, and has managed to repay her loan to the bank, giving chances for other women to benefit from it.
Ly Thi Thuy Lieu, another woman in Dai Ngai Town, was even more fortunate. She owned cultivable land, but it was abandoned as she had no money to invest in it.
Upon receiving a loan from the bank, she planted 1,000 papaya trees, and some chilies and cabbages on the land. She got a bumper crop with 32 tonnes of fruit and earned VND100 million ($4,400) from her first harvest.
Expanding the model
Chairwoman of the association Lam Thi Ngan Tam said that she came up with the initiative after visiting local households of impoverished people and recognised that most lacked the capital to invest in agricultural production.
After receiving approval from local authorities, the model of the bank was implemented on a trial basis. Since early last year, it has drawn participation from 15 members.
Each member contributes VND100,000 ($4.4) per month, and votes each month to decide whose turn it is to receive the loan.
"The money is modest, but many women have used it effectively in trading, breeding and planting. By working hard and spending properly, many get out of poverty," she said.
Tâm said the model has since been implemented in five hamlets in the commune, reaching a total of 170 members. Each member contributes between VND100,000-200,000 ($4.4-8.8) per month. The model is set to expand to reach about 1,500 new members in the near future.
The association will work with the agricultural sector to train local people about farming and cultivation.
Chairman of Dai Ngai Town's People's Committee Nguyen Hoai Phong said that the model was such a good idea that it certainly ought to be expanded.
In recent years, the town has tried many initiatives from the association to help local people improve their lives. Another initiative was the 'piggy bank', in which participating members give VND5,000 ($0.2) per month to support those in need. Both initiatives have received approval from local people.
These initiatives are giving those in disadvantaged circumstances the hope they need to believe in a better future, he said.
Source: VNS