Lao traditional New Year celebrated in Hanoi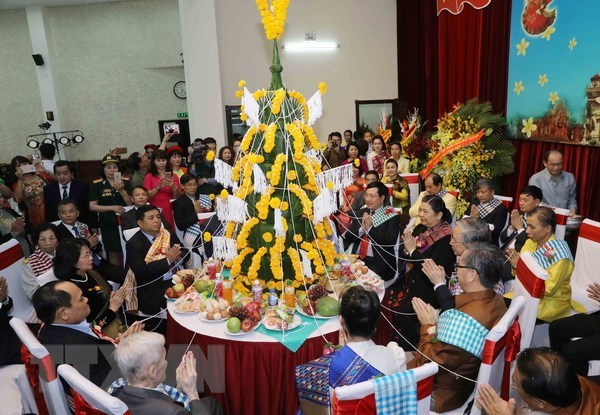 Vietnamese and Lao participates at the ceremony 
Vice President Dang Thi Ngoc Thinh wished the Party, State and people of Laos happiness and a successful New Year when attending a ceremony to welcome their traditional Bun Pi May festival held by the Lao Embassy in Hanoi April 12.
Thinh congratulated Laos on its achievements in national construction and defence, and in socio-economic development, saying that the role and position of the country is growing in the region and international arena. 
The Vietnamese Party, State and people will always work with the Party, State and people of Laos to deepen traditional friendship between the two countries, she affirmed.
She expressed her belief that the country will achieve greater successes in implementing targets set by the Lao Party and State, thus contributing to building Laos into a country of peace, independence, democracy, unity and prosperity.
Lao Ambassador Thongsavanh Phomvihane highlighted the success of the Vietnam-Laos Friendship and Solidarity Year in 2017, saying 2018 opens a new opportunity for the two countries to develop their relationship. 
2018 is also an important year for Laos as the country is implementing the 10th Party Congress's Resolution and the 2016-2020 socio-economic development plan, he noted. 
The ambassador thanked the Vietnamese Party, State and people for their valuable assistance for his country. 
The Bun Pi May festival, the traditional New Year festival of Laos falls on April 14 to 16, with several ceremonies and prayers for good weather, an abundant harvest and prosperity.
Multiple activities to be held for the disabled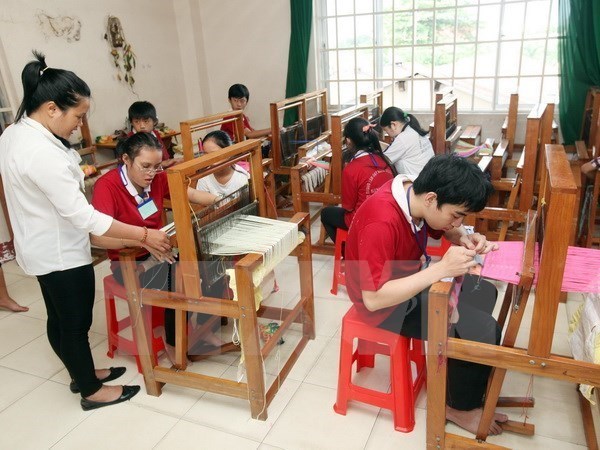 A vocational training class for people with disabilities
The annual "One heart – One world" exchange programme is scheduled to take place on April 16, aiming to raise funds for people with disabilities, orphans and those in difficult circumstances nationwide. 
The programme, in its 15th edition, will be broadcast live on Vietnam Television's VTV2.
This is part of activities to be held by the Association for the Support of Vietnamese Handicapped and Orphans (ASVHO) to mark Vietnam Day of Persons with Disabilities (April 18). 
Forty-eight disabled people who are heads of businesses and production facilities will share their stories at a gathering slated for April 16 morning. 
Among the businesspeople, 14 are female and three belong to ethnic minority groups.  
A seminar for heads of enterprises and production facilities will also be held on April 17, during with they will talk about difficulties in business, especially those relating to mechanisms, policies, tax, capital and product consumption. 
Luong Van Cu, ASVHO President, said such activities aim to honour outstanding disabled people, raise public awareness of contributions made by the disabled to the society and promote their start-up initiatives. 
Established in April 1992, the ASVHO aims to protect the rights and interests of disabled people and orphans.
It has raised more than 2.5 trillion VND (110.3 million USD) and received 268.2 billion VND (11.8 million USD) from the State budget to assist the disabled and poor with orthopedic surgery and rehabilitation, cataract surgery, vocational training and wheelchairs and bicycles.
The association has supported some 9.8 million handicapped people and orphans nationwide.
Meanwhile, the People's Committee of the Mekong Delta province of Tien Giang held a meeting in My Tho city on April 12 to mark Vietnam Day of Persons with Disabilities. 
The event brought together more than 100 representatives of nearly 38,000 disabled people who are social welfare beneficiaries in the province. 
Vo Thi Chin, Vice President of the Association for the Support of Poor Patients, Handicapped and Orphans of Tien Giang province, said in 2017 her association mobilised more than 31 billion VND (1.3 million USD) in cash and in kind, conducted cataract surgeries for more than 400 patients and presented more than 170 wheelchairs and 350 scholarships to needy people, valued at some 1.8 billion VND (79,200 USD). 
The association will continue with donation mobilisation work, help the disabled with vocational training and work with the health sector to provide health care for them. 
Among the 38,000 disabled people in Tien Giang, more than 6,100 are sick soldiers and nearly 1,200 are victims of Agent Organge (AO)/dioxin.
Nearly 3,000 book titles donated to poor children in Lao Cai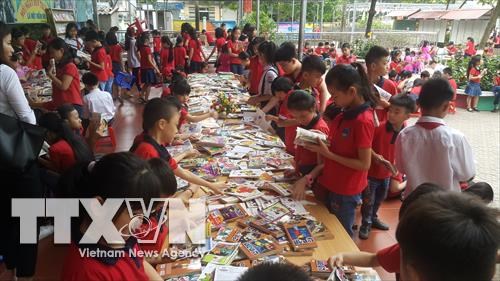 At the book festival in Ha Giang province
Nearly 3,000 book titles have been donated to impoverished children in the northern mountainous province of Ha Giang at a book festival on April 12.
The event was held by the provincial library and the Department of Culture, Sports and Tourism, themed "Books- Partners for the Future" in response to Vietnam Book Day.
Other activities held within the festival included painting and story-telling in Vietnamese and English.
The event helped local students exchange information through books while honouring the roles of books and reading culture.
On the occasion, ten students with excellent performance in study who are also standout members of the local library received certificates of merit from the provincial Department of Culture, Sports and Tourism.
Book on green economy for sustainable development launched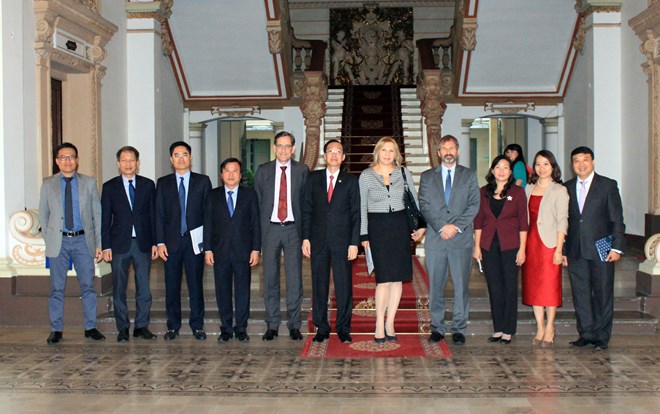 A book discussing the green economy for sustainable development amdist climate change was launched in Hanoi on April 12, aiming to provide policymakers with theoretical and practical views of the issues.
The 700-page book was compiled by scholars from the Vietnam Association for Conservation of Nature and Environment (VACNE) and an author from the Republic of Korea in response to a suggestion made by Deputy Prime Minister Vuong Dinh Hue at the VACNE's forum on the green economy for sustainable development in 2016.
The book contains theoretical discussions and practical examples of the development of the green economy, a matter of great public concern.
It discusses the greening of industrial production, agriculture, consumption and urban and rural lifestyles in its first half and presents the authors' views on many aspects, notably the mobilisation of resources from society to develop the green economy in Vietnam. The second half of the book gives readers an overview of successful models for the green economy throughout the world.
The book also aims to serve researchers, lecturers and business leaders as useful reference.
HCM City studies innovation urban area development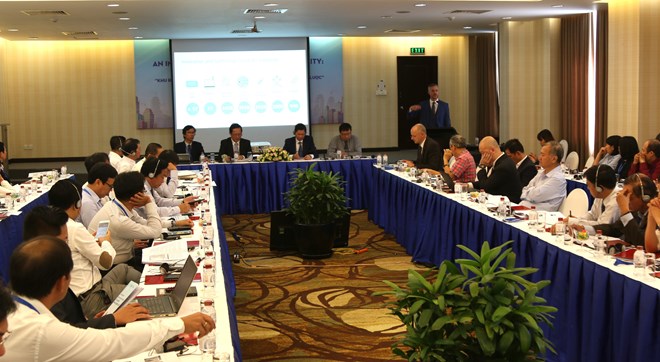 The workshop on April 12 discusses the development of an "innovation urban area" in HCM City 
An international workshop was held in Ho Chi Minh City on April 12 to discuss the development of an "innovation urban area" in the southern metropolis. 
The innovation urban area will be at the core of the city's industrial revolution 4.0, Vice Chairman of the municipal People's Committee Tran Vinh Tuyen told the workshop titled "An Innovation District in HCM City: Towards a Strategic Roadmap".
Governance of the innovation hub would be done online and be transparent and without red tape, he said, adding it would strongly develop smart transport and environmental protection.
The idea for the hub had been mooted by the city's Party Secretary Nguyen Thien Nha, who had suggested basing it around the High-tech Park in District 9, the National University in Thu Duc District and the proposed Thu Thiem Urban and Financial Centre in District 2.
Nguyen Do Dung, an urban planning consultant for Singapore-based CPG, told the workshop there are five principles for a successful innovation hub: knowing the local economy to choose their most competitive industries; choosing the right location; setting up a strong execution agency; engaging stakeholders and creating an eco-system; and allowing for flexibility.
Le Van Thanh from the HCM City's Institute for Development Studies said the innovation urban area would have the most advanced technology and research and be highly liveable.
He also said since the innovation urban hub would provide high-tech services, its social and technical infrastructure should be of international standard.
Many key infrastructure works are planned for the city's eastern districts like Belt Road 3, the Cat Lai Bridge linking HCM City with Nhon Trach District in Dong Nai province, widening of National Road No 13, a rail link with Long Thanh International Airport, extension of a metro line from Ben Thanh Market to Thu Thiem, and monorail No 2 linking districts 7, 2 and Binh Thanh.
Some of them have already been completed or work is underway.
Prof Phan VanTruong, an expert on the urban economy and master planning, hailed the idea of building an innovation urban area.
"We must think that HCM City will spearhead the nation's economic development, and the eastern districts have a solid foundation to develop. 
"We must build a fully new urban area where priority is given to walking, buses and metro and no longer motorcycles and cars."
Another similar workshop will be organised in May to gather opinions from Vietnamese and international experts on the model to be adopted and detailed plans for the hub.
Wheelchairs given to the disabled, orphans in Thua Thien-Hue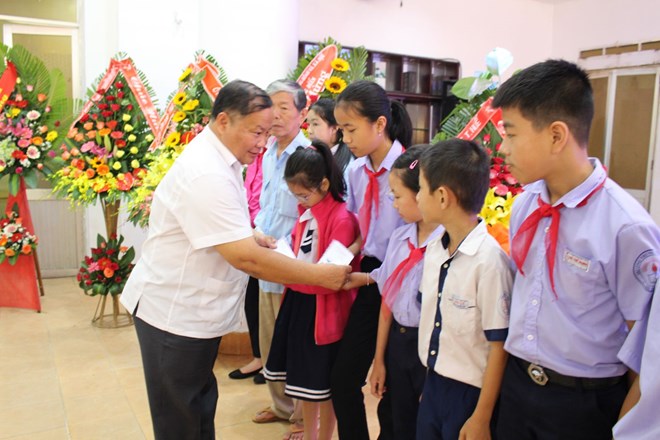 The Association for the Support of Handicapped and Orphans of Thua Thien-Hue hands over scholarships worth 500,000 VND each and one scholarship worth 2.4 million VND to 41 local students. (Photo: baothuathienhue.vn)
As many as 520 wheelchairs worth 1.53 billion VND (67,100 USD) donated by US organisation "Giving it back to kids" were presented to the disabled and orphans in the central province of Thua Thien-Hue on April 12.
The wheelchairs were given during an event held to mark the 25th founding anniversary of the province's Association for the Support of Handicapped and Orphans (April 9).
Vice Chairman of the provincial People's Committee Dinh Khac Dinh said Thua Thien – Hue is currently home to more than 29,000 people with disabilities and nearly 4,600 disadvantaged children, including 377 orphans.
During 25 years of its operation, the province's Association for the Support of Handicapped and Orphans has implemented a number of policies on social welfare, raising public awareness and life quality for people in need, he added.
To date, the association has mobilised more than 72 billion VND (3.16 million USD) for handicapped people and orphans in the province, as well as arranged rehabilitation programmes and free orthopaedic, heart and optical surgeries for many disadvantaged children.
Chairman of the association Pham Ba Vuong said it will continue working to enhance the efficient use of the funds for the local handicapped and orphans and build more public services and infrastructure to support people with disabilities.
On the occasion, the association handed over scholarships worth 500,000 VND each and one scholarship worth 2.4 million VND to 41 local students.
Local leaders share Khmer people's joy in traditional festival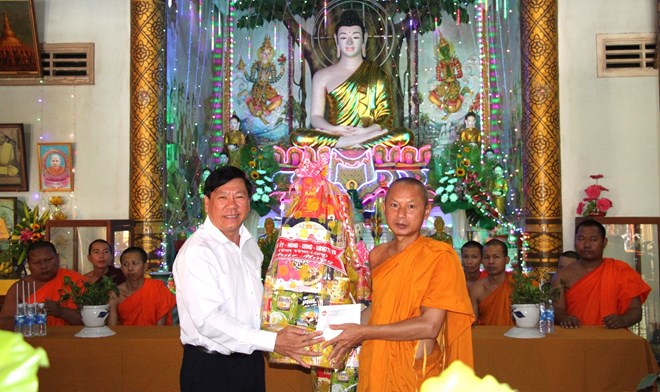 Secretary of the provincial Vinh Long Party Committee Tran Van Ron (L) presents a gift to monks of Hanh Phuc Tang Pagoda on April 12 
Leaders of southern Vinh Long province and Can Tho city on April 12 extended congratulations to local Khmer people on the ethnic group's traditional New Year festival, Chol Chnam Thmay.
Secretary of the Vinh Long provincial Party Committee Tran Van Ron visited the provincial Association for Solidarity of Patriotic Buddhist Monks and Hanh Phuc Tang Pagoda in Vung Liem district, wishing Khmer monks and people a happy traditional New Year festival.
Briefing the participants about the province's socio-economic development in 2017 and the first quarter of this year, he stressed that those accomplishments were greatly contributed by Khmer people.
Venerable Son Ngoc Huynh, Chairman of the Vinh Long Association for Solidarity of Patriotic Buddhist Monks, appreciated the provincial authorities' attention to the material and spiritual lives of the Khmer community, especially during the Chol Chnam Thmay festival. 
He said the association will together with the province continue maintaining the great national unity bloc and encouraging Khmer people to keep solidarity and trust in the Party and State's leadership and to support each other in economic activities.
On this occasion, Vinh Long leaders also presented gifts to the Hanh Phuc Tang Pagoda and disadvantaged Khmer families.
Also on April 12, the Fatherland Front Committee of Can Tho city held a meeting with local monks and Khmer people on the threshold of Chol Chnam Thmay.
Vice Chairman of the municipal People's Committee Le Van Tam congratulated them on the traditional festival, asking relevant agencies to promote the great national unity bloc and push ahead with poverty reduction plans. He also called on religious dignitaries and prestigious persons to further help build a better life in the community.
Most Venerable Dao Nhu, head of the executive board of Can Tho's Khmer Theravada Buddhism Committee, thanked the municipal administration's attention to the Khmer traditional festival. He also highly valued the city's support for local Khmer people, particularly policies on Khmer cultural value preservation.
Chol Chnam Thmay is one of the most important festivals of the Khmer people. It usually lasts three days and is celebrated mostly in pagodas. The festival is a demonstration of Khmer people's aspirations to move on from the previous year's misfortunes and look forward to a promising new year. This year's event will take place from April 14-16.
Thua Thien-Hue launches USAID-funded forest protection project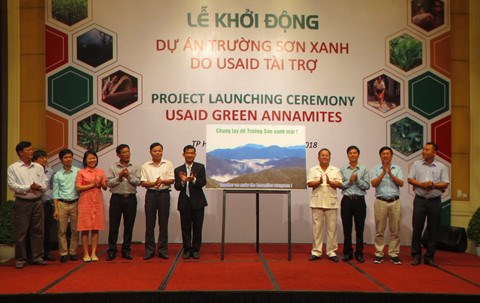 At the launching ceremony (Source: thanhnien.vn)
Truong Son Xanh (Green Annamites) Project funded by the US Agency for International Development (USAID) with total investment of nearly 10 million USD was launched in the central coastal province of Thua Thien-Hue on April 12.
Speaking at the launching ceremony, Vice Chairman of the provincial People's Committee Nguyen Van Phuong thanked the USAID for selecting Thua Thien-Hue to carry out the non-refundable aid package project, which is expected to ensure sustainable forest preservation and development and increase climate change resilience for the local community.
The committee promised that all activities of the project will be carried out publicly and efficiently, benefiting local residents, he said.
Climate change is a priority issue that directly threatens Vietnam's sustainable development goals. To accelerate the country's transition to low-emission development, the USAID has supported Vietnam to cope with climate change through adaptation, sustainable landscapes and clean energy programmes.
Forests play a critical role in Vietnam by protecting watersheds, preventing soil erosion, and building resilience for communities. Forests in the Annamites Range of Vietnam are home to rare and endemic species found nowhere else in the world. Unfortunately, these forests, and the species that live in them, are disappearing at an alarming rate, as nearby communities increasingly depend on these limited resources for their livelihoods. 
The USAID Green Annamites project supports the provinces of Thua Thien Hue and Quang Nam to protect the region's globally significant biodiversity and help local and ethnic minority communities to diversify and improve their livelihoods.
Key program results include improving the livelihoods of 20,000 forest dependent people, improving biodiversity of over 400,000 hectares of natural forest, mobilising at least 20 million USD in public and private resources for sustainable livelihoods and forest conservation, and avoiding and/or removing the equivalent of at least 7 million metric tons of carbon dioxide from the atmosphere.
Dong Thap fosters cooperation with Russian partners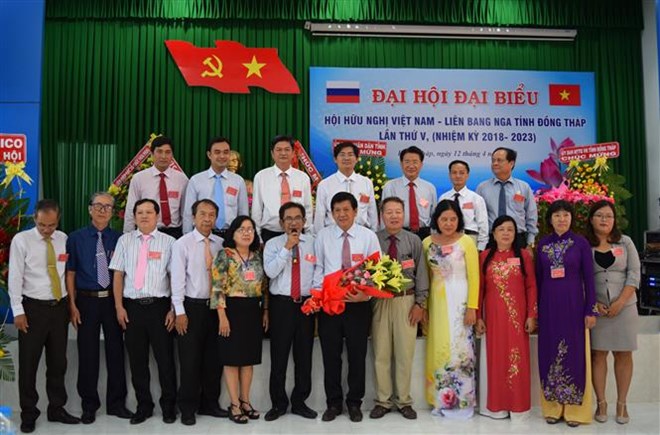 The executive committee of the Vietnam-Russia Friendship Association in Dong Thap for the 2018-2023 tenure 
The Vietnam-Russia Friendship Association in the Mekong Delta province of Dong Thap should further introduce the province's advantages and potential to Russian partners, thus seeking more cooperation and investment, said Vice Chairman of the provincial People's Committee Doan Tan Buu.
Buu made the statement during the fifth congress of the Vietnam-Russia Friendship Association held in Cao Lanh city of the province on April 12.
He lauded the achievements of the association in recent years and voiced his hope that it will continue to foster the cooperation and friendship between Vietnam and Russia in the years to come.
The association also needs to enhance bilateral exchanges and increase communication campaigns on the solidarity and friendship between the two countries, Buu said.
Established in 1983, the Vietnam-Russia Friendship Association in Dong Thap has worked as a friendship bridge between the two nations. In the previous tenure, it organised numerous activities to deepen the bilateral relations, including friendship exchanges and events to celebrate Russia's October Revolution.
At the congress, participants elected a 26-member executive committee of the association for the 2018-2023 tenure. Nguyen Tan Ngan was re-elected as president of the association.
Vietnamese in Cambodia support Truong Sa soldiers, residents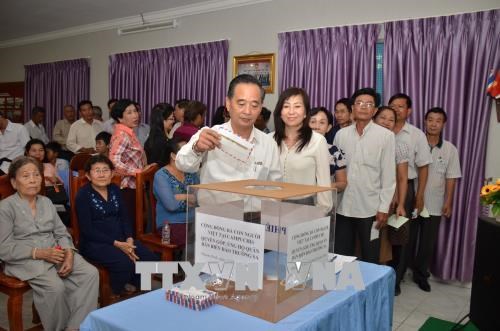 The fund-raising ceremony drew a lot of Vietnamese businesses and people in Cambodia and representatives of the Vietnamese Embassy in Phnom Penh 
The General Association of Vietnamese-Cambodian People in Phnom Penh on April 12 raised nearly 1,800 USD to support soldiers and local residents in Vietnam's Truong Sa (Spratly) archipelago.
The fund-raising ceremony drew a lot of Vietnamese businesses and people in Cambodia and representatives of the Vietnamese Embassy in Phnom Penh.
Chau Van Chi, chairman of the association, said the event aims to encourage soldiers and families of fishermen in Truong Sa who are making significant contributions to the cause of national construction as well as sea and island safeguarding.
He added that the patriotism and solidarity of the overseas Vietnamese community in Cambodia will be further nurtured and promoted.
Despite facing a lot of hardships, Vietnamese expatriates in Cambodia, especially those in remote areas, still actively joined movements looking toward the homeland such as raising money to assist soldiers and residents in Truong Sa island district, flood victims in the central region, and Agent Orange (AO)/Dioxin victims, Chi noted.
The association will continue organising similar events to collect more money for local residents in Vietnamese sea and island areas, he said.
EVN vows to ensure sufficient power for upcoming dry season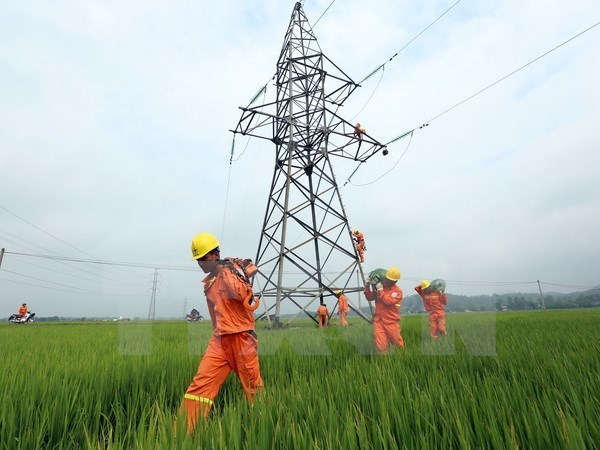 While the backbone of Vietnam's electricity remains hydropower, the State-owned Electricity of Vietnam Group (EVN) said power supply will be ensured for the coming dry season.
Demand for electricity in the second quarter this year is set to increase by 12.5 percent at the peak of the dry season compared to last year, which usually records the highest power consumption of the year, according to the corporation that holds a near monopoly of the country's power sector.
Especially in May and June, consumption for the system is forecast to reach 650 million kilowatt-hour (kWh) a day, which means the infrastructure will need to handle a maximum load of 34,300 megawatts (MW) in these two months.
To meet the high demand, the EVN 'fully utilise' tap coal and gas sources to run coal turbines (in thermoelectric power plants Vinh Tan 2, Vinh Tan 4, Duyen Hai 1 and Duyen Hai 3), in addition to the reliance on reservoirs to ensure sufficient water to operate hydropower facilities in the lowlands
If necessary, the group will operate thermoelectric turbines that runs on oil to ensure supply.
Additionally, the group's affiliate, the National Power Transmission Company, was asked to ensure safe operation and continuous transmission of power grids, especially the 500kV north-south line.
All companies were requested to prepare plans for natural disaster prevention and rescue as well as measures to ensure safety for reservoirs and hydropower works to keep the lowland regions safe in the rainy and stormy season.
Local subsidiaries of EVN have also been asked to identify critical uses – such as hospitals, schools, clean water infrastructures, or important socio-political events – in their area to ensure that power supply is stable.
In terms of construction, the group will accelerate completion of projects in the second quarter this year to ensure power supply, including granting a Provisional Acceptance Certificate for Thermo-power plants of Vinh Tan 4 and Thai Binh and finishing a 500kV Vinh Tan-Song May transmission line.
In the second quarter this year, the corporation will try to launch the 500kV west Hanoi – Thuong Tin transmission line, a 500kV/220kV Nho Quan-Phu Ly-Thuong Tin line and 500kV transmission stations in Chon Thanh township in the southern province of Binh Phuoc and My Tho city of Tien Giang province.
In the first quarter, the EVN's companies completed 41 electricity works nationwide and upgraded transmission stations in many northern and southern provinces.
According to statistics by the Ministry of Industry and Commerce, the total yield of power produced was 46.2 billion kWh for the first quarter, increasing 10.4 percent compared to 9.4 percent of the same period last year. In March, power produced was 17.1 billion kWh, of which commercial electricity was 14.1 billion kWh.
Aside from ensuring uninterrupted power, campaigns aiming to encourage the industrial sector and public to save energy will also be ramped up when the weather starts to turn dry and hot.
Enterprises, especially in the south where major industrial clusters are based, have upgraded their production lines to be more energy-efficient, or installed solar panels to alleviate the stress on the power grid.
Security prerequisite for e-signatures on mobile devices: workshop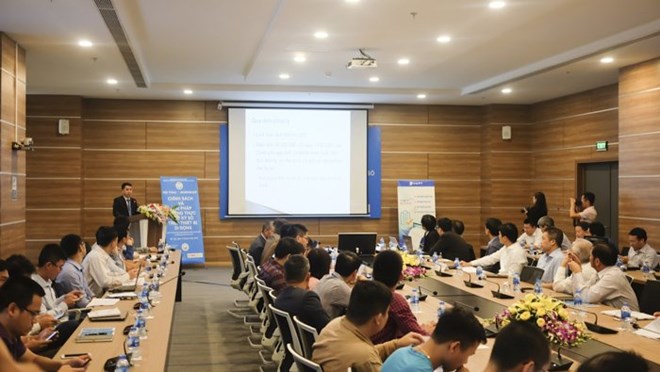 At the work shop (Photo: vietnamnet.vn)
A secure electronic authentication mechanism is a must to popularise the use of e-signatures on mobile devices in Vietnam, said Deputy Minister of Information and Communication Nguyen Thanh Hung at a workshop held in Hanoi on April 12.
The Government was determined to accelerate the use of information technology in agencies, businesses and all of society, Hung said.
The process of verifying the authenticity of digital signatures has been branched out in Vietnam since 2009, he said, adding that nine providers of digital signature services have granted 800,000 authenticities of e-signatures for organisations to facilitate online tax, customs and insurance declarations.
However, only a small number of individuals use e-signatures, Hung stated, given that the authentication process is not available on mobile devices yet.
Meanwhile, Director of the National Electronic Authentication Centre La Hoang Trung said Vietnam is a country with a young population where more than 70 percent of people use mobile devices in big cities. With everything online now, the demand for digital signatures in the country is huge.
Trung stressed that vague regulations are hindering the use of personal digital signatures in Vietnam. "The demand is there, the technological solutions are also ready. What Vietnam lacks is detailed regulations," he said.
Developing the authentication of digital signatures on mobile devices and experience in using digital signatures were discussed at the workshop. 
The Ministry of Information and Communications is drafting policies and regulations on the use of digital signatures on mobile devices. 
Digital signatures are created by subscribers using digital certificates issued by the Government Cipher Commission to handle online transactions and other deals that require heightened security.
Denmark backs Vietnam in strengthening NCD prevention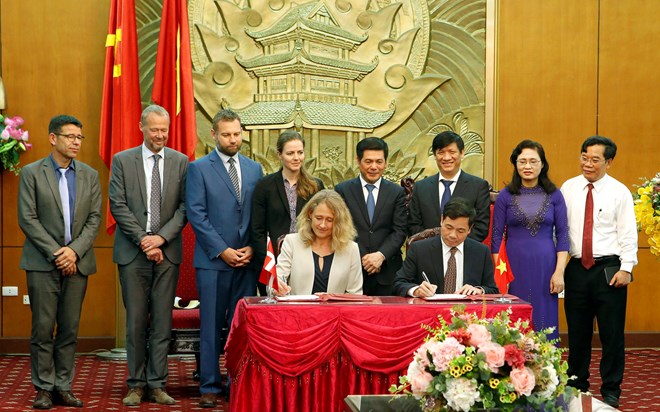 Vietnam and Denmark sign MOU on promoting strategic sector cooperation on health during visit to Vietnam of  Minister of Health of Denmark Ellen Trane Nørby.  
Vietnam and Denmark are working on new cooperation in the health sector, aiming to improve the prevention, early detection and management of non-communicable diseases (NCDs) in Vietnam.
NCDs kill 380,000 people in Vietnam a year, equivalent to 73 percent of all deaths annually with 40 percent dying before the age of 70, higher than the regional average of 17.1 percent, according to the World Health Organisation. 
It is also estimated that about 12 million Vietnamese people have high blood pressure, while nearly three million people have diabetes, two million have chronic heart and lung problems and nearly 120,000 fresh cancer cases are reported annually. 
Many of the risk factors for NCDs are due to unhealthy lifestyles including physical inactivity and alcohol and tobacco abuse.
"Denmark is ready to assist Vietnam in the prevention and control of NCDs," Minister of Health of Denmark Ellen Trane Nørby said while she met with Prime Minister of Vietnam Nguyen Xuan Phuc during her recent Hanoi visit. She noted that Denmark was very interested in NCDs prevention and control in cooperation with Vietnam.
At a Hanoi meeting discussing non-communicable disease prevention held on April 10, the minister said Vietnam and Denmark are both pursuing healthcare reforms to strengthen the primary healthcare system as one of the key components in fighting chronic diseases, such as cancer, diabetes and cardiovascular diseases.
"This is also an area of direct bilateral cooperation between the two ministries of health," she said. "The two ministries have worked together very well."
In September, 2016, the health ministries of Vietnam and Denmark inked a memorandum of understanding on cooperation in healthcare, providing a foundation for the launch of a cooperation project on NCDs prevention and management at primary level in 2016-2018 in northern Thai Binh province dealing with diabetes and hypertension.
Under the project, 30 commune health stations in four districts were selected and after an extensive evaluation, the training of the healthcare workers will begin in mid-April. The first set of materials have been crafted to provide a new approach to patient-centred prevention and care of diabetes and hypertension.
The goal of the pilot project in Thai Binh is to expand healthcare services at commune health stations to include more prevention of NCDs, earlier detection of NCDs and basic management of patients. 
Besides diabetes and hypertension, the project is expected to expand to other disease groups.
Under the ministries' cooperation, during the next two years from 2018, national guidelines and tools for prevention, early detection and treatment of selected NCDs are expected to be developed. 
Best practices and ideas will be gathered for the development of new guidelines, implementation manuals, communication materials and other tools for frontline healthcare workers to prevent, detect and treat NCDs.
Hai Phong: Cameras installed to supervise customs activities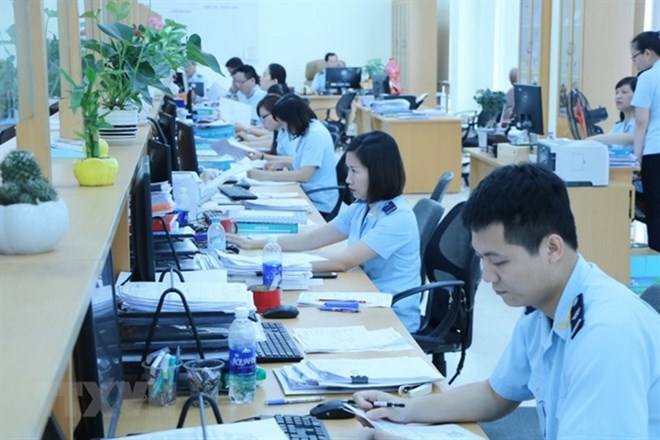 Customs officials work at Dinh Vu customs branch 
The Customs Department in the northern port city of Hai Phong will install more cameras to increase the supervision of customs activities and prevent violations by customs officials.
Supervision will particularly pertain to customs activities related to businesses, said Nguyen Sy Trang, the department's deputy director, said on April 11.
Cameras will be installed in the offices of customs leaders, in areas where customs procedures take place as well as in sea ports and warehouses.
The decision comes after media reports of some customs officials at Dinh Vu port requesting businesses to pay extra fees under the table.
According to Nguyen Van Thanh, head of the customs branch at the port, cameras will be installed to supervise every corner.
Businesses can report about any customs officials violating regulations or asking them to pay unofficial fees to the department and branch managers by calling on their hotline numbers, which are publicised in areas dealing with customs activities, Thanh said.
The Hai Phong Customs Department has temporarily suspended three customs officials at the Dnh Vu port for alleged violations and imposed disciplinary action against two managers who directly supervised the corrupt officials.
Site clearance for Long Thanh airport urged to finish before 2021
Deputy Prime Minister Trinh Dinh Dung inspected the land seizure, compensation and resettlement serving the construction of Long Thanh International Airport in southern Dong Nai province on April 12, urging site clearance to be finished before 2021.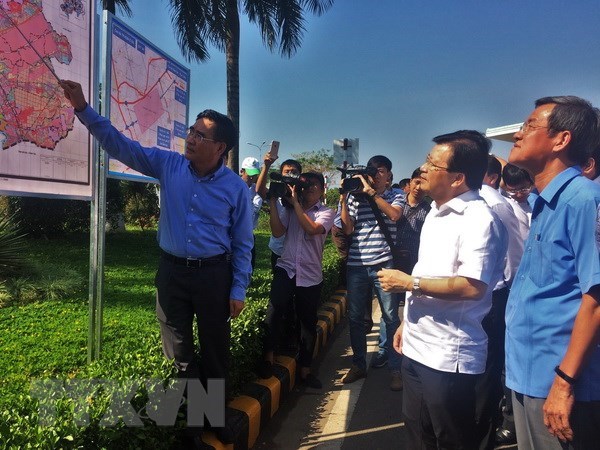 Deputy Prime Minister Trinh Dinh Dung (white shirt) and other officials listen to the introduction of Long Thanh project on April 12 
The Deputy PM said the State pays special attention to the resettlement and ensuring of the life, employment and income of affected people. It knows that the displaced people will face certain difficulties, so relevant agencies have made plans on vocational training and job generation to help stablise their lives. Local administration will also build resettlement areas to ensure that they will have a better life than in old living places.
Vice Chairman of the provincial People's Committee Tran Van Vinh said nearly 5,400ha of land needs to be taken back to build Long Thanh airport. As a result, nearly 4,900 households with over 15,500 people will be resettled. Dong Nai is going to build two resettlement areas named Loc An – Binh Son and Binh Son in Long Thanh district.
As income of the displaced families will be affected, the province plans to support them with an amount of money equivalent to 4.5 times of the monthly region-based minimum wage at the time of the land seizure in order to help recover their income.
The province is carrying out a plan on vocational training, job creation and life reorganisation for the targeted people, Vinh said, noting that relevant agencies have also been asked to enhance land and construction management in the project area.
The provincial People's Committee is ready for compensation and site clearance. However, as the feasibility study report hasn't been approved, it is unable to carry out the work. He urged the State's appraisal council to promptly review this feasibility study report so as to submit it to the Prime Minister for approval.
Dong Nai also asked the Government and the Ministry of Transport to soon build transport infrastructure linking with Long Thanh airport, particularly expanding Ho Chi Minh City-Long Thanh-Dau Giay Expressway and building Bien Hoa-Vung Tau Expressway.
At the working session, Deputy PM Dung asked the Transport Ministry to accelerate the making of the feasibility study report on the Long Thanh project to submit it to the National Assembly in late 2019. 
He requested a medium-term investment plan for 2021-2025 be created and it will be a basis for the Ministry of Finance and the Ministry of Planning and Investment to allocate capital for the building. Relevant parties also need to make a plan on transport and infrastructure connection both inside and outside the project.
Long Thanh airport aims to serve 100 million passengers and 5 million tonnes of cargo each year. The project includes three phases with the first one expected to begin in 2020 and be done no later than 2025.
It is hoped to help ease the overload at Tan Son Nhat International Airport in nearby Ho Chi Minh City.