VietNamNet Bridge – HCM City will auction 5,200 resettlement apartments and land lots out of nearly 14,000 unoccupied apartments and land lots initially designed for resident relocation, the Department of Construction has told a media briefing.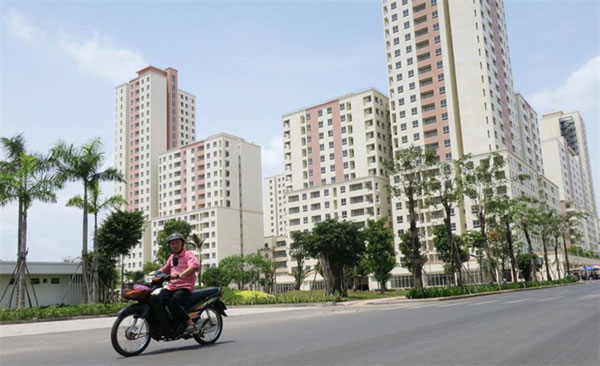 Some of the apartments in the Binh Khanh resettlement area in HCM City's District 2 will be put up for auction as the city still has a large number of unoccupied resettlement housing units.—Photo tuoitre.vn
Of the apartments which will be put up for auction, 3,790 units are part of the 12,500 resettlement apartments in the Thu Thiem New Urban Area in District 2, the Department of Construction told the press last week.
Others include 1,000 units in the resettlement area of Vinh Loc B Commune in Binh Chanh District and 200 units in the Phu My resettlement project in District 7.
The rest, which includes more than 8,500 apartments and land lots, will be used for resettlement in 460 urban renovation projects and emergency evacuation, the department added.
The department's head, Tran Trong Tuan, on Friday, said the reason that such a large number of apartments have not been allocated to people was because of a change in policies on compensation and resettlement.
Before the change, the State paid compensation for residents at a lower rate than market prices, therefore, they usually took the resettlement apartments rather than the money.
But nowadays, as the State pays compensation equal to market prices, residents want to take the cash and choose the place they want to live, he explained. Another reason that resettlement apartments have remained unoccupied is according to regulations, before relocating residents, the city has to make resettlement areas ready for them to move in. As a result, the city has built some housing projects in advance to prepare for such an occasion, he added.
The department has proposed that the city's administration auction some of the unused apartments to recover capital for the State budget.
A recent report by the department shows that while the city has completed building 39,991 resettlement apartments, around 14,000 units have not been allocated to people in need.
The Thu Thiem New Urban Area has 12,500 apartments for resettlement, but the city has only bought 6,714 of them, and by the end of August 2017, the city had only allocated 1,759.
At least 3,790 apartments were built for District 2's Binh Khanh resettlement area, but very few people have moved in.
Binh Chanh District's Vinh Loc B resettlement area cost around VND1 trillion (US$44 million) and opened in 2010, but only 479 out of its 1,939 apartments have been allocated.
Source: VNS