Russian citizens in Nha Trang city vote in Presidential election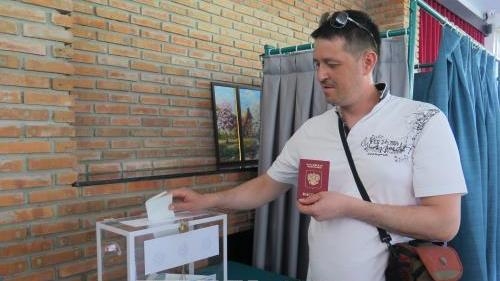 A Russian man casts his ballot at a voting station in Nha Trang city 
Russian nationals that are staying in Nha Trang city, in the central coastal province of Khanh Hoa, cast their ballots to elect a new President of Russia in an early election vote on March 14.
Second Secretary of the Embassy of Russia in Vietnam Lunev Konstantin said that the voting station in the city's Vinh Truong ward served nearly 100 Russian citizens that wished to fulfil their rights and obligations. The voting is expected to end at 17pm on March 14.
Khanh Hoa is home to numerous Russian specialists and businesses people, plus a growing numbers of tourists. There are many Russian scientists working at the Vietnam-Russia Tropical Centre in Nha Trang city, which was established 30 years ago. In 2017, the province welcomed over 440,000 Russian tourists.
In addition to Nha Trang, the Russian Embassy will also open voting stations in Mui Ne (Binh Thuan province), Phu Quoc island district (Kien Giang province), Hanoi, Ho Chi Minh City, Da Nang city and Vung Tau city (Ba Ria-Vung Tau province) on the three days of March 14, 16 and 18.
In Russia, voting will be held on March 18.
Metropole to host French food festival
The Sofitel Legend Metropole Hanoi will celebrate French cuisine at the global gastronomic event Goût de France from March 21 to 30, attended by more than 2,000 chefs from five continents.
Organized by France's Ministry of Foreign Affairs and Chef Alain Ducasse, the Goût de France food festival is an annual event that aims to commemorate French cuisine being named as a feature of UNESCO's Intangible Cultural Heritage in 2010.
The Metropole's Executive Chef Paul Smart has cooked up a wide array of traditional French fare for Goût de France, including seared foie gras with smoked pumpkin and hazelnuts, red mullet with artichoke mousseline, and Normandy rabbit with dried apricot and garlic cream. The six-course set dinner is priced at VND1.7 million net ($75) and will be available at the hotel's premier French fine-dining restaurant, Le Beaulieu.
Cheese lovers can rejoice, as French affineur of great repute, Patrice Marchand, of the cheese-making family Les Freres Marchand, returns to the historic hotel for an evening of cheese and live jazz at Le Beaulieu on March 15, priced at VND1.5 million net ($66).
On March 22, Spanish Chef Sergi Millet, who worked at elBulli, one of the world's best restaurants, is set to delight palates at Le Beaulieu with a meal priced at VND1.9 million net ($83).
The Metropole's Spring Culinary Festival concludes on March 30 with a special wine dinner, featuring a number of one-of-a-kind "Made in Bordeaux" Grand Crus, supplied by French wine trading house Mestrezat, priced at VND1.9 million net ($83).
The Sofitel Legend Metropole Hanoi is an award-winning colonial and neo-classical luxury hotel located in the heart of Hanoi and the ideal choice for business and leisure travelers as well as for weddings, conferences and social events.
The hotel offers 364 rooms and suites together with French, Vietnamese and Italian restaurants, three bars, seven function rooms, a heated swimming pool, the luxurious Le Spa du Metropole, complimentary wi-fi, and a unique Path of History tour.
Community to raise ideas for 'smart city'
The central city of Đà Nẵng has invited local residents, tourists and foreigners living in the city to offer ideas and suggestions for developing Đà Nẵng as a 'smart city'.
Vice director of the city's information and communication department Trần Thạch said local residents can visit the page gopy.danang.gov.vn or switchboard 20361022 to submit their plans or solutions for a smart city design from March 10 to April 10.
Thạch said the department will collect and select possible ideas and plans to host a dialogue on the feasibility of projects in late April
Many ideas from local people and tourists posted on the page had been either turned into reality or planned for the coming years, including a double-decker bus route for tourists, a flower road in the Sơn Trà Mountain, international kite competition on beach, digitalisation of items at public museums, adventurous entertainment services and the decoration of manhole covers with colourful paintings.
The gopy.danang.gov.vn was launched in 2016 in order to get feedback on city services from the local community in urban, environmental, administrative and tourism-related services.
The page had already received 600 opinions and complaints from local residents and tourists, of which 98 per cent were resolved within seven days.
Đà Nẵng plans to make it a "smart city" by 2020 and a "green city" in 2025.
Nearly 8,000 people ready to run for peace
About 8,000 people will take part in the 45th Hanoi Moi Newspaper Run for Peace, which will be held at the capital's My Dinh National Stadium in Nam Tu Liem district on March 25.
The annual race is set to begin at 7:30am, with the run spanning 1.5 km.
The event will be broadcast live on the Hanoi Radio & Television channel.
At a meeting held by the municipal Department of Culture and Sports on March 13 to review preparations for the peace run, authorities in Nam Tu Liem said 5,000 locals are ready for the race.
Last year, more than 1,500 athletes joined the run around Hoan Kiem Lake.
13 projects win 1st prize in national science and technology contest
More than 400 students will take part in a national science and technology contest for secondary schools and high schools in the southern region from March 17 to 20 in the Central Highlands city of Đà Lạt.
They will present a total of 239 projects, 22 more than last year.
In the north, the contest saw 249 projects by 475 students, 30 more than last year, as it wrapped up on Tuesday in Nghệ An Province.
Thirteen projects won first prizes worth VNĐ 1.3 million (US$57) each.
Teams from Hà Nội won three first prizes, followed by teams from Nghệ An Province and Hải Phòng City with two each.
Second prizes were handed out to 26 projects and third prizes to 38 projects.
Participating students presented their projects and were interviewed by the jury.
The annual contest is organised by the Ministry of Education and Training to encourage science and technology research, innovation and application at the high school level.
Da Nang investigates assault on reporter
The central city's People's Committee has asked the local public security department to investigate an assault on a reporter at a bar in the city's downtown on Sunday. The investigation agency must report on the case before Wednesday.
According to a report from Thạch Thang Ward's investigation team, Hứa Vĩnh Nhân, a reporter working for the Giao Thông (Transport) newspaper was recording the Lost&Found Bar at 28 Bạch Đằng Street from a position on the other side of the street. A group of six men from the bar suddenly attacked him and abducted him for two hours from midnight on Sunday till 2am on Monday.
Nhân declared at Thạch Thang Ward's public security office on Monday that he was beaten by the group of men from the bar and was illegally arrested by the group – which he said was comprised of the bar's staffers – for hours.
A medical examination at the city's hospital showed that Nhân suffered an inner skull wound and maxillofacial trauma.  
He said his camera, ID and mobile phone were kept by attackers, and he was released about 2am on Monday.
Nhân said he was recording illegal nighttime activities of the bar following complaints from local residents living near the bar.
They said the bar had for a long time been playing music too loudly late at night.
The case is the worst assault on reporter in the city in recent years.
Đà Nẵng has more than 100 representative offices of newspapers with nearly 1,000 journalists, reporters and staff members.
Hepatitis A outbreak controlled in Đắk Lắk
A Hepatitis A outbreak in Drung village, Yang Tao Commune, Lắk District of Central Highlands province of Đắk Lắk has been so far controlled, the local medical agency said.
Nearly two months since the disease outbreak began in the village, no new cases have been reported since February 23.
Between January 22 and February 23, 22 people were diagnosed with the disease.
Locals consume unsafe food, lack clean water and live in unhygienic conditions. Most locals walk with bare feet.
Doctor Trần Minh Hùng, head of the Disease Control Department of Lắk District's Health Centre, said that the centre has distributed Chloramin B and instructed locals on how to use the antibacterial agent to sterilize wells, toilets.
The centre and local authorities have instructed locals to cook food, not to eat raw pig blood, uncooked vegetables and treat the waste of human and animals.
Local people must go to medical centres for health examinations and to receive vaccines, he said.
Baby infected with rare disease saved
A 14 day-old baby infected with a rare intestinal disease is now in stable condition after the surgery, doctors of the Paediatrics Hospital of southern Đồng Nai Province said on Monday.
The baby from the Central Highlands province of Lâm Đồng was born with intestines outside her abdomen. She was hospitalised with the symptoms of cerebral haemorrhage after premature birth.
Her mother was diagnosed with a similar disease.
Doctor Vũ Công Tầm, head of department of surgery, anesthesiology and recovery of Đồng Nai Province's Paediatrics Hospital said that if the operation had not been conducted to move intestines inside the abdomen, the baby's life would have been threatened.
Tầm said that the illness occurs in one of every 15,000 to 30,000 babies.
He advised pregnant women to receive regular genetic tests and health check-ups to identify the disease.
Japanese cherry trees presented to Bac Ninh province

A ceremony was held at Nguyen Van Cu Park in the northern province of Bac Ninh on March 13 to receive and plant cherry trees presented by as gifts by the Japan-Vietnam Friendship Association of Chukyo region. 
Present at the ceremony were Japanese MP Kaneko; Asaduma Sinnichi, Minister at the Japanese Embassy in Vietnam, and representatives of the Japan-Vietnam Friendship Association of Chukyo region and Bac Ninh province.
A representative of the association handed over and introduced techniques to plant 200 cherry trees. 
Asaduma Sinnichi, Minister at the Japanese Embassy in Vietnam, said the cherry project began in 2012 and since then the trees have been grown in many Vietnamese provinces and cities. 
He expressed his belief that the cherry trees will become a bridge connecting the Japanese and Vietnamese people. 
The plantation of cherry trees will contributed to popularising Japan's images, culture and people to Bac Ninh residents and enhancing mutual understanding between the people of the two nations, he added.-
Dien Bien police uncover cross-border drugs trafficking ring
The narcotics forces of the border guard in the northern mountainous province of Dien Bien and security forces of the Lao province of Phongsaly busted a drugs trafficking ring in Muang Khua town, Phongsaly on March 13.
The three traffickers are Giang A Tu (born in 1985, residing in Xieng Khouang province, Laos), Bun Hoong (born in 1965, residing in Vientiane, Laos) and So Vieng Say (born in 1969, residing in Vientiane, Laos).
A drugs haul of 60 bricks of heroin and 40,000 pills of synthetic drugs was seized.
Other seized exhibits were one gun, seven bullets, two cars, one tape recorder and eight mobile phones.
Earlier, the drug squad police and other forces detected a ring transporting drugs from Bokeo to Muang Khua (Laos) then to Vietnam. On March 12, they found that Tu and Bun Hoong transported a large volume of drugs to Muang Khua and decided to smash the ring.
VFF leader conveys condolences over death of Archbishop Bui Van Doc
President of the Vietnam Fatherland Front (VFF) Central Committee Tran Thanh Man on March 13 sent a letter of condolences to Archbishop of Hue Archdiocese Joseph Nguyen Chi Linh, who is also President of the Catholic Bishops' Conference of Vietnam and Bishop of Thanh Hoa Diocese over the recent passing of Archbishop Paul Bui Van Doc. 
The letter was also conveyed to the Archdiocese of Ho Chi Minh City. 
In his letter, Man wrote that Bui Van Doc, who was Archbishop of Ho Chi Minh City Archdiocese, former President of the Catholic Bishops' Conference of Vietnam, and Chairman of the conference's Committee on the Doctrine of the Faith passed away at 22:15 on March 6 (Rome time), or at 4:15 on March 7 (Vietnam time). 
He expressed his most profound condolences to the Catholic Bishops' Conference of Vietnam, bishops, priests, members of the Vietnam Catholic Church, the Archdiocese of Ho Chi Minh City, Saint Joseph Seminary, and relatives of Paul Bui Van Doc. 
Man lauded the deceased Archbishop for his dedication to the Vietnam Catholic Church, the Archdiocese of Ho Chi Minh City and Catholic followers. 
He said Paul Bui Van Doc actively fostered the great national unity and the patriotic emulation campaigns of Catholic followers in general and the Archdiocese of Ho Chi Minh City in particular in the spirit of the Pastoral Letter of the Catholic Bishops' Conference of Vietnam, the message of the 2010 Congress of the Vietnam Catholic Church and teachings of Pope Benedict XVI and Pope Francis. 
The VFF Central Committee wished that the Catholic Bishops' Conference of Vietnam, dignitaries, priests and Catholic followers would continue upholding Paul Nguyen Van Doc's good example and caring for the poor in service of the nation. 
Deputy Patriarch of Vietnam Buddhist Sangha dies aged 90
Deputy Patriarch of the Vietnam Buddhist Sangha's Executive Council Most Venerable Thich Thanh Sam passed away at 6:30 on March 13 in Bac Ninh province, aged 90, according to the Government's Committee for Religious Affairs.
On its announcement the same day, the Committee said Most Venerable Thich Thanh Sam had high prestige and influences among monks and nuns and followers in and outside the country.  
He made numerous contributions to Buddhism and the nation and had been conferred with the first and third class Independence Order, the second class War Resistance Order, among others.
The dignity died of old age and his funeral will be held on March 16 in Kinh Bac ward, Bac Ninh city in Bac Ninh province.
Japan helps Vietnam tighten intellectual property management
The Japan Patent Office (JPO) will assist the Intellectual Property Department (IPD) under the Vietnamese Ministry of Science and Technology in implementing a project to comprehensively improve its ability in processing applications for industrial property (IP). 
IPD Director Dinh Huu Phi said, with its role as an intellectual property management agency, the department has devised many specific measures to promote intellectual property-related innovation activities, and deal with the backlog of industrial property applications. 
The IPD suggested the JPO continue to help it with processing industrial property registrations through the Japan International Cooperation Agency (JICA), and retrieve intellectual property data through the Japan Funds-In-Trust under the World Intellectual Property Organisation (WIPO).
Accordingly, Vietnam and Japan will establish a joint working group to discuss cooperation programmes on rapid appraisal of patent applications, human resources development, and quality management of patents. 
The JPO's experts will work with the IPD on specific contents before submitting to the Japanese Government for approval. It will also cooperate with WIPO and relevant partners to assist the department in issues related to retrieving intellectual property data.
Recently, the Japan Funds-In-Trust helped the IPD upgrade its ability and IT infrastructure. A large number of Vietnamese staff working in the field has been trained under the support of the Fund.  
Phi said the JPO will aid the department in fine-tuning policies to improve the efficiency of intellectual property protection and exploitation; better its ability to appraise industrial property applications; accelerate the automation of industrial property registration management system; and promote cooperation in the work. 
At present, the number of industrial property applications submitted to the IPD is on the rise, while the processing ability remains limited, leading to the backlog of registrations. 
In 2017, the IPD received over 102,000 applications, including 58,800 applications for intellectual property rights. The department processed more than 80,000 applications, including 39,000 registrations for industrial property rights, up 1 percent against 2016.-
Hanoi to celebrate Ireland's National Day
The Pen Monument in Hoan Kiem Lake in Hanoi is set to go green to celebrate St. Patrick's Day – Ireland's National Day on March 17, as the capital joins the Global Greening Initiative for the second time.
The 'greening' ceremony will be held at 6pm and will be followed by the Ireland Day event, a fun-filled free public event of Irish cultural activities organised by the Centre for Sustainable Development Studies (CSDS), a partner of the Embassy.
Minister of State for Food, Forestry and Horticulture, Andrew Doyle, will represent the Government of Ireland at the St. Patrick's Day Celebrations in Vietnam, and the Traditional Irish Music Society of University College Dublin (UCD Tradsoc) will present some of the best Irish music and dance.
Every year on March 17, Ireland and its people celebrate St Patrick's Day. With up to 70 million people around the world claiming Irish ancestry and many more friends of Ireland, St. Patrick's Day is a worldwide celebration.
Since 2010 a very special project called Ireland's Global Greening Initiative has grown to become a significant worldwide campaign in which landmark sites around the world 'turn green' to mark St. Patrick's Day.
This year on St Patrick's Day, over 300 of the world's most famous landmarks (stadiums, statues, museums and towers) in over 32 countries around the world, such as the Empire State building in New York, City Hall in London, and the Great Wall of China, will turn green for the day.
Over 10,000 Irish visitors travel to Vietnam each year, and we have a resident Irish community of about 1,000 who are particularly active in education and business. About 200 Vietnamese students are studying in Ireland.
Toll to be reduced on National Highway 18
Toll on a stretch of National Highway 18 in the northern province of Quảng Ninh will be reduced for residents living in Cẩm Phả City and Vân Đồn District from Wednesday midnight, said the province's People's Committee.
Residents of the 16 wards in Cẩm Phả City and those of the Cái Rồng, Đông Xá and Đoàn Kết communes in Vân Đồn District will enjoy a toll reduction of 30-100 per cent. The toll road leads from Hạ Long City to Cẩm Phả City's Mông Dương Ward.
The toll fee will be reduced by 60 per cent to VNĐ20,000 (US$0.9) per vehicle for vehicles with 12-30 seats and trucks weighing two to four tonnes, and by 57 per cent to VNĐ15,000 per vehicle for vehicles with less than 12 seats and trucks weighing less than two tonnes.
Vehicles with 31 or more seats and trucks weighing four to 10 tonnes will enjoy a 53 per cent toll reduction, at VNĐ35,000 per vehicle.
Toll for trucks weighing 10-18 tonnes and for 20ft container trucks will be reduced by 36 per cent to VNĐ90,000 per vehicle. Toll for trucks weighing more than 18 tonnes and measuring up to 40ft will be reduced by 30 per cent to VNĐ140,000 per vehicle.
The project of upgrading the Hạ Long-Mông Dương section of National Highway 18 was implemented in September 2015 under the form of BOT (build-operate-transfer). The project had a total investment capital of some VNĐ2 trillion ($88 million) by BOT Biên Cương JSC.
The company began collecting toll from February 13 this year. It paused toll collection during the Tết (Vietnamese Lunar New Year) holidays and resumed it on February 20 but was met with public opposition, with drivers blocking traffic and causing disorder at the toll station.
Photo contest on rural women launched
A photo contest on Rural Women and Sustainable Development has kicked off with the aim of recognising rural women's contributions to the growth and prosperity of Việt Nam in commemoration of International Women's Day 2018.
UN Women joined hands with the Embassies of Australia and Canada in Việt Nam to organise the event.
Photographers can send their entries to the organising board before June 8.
Participants are encouraged to submit photos under six specific topics including rural women and technology; rural women and sustainable agriculture; rural women and disaster/climate change; rural women in business and/or co-operatives; rural women in leadership and decision making; and gender equality between rural women and men.
Photography is detail-oriented and highlights specific individuals and scenes. It can be a powerful tool to raise awareness and to trigger positive development in society. This contest gives a platform to Vietnamese society to picture the positive changes they want to see regarding empowering rural women.
The winning images, in colour or black-and-white, will be selected based on the strength of their potential impact on society's perceptions of rural women and sustainable development.
The awarding ceremony and exhibition of excellent works will take place on October 20.
Can Tho looks to complete new-style rural area plan in 2019
The Mekong Delta city of Can Tho expects to recognise four additional communes as new-style rural areas in 2018 and three more in 2019, fulfilling its plan to turn 36 communes into the new-style rural areas a year earlier than scheduled.
The target was made during the working session on March 13 between the city's National Assembly delegation led by deputy head of the delegation Nguyen Thanh Xuan and Vice Chairman of the municipal People's Committee Dao Anh Dung, head of the Steering Committee for the national target programme on new-style rural area building of the city.
Xuan, also head of the city's supervision team for the implementation of the programme, noted that by the end of 2017, 27 of 36 communes fulfilled all criteria of the programme, completing 75 percent of the city's plan.
Dung said the most difficult criteria for the remaining communes include those in health insurance, poor household ratio, income and environment.
He pointed to a lack of resources for development, especially infrastructure building, as hampering progress.
Dung proposed that the Government give more incentives for enterprises to encourage them to invest more in production facilities in rural areas, thus creating jobs and improving incomes for locals.
The Ministry of Agriculture and Rural Development should provide more investment to pilot models of concentrated agricultural production, he said, adding that the city needs resources for maintaining education, health care and cultural works in recognised communes.
Xuan pledged that he will propose the National Assembly, Government, ministries and sectors tackle issues related to mechanisms and policies, as well as adjusting some new-style rural area criteria to suit the conditions of each locality.
The national target programme on building new-style rural areas, initiated by the Vietnamese Government in 2010, sets 19 criteria on socio-economic development, politics, and defence, aiming to boost rural regions of Vietnam.     
The list of criteria includes the development of infrastructure, the improvement of production capacity, environmental protection, and the promotion of cultural values.      
Under a decision issued by the Prime Minister in April 2016, a district must have all communes meeting all of the criteria to be designated as a new-style rural district. Earlier, those with at least 75 percent of the communes satisfying the 19 criteria were eligible.
According to the Ministry of Agriculture and Rural Development, as of February 21, 2018, there were 3,160 communes recognised as new-style rural areas, 35.4 percent of total communes.
FLC Thanh Hóa failed to get the points needed at Mỹ Đình Stadium
The coach of FLC Thanh Hóa let U-23 goalkeeping star Bùi Tiến Dũng play in the match against Bali United yesterday at Mỹ Đình stadium. The national hero managed to keep a clean sheet, but his team failed to score the goals they needed to raise their chances of getting through to the next round. The game ended 0-0.
FLC Thanh Hóa dominated most of the game, but failed to capitalize on chances and break past the effective defense of Bali United.
FLC Thanh Hóa gained only one point, giving them 4 points in total and placing them third in the group.
The chances for FLC Thanh Hóa to go further in the tournament are slim.
Feeling pressure to win the match, FLC Thanh Hóa mounted a strong attack against Bali United, pushing the opponents to stick together and defend their goal.
FLC Thanh Hóa managed 20 shots, 7 of which were on target, while Bali United made only 4 shots.
Thief gets a healthy dose of karma after nabbing a motorbike
Nguyễn Mạnh Hùng successfully stole a motorbike and earned VNĐ7 million (US$300) by selling it on to another person.
The next time, he stole a motorbike parked in front of a rented house in Nha Trang, central Khánh Hòa Province, and rode it away. Like previously, he decided to sell the stolen motorbike.
Hùng offered a price of VNĐ2.5million ($110) to the owner of a motel. However, the man refused to buy it because it looked too old.
Hùng left the bike in the yard waiting for another 'customer' to come along.
The next day when he came back, the motorbike had been stolen.
The ill-fated thief not only received no profit from his ill-gotten gains but was also sentenced to several years in prison after being caught by the police.
Lesson learned: keep a close eye on your stolen property, karma is sure to come back and bite you.
Women's special day gets even more special after big win
Women working at a sub-commission on publicity and education in the Central Highlands province of Kon Tum last week received a big surprise as a gift for International Women's Day.
Their boss, Lê Thị Kim Đơn, head of the sub-commission, bought 40 lottery tickets issued by Bình Định Province's Lottery Company for 14 female officers.
Women's day was complete when the results were announced at the end of the day.
18 out of the 40 tickets won prizes, worth a total of VNĐ4.8 billion (US$208,700).
Đơn received a gift for herself by nabbing four winning tickets, worth VNĐ200 million ($8,700).
From now on, we may see lottery tickets running quickly 'out of stock' on special occasions.
Restaurant moonlights as museum to preserve president's dining spot
Bún chả Hương Liên, a family-run restaurant serving rice noodles with grilled pork, on Lê Văn Hưu Street in Hà Nội, is well-known for its other name – 'Bún chả Obama'. The former US President and Anthony Bourdain, an American chef, author, and television personality enjoyed simple Vietnamese food at the spot in May 2016.
Since then, the restaurant has been crowded with diners from all over Việt Nam as well as foreigners.
Its owner, a woman named Liên, carefully washed the dishes, plates, spoons and chopsticks that the two men used and stored them in a safe place right after the meal. The owner has recently set up a corner of the restaurant's second floor as a 'museum', honouring her distinguished guests.
A set of plates, spoons, chopsticks, two bottles of beer and other items are organised exactly as they were on the table where Obama and Bourdain ate together. Of course, the iconic low plastic stools are included. To preserve the moment forever, the setup is surrounded by protective glass.
Now diners visit the restaurant not only to eat but also to see the display.
Liên said that diners suggested she display the dishes. Many people called her to ask if she wants to sell the table, stools or empty beer bottles.
Some people think that this is a promotion strategy. Others doubt whether the dishes, spoons and chopsticks are really the ones that the former president used.
No matter how the public has responded, Liên told media that it is not to promote her eatery but to save the memorable image.
"For us, he (the President) is a close and lovable person that we appreciate a lot," she said.
Vietnam, Laos to search for remains of martyrs
A memorial service will be held in May to repatriate 65 sets of remains of Vietnamese fallen soldiers from Laos to Vietnam.
It was said at the March 13 meeting between representatives of Xiangkhuang province, the National Steering Committee for the Search and Gathering Martyrs' Remains, National Steering Committee 1237, Military Zone 4 and Nghe An Military Command to review the search, gathering and repatriation of remains of Vietnamese fallen combatants.
At the meeting, the participants discussed and reviewed cooperative efforts in Xiangkhuang province in 2018. Both sides agreed on the plan to repatriate 65 sets of remains back to Vietnam in May.
Mr Khamesen Manivonge, deputy mayor of Xiangkhuang province committed to further assisting these activities.
He also extended gratitude to Vietnamese specialists and soldiers who laid down their lives for peace, independence, freedom and happiness of Lao people.
Vietnam offers free eye check-ups, surgeries to Lao people
A team of eye specialists from Quang Nam province has been in Sekong province, Laos to provide free eye check-ups and surgeries to local people.
The Vietnamese eye doctors performed 449 medical check-ups and 31 eye surgeries at Sekong provincial hospital. They also presented medicines and gifts to the patients.
The medical team is led by Hoang Chau Sinh, former vice secretary of Quang Nam Party Committee and current vice president of the Vietnam-Laos Friendship Association in Quang Nam province.
An Suong Tunnel in HCM City opens to traffic
Tunnel N1 at An Suong 3-level intersection in Ho Chi Minh city's north-western gateway opened to traffic on March 14.
The VND514 billion project aiming to ease traffic congestion in HCM city includes two tunnels separating vehicles travelling in opposite directions. 
Tunnel N1 at An Suong intersection in Hoc Mon district is 445metres long and 9 metres wide with two lanes. The tunnel is designed with a lifespan of 100 years and would be able to survive 7 magnitude earthquakes.
Deputy director of the Urban Traffic Management Zone No. 3,Trinh Linh Phuong, said the project would help reduce traffic congestion and accident hotspots at An Suong crossroads.
Mr Phuong also asked Hoc Mon district People's Committee to speed up the land acquisition progress to enable Tunnel N2 be completed this year.
Wheel pops off bus in Vietnam, frightening passengers on board
An old bus had its wheel comes off while traveling in Ho Chi Minh City on March 12, frightening passengers aboard yet leaving nobody injured.
The incident took place when the rear left wheel of the bus en route to Cat Lai Port in District 2 fell off and rolled onto Do Xuan Hop Street in District 9.
The old bus tilted diagonally, leaving its rear axle screeching the asphalt, according to one witness.
Tran Chi Trung, director of the Public Transportation Management and Operation Center, confirmed the incident to Tuoi Tre (Youth) newspaper and reported no casualties or injury.
The cause was attributed to the broken rear axle, according to Trung.
The Thanh Son Cooperative, which operates the bus, was then required by the center to review all of its old buses, put them under maintenance, and register for a quality evaluation.
The center has also promised to perform regular checks on all public transport vehicles in use so as to ensure the safety of passengers.
The bus, one of the No. 29 series, commuting from Thu Duc Produce Market in Thu Duc District to Cat Lai Port in District 2, is amongst the many vehicles yet to be renovated and upgraded into a new model.
The old model has been in use for nearly 10 years, notorious for an unaesthetic exterior and interior, an inadequate cooling system, grumbling engine noises, and often criticized for exhausting plumes of black smoke from its rear.
Tech bosses of multi-million-dollar gambling ring arrested
Two technology officers from VTC Online and CNC were arrested for running a multi-million-dollar gambling line under the wings of former C50 director general.
The investigation agency has arrested two technology officers for running a multi-million-dollar gambling ring that involved Nguyen Thanh Hoa, former director general of the Ministry of Public Security's High-Technology Department (C50), who has just been arrested a few days ago.
The arrested duo include Phan Sao Nam, founder and former chairman of VTC Online, and Nguyen Van Duong, chairman of high-tech security development company CNC, the masterminds behind a huge gambling ring.
This operation was based in Phu Tho province and nearly 70 people have been arrested for involvement since August 2017. 
The local police said that Nam and Duong had been operating tech businesses and importing technical devices before they switched to online gambling. They set up a system where players can bet money via an online game using cards issued by CNC.
The investigation found that there are around eight million frequent users on this trans-national gambling site. The police has seized more than VND1 trillion ($44 million) so far and suspect that a further $3.6 million has been transferred overseas.
Nguyen Thanh Hoa, former chief of the cyber-crime unit, had failed to shut down the syndicate after discovering it, and instead offered his protection. Hoa was director general of the C50 from 2009, after long years of working in the economic crime unit. He was suspended in late 2017 for his involvement in the crime ring.
According to Article 249 of the Penal Code, organising gambling or running gambling dens is punishable with up to 10 years of imprisonment.
Singer Cat Tuong to embark on Japan tour
Singer Vu Cat Tuong is set to perform in the Japanese city of Osaka on March 24.
According to the organising board, the singer was invited to take part in a range of cultural exchange activities in Osaka on March 25 to mark the 45th anniversary of Vietnam-Japan diplomatic ties.
In addition, she will hold a fan meeting and a mini-show titled "Hello Osaka I am Vu Cat Tuong" at 19:00 on March 24, at TB-SQUARE, 2-13-22 Shimanouchi, Chuo-ku. The show will be live streamed on the Vlive channel.
U.S. Embassy to Organize Higher Education Fair in Hanoi
The U.S. Embassy Hanoi's EducationUSA Advising Center will organize the EducationUSA Higher Education Spring Fair on Tuesday, March 20th, 2018, from 13:30 - 18:00 at Hanoi Daewoo Hotel, 360 Kim Ma Street, Hanoi.  Entrance is free to the public. 
60 U.S. universities and colleges will meet with interested students and parents to provide information including application procedures, financial aid, and scholarship opportunities for international students. At the fair, the U.S. Embassy's Consular Section will provide an information session on U.S. student visas for the public. 
The Embassy's EducationUSA Advising Center will provide an information session on the higher education system in the U.S. The U.S. Embassy Hanoi will also have information booths about the American Center, and U.S. Government scholarship programs for Vietnamese students, scholars and professionals. 
EducationUSA is a U.S. Department of State-supported network of over 425 advising centers in more than 175 countries. EducationUSA Advisors provide Vietnamese students and parents with accurate, comprehensive, and current information about how to apply to accredited U.S. colleges and universities. All services are free.