VietNamNet Bridge – When Bui Thi Mai of Nam Dinh Province was unable to find a job that allowed her to make use of her two-year medical diploma, she settled for a job as a factory worker at a local industrial park.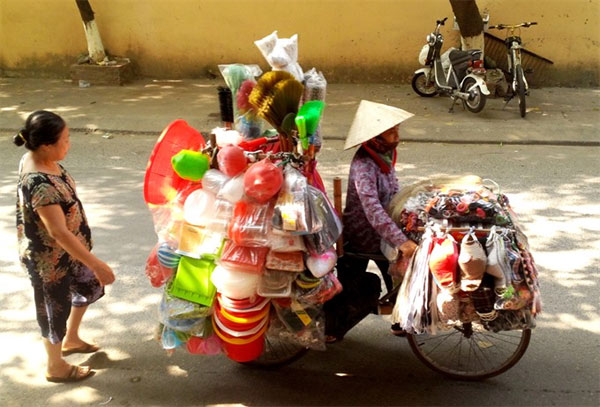 A street hawker sells household appliances in Hanoi. Street hawkers in Vietnam belong to the informal sector whose jobs are unprotected and unmonitored by the State. — VNS Photo Doan Tung
The job search was tough. She found several well-paid jobs with reasonable work hours, but the recruiters specified that they would only hire male candidates.
"A lot of jobs had physical requirements for female candidates, like you have to be at least 1.5-metre tall and weigh at least 42kg," Mai told the Lao Dong (Labour) newspaper. "I weighed about 40kg at that time, so I was unqualified right from the start."
Female labourers in Vietnam face gender discrimination in work and life, according to a recent report published by the Network of Actions for Migrant Workers (M.net). Several employers deliberately recruit either only male candidates, or female ones that have already had children so that they will not have to pay them their birth allowance, the report said.
A recent study conducted by the network shows that despite having the same qualifications and job levels, the average income of female workers in Vietnam is 10.7 per cent lower than their male counterparts.
The discrepancy is wider in jobs that require higher levels of education. In 2016, while the difference between the incomes of male and female high school graduates was 8.1 per cent, it stood at 19.7 per cent for those with university degrees. The income of women in managerial positions is about 12 per cent lower than their male counterparts, according to the report.
More women are working in more hazardous environment than men, the report said. About 59 per cent of waged male workers have labour contracts, while only 50 per cent of their female counterparts do. More than 68 per cent of female workers in shoe export factories have had gynecological infections due to the hot, unhygienic environment, high work pressure and the lack of hygiene facilities for women, according to the report.
The working conditions are worse for female workers in the informal sector, such as domestic helpers and street hawkers. Earning only VND4-6 million (US$176-264) per month, more often than not, these workers are unaware that they need to have labour contracts and that they have other rights and benefits apart from getting paid.
"We don't know about the different types of insurance. No one ever told us about them," said Tran Thi Chuc, 37, a domestic helper in Hanoi.
"I do wonder how I will make a living 10 years from now when I lose all my physical strength," she added. "But I did not dare ask my employer for anything more than salary."
Duong Thi Van, 36, a street hawker selling flowers in Bac Giang Province, said that she thinks only women would agree to the menial jobs such as housekeeping, hawking and washing dishes at restaurants.
"The nature of these jobs make us more self-deprecating and suffer from more disadvantages than men," she said.
Ngo Thi Ngoc Anh, director of the Community Development and Family – Gender Research Centre (GFCD), said that a fair and just perspective from policy makers is much needed to create equal opportunities for all labourers in the country.
"It is absolutely important to give informal labourers access to social security policies such as social insurance and voluntary life insurance," she said.
Pham Minh Huan, former Deputy Minister of Labour, Invalids and Social Affairs, said that ensuring the rights for formal and informal labourers is a long-term problem that needs to be tackled thoroughly.
He advised that the scope of the Labour Code be expanded to the informal sector so as to better protect informal labourers.
The employers play a major part in ensuring equal opportunities for female labourers, he added.
"They should embrace social responsibility, and not think of using female labourers without considering how they would ensure their benefits," he said. 
Source: VNS