VietNamNet Bridge – The death of a 20-year-old girl on Monday in Hanoi's Ba Dinh District that was allegedly caused by an aspiring pop singer after the pair reportedly used crystal methamphetamine, raising concerns about the dangers of the drug.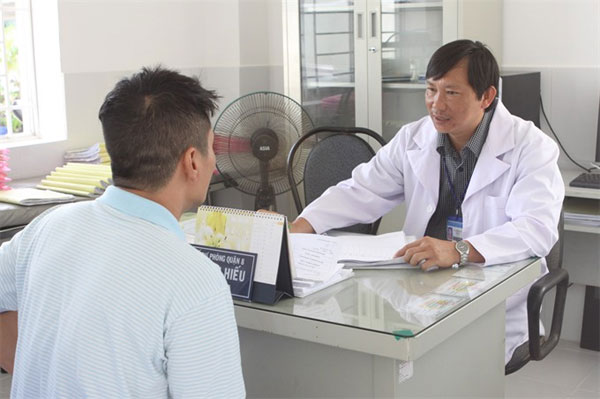 A drug addict is consulted for rehabilitation by a doctor from HCM City's District 8 Medical Preventive Centre. — VNA/VNS Photo Phương Vy
Nguyen Viet Cuong was arrested a day later for allegedly killing the girl by shoving cloves of garlic down her throat in an "exorcism" ritual while they were both under the influence of drugs. 
According to police of Hanoi's Ba Dinh District, Cuong, the girl and some friends took drugs late on Monday night, causing them to hallucinate. Cuong was supposedly convinced the girl was possessed by an evil spirit so he and the girl scattered garlic around the house and started putting the cloves in their mouths. 
Cuong then reportedly held the woman down and shoved one clove after another down her throat until she died from suffocation.
Police discovered 33 cloves in the woman's windpipe and forensic tests concluded that the cause of death was congestion in the respiratory tract.
The case is under further investigation but it has raised fears about the increasing abuse of methamphetamine, particularly among young people.
Cao Tien Duc, Head of the Viet Nam Military Medical University's Medical Psychiatry and Psychology Unit, said hallucinations after using methamphetamine were common.
Synthetic drugs directly affect users' central nervous system. Using the drugs could cause hallucinations, which can lead to violent behaviour, he told Tri thuc tre (Young Knowledge) online newspaper.
Using drugs like crystal methamphetamine can also harm users' physical health.
The Hanoi-based Bach Mai hospital recently provided emergency treatment to a 16-year-old girl from central Thanh Hoa Province after she slipped into a coma after using methamphetamine.
The hospital's Poison Control Centre is also treating a 41-year-old male who experienced brain, kidney and heart damage as a result of the drug.
Doctor Nguyen Trung Nguyen, who runs the centre, told Tuoi Tre (Youth) newspaper that poisonous elements included in crystal methamphetamine could directly attack the heart and cause heart pain and kidney failure as well as attack the nervous system.
Up to 60 per cent of deaths among crystal methamphetamine users were caused by cardiovascular damage, he said.
Young addiction
According to the Ministry of Health's HIV/AIDS Prevention and Control Department, more than 200,000 people nationwide are drug addicts.
Senior Lieutenant Colonel Bui Duc Thiem from the Ministry of Public Security's Anti-drug Police Unit, said crystal meth users have been getting increasingly younger in the last few years, with some starting to take the drug at the age of 15 or 16.
Most of those users hold a misconception that using crystal meth is cool and that it was not an addictive drug.
A survey of nearly 600 Vietnamese drug users aged between 16 and 24, published last year, found many of them started to take heroin, marijuana, methamphetamine and ecstasy when they were just 12 or 13 years old.
The average age for young people in Hanoi, Hai Phong and HCM City to begin using drugs ranges from 16.4 to 17.3 years old, according to the survey.
The survey, conducted between December 2016 and February 2017 by the Centre of Supporting Community and Development Initiatives, also showed that more and more young people are using crystal methamphetamine in the false belief that this substance does not cause addiction. Nearly 40 per cent of the respondents admitted to using it. 
Source: VNS