VietNamNet Bridge – The sudden return of a soldier thought to be long dead in Cambodia during the 1980s has brought immense joy to his family.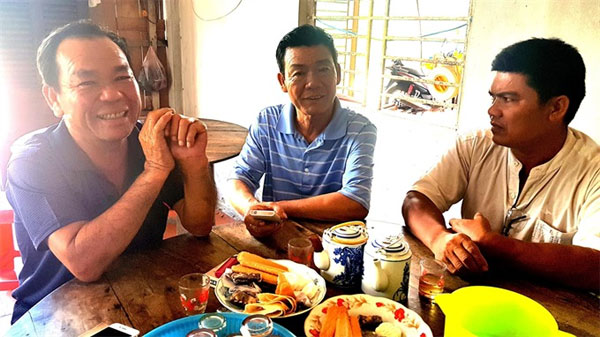 Truong Van Chong (leftmost), the soldier thought dead in a fight in Cambodia in 1985, returned to his family in Can Tho City last week, surprising his mother and relatives. 
Authorities, however, are puzzled as they have not come to a conclusion what to do with the war martyrs' that the family has received in the past two decades.
The story of Truong Van Chong, 58, finding his way back home and reuniting with his mother, Huynh Thi Nua, now 88, after 33 years has garnered widespread attention, with many calling the journey home a "rare miracle".
The mother-son duo lives in a village in Dinh Mon Commune in Thoi Lai District.
Chong is the sixth child in a family of 10 siblings. He was enlisted in 1983 while he was already married and had a child. During a fight in Cambodia's forests in 1985, he suffered injuries and lost contact with his unit.
The military later declared Chong dead in absentia.
However, according to Chong, he was rescued from the forest by Cambodian residents, who took care of him
"My memory declined severely afterwards, plus there were complications arising from my injuries. I could no longer recall where my family or hometown was," Chong said.
During his stay in Cambodia, he married a Vietnamese woman and had three children. In 2010, his new family returned to Việt Nam's Tây Ninh Province.
"We really struggled. Due to my injuries, I could not do taxing work, so I just collected latex," Chong said.
While most of his relatives' names were a blur, he could only remember one of his brother's names, Truong Van Cao.
Last month, Chong decided to start looking for his family. He went to Can Tho Province and asked people along the way. Listening to their description stirred his memory of where his old family could be. Luckily, in Dinh Mon Commune, he met someone who knew his family. Chong was finally reunited with his family on the fifth day of the Lunar New Year.
Chong's mother said she almost fainted on seeing him as she has held death anniversaries for him every year without fail ever since she got the news of his death.
"When he went to Cambodia, I went there to visit him. One of my grandchildren took me there. I looked for him for four days but could not find him, so I returned home. Later, the military broke the news of his death. I thought I had cried my last tears," Nia said.
Since 1994, Chong's mother has been receiving financial support, including a "charity house" entitled to the direct relatives of a deceased war martyr.
His family was overjoyed to see him and wished for Chong to stay with them. Chong, however, said he just wanted to visit his family. He is yet to decide where he wants to settle.
Nguyen Thanh Danh, Chairman of Thoi Lai Commune People's Committee, had asked the war invalids authorities and local army division to verify the case. It was concluded that the man was indeed Chong, who was recognised as a war martyr back in 1993.
Another verification will be conducted again with the collaboration of Military Zone 9, which manages military forces defending the Mekong Delta (headquartered in Can Tho City).
According to Danh, now that Chong was no longer a "deceased martyr", whether to reclaim the financial benefits from Chong's family would be decided by the provincial department of labour and war invalids.
"Personally, I think the money given to Nia in the past 25 years should not be taken back, considering the poverty status. Chong's memory loss was an unfortunate incident, not a deliberate scam to illegally claim benefits," Danh told the Lao Dong (Labour) newspaper.
Dao Ngoc Loi, head of the department of People with Meritorious Services (under the Ministry of Labour, Invalids and Social Affairs), told Vietnam News Agency that the department had suggested suspending the benefits to Chong's family. The death certificate of Chong will also be withdrawn, and due process will be initiated to see whether Chong is eligible to receive other benefits given to a war veteran, Loi told Vietnam News Agency.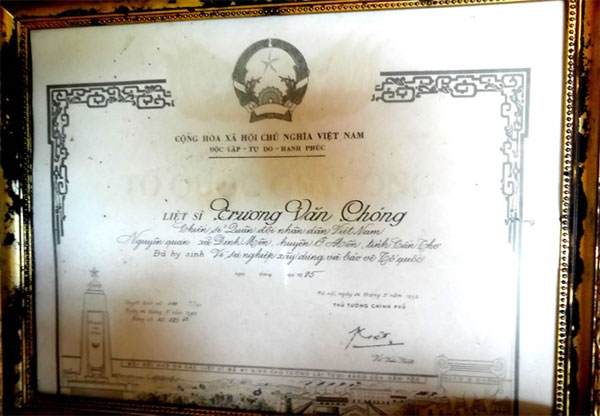 Certificate for 'war martyr' Truong Van Chong issued in 1993 and signed by the former Prime Minister Vo Van Kiet. — VNA/VNS Photos Thanh Liem
Source: VNS