VietNamNet Bridge – While a student condominium project has been halted due to a capital shortage, plans to give it a second life as a social housing complex have run aground due to the failure of Hanoi authorities and the Ministry of Construction to compromise.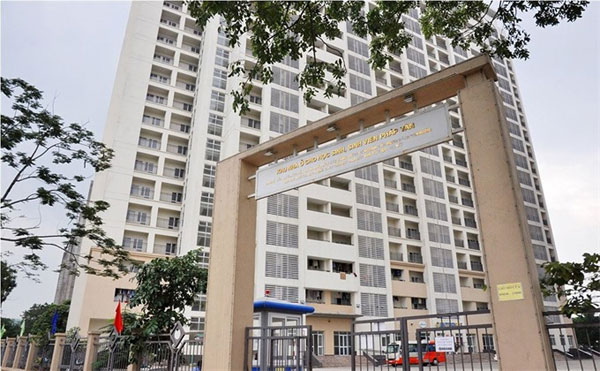 A view of the Phap Van – Tu Hiep student complex in Hoang Mai District. — Photo baodauthau.vn
The Phap Van – Tu Hiep student complex in Hoang Mai District comprises six 19-floor condos named A1 to A6. Construction began in 2009. The project was first invested at VND1.5 trillion (US$65.8 million) allocated from the Government Bond, then increased to VND1.9 trillion ($83.4 million) due to price fluctuations. In January, 2015, three buildings of the complex (A1, A5 and A6) were opened, expecting to host up to 10,800 students. However, because the investors could not allocate enough capital, A2 and A3 blocks have been abandoned, even though construction was partly finished.
To avoid waste, Ha Noi Department of Construction proposed to turn the two blocks into affordable homes. According to the department's data, the demand for social housing in Hanoi remains high. As of 2015, the city's social housing development plan only reached 44 per cent of people in need
Despite the shortage of living space for low-income people, Nguyen Chi Dung, the department's deputy director, told the Tien Phong (Vanguard) that the proposal to turn Phap Van – Tu Hiep student condos to affordable housing had not yet been approved by the capital authorities.
Experts also warned that the plan may not work because the demands of families and students are different.
Pham Sy Liem, deputy head of Viet Nam Construction Association, blamed investors for the condos' failure to attract students.
"I wonder whether they conducted proper research before implementing the project. The financial burden caused by the inefficient project falls on the Government. Therefore, it is essential to also emphasise ethics to strengthen project management," he said.
Meanwhile, in 2017, Le Cong Hung, deputy construction minister, said that the social housing fund had not fulfilled people's demand for accommodation while some condo projects could not attract students. Therefore, the ministry agreed to turn projects into affordable homes but also asked investors to recover the State capital and improve social infrastructure including schools and medical facilities in the neighborhood.
In 2009, when the Phap Van – Tu Hiep student condo project was announced, some 15,000 university students applied for accommodation. However, in 2017, 70 per cent of completed apartments are vacant. The residency is located in an isolated area; the nearest university is 4km away.  
Nguyen Van Hoa, a student at Ha Noi University of Construction, is one of the students still living in the complex—but he's moving out. Besides the unfavorable location, he said, the area is secluded, making him and other residents feel insecure. 
Source: VNS