Police officer dies saving stranded truck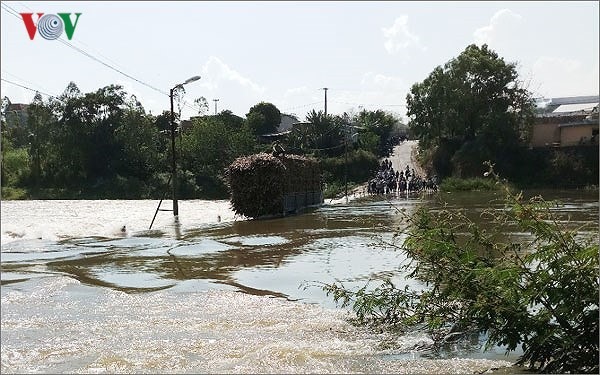 The site where the truck was stranded. - Photo vov.vn
A police officer from the Central Highlands province of Gia Lai died on Saturday after sacrificing himself to save a stranded driver.
Sergeant major Bùi Minh Quý, 25, from northern Hà Nam Province was mobilised to rescue a truck that had become stranded on an overflowing dam in An Khê Town.
The truck, carrying sugar cane, had gotten stuck in the flood caused by water released from the An Khê-Ka Nak hydropower plant. The driver was forced to climb on top of the truck and call for help.
Sergeant major Quý swam out to the truck. Due to the swift current, Quý was swept away and stuck under the dam. Rescue forces did not manage to get access to the site and save him in time. 
Major fire destroys six houses in Ha Noi
Six houses in a scrap-collecting area of Tan Trieu Commune, Thanh Trì District, Hà Nội and all furniture inside were destroyed yesterday morning by a major fire. 
The blaze reportedly started from a scrap-collecting house in the area and spread to the adjacent ones. 
There were no casualties. The cause of the fire and estimated property damage are being investigated.
Lâm Đồng plant's equipment degraded
Equipment at Tân Rai bauxite-alumina complex in the Central Highlands and equipment at some environmental treatment systems has deteriorated after nine years of operation.
The equipment's life expectancy was not as long as expected, the Ministry of Natural Resources and Environment has reported.
The information was released as part of analysis on the economic efficiency of Nhân Cơ Alumina Plant and Tân Rai bauxite-alumina complex in the Central Highlands province of Lâm Đồng sent to the Ministry of Industry and Trade.
In the analysis, the ministry said Chinese contractors had the capacity and experience to carry out the bauxite-alumina project in Lâm Đồng Province. However, the two project's investor, Vietnam National Coal and Mineral Industries Group, and the Ministry of Science and Technology should pay attention to the quality of equipment provided by contractors, including equipment for environmental protection.
In the past nine years, under the supervision of the ministry's environmental monitoring group, the Vietnam National Coal and Mineral Industries Group made great efforts to overcome environmental protection shortcomings.
But the mining and processing of bauxite in the two plants always had a risk of environmental pollution. Three environmental incidents occurred in Tân Rai bauxite-alumina complex and four incidents occurred in Nhân Cơ Alumina Plant.
The ministry also reported that the delay of the projects, which were two years behind schedule, caused the delay of environmental protection work.
For example, the red mud reservoir of Tân Rai bauxite-alumina complex had completed construction of the third chamber, but it has not been put into use.
The ministry said that it would inspect the environmental protection and water sources of the two projects at least three times per year.
It also asked the two projects to address environmental items, such as the completion of the construction of mining areas, ore sorting, ore processing plant, red mud reservoir, power plant and coal gasification plant for both plants.
The ministry requested Đắk Nông Province's Department of Natural Resources and Environment to continue monitoring the Vietnam National Coal and Mineral Industries Group's ability to remedy the situation and monitor the water around the plants, especially in the downstream areas where the plants' discharge gates are located.
It also asked the investor to continue setting up plans to prevent and respond to environmental incidents. They were required to carry out prescribed legal procedures for the ministry to issue certificates of completion of environmental protection works for the projects.
The Tân Rai bauxite-alumina complex, which extracts the soft clay-like substance to produce aluminium, has total investment value of more than US$805 million with capacity of 650,000 tonnes per year. It was put into operation in late 2013.
The Nhân Cơ Alumina Plant has total investment value of over US$814 million with capacity of 650,000 tonnes per year. It went into operation late last year. – VNS
Over 3,000 people in ao dai join mass performance in HCM City
Over 3,000 people of different ages in traditional long dress (ao dai) joined a mass performance in Nguyen Hue pedestrian street on March 4, a highlight of the fifth Ho Chi Minh City Ao Dai Festival from March 3-25. 
On the occasion, many secondhand ao dai were given free to less fortunate women. Fifty poor students with outstanding academic results also received scholarships. 
In the morning of the same day, an exhibition "Ho Chi Minh City Charming Ao Dai" opened in District 1, displaying more than 50 objects and various ao dai collections. The event will last till March 31. 
The festival, co-organised by the municipal Tourism Department and the Women's Union, has attracted more than 20 leading domestic ao dai designers with over 1,200 designs. 
Up to 16 activities, including fashion shows, talk shows and forums, will be held within the framework of the festival which was designed to popularise traditional culture of ao dai to foreign friends.
Ritual prays for peace in Con Son – Kiep Bac festival
A heaven-earth sacrificing ritual was held on March 4 at Ngu Nhac Mountain in Con Son – Kiep Bac special national relic site in the northern province of Hai Duong.
The activity, which was part of the Con Son – Kiep Bac Spring Festival 2018, takes place annually on the 17th day of the first lunar month with the aim of praying for peace, prosperity, development and bumper crops.
After the ceremony, local authorities presented five types of cereals including corn, rice, bean, peanuts and millet to participants.
Ngu Nhac Mountain, located in Le Loi commune, Chi Linh district, consists of five sacred peaks stretching over 4 km. Five shrines were built on top of the peaks, namely Bac Nhac (North), Trung Nhac (Middle), Dong Nhac (East), Tay Nhac (West) and Nam Nhac (South) to worship the gods of five directions.
The Con Son-Kiep Bac complex was listed as a national relic in 1962 and as special national relic in 2012. The festival was recognised as a national intangible heritage in 2013.
The complex is among more than 3,400 national relics. Of these more than 1,000 are communal houses, nearly 800 pagodas and around 600 temples.
Japanese firms want to join HCM City's infrastructure projects
Japanese businesses commit to using advanced technologies to develop urban infrastructure in Ho Chi Minh City, said President of the Japan Conference on Overseas Development of Eco-Cities (J-CODE) Keiji Kimura. 
During a seminar co-hosted by the Ho Chi Minh City Real Estate Association (HoREA) and J-CODE in Ho Chi Minh City on March 3, Kimura said Japan wants to partner with the city to address challenges such as traffic congestions, population pressure and environmental pollution, towards building the city into a modern and eco-friendly metropolis with sustainable growth. 
J-CODE now has 57 members with a wealth of experiences in financial management, development planning and urban infrastructure construction, he said. 
HoREA Chairman Le Hoang Chau said there remain nearly 1,200 real estate projects in the city that are calling for cooperation and joint-ventures with partners, especially those from Japan. 
Deputy Director of the municipal Construction Department Le Tran Kien said between 2016 and 2020, the city is striving to relocate 20,000 households living on and along dykes and canals.
Urban landscaping projects are divided into three categories, including those using State budget, those regarding commercial housing construction in combination with urban development, and those in the form of public-private partnership. 
By 2020, the city plans to repair, upgrade and build half of 474 old apartment buildings built before 1975, he said.
NA leader presents gifts to poor people in Tuyen Quang
Vice Chairwoman of the National Assembly Tong Thi Phong presented gifts to social beneficiaries and poor people in Tuyen Quang during her working visit to the northern mountainous province on March 3-4.
The beneficiary people are residing in Kim Binh commune of Chiem Hoa district, and Nang Kha commune of Na Hang district.
Phong also presented gifts and planted trees at the ethnic boarding secondary schools of Chiem Hoa and Na Hang districts, and the Tuyen Quang Hydro Power plant.
The NA Vice Chairwoman burnt incense and planted trees at the national special historical relic site of Kim Binh, the venue of the second National Party Congress in 1951.
Phong hailed the efforts made by the local authorities to ensure socio-economic development, security and national defence, particularly the new-style rural area building.
During the Lunar New Year (Tet) festival, Tuyen Quang took good care of local poor people and social beneficiaries, and ensure security and social order, she said.
The lawmaker asked the local authorities to fully tap potential for stronger socio-economic development, thus increasing local people's incomes.
The province needs to develop its human resources, particularly among ethnic minority groups, facilitate their studies and contribution to the process of national development, she added.
Vietnam initiative promotes sustainable development of water resources
Measures to promote cooperation for sustainable development of water resources are being discussed during the Vietnam International Water Week 2018 from March 4-8, which gathers representatives from more than 30 countries and territories worldwide. 
Themed "Vietnam Water Cooperation Initiative" (VACI), the event offers a chance for enterprises to show their commitment to protecting water resources and the environment. 
Deputy Minister of Natural Resources and Environment Tran Quy Kien affirmed Vietnam's consistent stance of managing water resources in an integrated manner, which is highlighted in the National Strategy on Water Resources. 
Water use must be in line with the economic restructuring in the context of industrialisation, he said, adding that water resources should be developed sustainably, and used economically and effectively. 
This management method is clearly shown in decrees, decisions, circulars as well as in the implementation of water resources management policies, he noted. 
According to the Ministry of Natural Resources and Environment, the world's water exploitation increases by 1 percent per year, putting pressure on many countries and territories.   
About 780 million people worldwide don't have access to clean and safe water sources, while both surface water and groundwater are increasingly degraded and polluted.
The United Nations has estimated that the world's population will need 30 percent more clean water by 2030, and 44 percent by 2050. 
General Director of the Centre for Planning and Surveying National Water Resources Tong Ngoc Thanh said the VACI 2018 also aims to call for more efforts from enterprises to develop technological solutions in the field, and to raise awareness of water resources and environmental protection. 
The plenary session "Water is the goal of sustainable development" is the highlight of the event, which also includes 23 seminars with nearly 500 scientific reports on   monitoring and forecasting of water resources, climate change adaptation in Asia and management of water resources in Southeast Asia. 
Exhibitions of photos and technologies and training courses related to water resources management are also part of the event.
Tuyen Quang: Pathen ethnic group hosts fire dancing festival
The Pa Then ethnic minority community in Hong Quang commune, Lam Binh district, the northern province of Tuyen Quang, held their traditional festival of fire dancing on March 3 night.
The annual festival is practiced on the 16th of the first lunar month to thank Gods for a bumper harvest, prosperity and good health.
The festival began with the lighting of a large fire and a shaman prayed to the Gods. The offerings included a pig and five cups of rice wine. 
When the shaman constantly struck a wooden musical instrument and performed the rituals, the fire dancers, men only, came to sit in front of him and let spirits of Gods and the deceased enter their bodies in a rite called "nhap ma" (trance). 
The dancers then danced on a pile of burning coal for 3-4 minutes without fear among cheering crowds.
The Pa Then people believe the flame is symbolic of life, prosperity, and happiness.
Tuyen Quang is home to 686 Pa Then minority people, living mainly in Hong Quang commune.
Thanh Hoa: Project helps preserve rare herbal plants
A scientific project to preserve and develop the genetic resources of the medicinal plants Ba Kich (Morinda officinalis How) and Sa nhan tim (Amomum Longiligulare T.L.Wu) is underway in Pu Hu Nature Reserve, the northern central province of Thanh Hoa.
According to Nguyen Phuong Dong, Director of the management board of the reserve area, the project will be conducted from 2017-2020, contributing to raise public awareness of protecting rare herbal plants in the locality. 
It is focusing on researching the current status and threats to these two species in 20 villages, holding conferences and signing commitments to protect the plants in 40 villages in the buffer zone of the reserve area. 
The board is also working to propose preservation measures and printing posters for the communication work. 
The project is important as the natural distribution area of the plants is gradually narrowing, Dong said. 
It will also help protect forest resources and land, restore vegetation, raise forest coverage, improve the environment and develop other herbal plants in Pu Hu forest, he added. 
Ba Kich is thought to have some effects in the treatment of many diseases such as kidney failure, impotence, rheumatism, neurological depression, insomnia, asthma and diarrhoea, among others. The planting of the medicinal plant has been piloted in the northern provinces of Lang Son, Vinh Phuc and Hoa Binh.
Sa nhan tim is usually used to treat digestion-related diseases.
German state looks to hire more Vietnamese caregivers
The Mecklenburg – Vorpommern (MV) state of Germany wants to enhance cooperation with Vietnam in training Vietnamese caregivers for work in German, according to an official of the MV government. 
State Secretary of the MV Ministry of Economics, Employment and Health Dr. Stefan Rudolph is leading a delegation on a week-long visit to Vietnam from March 1. The delegation includes representatives from businesses, hospitals and vocational training establishments in the MV. 
Rudolph said one of the main targets of the delegation's trip is to study and expand cooperation with Vietnam in recruiting and training Vietnamese caregivers for jobs in the MV. 
Towards this goal, the delegation will visit Hanoi, Ho Chi Minh City, Hai Duong and Ha Tinh, where they will hold talks with local authorities and tour local medical and vocational training establishments. 
The official noted that Germany and Vietnam have engaged in long-term and fruitful cooperation in vocational training, stressing that the state wants to further promote the partnership. 
Caregiver training is one of the items listed in the letter of intention on cooperation signed between the Vietnamese health ministry and the MV Ministry of Economics, Employment and Health in Berlin on July 6, 2017 in the witness of Prime Minister Nguyen Xuan Phuc and Federal Minister of Economic Affairs and Energy Brigitte Zypries.
Under the document, the two sides will work together in recruiting and training Vietnamese caregivers to meet the demand of health and nursing facilities in the MV as well as to develop models for the training in Vietnam. 
At present, more than 16,700 workers are employed in the care for patients and the elderly in the MV, but the state still needs at least 2,900 more caregivers by 2020. 
Germany's statistics show that as of June 2017, there were 32,700 Vietnamese working in Germany, of whom 430 were in the MV.
Quảng Nam set humble goal for V.League 2018
Quảng Nam FC kicked off the V.League 2018 with a ceremony on Saturday, when they announced their target of being among the top three teams this season.
Quảng Nam, a considered underdog team in the premier league, are the V.League's reigning champion and the National Super Cup winner. They won both titles for the first time last year.
"We have played in the V.League for four seasons, so what we have done is remarkable. There is nothing better for a coach, then to experience such happiness," said coach Hoàng Văn Phúc.
"I believe that the feeling of guiding a big team to victory would not make me as happy as I am now. We are a team from a small town, and won two cups in a row. It is our pride."
Phúc said his tiny team made plans for every match and strictly followed their tactics. They received strong support from local fans, provincial leaders and, more than that, the players competed in comfortable conditions, without any pressure.
He said he hoped that these values would continue to push them to success in the new season.
"We won, but we were not pleased with what we did last season. This year, we are heading to play beautiful football and try our best to be in the medal group. We also want to win the National Cup trophy to complete our title collection," said Phúc.
At the Saturday ceremony, Quảng Nam also introduced their newcomers, including goalkeeper Trần Đình Minh Hoàng, right defender Trịnh Văn Hà, left defender Nguyễn Trần Mi La, central midfielder Ngô Quang Huy, winger Ngô Đức Thắng and striker Wander Luiz.
The new players are expected to provide strong support for the older players, in which only Đinh Thanh Trung is well-known among national fans. Trung is the national team player who won the Golden Ball statue as the best player of 2017.
One of Quảng Nam's difficulties is in key striker Claudecir Junior's leaving. He scored 12 goals and assisted in three others, and was the team's leading scorer.
"It is regrettable that he has departed. But on my team, none are irreplaceable. You can see Luiz is a good player. If we are lucky, he could net a goal in the Super Cup match. In Quảng Nam we highlight our solidarity and discipline. Players are asked to follow the rules. There is no star here."
According to the former national coach, it would be difficult for his team to defend the title.
He said Quảng Nam previously had never been appreciated, but the situation is different now.
"We might not see surprises, like last year, because every team knew our playing style. On the other hand, my players have to shoulder heavy pressure, as they are the defending champions. Their spirit in the coming match will be different, and we must work harder for every game.
"Moreover, other teams, such as FLC Thanh Hóa and HCM City, have showed their great determination to win the trophy this season. They have shopped a lot, bringing home quality players."
Quảng Nam will start its journey with a match on home turf at Tam Kỳ Stadium against Sài Gòn FC this Saturday.
Vietnam International Water Week kicks off
The Vietnam International Water Week (VACI 2018) opened in Hanoi on March 4, as part of the activities to mark World Water Day on March 22.
The event is one of the annual activities of the Vietnam Water Cooperation Initiative to provide opportunities for businesses to express their opinions and commitment to protecting water resources and the environment, towards the aim of building and maintaining sustainable economic development in the water resources sector.
The VACI 2018 is taking place from March 4 to 8, featuring the participation of 20 countries with a plenary session "Water and Sustainable Development Goals"; and 23 workshops with nearly 500 scientific papers focusing on a number of important issues related to water resources.
Under the framework of the event, an exhibition will be organised, displaying 70 posters and 20 booths on technology products in the field of water resources.
In addition, the event will also include two courses, "Application of satellite technology in water resources management" and "Monitoring and forecasting of water resources".
Addressing the opening ceremony, Deputy Minister of Natural Resources and Environment Tran Quy Kien stressed that the Vietnamese government considers water as a strategic resource for sustainable national development. Ensuring the efficient use of water in order to meet the demand of sustainable socio-economic development and national defence is one of Vietnam's main policies included in the Law on Water Resources, according to Deputy Minister Kien.
WB-funded project helps Vietnam improve energy efficiency
The World Bank (WB) and the Vietnam Ministry of Industry and Trade jointly launched a US$102 million project on March 5 to support the efforts of industrial enterprises to adopt energy-efficiency technologies and practices.
Under this project, industrial enterprises can access a new line of credit to fund their purchases of energy-efficiency and production-optimization technologies, thus reducing energy consumption and production costs and increasing their overall competitiveness in the domestic and international markets. 
With the support of the project, financial institutions and industrial enterprises will be able to prepare, evaluate and appraise energy efficiency projects. This will create a new line of business for financing institutions, providing loans to support industrial energy-efficiency investments, which will enable them to scale up energy-efficiency lending to industries.
"The Government has made strong efforts over the last few years in developing policies and regulations aiming to promote energy efficiency in all sectors", said , WB Country Director for Vietnam Ousmane Dione.
"Vietnam's energy sector is facing many challenges due to limited domestic energy resources and the high electricity demand to support economic growth.  In this context, implementing and scaling up energy efficiency investments will bring multiple benefits, such as improving the competitiveness of Vietnam's industrial sector, reducing GHG emissions and avoiding the need for investments in new coal fired power generation", Mr Ousmane Dione noted.
Funding under this project will be provided to participating financial institutions, which will then lend to industrial enterprises to invest in energy-efficient subprojects.
Of the US$158 million, US$100 million comes from the World Bank's International Bank for Reconstruction and Development, the financing resource for middle-income countries, and US$1.7 million is from the International Development Association, the Bank's fund for the poorest countries. The rest of the project's funding will come from the Vietnam government participating financial institutions, and industrial enterprises.
Hong Ngoc Hospital, US doctors launch "Lighting up dreams" program
Hong Ngoc General Hospital has coordinated with a delegation of US doctors to launch the "Lighting up dreams" program from March 7-13 which aims to provide free medical check-ups and surgeries to disadvantaged children with congenital defects.
The US delegation is led by Dr Joseph M. Rosen, lecturer of Geisel School of Medicine in New Hampshire. With nearly 40 years of experience, he is known as "golden hands" in the field of surgery relating to hand, head and neck and peripheral neurology.
Dr Rosen is accompanied by two famed doctors, Alexander Spiess from Wayne State University in Detroit, MI who specializes in conducting complex surgeries such as wrists, elbows, fractures, ligaments, tendons and traumas, and Mitch A. Stotland, a famous plastic surgeon in ear reconstruction and maxilla-facial surgery working at Dartmouth-Hitchcock Medical Center, NH.
For local expertise Hong Ngoc Hospital is sending Doctor Nguyen Nguyet Nha, former deputy head of Facial Plastic Surgery Department of Hanoi Central Pediatrics Hospital to work together with her US counterparts. 
Doctor Nha formerly studied and worked at Changgung Memorial Hospital in Taiwan and at Paris VI University. She has been working with many foreign doctor groups, such as a US group under the "Operation Smile" program and a Dutch Interplast medical team, to provide humanitarian surgery for disadvantaged patients with jaw defects in eight northern provinces and cities.
After the launch ceremony on March 3, the doctors performed screening examinations to exactly define who is able to meet surgery conditions. As a result, a surgical schedule has been set for 50 eligible cases.
After surgery, patients will receive optimal rehabilitation care with the support of most advanced medical equipment. In particular, the program also covers 100% of the surgical costs for all pediatric patients, thus helping their parents ease economic burden.
Hong Ngoc General Hospital's annual charitable surgery program "Lighting up dreams" is a meaningful humanitarian activity which provides a brighter future for Vietnamese children with birth defects.
HCM City eyes tougher conditions for migrants to become permanent residents
Ho Chi Minh City's Department of Construction has made a controversial proposal to raise the minimum living space required for internal migrants to register as permanent residents by four times.
The proposed plan, aimed at relieving pressure from the city's social and technical infrastructure, has been met with criticism from social experts who see little benefit from the new requirement.
According to Vietnam's law on residency, citizens who want to register as permanent residents in a municipality must have a legal place of residence in the destination city and have been a temporary resident there for at least one year.
A legal place of residence can be either their own property or a rent one.
In the latter case, one applicant must obtain written permission from the house owners that they agree to have him or her register as a permanent resident in their residence book.
The application is only approved if that applicant has a minimum living space of five square meters in the house.
The municipal construction department has proposed increasing the required minimum living space by four times to 20 square meters per person.
Residence books, which tie a person to a permanent address, are issued to the house owner and contain information of all permanent residents who stay at the same address.
Having one's name in a residence book in a major city like Ho Chi Minh City is a goal for many 'undocumented migrants' in Vietnam, as it allows them to enroll their children into local public schools, applying for certain jobs, enjoying welfare benefits and performing a range of administrative procedures.
The move by Ho Chi Minh City authorities has been viewed as a setback, considering the Vietnamese government already made a landmark decision last year to part with residence books in an effort to streamline administrative procedures and citizens' documents.
The construction department has argued that the hike in internal migrants to the southern metropolis, while boosting its economy, has placed tremendous pressure on the city's social and technical infrastructure.
The new living space requirement could solve problems including traffic congestion, pollution and overpopulation, it explained.
However, experts have pointed out that the proposed plan would do little to help elevate these problems Ho Chi Minh City is facing, as the internal migrants are still here to stay and work whether they are permanent residents or not.
"Resorting to living space conditions as a tool for residency management reflects an outdated mindset," Assoc. Prof. Dr. Nguyen Ngoc Dien, vice rector of the University of Economics and Law in Ho Chi Minh City.
"Instead, authorities should start viewing social problems from an economic perspective and use economic drives to redirect the flow of migrants elsewhere."
Le Loi stele named as national treasure

A stone stele created during the reign of King Le Thai To (1428-1433) in the northwest mountainous border province of Lai Chau has been recognised as national treasure and the memorial site for the king has been listed as a national historical site.

A ceremony to announce the recognition was held in Nam Nhun district of the province on March 5.

King Le Thai To, real name Le Loi, was founder of the Later Le dynasty (1428-1788). In 1431, the king ordered the creation of the stele on a cliff at the Da River's north side at the foot of Pu Huoi Cho mountain. It served as a warning to rebels in the country. 

The stele was named a national historical site in 1981. It was moved to a temple dedicated to King Le Loi, 500 metres from the previous place, for preservation in 2012 and officially listed as a national treasure in late 2016.

The Le Loi King memorial site was recognised as national historical site in early 2017. 

Can I borrow your phone?

The term 'smart city' is found in these pages a lot these days, but unfortunately actual intelligence isn't a prerequisite for the use of smart technology.

One woman in the southern province of Bình Dương found this out the hard way, losing some VNĐ 30 million after lending someone her smartphone.

Nguyễn Thị Y Bình, 39 years old, residing in Bình Hòa Ward, Thuận An Town in Bình Dương Province late last month reported to police the loss of nearly VNĐ 30.5 million from her e-wallet.

The suspected thief, who was identified on Sunday, is one of Bình's acquaintances.

The suspect, Nguyễn Đình Trường used to rent the same house with Bình. He admitted to police that on February 24, he asked Bình to use her phone to make a phone call.

When Trường saw a mobile payment application or e-wallet with a saved account in Bình's phone, he transferred money from Bình's banking account to buy in-game currency for an online game Trường played.

Perhaps before jumping to herald the rise of smart cities and smart technology, we should make sure the people using the tech have their wits about them.

Worth its weight in rice

Early this year, the owner of a husking plant in the central province of Bình Định found more than three ounces of gold left in a bag of rice.

The owner Lê Quang Thắng and his wife, who lived in Phước Hưng Commune, Tuy Phước District, told danviet.vn that they were very surprised to see the gold in the bag.

They kept the gold safe and made a public announcement to find the owner.

"I thought that in order to have the gold, people in rural areas must have saved for a long time and whoever lost the gold must be very anxious," Thắng said, adding that he wanted to return the gold to its owner.

Thắng told farmers and wholesalers who bought rice to their husking plant.

Thắng even asked local media to print his telephone number so that owner of the gold could contact him.

Since then, many people had phoned or turned up at his house to claim ownership of the gold but all of them failed to pass Thắng's tests.

Dương Minh Tân, chairman of Phước Hưng Commune People's Committee confirmed that Thắng was looking for the owner of the gold left in the bag of rice.

Tân said that he himself has not seen the gold because Thắng's family was keeping it very securely.

Tân praised Thắng's good deed, saying that local authorities would assist Thắng in returning the gold to the rightful owner.

Vietnamese Women newspaper celebrates 70th anniversary

Prime Minister Nguyễn Xuân Phúc on Monday granted the Vietnamese Women newspaper a merit certificate acknowledging their contribution to the women's empowerment since the Đổi mới (Renewal) era.

The merit was bestowed on the occasion of the 70th anniversary of the newspaper, which released its first edition on March 8, 1948, at the Việt Bắc military base.

"The newspaper helped encourage confident, creative and proactive women to rise up and prove their solid role in family and the society," the newspaper Editor-in-Chief Nguyễn Thị Thục Hạnh said at a ceremony celebrating the anniversary on Monday.

"The newspaper has become a place for the women to voice their mind and their hope and also a means to protect the rights of all women." 

On the occasion, the newspaper launched its new interface of the online version and officially kicked off the 6th "Give love - Receive Happiness" Mottainai Programme with the aim of providing support to child victims of traffic accidents.

The programme is scheduled for the first week of October at pedestrian plazas around Hoàn Kiếm Lake in Hà Nội.

Overseas Vietnamese in Macau get together

The Vietnamese Consulate General in Hong Kong and Macau held a meeting with Vietnamese representative agencies and expatriates in Macau on March 4.

Speaking at the event, Vietnamese Consul General to Hong Kong and Macau Tran Thanh Huan informed participants of socio-economic and diplomatic progress in their home country last year, with the fulfillment of 13 key goals set by the Government, a growth rate of 6.81 percent, and the successful organisation of the APEC Economic Leaders' Week.

The diplomat acknowledged efforts made by the overseas Vietnamese community in recent years, adding that they are praised by local authorities for working spirit and law observance. 

He said the overseas Vietnamese together have connected Vietnam with Macau, promoted Vietnamese image here, and worked to contribute to their home nation.

On the occasion, Huan presented certificates of merit to individuals with significant contributions to the development of the Vietnamese community in Macau.

President of the Vietnamese Fellow Countrymen Friendship Association in Macau Tran Thi Gon thanked the Consulate General and Macau authorities for their support for the Vietnamese community over the past time.

Photo exhibition on Hugo Chavez Frias opens in Hanoi

A photo exhibition on the life and career of late Venezuelan Commander-in-Chief Hugo Chavez Frias opened in Hanoi on March 5 on the occasion of his fifth death anniversary. 

The event is being co-organised by the Venezuelan Embassy in Vietnam and the Vietnam-Venezuela Friendship Association (VVFA). On display are also photos featuring the friendship, solidarity and cooperation between Vietnamese and Venezuelan people and leaders 

Chavez founded the Revolutionary Bolivarian Movement in his youth in the early 1980s and became President of Venezuela from 1999 until his death in 2013.

Speaking at the event, Venezuelan Ambassador to Vietnam Jorge Ronon Uzcategui emphasised that Chavez will be remembered with his struggles for justice, freedom and dignity of people. 

Vice President of the VVFA Le Duy Truyen said the late Venezuelan President gave special sentiments to the land and people of Vietnam, and greatly contributed to consolidating the friendship, solidarity and cooperation between the two countries' people. 

Vietnam persistently supports the cause of national construction and development of the Venezuelan people, he said, adding that the Vietnam Union of Friendship Organisations and the VVFA always stand side by side with the Venezuelan people and do their utmost to contribute to enhancing the Vietnam-Venezuela relationship.