VietNamNet Bridge – Hundreds of labourers in southern Binh Phuoc Province fully received three months of wages owed by a South Korea-invested company yesterday.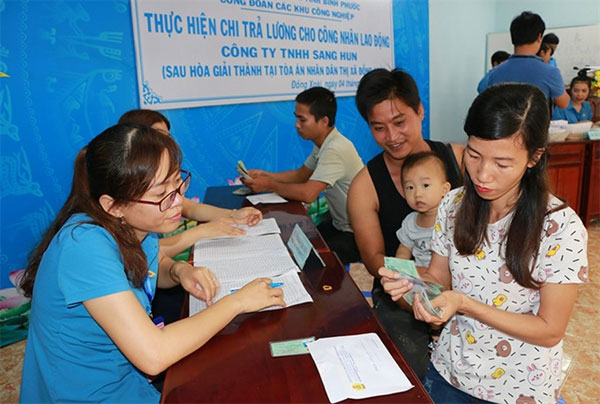 Labourers of Sang Hun Company yesterday received wages they were owed. - VNA/VNS Photo
Earlier the trade union of industrial parks in the province filed a lawsuit to the court against Sang Hun limited company for wages owed after its South Korean owner fled the country.
The labourers received cash worth nearly VND4.9 billion (US$213,000) in total, including more than VND1.8 billion ($78,200) in wages and over VND3 billion ($130,400) in social, health and unemployment debts.
Most labourers have debts owed between July and September last year.
The average debt paid to the textile labourers was over VND10 million ($435) for one person.
The highest owed wage received by an officer was more than VND64 million ($2,800).
Hoang Van Trung, one of the company's maintenance workers, told Viet Nam News Agency "I will use the wage to pay the debts I borrowed for my children's tuition fee."
Nguyen Hong Tra, president of Binh Phuoc Province's trade union, said that this was the first successful lawsuit to ask for wage benefits of labourers.
He said that trade unions of enterprises should listen to labourers and report cases to the provincial trade union in order to take measures to ensure legitimate rights of labourers.
Dinh Van Duc, a representative of the province's Social Insurance Payment Agency said that the agency would instruct labourers to take health check-ups and follow procedures related to labour accidents to ensure their rights. The agency will also help Sang Hun company's labourers address remaining problems related to social insurance.
Sang Hun Limited Company, which specialised in textile for export, started operations in March 2015 and ended operations in September 2017.
The company's workers launched 15 protests against the company due to owed wages and social insurance payments.
On September 22, 2017, owner Lee Hong Sang returned to South Korea and was unable to be contacted. 
Source: VNS