Dak Nong to grant rice to disadvantaged students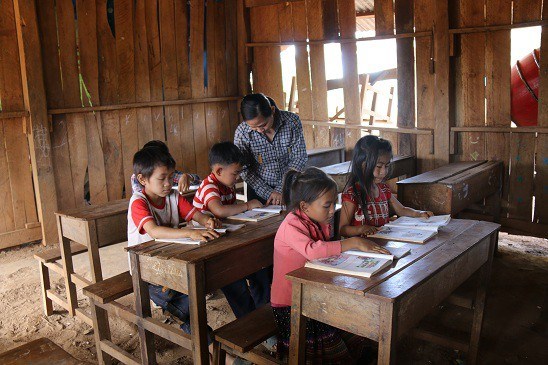 The Central Highlands province of Dak Nong will grant nearly 470 tonnes of rice to students and high schools of villages and communes struggling against extreme difficulties for the 2017-2018 academic year. 
The decision was signed by a leader of the provincial People's Committee on March 5. 
Accordingly, nearly 7,700 students will receive rice aid of 15kg per month for four months, mostly in Dak G'Long and Tuy Duc districts. 
Hoang Dinh Truong, Rector of Nguyen Du secondary school in Tuy Duc district, said 29 students in the school will benefit from the activity which will encourage them to overcome difficulties. 
The provincial Department of Education and Training is partnering with the Department of State Reserves for the south Central Highlands, authorities of 8 districts and communes and schools in the effort.
In 2017, Dak Nong spent nearly 52 billion VND (2.33 million USD) on poverty reduction, helping bring the poverty rate among local households down by 2.63 percent from 2016 to 16.57 percent. 
In particular, the poverty rate among ethnic minorities dropped by 9.34 percent.
As of the end of 2017, the province counted 25,114 households with 112,150 persons living under the poverty line.
Vice Chairwoman of the provincial People's Committee Ton Thi Ngoc Hanh said, besides effectively implementing the Government's policies, the province launched numerous policies and programmes to support needy students, households, particularly those of ethnic minority groups.
Special attention was paid to vocational training, housing, health insurance, clean water supply and education for minority ethnic groups, thus raising the living condition of local residents, while facilitating their access to State and community resources for economic development.
In 2018, the province aims to reduce the poor household rate by at least 2 percent, and by 3 percent among ethnic minority groups, in line with the multidimensional poverty standards.
Phu Yen takes urgent measures against illegal fishing
The south central province of Phu Yen is taking urgent measures to curb illegal, unreported and unregulated (IUU) fishing activities, as part of the national effort to tackle the European Commission's IUU yellow card.
Vice Chairman of the provincial People's Committee Tran Huu The said educational campaigns are an important measure to enhance local fishermen's awareness about IUU.
The province will intensify inspections of fishing activities at sea and in ports, take strict punishment against violations of regulations on fishing and ship registrations and management.
According to Nguyen Tri Phuong, deputy head of the provincial Department of Agriculture and Rural Development, fishery inspectors have coordinated with the border guard force to keep watch on fishing boats, inspect ships' records on fishing, and issue certifications for origins of seafood. 
Phu Yen is working on a fishing database which will integrate information on local fishing boats, the registration and licensing of fishing vessels, fishing sector's labour and activities of local fishing ports.
The provincial border guard force has undertaken measures to curb illegal fishing in foreign waters, such as monitoring vessels' activities, keeping close contact with fishing boats at sea and encouraging vessels' owners and captains to sign commitments not to violating other countries' waters.
Vietnam received a "yellow-card" from the European Commission (EC) because of its failure to meet standards over IUU fishing last year, and the country has been offered the opportunity to take measures to rectify the situation within six months. 
The EU will assess Vietnam's efforts to fight IUU fishing in April.
The "yellow card" is followed by a "green card" if issues are resolved or a "red card" if they are not. A "red card" can lead to a trade ban on fishery products.
On December 13, 2017, Prime Minister Nguyen Xuan Phuc issued Directive 45/CT-TTg on some urgent tasks and solutions following the EC's warning.
Many coastal localities of Vietnam have also taken actions to end IUU fishing.
Lang Son culture-tourism festival features local culture
More than 30 activities featuring local culture will take place during the second Culture – Sports – Tourism festival in the northern province of Lang Son, heard a press briefing on March 5.
They include a festival featuring "Then" singing and Dan Tinh (gourd lute, a stringed musical instrument played by Tay people), a tourism skill competition, a photo exhibition, boat racing and sport exchange between Lang Son city and Nanning, China's Guangxi province.
According to Nguyen Phuc Ha, Director of the provincial Department of Culture, Sports and Tourism, the festival's organising board will strengthen supervision during the week to ensure a safe atmosphere for visitors.
The festival will take place across 10 districts in Lang Son province from March 8-14.
FIFA to support Việt Nam to develop women's football in central region
FIFA will help Việt Nam develop women's football in the central region, according to FIFA football expert Belinda Wilson.
The Australian said she met with the Việt Nam Football Federation (VFF) managers and heads of concerned departments to develop a suitable strategy for Việt Nam in Hà Nội.
According to Wilson, Việt Nam's women's football now only focuses on the northern and southern region. While there are no teams in the central region taking part in the National Women's Football Tournament.
Wilson said it is necessary to create resources to develop Vietnamese women football.
Việt Nam was recently chosen to be part of a project of the world football governing body. The country will join an 18-month programme to develop youth football.
According to deputy chairman of the VFF, Trần Quốc Tuấn, the federation wants to stablise the development of women's football.
There are many solutions to be completed including linking with programmes on junior football development of the Asian Football Confederation and taking full use of facilities and coaches of the Việt Nam Youth Football Training Centre.
Vietnamese workers abandoned by Korean employer promised new jobs
15 companies have agreed to take in the unfortunate workers after their employer disappeared without paying them salaries.
Authorities in the southern province of Dong Nai have made arrangements to protect the rights and interests of nearly 2,000 workers at a local garment factory.
Workers at Texwell Vina Company have been in limbo since their Korean employers reportedly left Vietnam right before the Lunar New Year holiday without paying their January salaries.
At a meeting with the provincial People's Committee on March 5, Dong Nai Labor Union said it would help the workers terminate their contracts with Texwell Vina and apply to other firms in accordance with the regulations.
"15 companies have agreed to take in the workers. Tomorrow morning, their HR people would come to Texwell Vina to receive their applications," the leader of the union said.
The workers' crisis first grabbed headlines early last month after hundreds of workers gathered outside the Texwell Vina factory at the Bau Xeo Industrial Zone in Trang Bom District for days to demand their pay. The protest prompted provincial authorities to fork out VND7 billion (US$308,000) to cover half of the workers' overdue salaries so they could come home and celebrate the Lunar New Year (Tet).
After the holiday, the factory's leaders still did not return to Vietnam and the Korean Consulate in Ho Chi Minh City told authorities the factory's parent company in the Republic of Korea has also been shut down.
This is the latest in a series of cases where employers have absconded from Vietnam's southern industrial zone ahead of Tet to avoid paying holiday bonuses to their workers. Earlier this year, more than 600 workers at a garment firm in Saigon staged a strike for more than a week to demand their wages after their Korean employer disappeared.
According to the Ho Chi Minh City Labor Federation, as of January 2018, at least five businesses still owed wages and social insurance contributions from 2017 to around 900 workers, who were unlikely to be able to celebrate the upcoming Lunar New Year (Tet), which started on February 16, due to empty pockets.
Another 200 businesses claimed they had a difficult year and would have problems paying holiday bonuses, it said.
Vietnam's economy grew by 6.8% in 2017, the highest rate in a decade, but that hasn't benefited everyone.
Vietnam raised its minimum wage by around 7.3% last year to VND3.75 million per month, the lowest nominal jump on record. The government has approved another increase of 6.5% from mid-2018.
Last year, a third of the 2,600 workers surveyed by Vietnam's Institute of Workers and Trade Unions said their income was barely enough to live on, while 12% said their wages simply did not cover basic expenses, forcing them to work extra hours.
Long Xuyên quadrilateral provinces mull linking up
The implementation of a project called Co-operation to Develop Long Xuyên Quadrilateral Sustainably involving several provinces in the Mekong Delta will help exploit the region's advantages, according to experts.
Lâm Quang Thi, vice chairman of the An Giang Province People's Committee and deputy head of the project's standing board, told Người Lao Động (The Labourer) newspaper that the project has been submitted to the Government for approval.
After getting approval, the board would make detailed plans for the project, he said.
The quadrilateral comprises the provinces of An Giang, Kiên Giang, and Hậu Giang and Cần Thơ city covers an area of nearly 498,141 hectares.
The region is relatively low and flat. During the annual flood season from July to December it is flooded to a depth of 0.5-2.5 metres. In the dry season it is affected by drought.
The project seeks to link the three provinces and Cần Thơ with each other through the development of infrastructure and to use, protect and manage their water resources.
They will jointly make plans for production, investment, tourism, and commercial promotion.
They also will work with each other to build brands for their agricultural products.
Their authorities will recommend general policies for agricultural restructure to complement existing plans to improve livelihoods through adapting to climate change in the delta.  
According to Thi, rice products and technologies for rice production will continue to be the region's mainstay.
Seafood also has potential for development, he said.
Nguyễn Hữu Thiện, an independent expert on Mekong Delta ecology and a consultant to the project, said unlike previous projects, which focused on just the economy, this one would also focus on the community and environment.
It would provide an orientation for economic development for the next 20 years that would ensure the environment is not polluted, rivers are clean and there is social equality, he said.
People living in the region would no longer leave for other provinces or HCM City to work, he said.
The co-operation would help solve problems that each locality could not deal with individually, and build a common brand in the domestic and global markets, he said.
Dr Nguyễn Trọng Uyên, head of the Ministry of Agriculture and Rural Development's agricultural design and planning division, said farmers continue to grow three rice crops a year without heeding scientists and experts'warnings, and the consequence is to change the flow of rivers and canals, affecting irrigation.
The quadrilateral does not yet have a main rice variety appropriate for the local ecology, he said.
Its production, processing and consumption of farm produce face difficulties because of the low number of co-operatives, farms and enterprises, Uyên said.
Solutions need to be found for these problems soon, he said.
But any plans made for the quadrilateral's main agricultural products should dovetail with the overall plans for the delta, he warned.
Scientists should continue to assist farmers in the use of quality rice varieties, he said. 
The irrigation, traffic and electricity systems should be developed together with the large-scale crop-growing areas, he said.
Ways to store more water in canals and other water bodies need to be found, Uyên added.
Impressions of Vietnamese press in 2017
Minister of Information and Communications Truong Minh Tuan, in an article in the Nhan Dan (People) daily newspaper, highlighted the remarkable achievements of the Vietnamese press in 2017.
Here are some excerpts from his article:
Vietnam's GDP growth in 2017 was 6.81%, surpassing the target set by the National Assembly and forecasts by international organizations. Vietnam's economy saw a record number of newly registered enterprises. The Vietnamese Party, State, and people worked together to boost social development and ensure social security.
Press monitors national development
The press actively covered Vietnam's socio-economic achievements. In print and online newspapers, radio and TV, Vietnam's achievements, role models, and startup sprit were widely and clearly covered. The press criticized bureaucracy, stagnancy in management, ineffective policies, inequality, and excessive actions by special interest groups, and highlighted Party guidelines and government management. Various aspects of people's lives were truly reflected.
Press helps fight corruption
The Party Central Committee and the Politburo headed by Party General Secretary Nguyen Phu Trong showed a strong determination to fight corruption and special interests, aided in this fight. A number of corrupt officials were prosecuted showing that anybody, officials or ordinary people, who violate the law, will be punished according to the law and that there are no barriers for the press in reporting the fight against corruption and negative behavior. 
By providing a wide coverage of anti-corruption efforts, the press strengthened public trust in the Party and the government, and made society healthier.
The development of the press has helped to regulate and push back against fake news on social networks and promote the more positive aspects of the internet.
With the trust of the public, the press suppressed distortions by hostile forces and political opportunists. Through its efforts, the Vietnamese press is proving its freedom and that it is a press for the people and by the people.
Cambodia starts issuing residency cards to ethnic Vietnamese
The Cambodian government is set to open a path to citizenship for roughly 70,000 ethnic Vietnamese people living in Cambodia.
The plan was announced during the year-end meeting of the Immigration Department under Cambodia's Interior Ministry on February 28, the Phnom Penh Post reported.
At the gathering, immigration chief Sok Phal said the system would be similar to the green cards afforded to immigrants in countries like the United States or Canada.
​"Not everybody will be recognized," Nouv Leakhena, deputy head of the immigration department, said. "When they apply, we have to check them. But most of them, I think they can."
Nguyen Viet Dat, vice-president of the Vietnamese-Cambodian association in Pursat Province, told Tuoi Tre (Youth) newspaper he was in charge of guiding ethnic Vietnamese to register for their residency cards.
"Some of the people here have already been issued with the documentation," Dat continued.
This green card will be replaced with a yellow one after two years, he stated, adding that a pink card will be issued after another two years.
In accordance with Cambodian laws, ethnic Vietnamese who get residency cards may apply for citizenship after seven years, Dat elaborated.
Lo Min, a Vietnamese man who lives near the Tonlé Sap in Siem Reap Province, was showing his residency card with joy.
"My family and many other Vietnamese people have lived here for a very long time. Our only wish is to settle with a stable life in order live, work, and contribute to Cambodia's development," Min said.
According to a Phnom Penh-based diplomat, the plan is a positive move by the Cambodian government.
He hoped that more favorable conditions will be provided for the ethnic Vietnamese in Cambodia to build their lives.
In early October 2017, Cambodian authorities moved forward with a plan to revoke official documents, which were said to be "improperly" issued, from tens of thousands of ethnic Vietnamese.
Those who have lived in Cambodia for a long time were required to file an application with authorities to check whether they can get the status as an immigrant.
Thailand supports storm victims in Quang Tri province
The Thai Embassy in Vietnam handed over a US$10,000 donation from the Thai Government to central Quang Tri province on February 28 to help the locality in its recovery efforts following the consequences of the 11th and 12th storms of 2017.
At the presentation ceremony, Thai Ambassador Manopchai Vongphakdi shared his sympathies with Quang Tri province over the losses caused by these storms, saying that the donation will help local people to get their lives back on track.
He spoke of his appreciation for Quang Tri's efforts to develop cooperation in the East West Economic Corridor (EWEC) and expressed his hope that it will facilitate Thai investors and businesses to further explore opportunities in the province.
Hoang Nam, director of the provincial Department of Foreign Affairs, conveyed his sincere thanks to the Thai Government and people, before committing to deliver the funding to the storm victims.
He said he hopes that the Thai embassy will continue to introduce Thai investors to the province and serve as a bridge linking Quang Tri with Thai provinces in the EWEC as part of efforts to exploit the full potential of the important corridor.
Vietnam learns from Japan's experience in public sector ethics promotion
Japan's experience in promoting ethics in the public sector was shared at a workshop in Hanoi on March 6.
The event was held by the Communist Party of Vietnam (CPV) Central Committee's Organisation Commission, the Vietnam Academy of Social Sciences, and the Japanese Embassy in Vietnam.
Vice Chairman of the Organisation Commission Mai Van Chinh said the CPV and the Government of Vietnam are very interested in public sector ethics so as to improve the effectiveness of administrative reform.
The workshop introduced the philosophy on the management of an organisation according to Kazuo Inamori, founder of the Inamori Foundation, Chairman Emeritus of Kyocera Corp. and KDDI Corp., and honorary adviser of Japan Airlines. 
It highlighted living and working according to moral standards and based on the love for people for common interests, which is meant to improve organisations' operation effectiveness, organisation members' awareness; promote people's ethics, dignity, wisdom and capacity; and build a healthy work environment.
The philosophy is hoped to help improve transparency in administrative procedures and prevent corruption and cronyism in the administrative apparatus and State-owned enterprises.
The event introduced participants to the characteristics and philosophies that a leader needs to have, along with other relevant issues.
In 2010, Kazuo Inamori agreed to become chairman of Japan Airlines without pay, and within three years, he pulled the airline out of bankruptcy.
He advocates a business philosophy based on doing the right thing as a human being, which he believes will help the business develop and each employee be happy.
Book on Internet of Things makes debut in Hanoi
A book entitled "Internet of Things (IoT) from Hype to Reality" made its debut at a workshop held by the World Bank in Vietnam and the Ministry of Science and Technology in Hanoi on March 6. 
In his opening remarks, Deputy Director of the Ministry's Enterprises and Market Development Department Tran Xuan Dich stressed that IoT is the foundation of the fourth industrial revolution (Revolution 4.0) and have become closer to the reality. 
In many countries, enterprises have used IoT as a tool to promote socio-economic development, while State-owned enterprises have yet to pay due attention to the trend, he said.
Under the pressure of innovation, policy makers are forced to be more open about this, thus raising public awareness of the efficiency and great interest of IoT, Dich said.
Delivering a report on IoT at the event, Prasanna Lal Das, a representative from the WB, said governments of many countries have used IoT to better serve their people but they also meet several certain difficulties such as business models are not capable of maintaining IoT infrastructure. 
He stressed that the report is an initial step to evaluate the progress made by governments of countries in applying IoT to reality. 
The report pointed out some examples of IoT application in some countries such as Germany, Canada, the UK, Estonia, Kazakhstan, India, Japan, the US and the United Arab Emirates (UAE).
The book "Internet of Things from Hype to Reality" provides a comprehensive IoT network and management overview with emphasis on gaps, opportunities, and open research problems. 
This five-part book comprehensively describes an end-to-end IoT architecture that is comprised of devices, network, compute, storage, platform, applications along with management and security components.
US Navy officers visit Da Nang's centre for mentally ill patients
Members of US Navy ships and aircraft carrier USS Carl Vinson visited the Da Nang Nursing Centre for the Mentally Ill on March 6, as part of their first-ever trip to the central city.
During the visit, they presented gifts to the centre and took part in different games, such as tug of war, breaking earthen pots, and pouring water into bottles. These games are regular activities of the centre to help patients enhance physical strength and memory.
The US naval vessels, including missile cruiser USS Lake Champlain and missile destroyer USS Wayne E.Meyer, began their visit to Da Nang on March 5.
In the evening of their first day in the city, an US navy band took stage to the east of the local Dragon Bridge, attracting a crowd of audiences.
During the visit, commanders of the US Navy ships are scheduled to pay courtesy calls to leaders of Da Nang city, the Commander of the Vietnam Navy, and the High Command of the Naval Zone 3. 
US officers and sailors will join community activities in Da Nang, such as music performances, sport exchange and visits to SOS children's village, the Social Sponsorship Centre, and the Centre for Orphan Children. 
They will also share their technical expertise in water and electricity supply, response to disasters, firefighting, health care and personnel training on aircraft in several local venues. 
The visit will contribute to continuing bolstering relations between Vietnam and the US to match their comprehensive partnership and at the same time to maintaining peace, stability, security, cooperation and development in the region.
The visit is expected to improve Vietnam's role and stature in the region and the world, contributing to popularising the country and people.
The ships will leave Tien Sa port on March 9.
HCM City launches contest on youth innovative ideas
Ho Chi Minh City's Contest on Youth Innovative Ideas 2018 has been launched and opened to entries from March 6 to September 10.
The contest, the 10th edition of its kind, is co-organised by the Centre for Youth Science and Technology Development under the municipal Ho Chi Minh Communist Youth Union, and the HCM City chapter of the Vietnam Youth Union.
It is open to young Vietnamese people, aged between 6-30, who are living and studying both in and outside the country.
According to the organisers, the innovation ideas submitted to the contest must ensure creativeness and applicableness.
The contest is designed to encourage the spirit of creativeness among young people with the hope of improving the quality of human resources, accelerating administrative reform, enhancing the quality of growth and competitiveness of the city's economy, reducing traffic congestions and accidents; mitigating flooding, sea level rise and responding to climate change, reducing environmental pollution and promoting urban development.
Ideas aimed at building HCM City into a smart city and startups and initiatives in labour and production are also encouraged.
Contestants may take part in the competition individually or in groups of no more than five people. Each individual is enabled to submit different ideas through website ytuong.khoahoctre.com.vn.
The final round and awarding ceremony will be held in October 2018.
Workshop shares experiences in ensuring sustainable social insurance
Experiences in maintaining sustainable social insurance amidst the aging population were shared by experts and managers at a workshop hosted by the Vietnam Social Security (VSS) in Hanoi on March 6.
According to VSS General Director Nguyen Thi Minh, the ratio of people from 60 years old upwards accounted for 10.2 percent of total population in 2014, pushing the country into the period of old population three years earlier than prediction.
Acknowledging the issue, Vietnam has issued the Law on the Elderly, a national action programme on the elderly and many other policies, along with adjustments in social welfare to meet the demand of the elderly, she said.
Minh stressed the need to learn experiences from other countries to build a sustainable retirement policy and a brighter future for the elderly in Vietnam, a country with low income and the highest population aging speed in the world.
Nguyen Khang, Deputy Director of the VSS's Department of International Cooperation, noted that Vietnam has faced many challenges in employment and labour, along with poor social welfare system. The income gap between those with the lowest and highest income remains high, at 500 times, while only a modest number of 13.9 million people have joined social insurance, he said.
Khang also warned that the social insurance fund is facing a risk of imbalance in 2035.
Julian Adams from the insurance firm Prudential underlined the need for stronger cooperation between the Government, enterprises and the public.
Meanwhile, Josef Pilger from Ernst & Young Group recommended that Vietnam should study the social situation carefully in designing pension policy reform measures as well as retirement policies and social welfares.
Participants at the event also pointed to the need to expand the subjects of social insurance, including labourers in informal sector and women employers, along with the adjustment of policy to ensure social insurance fund's balance and the strengthening of efficiency of the investment of the fund.
HCM City, Japanese firm cooperate in water treatment
Ho Chi Minh City highly values the role played by advanced technologies of foreign countries, including Japan, in the city's development, said Le Thanh Liem, Vice Chairman of the municipal People's Committee. 
At a reception for Umezu Yasuhisa, General Director of Japan's Nagaoka Company in HCM City on March 6, Liem lauded the company's technologies in water treatment. 
He noted the Japanese firm's chemical-free groundwater treatment technologies and assigned the Saigon Water Corporation (SAWACO) to study the project in terms of economy, social interests and environmental protection. 
Ensuring clean water supply is one of the basic development criteria set by HCM City, he said, adding that the southern metropolis is carrying out a roadmap to reduce the exploitation of ground water resources in the future, thus easing adverse impacts of climate change and geological depression. 
For his part, Yasuhisa said Nagaoka wishes to continue its cooperation with HCM City and successfully implement cooperation projects in clean water treatment with SAWACO. 
Nagaoka always attaches importance to cooperative ties with HCM City and stands ready to transfer technical solutions for water treatment to the city, he said.
Vietnam, US veterans get together in Hanoi
Vietnamese and US veterans exchanged their views on war losses and the building of a better future at a conference held by the Vietnam – USA Society (VUS) in Hanoi on March 6.
The conference was participated by a delegation from the US Veterans for Peace (VFP), led by its Vice President Chuck Searcy.
Sharing a common expectation of stronger Vietnam – US relations, participants said they will continue their joint work in humanitarian aid, war aftermath alleviation, and other cooperative programmes.
Speaking at the conference, VUS President Nguyen Tam Chien welcomed the VFP delegation's visit to Vietnam, hoping it will help them gain better understanding on the country's current growth.
He said the conference aims at boosting mutual understanding and exchanges between Vietnamese and US veterans in contribution to the two nations' ties in the coming time.
Praising strong development Vietnam has achieved, Chuck Searcy said US veterans have taken part in a several programmes to foster Vietnam – US friendship and urged the US Government, people and non-governmental organisations to join Vietnam's efforts to alleviate was consequences, particularly tackling the AO/dioxin issues.
Traffic accidents reduce in National Highway 1A during new year
The number of traffic accidents, deaths and injuries on National Highway 1A from December 28, 2017 to February 28, 2018 declined in comparison to the same period last year, said the Traffic Police Department under the Ministry of Public Security.
The information was revealed during a conference reviewing a two-month campaign to ensure traffic safety and social order on the road during the 2018 New Year and spring festivals, held in the central Nghe An province on March 5.
Some 215 accidents occurred on the road in the reviewed period, resulting in 155 deaths while 124 people were injured, down 27.12 percent, 18 percent and 35.42 percent against the same period last year, respectively.
Traffic police also cracked down on traffic law offences. Five working groups were formed and 900 staff members were mobilised to monitor and handle violations along National Highway 1A section running from northern Lang Son to southern Dong Nai provinces.
Traffic police dealt with more than 57,730 traffic rule violation cases, revoked nearly 4,590 licences and detained about 2,000 vehicles. They also uncovered 203 cases of criminal law offences, detaining 94 suspects and seizing six heroin bricks, 571 synthetic drug tablets, 6kg of methamphetamine, more than 1,370 tonnes of firecrackers and many other types of smuggled goods.
At the conference, head of the department, Major General Tran Son Ha instructed traffic police in localities along National Highway 1A to continue to monitor and deal with violation cases, and make plans to prevent crime.
The national highway is the trans-Vietnam route running from northern Lang Son to the southernmost province of Ca Mau.
Nutifood becomes main sponsor of V.League 2018
The Vietnam Nutrition Food JSC (Nutifood) has become the main sponsor of V.League 2018, announced the Vietnam Professional Football company (VPF) in Ho Chi Minh City on March 6.
The tournament will be named the Nuti Café V.League 2018 under the new deal. It is scheduled to take place from March 10 to October 6 with 14 football clubs competing in 182 matches through 26 rounds.
Chairman of Nutifood Tran Thanh Hai voiced his hope that the sponsorship will contribute to the development of Vietnam's football and pushing it to a higher level.
The champion will walk home with a prize worth three billion VND (131,730 USD), while the runner-up receives half of that amount and third-place team earns 750 million VND (about 33,000 USD).