VietNamNet Bridge – Tran Trung Hieu, a farmer from An Giang Province's Chau Thanh District, not only cares for his orange garden, but does so using an invention he designed and built on his own.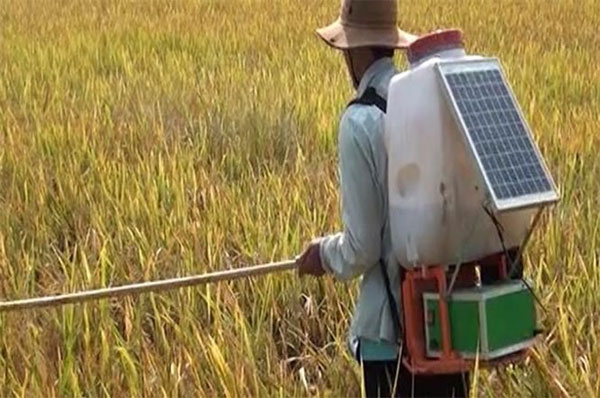 A solar pesticide spraying machine produced by Tran Trung Hieu is widely used by farmers in the region. - Photo tienphong.vn
He is among the farmers in Cuu Long (Mekong) Delta provinces receiving award in the Mekong Delta Startup Contest 2017, jointly held by the Can Tho branch of the Viet Nam Chamber of Commerce and Industry (VCCI Can Tho) and the Can Tho City recently.
Hieu was awarded the second prize for producing a machine that uses solar energy to spray pesticides.
He told Tien Phong (Vanguard) newspaper that his creative idea arose from the hard working of caring for his orange garden, especially the use of a heavy and noisy pesticide spraying machine carried on his back.
He has successfully created a solar-powered pesticide spraying machine.
"The machine is lighter than old one and could contain more pesticide," Hieu said.
He said that the machine operates and kills insects quickly.  
Local farmers rush to his house to order the machine, the newspaper reported.
His invention also won the second prize in the 10th An Giang Science and Technology Creativity Competition in 2017.
Hieu has continued to research a vehicle that could use solar energy with multi-purpose operations in order to reduce further work for farmers and improve productivity. However, this machine is not yet finished.
He said he hoped to receive the co-operation of investors when he joined the contest.
Several projects from An Giang, Ben Tre and other provinces were also shown at the contest.
Tran Phuc Hau and his wife, Vo Thi Cam Tu, from Binh Dai District of Ben Tre Province, received the third prize for producing biological products from sugarcane bagasse for shrimp breeding.
After graduating from the HCM City Economics University in 2012, Hau worked as an authority official in Ben Tre Province for one year.
He then opened a shop for selling drugs and seafood feed. After a time in business, he saw shrimp farmers plagued with environmental pollution in breeding farms, and he decided to study to help them.
"Many people advised me I should not do things that no one has done yet. But I still want to create what is not available on the market," Hau said.
With traditional experience by using powder from bagasse to improve land quality and with biological knowledge, he decided to add micro-organisms to increase the efficiency.
He creates micro-organisms by grinding bagasse and mixed it with water, beneficial bacteria and some other material.
He puts the micro-organism in the bottom of the shrimp ponds. The beneficial bacteria will overwhelm harmful bacteria and the environment in the pond will be improved to help the growth of shrimp.
The total cost reduced by more than 50 per cent compared to the use of other chemicals and aquatic drugs, said Hau. 
He gained success in 2015 and began his business with an established company.
At present, his company produces nearly 20 tonnes of biological products to meet local demand and ship to other regions in Mekong Delta.
VCCI Can Tho director Vo Hung Dung said the contest was intended to promote the startup movement and develop a startup ecosystem in the Mekong Delta region.
He noted that startups were an urgent need in the Mekong Delta as the region is facing formidable challenges like stagnant economic growth and climate change.
The contest organisers also expected to create development opportunities for startups, connect them with investors in agriculture and information technology and enhance cooperation among provinces in the region, he said.
Deputy director of VCCI Can Tho, Nguyen Thi Thuong Linh said since the contest was launched in June 2017, it attracted more than 250 contestants in the region with 100 projects on business solutions, agriculture, production-trade, information technology, food processing, environment, mechanical engineering, tourism and automation, among others.
The organisers also wanted to help candidates access the market, build their brands and connect with investors, Linh said
A representative of the contest jury, Prof Luu Thanh Duc Hai from Can Tho University said the candidates' ideas were new, useful and had high commercial value.
The results of the competitions have prompted the university to encourage students to contribute creative ideals for the development of the national agriculture, he said.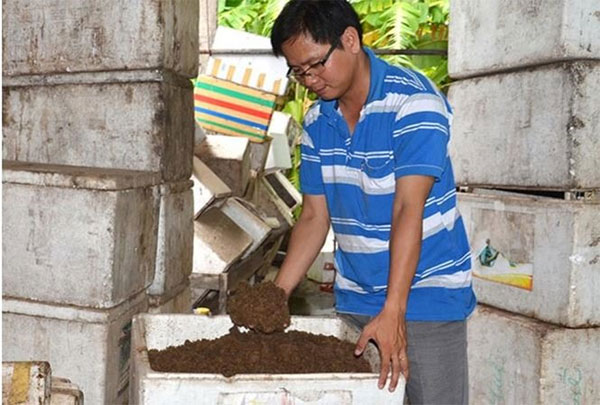 Tran Phuc Hau with his biological product which is made from bagasse. - Photo tienphong.vn
Source: VNS