Deputy PM seeks heritage tag for war tunnel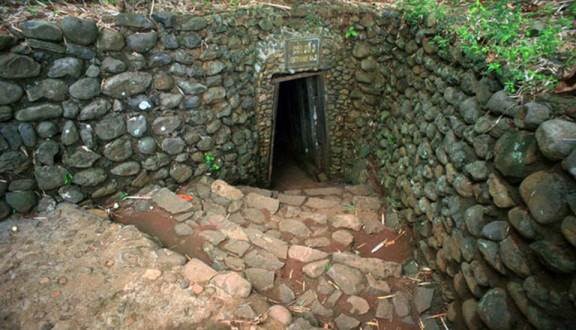 A gate to tunnel Vịnh Mốc, which was used as a shelter for 60 local families between 1966 and 1972. — Photo foody.vn
Deputy Prime Minister Vũ Đức Đam visited the central province of Quảng Trị on Monday.
He highly appreciated the locality for its efforts in healthcare and education and tribute to the families of war heroes and martyrs.
The Deputy Prime Minister ordered the concerned agencies in the province to compile a plan to develop sea tourism in Cửa Tùng-Cửa Việt-Cồn Cỏ Island, build Thống Nhất Park and compile a dossier on the war tunnel Vịnh Mốc to seek UNESCO's recognition as a world heritage site.
Vịnh Mốc Tunnel complex is located in Vịnh Mốc Village in Vĩnh Thạch Commune, Vĩnh Linh District, in the central province of Quảng Trị. The tunnel served as a strategic location on the border of North Việt Nam and South Việt Nam during the American War. It was built to protect people from the intense bombing in Sơn Trung and Sơn Hà Communes in Vĩnh Linh District of Quảng Trị Province in the Vietnamese Demilitarised Zone.
The villagers of Vịnh Mốc supplied food and armaments to the North Vietnamese garrison on the island of Cồn Cỏ, which hindered American bombers on their way to bomb Hà Nội.
The villagers built the tunnel measuring 30m in depth and shifted the entire village there. The tunnel was constructed in several stages beginning in 1966 and was used until early 1972. The complex grew to include wells, kitchens, rooms for each family and spaces for healthcare. Some 60 families lived in the tunnel complex, with as many as 17 children being born inside.
The tunnel proved to be a success as no villager died. The only direct hit was a bomb that failed to explode, and the resulting hole was used as a ventilation shaft. 
Warrant issued for doctor attacker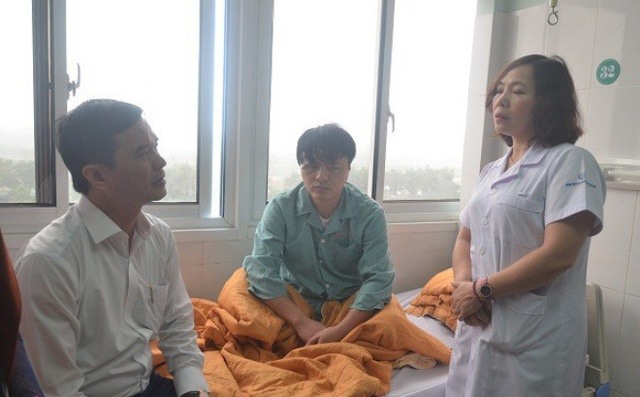 The Yên Bái police have launched criminal proceedings against a man for deliberately assaulting doctors from the Obstetrics and Pediatrics Hospital, reported Người Lao Động (The Labourer) newspaper.
The provincial police had announced a warrant for Lê Hồng Nam, 33, from Cốc Lếu District in Lào Cai City, Lào Cai Province, who is believed to have led the assault.
The assault occurred in the hospital in Yên Bái City on February 20. The victims are Phạm Hải Ninh, an anesthesiologist, and Hoàng Đức Trung, a surgical assistant.
According to Việt Nam News's previous report, Nam took his wife to the hospital on that day for a Caesarean section.
After conducting a medical examination, the pregnant woman was transferred to the operating room.
While the operation was being performed, Nam climbed on to the hospital's balcony to record a video. When a midwife asked him to stop, Nam harassed her and threatened to beat anyone he met after the operation.
Doctors Ninh and Trung were attacked by Nam and 15 others when they stepped out of the operating room.
The attacker escaped following the incident.
On investigation, the provincial police identified Nam as the main attacker and launched a nationwide search for him. 
Vietnam attends WFTU President Council in Tehran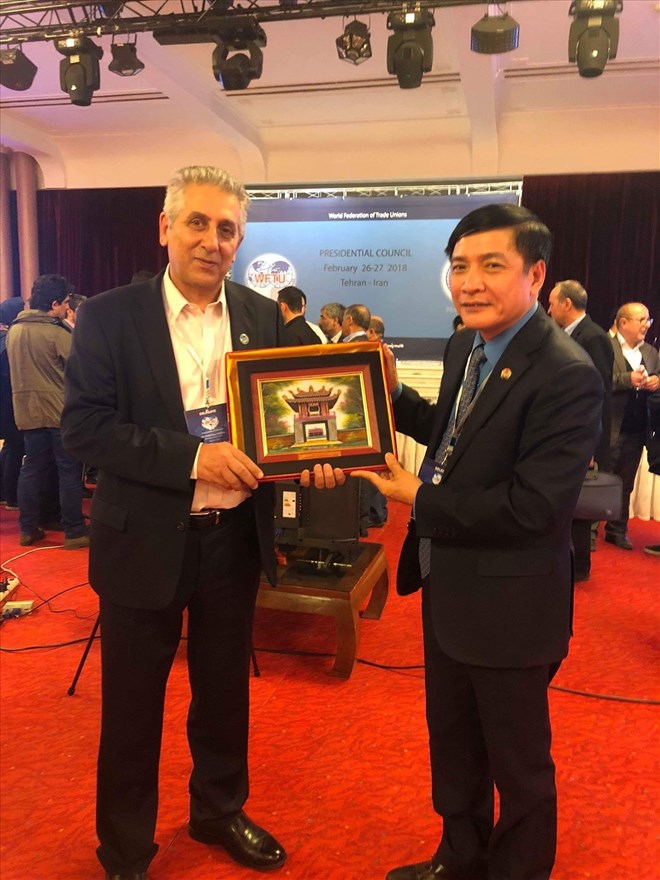 VGCL President Bui Van Cuong presents a gift to WFTU General Secretary Mavrikos (Source: laodong.vn)
A delegation of the Vietnam General Confederation of Labour (VGCL), led by its President Bui Van Cuong, attended the conference of the World Federation of Trade Unions (WFTU) Presidential Council that opened in Tehran, Iran, on February 26.
Cuong, also WFTU Vice President, joined the Presidium of the conference at the opening ceremony.
The conference is scheduled to ratify 2017 financial and operation reports of WFTU, while discussing measures to improve the organisation's performance in 2018, and its theme for 2019, focusing on training.
After the opening speech by the WFTU, participants were briefed the host's socio-economic development, labour, the role of its trade union in policy-making as well as its national action plans on poverty eradication, inequality abolishment, employment growth and labourers' voice.
Ba Den Mountain tourism site welcomes 1 million visitors
The Ba Den (Black Lady) Mountain national tourism site in the southern province of Tay Ninh has received one million visitors during just 12 days from the first to the 12th day of the Year of the Dog (February 16-27).
At a ceremony held on February 27 to welcome the one millionth visitor, Pham Van Hai, deputy general director of Tay Ninh tourism-trade joint stock company, said that the 2018 Ba Den Mountain Spring Festival attracted more visitors than in previous years, reaching the landmark 1 million number two days earlier than in 2017.
The company and the Tay Ninh Cable Car Tour Company have given a facelift to the relic and installed a new sliding system to attract tourists to the site.
An array of activities has been arranged at the festival which runs from the fourth to the 16th day in the first lunar month (February 19 to March 3). Those include film screening, art performances, sport competition and folk games.
Ba Den Mountain is famous for its majestic landscapes and magnificent caves and pagodas, and is part of the Nui Ba Relic Complex in Tay Ninh province.
The complex spreads over an area of 24 square kilometres and comprises three mountains: Heo (Pig) Mountain, Phung (Phoenix) Mountain and Ba Den Mountain. 
Ba Den is the highest peak, rising to the height of 986 metres. Besides the landscape, the site, with many pagodas and caves, is considered one of the most famous spiritual lands in the south, worshipping Linh Son Thanh Mau (Linh Son Holy Mother). The most popular destinations at the site are the Ba Temple Complex, old pagodas like Ha Pagoda, Thuong Pagoda and Hang Pagoda and caves on the mountain.
Love duet singing festival kicks off in Bac Ninh
Thousands of local people and visitors have flocked to Tien Du district in the northern province of Bac Ninh to attend the Lim festival, which honours Quan Ho (love duet singing) – the world intangible cultural heritage recognised by UNESCO. 
The annual festival takes place on February 27-28 or the 12th and 13th days of the Lunar New Year. 
The incense-offering rituals were organised at Hong An pagoda (Lim pagoda) on Lim Hill. The pagoda is dedicated to Nguyen Dinh Dien (Hieu Trung Hau), who invented Quan Ho.
The Lim festival contributes to preserving the locality's traditional cultural values and promoting images and tourism potential of Bac Ninh.
The organising board has arranged six areas and one stage for Quan Ho singing. Quan Ho is also performed on boats, and at pagodas and communal houses in Noi Due and Lien Bao communes, and Lim town. 
Besides Quan Ho singing, the festival also features various folk games such as traditional wrestling, earthenware pot breaking, and bamboo swinging.
The art of love duets was inscribed in UNESCO's representative list of intangible cultural heritage in September 2009.
Quan Ho is an art form that combines various elements, including music, lyrics and costumes, and features the distinctive culture of people in the region formerly called Kinh Bac.
The singing represents different kinds of relationships -- the relationship between male and female singers as romantic lovers, the relationship between two friendly villages and the relationship between performers and the audience. Each element helps define Quan Ho, give it life and meaning, and the resulting harmony is so much more than just a beautiful song.
EU helps Vietnam's rural areas access sustainable energy
Minister of Industry and Trade Tran Tuan Anh  (L) and Stefano Manservisi, the EC's Director General for International Cooperation and Development, at a press conference on February 27.
The European Commission (EC) and the Vietnam Ministry of Industry and Trade (MoIT) on February 27 publicised a component on the EU's technical assistance to Vietnam's energy sector. 
The technical assistance is to serve the implementation of a 108 million EUR (133 million USD) programme under which the EU will help Vietnam's rural areas access sustainable energy. 
The programme aims to contribute to building a more sustainable energy sector in Vietnam by promoting the efficiency of clean and renewable energy sources among the public. 
The component, co-sponsored by the EU and the German Ministry for Economic Cooperation and Development, will be carried out by the German Development Cooperation Agency (GIZ) in conjunction with the MoIT. 
According to Stefano Manservisi, the EC's Director General for International Cooperation and Development, the programme is expected to help the Vietnamese Government fulfil the target of providing electricity for 1.2 million rural households from 2013-2020, while enhancing State management in the energy sector to facilitate the country's transition towards a more sustainable energy sector. 
MoIT Minister Tran Tuan Anh said the rapid and sustainable development of the energy sector has helped Vietnam maintain socio-economic growth at a high pace, noting that Vietnam needs to invest about 5-7 billion USD each year in the energy sector. 
He stressed that the national target programme on providing electricity for rural, mountainous and island areas during 2016-2020 needs about 1.2 billion EUR. Therefore, the Vietnamese Government welcomes the support of the EU in this field. 
Once the programme is completed, about 750 villages with about 60,000 households, an island district and two island communes are expected to access electricity.
Can Tho: 200 billion VND to help Khmer people seek jobs
A 200-billion-VND project on vocational and Khmer script training targeting Khmer ethnic people in the Mekong Delta city of Can Tho is set to begin in March.
Coordinated by the municipal Department of Labour, Invalids and Social Affairs and Committee on Ethnic Minority Affairs, the project will be carried out in the districts of O Mon, Co Do, and Thoi Lai, which are home to large Khmer communities. Authorities in the three districts will use local budgets to cover nearly 100 billion VND (4.4 million USD) of the project's total cost.
Chau Hong Thai, deputy head of the Can Tho Department of Labour, Invalids and Social Affairs, said the project aims at opening 60 vocational training courses in 50 different occupations in 2018.
The classes will train about 700 working-age Khmer people and offer them job consultancy at the end of their courses, Thai added.
The department said it will work with district-level administrative units to open training courses catering to the needs of companies and investors operating in the localities. These businesses will engage in the training on a voluntary basis and recruiting Khmer trainees, with employment contracts lasting at least one year after the candidates finishing their courses. As of February 2018, Taekwang footwear company and Vinatex Can Tho plant have agreed to take part.
Initiatives facilitating ethnic women's handicraft production, which have been proved effective in the three districts, will be expanded and aided to better connect with buyers.    
As part of the project, the city will help Khmer startups in agriculture to access loans, efficient farming techniques, and high-quality sources of animal and plant varieties.
Concerning Khmer script education, Luong Van Tru, head of the Can Tho Committee on Ethnic Minority Affairs, said the city prioritises teaching the language among the community rather than just a subject in secondary education.
The communal-based training will involve monks from Khmer pagodas as teachers, with classes taking place at Khmer pagodas or residents' houses and their costs covered by the municipal association for education promotion. 
The committee has called for further donations, which can be in the forms of learning materials, teaching equipment, and scholarships, among others, to assist the education of Khmer language.
Project to enhance social inclusion of disabled people in Can Tho
A workshop took place in the Mekong Delta City of Can Tho on February 27 to launch a local project on social inclusion of people with disabilities with an estimated funding of 400,000 USD.
Addressing the event, President of the Vietnam Federation for the Disabled (VNFFD) Dr. Dang Huynh Mai said people with disabilities are still facing discrimination and many barriers in access to healthcare, transport and educational services.
The project is vital to ensure the basic rights of people with disabilities, raise public awareness of their roles and at the same time, encourage them to contribute to society, Mai said.
Mai noted that the project will receive financial and technical support from organisations both at home and overseas, including the Vietnam Assistance for the Handicapped, the United States Agency for International Development (USAID), and the Norwegian Mission Alliance in Vietnam (NMA-V).
The project, running from March 11 to December 31, aims to support law-making and policy reforms to ensure the rights of people with disabilities and promote their equal participation in society. It also seeks to provide them better access to healthcare, rehabilitation, education, vocational training, employment, cultural services, sports and recreation, transport, information technology, and more.
Additional, the project supports capacity building for people with disabilities and their representative agencies in Can Tho City, notably the Can Tho Association of People with Disabilities and about 15 self-help groups of people with disabilities and parents of children with disabilities in nine districts of the city.
From March, the project will launch vocational training courses for people with disabilities based on needs of local businesses. The courses will cover areas of graphic design, advertising film production, and market connectivity for people aged 18-30. It will also encourage companies to provide jobs for the trainees after the courses finish. The vocational training component will cost an estimated 200 million VND (8,800 USD) and last in six months.
The project will organise three courses in social inclusion and equality for people with disabilities and local governmental officials to improve awareness of the rights of handicapped people and provide the governmental staff a better understanding of barriers faced by them.
SMEs need better technologies to cut greenhouse gases: experts
Vietnamese public agencies should assist local businesses, mostly small- and medium-sized enterprises (SMEs), in upgrading their technologies to reduce greenhouse emissions, said experts at an international conference in Hanoi on February 26.
At the event, which reviewed technology demand for climate change adaptation in Southeast Asia, experts from Japan, UK, Thailand, Laos, Cambodia and the UK, among others, noted outdated technologies employed by Vietnamese SMEs only increase business costs and pollute the environment.
Vietnam ought to learn about global climate change policies, while studying and selecting suitable solutions for mitigating climate change impacts at home, they said.
The experts agreed to help Vietnamese companies overhaul production technologies, make a technology reference list and define demand for specific technology packages. 
Ninh Khac Ban, head of the Vietnam Academy of Science and Technology's Department of International Cooperation, said Vietnam has received support from the international community in addressing climate change issues via bilateral and multilateral cooperative projects.
Vietnam is among countries most affected by climate change impacts globally, with its Mekong Delta listed in the top three deltas vulnerable to sea level rises.
Green Innovation Award for youngsters invites entries
The Ministry of Environment and Natural Resources is inviting entries from children, teenagers and youths across Vietnam for the Green Innovation Award (Sang tao xanh) that seeks ideas for natural resources and environmental protection.
Those aged 6-30 are invited to send ideas for efficient use of natural resources, protection of environment, response to climate change and sustainable development to the competition as part of an effort to raise public awareness, particularly among young people, of environmental issues.
Entries should focus on one or more issues regarding energy saving, environmentally-friendly products, biodiversity preservation, waste treatment and recycling, policy-related solutions, environmental education, IT application in natural resources and environmental management and protection.
All entries must be submitted before September 1.
Conferences on planets beyond solar system open in Binh Dinh
As many as 74 foreign and domestic scientists are gathering at the International Centre for Interdisciplinary Science and Education (ICISE) in Quy Nhon city in the central coastal province of Binh Dinh to talk about planets beyond the solar system in a series of conferences that opened on February 26.
The conferences, jointly held by the Ministry of Science and Technology and the provincial People's Committee, will take place until March 2. They form part of the 14th Recontres du Vietnam (Meet Vietnam) programme.
Professor Tran Thanh Van, Chairman of Recontres du Vietnam, said that studies of planets beyond the solar system have seen breakthroughs. The conferences aim to explore the universe, its diversity, and the formation and development of planets.
In the long run, the work is hoped to help figure out new ways to discover outer-space lives, Van said, adding that different technologies and methods have helped discover thousands of new planets.
Participants are also introducing potential technologies for the purpose.
Since 2014, Recontres du Vietnam, has annually conducted scientific conferences, focusing on planets outside the solar system.
The activities have contributed to boosting the sustainable cooperation among Vietnamese and foreign scientists, while opening up opportunities for Vietnamese young scientists to access astronomy and physics studies.
Youth Month receives warm response across country
Youth organisations in cities and provinces across the country have launched various campaigns in response to the Month of Young People and the 2018 Traffic Safety Year. 
In the Mekong Delta City of Can Tho, the municipal committee of the Ho Chi Minh Communist Youth Union (HCM CYU) will hold communication activities on the union's traditions and history in diverse forms such as dialogues, forums and study trips to cultural and historical sites both in and outside the locality. 
The committee will support young people's engagement in the startup movement in rural areas through the provision of training on farming techniques and supply of plant and animal varieties. 
The union will assist with the new rural area building campaign by mobilizing funding of businesses for of rural road construction and charity activities while encouraging union members to implement their own projects. 
The municipal youth union will coordinate with the city's electricity company to hold forestation campaigns and activities promoting the economical use of energy and environmental protection. 
The Ho Chi Minh Communist Youth Union (HCM CYU) chapter in the northern province of Ninh Binh launched the Youth Month at a ceremony on February 26, with delegates and youth union members engaging in planting trees, teaching traffic rules to students at several schools in Kim Son district and inaugurating a lighting system for Chat Binh commune. 
Young people in the central province of Binh Dinh also joined in a tree planting festival at the Nui Cheo historical site in Hoai An district in responding to the Youth Month.
Thousands of others set out to clean up the environment, donate blood, and carry out other projects after the ceremony. 
The Youth Month was launched with the aim to enhance the sense of responsibility of young people and stimulate their potential and innovation in local socio-economic development as well as their voluntary spirit for community's interest.
Personnel training needs renovation amidst Industry 4.0
Training personnel, especially high-quality human resources, requires a comprehensive renovation in the context of the ongoing fourth industrial revolution, said Minister of Industry and Trade (MoIT) Tran Tuan Anh. 
Therefore, outdated training methods should no longer be used as they lack interaction and touch with reality, and could lead to backwardness, the minister said at a symposium hosted by Hanoi University of Industry on February 26. 
He stressed the need for the industry and trade sector to soon roll out concrete orientations and solutions in the face of rapid changes caused by the fourth industrial revolution. 
The minister also pointed out limitations regarding lecturers, infrastructure and training methods at schools under the management of the Ministry of Industry and Trade (MoIT). 
Besides, high-quality human resources must meet requirements and standards of both domestic and foreign markets, Anh said, stressing that in order to reach the target of becoming a supplier of high-quality human resources for the international labour market, Vietnam should promptly set forth specific actions and solutions. 
Major General Nguyen Manh Hung, General Director of the Military Industry and Telecoms Group (Viettel), revealed the "reverse methods" employed by Viettel, adding that students should practise before learning theories. 
Teachers should only be the coach and teaching should covers all sectors, instead of focusing on a major, said Hung.
Cultural identity promoted in Vietnamese community in Italy
A get-together was held in Bologna city, Italy, on February 25 to celebrate the Lunar New Year with various traditional cultural activities imbued with Vietnam's identity.
The event, held by the Italy-Vietnam Cultural Bridge Association, saw Vietnamese Ambassador to Italy Cao Chinh Thien, Italian Senator Andrea de Maria and overseas Vietnamese in the European country.
Le Thi Bich Huong, president of the Italy-Vietnam Cultural Bridge Association, said with the aim of preserving the national cultural identity in the Vietnamese community in Italy, the association held many cultural exchanges, drawing the participation of overseas Vietnamese and Italians.  
Besides, the association encouraged overseas Vietnamese to join activities such as cooking Vietnamese traditional dishes, art performances and traditional costume shows, she added.
Addressing the event, Ambassador Cao Chinh Thien affirmed culture is an important bridge for Vietnamese and Italian people to more understand each other. Cultural exchange will bring the two countries close and contribute to strengthening politics, economics, trade, tourism between Vietnam and Italy.
Earlier, a similar event was held in Turin city on February 23. Sandra Scagliotti, Vietnam's Honorary Consul in Italy, highly valued the role of the Vietnamese community in the city and Italy in general. 
Vietnamese students hold music programme in Toronto
Vietnamese students in Toronto, Canada, have organised a music programme with the participation of nearly 300 overseas students studying in the city.
Minh Ha, head of the organising board, said the programme, entitled "20-hour flight concert", the first of its kind, was named after the flight duration from Vietnam to Toronto.
It offered a gathering place for Vietnamese students who did not return home during the 2018 Tet (Lunar New Year) holiday, she added.
Participants of the programme also joined a fund-raising campaign for child patients at SickKids, a major paediatrics hospital in Toronto.
The event got support from Vietnamese students associations in Toronto-based universities along with many organisations such as SOS International Group, Seneca College and Quest Language Studies, among others.
Neighbours in a flap over bird breeding
In an effort to retaliate against him, Đức and two other households installed loudspeakers playing the calls of owls and eagles to drown out the sound of Minh's speaker. — Photo thanhnien.vn
There's a Vietnamese expression "Bán anh em xa mua láng giềng gần", which roughly translates as "A nearby stranger is better than a far-away relative."
Lê Văn Minh, a teacher from An Hiệp Commune in southern Bến Tre Province's Ba Tri District, had a good relationship with his neighbours since moving into the area two years ago.
After being told by his friends that breeding birds could bring about a sustainable income, Minh decided to renovate the top floor of his house to raise swiftlets. At that time, Phạm Minh Đức, one of his neighbours, was willing to help Minh construct a space for the breeding of the birds.
However, at the end of September 2017, after Minh's business had been operating for a month, Đức and members of another two households sent a letter of complaint to local authorities.
According to the complaint, Minh's renovated house to feed birds was affecting the surrounding environment, as the birds were defecating in rainwater used for drinking and living. In addition, loudspeakers used to lure birds to Minh's house were annoying.
At meetings organised by An Hiệp Commune's People's Committee, Minh asserted that he was not responsible for the bird poo on the roofs of surrounding households, saying that swiftlets only poo when they enter the house.
Additionally, tests compiled by competent agencies showed that the noise of the loudspeakers at Minh's house was within permitted levels.
However, he agreed to pay each household VNĐ400,000 (US$17.5) as compensation to buy drinking water. Refusing Minh's offer, his neighbours asked him to stop the breeding.
As each party refused to compromise on the issue, several efforts at reconciliation have failed.
In an effort to retaliate against him, Đức and two other households installed loudspeakers playing the calls of owls and eagles to drown out the sound of Minh's speaker.
Then, in late 2017, Minh's family sent a letter to local authorities, requesting that surrounding households remove their loudspeakers as they were scaring away the swiftlets.
The result of the neighbourly dispute has not yet been solved, but we can see that the plan to make some easy cash has ruffled a lot of feathers.
Student caught short pays a high price
A girl from the northern mountainous province of Thái Nguyên has confessed on social media that, thanks to some unfortunate timing with regards to her bowel, she had to pay triple the price for her journey from the province to Hà Nội, from around VNĐ70,000 (US$3) to VNĐ200,000 ($8.8).
Such a sum is not much for an adult with a stable income in the big city, but for students like her, it adds up to more than 10 bình dân (low-priced) meals.
The incident began when the bus she was on was travelling too fast, passing all rest stops without stopping.
She recalled her desperation to use the bathroom from about halfway through the journey, but felt hopeless when the driver ignored her pleas to stop. Finally, after numerous tearful requests, he stopped near a forest in Sóc Sơn, about 40km from the city centre.
Despite the driver's insistence that she hurry, it took 20 minutes for her to do her business. To the young girl's shock and horror, on returning, the bus was nowhere to be seen.
"What a heartless and cruel driver!" she thought.
Alone on an empty road in the middle of nowhere, the only option was to begin walking.
The girl set off to walk the rest of the way, until a xe ôm (motorbike driver) approached and asked if she needed a lift. She was scared and angry after the ordeal, but the motorbike driver seemed trustworthy, all apart from the high price he suggested. She accepted, ready to endure the financial loss if it meant she could arrive in time at university.
The girl tried to post her story on Facebook to gain some much needed sympathy and warn others who may find themselves in similar sticky situations.
Instead, her post stirred up many insights and suggestions. Some declared that when travelling by bus, you should bring empty plastic bottle and plastic bags in case the need strikes you. Others said that for those with intestinal problems, medicine is the best solution.
Some placed the blame on the bus company, saying they should post regular rest stops on the timetables, and stick to them!
Vietnam Airlines serves nearly 880,000 passengers during Tet holiday
The national-flag carrier Vietnam Airlines operated more than 6,200 domestic and international flights during the peak of Tet (Lunar New Year), serving nearly 880,000 passengers, a rise of 7.4% against the previous year.
From February 8 to 22 (the 23th day of the last month of the Year of the Rooster to the seventh day of the Year of the Dog), the airline launched nearly 1,900 flights of the major air routes from/to Hanoi - Da Nang - Ho Chi Minh City, with more than 280,000 passengers, up 13.7% year-on-year.
A representative of Vietnam Airlines said over 98% of the carrier's airplanes were ready to use during peak time, keeping the average rate of On-Time Performance (OTP) index of its flights above 90%. Especially, the OTP rate exceeded 95% on February 15 and 19.
To avoid overloads, the carrier bolstered the use of wide-body aircraft in the key air route connecting Hanoi with HCM City, which was able to carry 300 passengers per flight.
Pagodas overwhelmed with pilgrims during Lunar New Year holiday
The first lunar month is the busiest time of year at most pagodas and temples in HCM City as huge throngs of pilgrims are coming there to pray for health, wealth and good luck for the New Lunar Year.
For centuries, many Vietnamese have kept the tradition of visiting pagodas during the first days of the lunar calendar to pray for peace and fortune for family.
Famous pagodas in District 5 are always crowded with visitors. In particular, Minh Huong Pagoda where Quan Cong, an ancient Chinese historical figure, is worshiped for his loyalty and sincerity and the Lady Thien Hau Temple dedicated to Thien Hau, a traditional Chinese goddess who is believed to have a miraculous ability to rescue fishermen and seafarers stranded at sea, are busier than usual.
Lieu Phuc Kien, a 65-year-old Chinese Vietnamese fabric business owner in the district, told the Daily that it is a long-held tradition of his family to drop by the Lady Thien Hau Temple on the third day of the first lunar month to pray for good luck and business in the year ahead.
In addition, the 125-year-old Jade Emperor pagoda houses intricate sculptures and woodcarvings. The pagoda was renamed Phuoc Hai in 1984 but local residents always call it the Jade Emperor pagoda.
Especially, the pagoda has drawn much attention from pilgrims at home and abroad since the then US President Barack Obama visited it during his Vietnam trip in 2015.