VietNamNet Bridge – Authority in Hai Phong City has explained on the import of more than 1,000 camphor trees (Cinnamomum camphora) from China to plant along Pham Van Dong Road, saying that domestic gardens did not have enough of the trees and their prices were higher than those from China.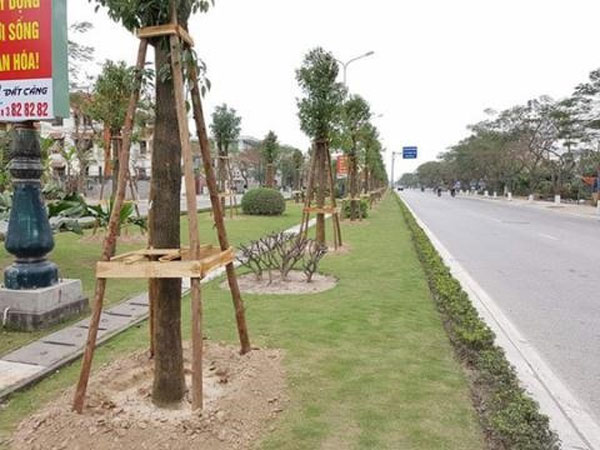 The camphor trees planted along Pham Van Dong Road in the northern port city of Hai Phong. — Photo baodatviet.vn
According to director of the city Department of Construction, Phung Van Thanh, by the end of last year, the northern port city planted eight camphor trees alongside other plants along Pham Van Dong Road as part of a pilot programme. The eight camphor trees grew well. After taking opinions from the community, municipal leaders decided to plant a number of the trees along the road, which is considered the longest road with flamboyant trees in Vietnam.
Thanh said that as per the city's plan, it would invest VND537 billion (US$23.9 million) in planting trees in the period 2018-20. The city would plant different kinds of trees, and in the short term, the city planted camphor trees with total funds of more than VND12 billion ($533,300), said Thanh.
At first, more than 1,000 camphor trees will be planted. The trees are spaced at about 7-8 metres from each other, planted in two rows. Each tree is four metres in height with a diameter of 18-20cm. Each tree costs VND8 million ($350).
However, when talking to a correspondent from the Dat Viet Newspaper, the spokesperson from Thien Xanh Nam Long Co Ltd in the southern province of Dong Nai, said that a tree which is four metres in height and has a diameter of 18-20cm could be sold for just VND4.5 million ($200) in Vietnam.
The company had a lot of camphor trees with diameters of 10-15cm, and each tree was sold for VND1 million ($40), the spokesperson said.
Nguyen Van Tien, director of the Minh Phuong Green Trees Co Ltd in the northern province of Hung Yen, said that the tree is four metres in height with diameter of 18-20cm like the one being bought from China could be sold at VND1.5 million ($65) at his company.
"At present the company can supply several hundred of camphor trees," said Tien. 
Source: VNS