VietNamNet Bridge – Nguyen Hai An, 7, of Hanoi's Nam Tu Liem District, took her last breath on February 22. But before she passed away in her K Hospital sickbed, she and her mother agreed that she would give her cornea to children who could use it.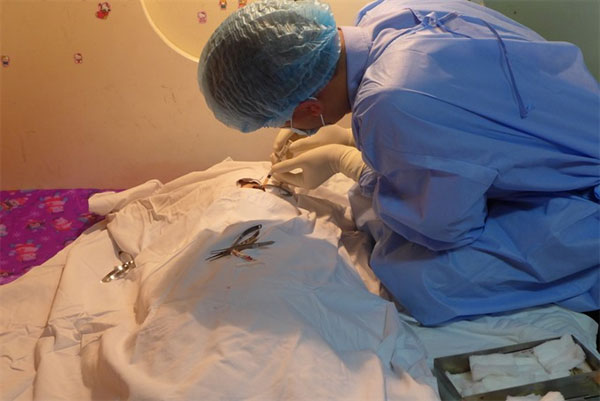 Doctor Hoang conducts the surgery to take An's cornea.—Photo courtesy of the Viet Nam National Co-ordinating Centre for Human Organ Transplantation
An became the second-youngest person to donate a cornea in the country so far.
The little girl, who had fought astrocytomas since September 2017, nodded without hesitation after her mother said she wanted to continue to see An's eyes in the coming years by giving An's cornea to other children.
Astrocytomas are tumours that arise from astrocytes—star-shaped cells that make up the "glue-like" or supportive tissue of the brain. The tumours are "graded" on a scale from I to IV based on how normal or abnormal the cells look. There are low-grade astrocytomas and high-grade astrocytomas. Low-grade astrocytomas are usually localised and grow slowly. High-grade astrocytomas grow at a rapid pace and require a different course of treatment.  Most astrocytoma tumors in children are low grade.
Pham Thi Viet Huong, deputy head of the hospital's Pediatrics Department, who directly treated An, said that when An was hospitalised last year, she was already in bad condition.
An had severe headaches, paralysis on one side of her body and had to breathe via an oxygen tube, Huong said.
"An is really a very good child," Huong said.
"She always obeys every request of the doctors for her treatment, although she had overwhelming pains due to the tumour, which a little girl could not bear," Huong said.  
An was one of the most special patients Huong had met. "I could not forget the little girl with a sunny smile and bright eyes," Huong added.
"An's tumour was so large that we could not use radiotherapy – the only strategy that might have rescued her at that time," Huong said.
Cornea taken and given
Nguyen Huu Hoang, director of the Viet Nam National Co-ordinating Centre for Human Organ Transplantation, recalled the moment he came to An's house to take her cornea as An and her parents expected.
"The first moment I entered the house, An was cradled in her mother's arms like she was sleeping tight," he said.
Hoang and his two colleagues tried to conduct the 30-minute surgery as gently as they could. An's cornea later was preserved in the Bank of Eyes under the Ha Noi-based National Hospital of Ophthalmology before being transplanted for people in need.
This was the second surgery Hoang and his colleagues had undertaken to take a cornea from a child. "But the surgery still ended with the doctors in tears," Hoang said.
They felt deeply touched because An's parents overcame the normal prejudice that people's bodies should be complete when they die in order to donate An's cornea, Hoang said.
Not only the doctors but also thousands of other people had the same feeling of respect and gratitude when they heard An's story, including Minister of Health Nguyen Thi Kim Tien. She sent a condolence wreath to An.
Nguyen Hoang Phuc, deputy director of the Viet Nam National Co-ordinating Centre for Human Organ Transplantation, said, "Everyone can live the second life after he or she dies if he or she donates a part of their body to people who need it."
An's cornea yesterday afternoon were transplanted to two people, including a 73-year-old person and a 42-year-old person after the consultation of the hospital's doctors. The 73-year-old person has cornea scarring and the 42-year-old was born with a cataract.
An's cornea was very precious: a survey by the hospital showed up to 300,000 people need a cornea transplant, but only 100-150 people receive a cornea each year due to a national shortage.
Law amendment proposal
Nguyen Tran Thuy Duong, An's mother, said first that she wanted to donate her daughter's organ. Nevertheless, the current law did not allow it. The Law on Organ Donation only permits people above 18 years old to donate organs. So An alone couldn't make the decision to donate her cornea.
"I want to do that because I know many sick children who are in need of organ transplantation," Duong said.
Therefore, Phuc, the deputy director of the centre, said the centre would submit to the health ministry and the Government to amend the law in the coming time.
The age of organ donator should be adjusted, he said.
"If we do that, we will save more people," he said. 
Source: VNS