VietNamNet Bridge – Firecracker smuggling is on the rise as the Tet (Lunar New Year) approaches.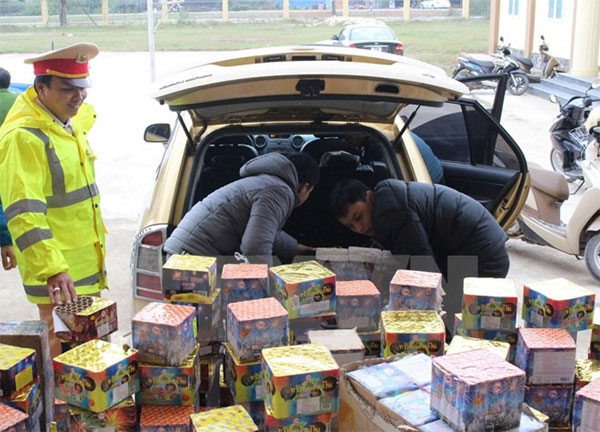 Smuggled firecrackers were found in Quang Ninh Province on Thursday. - VNA/VNS Photo Duc Tho
On Thursday afternoon, transport police in the Central Highlands province of Kon Tum stopped a suspicious car on Ho Chi Minh Road, passing through Dak Glei District, and found 51 boxes of fireworks weighing 82kg.
On the same day, police in the central Quang Binh Province stopped a car for overspeeding and found 151 boxes of firecrackers, weighing 240kg.
The driver could not show the products' paper of origin.
Upon further inspection, the police found a pack of drugs in the jacket of the person accompanying the driver.
The two persons admitted that they were transporting the firecrackers to central Nghe An Province.
Northern border provinces, including Lang Son, Ha Giang and Quang Ninh, are also hotspots for firecracker smuggling.
From last November till date, forces in Quang Ninh Province have repeatedly detected many individuals transporting, trading and illegally storing banned goods, especially firecrackers and drugs.
The amount of firecrackers being smuggled was up to nearly 300kg, mainly in Mong Cai, Ha Long and Uong Bi cities.
Recently, Uong Bi City police arrested a person for illegally storing 90kg of firecrackers.
Lieutenant Colonel Le Anh Tuan, Commander-in-Chief of Hoanh Mo Border Post Station, said traffickers often smuggled banned goods with other products to cross the border.
They also took advantage of trail to carry goods at night, he said.
Border soldiers have actively coordinated with police, customs and local residents to fight against smuggling, Tuan said.
The provincial Anti-Smuggling, Trade Fraud and Counterfeit Steering Committee (Steering Committee 389) has requested customs officials, police, border guards and market management forces to intensify anti-smuggling activities ahead of Tet holidays. 
Source: VNS