VietNamNet Bridge – Tran Quang Hoai, head of the General Department of Natural Disaster Prevention and Control, talks to the newspaper Hai quan (Customs) on what he said was abnormal weather in Vietnam last year.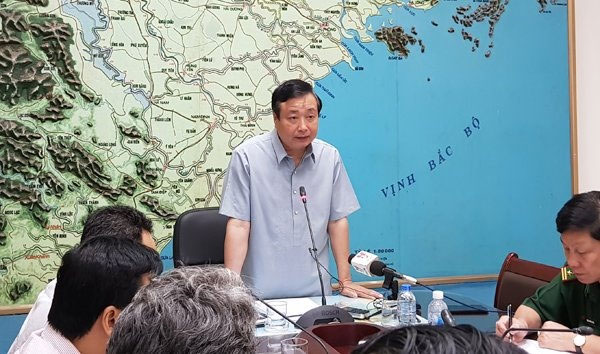 Tran Quang Hoai. — Photo thoimoi.vn
What are your assessments on natural calamities, including storms and floods in 2017?
Natural disasters in 2017 were complicated, unseasonable and unpredictable. They resulted in 386 people dead and missing and VND60 trillion (US$2.6 billion) worth of damage.
In addition, there were heavy and prolonged downpours from June to October, with rainfalls up to 5,000mm. As a result, many of our reservoirs were full. The flooding triggered by storm Doksuri in mid-September in the North Central Region nearly reached the historic level of 5.18 metres in 1999.
In northern mountain provinces, landslides and flash floods occurred frequently. A flash flood hit Nam Pam Spring, Muong La District, Son La Province on August 3, killing 15 people and sweeping away one million cubic metres of soil.
All in all in 2017, 16 storms and six tropical depressions formed in the East Sea, of which five storms and three tropical depressions directly hit Vietnam.
Many people have said that 2017 was a harsh year for Vietnam in term of natural disasters and human errors. What do you think?
I can't agree more. Objectively speaking, the natural disasters that hit our country last year were due to climate change. But, subjectively, the disasters were also worsened by the practices of living on hillsides, at the foot of mountains or next to rivers.
We must also take into account the rapid increase in our population, which has caused a heavy burden on natural resources. Adding to the problem is that countries located on the upper Mekong River or Red River have also posed more risks for Vietnam as they exploit natural resources.
It is indisputable that the increase in socio-economic activities also leads to more frequent natural disasters. That's why our Law on Natural Disaster Prevention and Control has mentioned the need to integrate natural-disaster prevention in socio-economic development work by all ministries and localities.
In many localities, sand and pebble extraction activities posed great danger along our highways. We must take action to stop such dangerous activities.
What should we do to minimise the negative impacts of climate change?
The Government, public agencies and localities have carried out many activities to minimise the impacts of climate change. As a result, we suffered less serious consequences. In addition, our civil works have been improved considerably and our responses to natural calamities further enhanced.
Last but not least, mass communication activities have played an important role in raising the public awareness on how to minimise the impacts of natural calamities. However, in my opinion, there are some activities we should focus on.
We have done quite a good job in forecast activities, but we are still learning.
The other point I want to mention is the need for infrastructure works and civil works to be improved regularly. For example, in area where aqua-culture is strong, the people need to regularly update their technology so that their stock can survive stormy weather.
The lack of disaster-resilience skills and emergency information systems are also to blame for the enormous loses caused by natural disasters.
According to predictions by domestic and international agencies, climate change, natural disasters and extreme weather events will occur more frequently and cause serious damage to Vietnam. That's why we need to improve natural disaster preparation. 
Source: VNS