VietNamNet Bridge – Fines and penalties for pedestrians violating traffic laws, some as high as VND100 million (US$4,400) or 15 years in jail, will take effect in the next 10 days. However, on many of Hanoi's streets, violations such as crossing roads at unmarked locations, walking on expressways, or crossing traffic dividers continue unabated.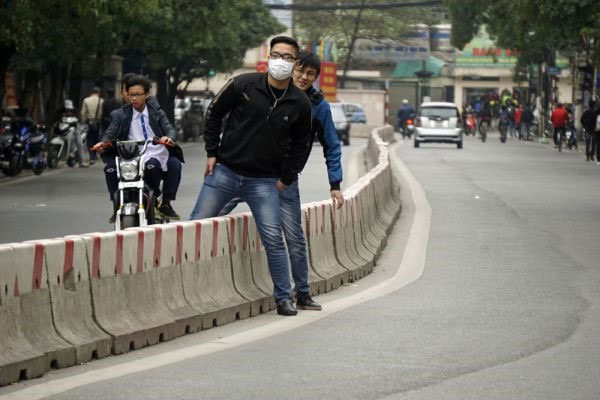 On many of Hanoi's streets, including Tay Son, Nguyen Luong Bang, Giai Phong and Chua Boc, pedestrians, mostly students, have been seen climbing over traffic dividers to cross the roads.– Photo csgt.vn
The 2015 Penal Code, taking effect from early January, stipulates that pedestrians who violate traffic laws and cause serious consequences would face between seven and 15 years in jail and fines of up to VND100 million ($4,400).
The application of strict fines for pedestrians was necessary to improve awareness of traffic rules and prevent accidents caused by pedestrians.
On many of Hanoi's streets, including Tay Son, Nguyen Luong Bang, Giai Phong and Chua Boc, pedestrians, mostly students, have been seen climbing over traffic dividers to cross the roads.
On Pham Hung Street, a walking tunnel was built for pedestrians, but many have ignored it and deliberately crossed the road despite the crowded lanes of vehicles.
A student from the Banking Academy of Vietnam, who wished to remain anonymous, said he knew he must use the bridge for pedestrians to cross the road, but he wanted to save time.
Time-saving and convenience were among the reasons given by violators when asked about their behavior, despite the risk of traffic accidents involving themselves and other road users. The behavior of pedestrians has been highlighted as the main reason for serious traffic accidents.
In 2009, a student from Hung Yen Province's College of Technology was sentenced to nine months in jail and 18 months of probation for deliberately obstructing road traffic and causing serious consequences. The girl climbed over traffic dividers to cross the expressway, stepping in front of a motorcyclist. The driver was startled and crashed into the pavement, dying on impact.
Hanoi's Police Department's Traffic Police Unit said that in 2016 they launched a campaign to crack down on pedestrians breaking traffic rules in the city, especially in central districts such as Hoan Kiem, Ba Dinh, Hai Ba Trung, and Dong Da. As part of the campaign, those who crossed roads at unmarked locations or failed to follow traffic lights for pedestrians would be given warnings and fines.
A representative of the unit said that the crackdown was a drop in the ocean compared to the number of incidents. Most pedestrians ignored traffic rules and were willing to violate the law as long as they saved a few minutes on their journey.
Major Nguyen Manh Hung, deputy head of Ha Noi Police Department's Road and Railway Traffic Unit, told danviet.com.vn that the encroachment of pavements caused difficulties for pedestrians. On many streets, a significant part of the pavement is used for bike parking or seating, forcing pedestrians to walk on the road.
Currently, traffic police have co-operated with local police to give fines to violators, he said, however, he admitted that he has not received any plans of a new campaign to deter pedestrians from breaking the law.
Lieutenant Colonel Le Tu, head of Traffic Police Unit No3, said that only a small proportion of the total number of pedestrians had been fined. More often, violators were given warnings about their behavior.
Lawyer Nguyen Huy An from Ha Noi Lawyers Association said that he supported the applying of fines for pedestrians who violate traffic rules.
In cases where pedestrians were involved in traffic accidents, it was necessary to investigate whether the behaviour of the pedestrian was the main reason behind the accident, thus naming them responsible.
Source: VNS