VietNamNet Bridge – Being a midwife in a remote, mountainous area is a thankless job.The remuneration is pitiful, even though the job is of vital importance in maintaining maternal health, especially among ethnic minority communities.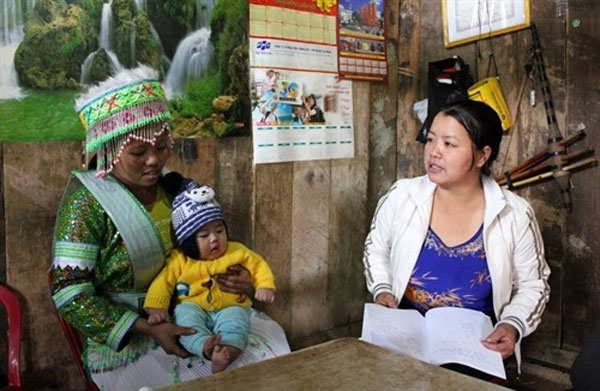 La Thi Dan, a village midwife in the northern mountainous province of Cao Bang, provides ethnic minority mothers with advice on maternal healthcare and best reproductive practices. — VNA/VNS Photo Quynh Trang
The midwives have to fill in for doctors and nurses in proper hospitals, be on call at all times, day or night, during all kinds of weather conditions, and literally cross mountains to get to a pregnant woman in need.
For this, the only recompense they can rely on is the gratitude of those they help and their own genuine desire to be of service to others.
Take La Thi Dan, for instance.
Dan is a midwife in Quang Trung Commune, Hoa An District, Cao Bang Province.
She is one of six children born to a family in Cop My, the poorest village in the commune, with a poverty rate hovering around 100 per cent.
She graduated from the province's boarding high school for ethnic minorities, no mean achievement in this area, but lacking money to study further, returned home to lead a domestic life.
At 24, she was already the mother of two sons just 12 months away from each other – a "family planning failure" she blames on the lack of safe contraceptives.
Her sons, like Dan herself and all others in the commune, were delivered at home. Due to its remote location and lack of obstetric health workers, access to maternal and childcare is virtually non-existent.
In 2011, Dan was encouraged by local authorities to join a Netherlands-funded midwife-training programme held at the province's general hospital.
In six months, Dan and 123 other women from 124 poor communes in the province's seven districts were equipped with knowledge and skills to administer simple medical procedures in cases of obstetric complications and offer advice on maternal care and child care.
Since then, over five years as the village's midwife, Dan has never shied from her work, be it day or night, rain or sun, or how many mountains she has to cross to get to expecting mothers. Furthermore, she frequently visits villages and hamlets to provide health information and encourage women of fertile age to follow reproductive health practices, and to give birth in certified clinics instead of at home. As a native, she's better placed to convey information and convince locals.
Opposition at home
However, Dan said, it was not easy to convince her own family about her work. She was strongly discouraged from becoming a midwife and having to go to remote locations.
While the midwife-training programme has achieved noticeable success with a marked reduction in the number of mothers giving birth at home as well as childbirth complications and deaths, Dan feels there is still a lot more work to be done.
For the moment, what bothers her most is the fact that there are still so many people in her area with insufficient knowledge of maternal healthcare, who opt to invite shamans to cure diseases, choose not to visit clinics for childbirth, and refuse outright the assistance offered by a strange midwife.
Dan also said that materials and documents on maternal healthcare were "not as effective as they should be" since they are written in the Vietnamese language, which not many in the ethnic minority areas can read.
Dedication praised
Trieu Van Tuyen, head of the Quang Trung health clinic, said that despite being part of a poor household, Dan was always responsible and dedicated to this "non-paying job."
Dan said that after the training finished, she became a designated village-based midwife and was given about VND500,000 (US$21.95) a month in the first five months as "support," but has received no stipend since. The same goes for other midwives in the training programme.
Nguyen Thi Lanh, deputy director of Cao Bang Province's Reproductive Health Centre, said that it was a shame that there was no official budget for supporting the local midwives. It makes it really difficult to encourage others to become midwives or for existing ones to remain committed to their work.
"I hope competent authorities will find necessary measures to allocate funds to help these midwives fulfill their role as the "extended arms" of local health agencies," Lanh said.
While other midwives who trained with her have left their "positions" in the commune to work for proper clinics that offer better wages, Dan has remained steadfast to her mission.
"Everytime I check the heart rate of a baby in the mother's womb, I feel happy. Better yet, now many people come to my house for advice on safe child delivery, which is really heart-warming, and keeps me doing this job." 
Quynh Trang
VNS