Youth die in motorbike-lorry collision
Speeding on their motorbikes cost two young men their lives yesterday afternoon in HCM City's District 2.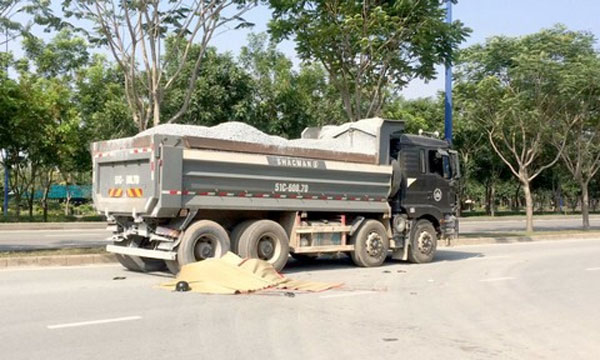 Speeding on their motorbikes cost two young men their lives yesterday afternoon in HCM City's District 2.– Photo congan.com.vn
The two men, about 25 years old, are said to have driven a motorbike very fast on Mai Chi Tho Street and lost control, colliding with lorry carrying stones. The accident blocked traffic jam for almost two hours in the area.
Meanwhile, in the northern province of Hoa Binh, a passenger bus and a lorry were seriously damaged in a head-on collision yesterday morning.
Fortunately, no serious injury was reported, although the bus was carrying 30 passengers.
The accident happened in Luong Son District's Truong Son Commune as the passenger bus traveled from Luong Son to Kim Boi collided with a dirt-carrying lorry running in the opposite direction.
The police are investigating the accident.
Four rescued from fire in Hanoi
Firefighters in Hanoi yesterday rescued four people trapped in a big fire in a house on Thai Ha Street.
The fire occurred at 7am on the ground floor of a four-storey house in Alley 131. The ground floor of the 40sq.m house was rented out to a coffee shop, and the owners lived on the upper floors.
Five firefighting trucks were mobilised and four people trapped in the building were rescued. The fire was extinguished in an hour.
On Saturday night, a fire that broke out in the Huyen Su Market in Tri Phai Commune, Ca Mau Province destroyed 11 stalls, causing losses estimated at VND2.6 billion (US$116,000). No human casualty was reported.
According to Tri Phai People's Committee, the stalls selling groceries, clothing and shoes belonged to five households who had stored a large volume of goods in preparation for the upcoming Tet (lunar new year).
The fire is being investigated.
Seriously injured Chinese sailor rescued at sea
The Regional Maritime Search and Rescue Co-ordination Centre No 3 on Saturday took a foreign sailor seriously injured on board a Panama-flagged cargo ship off Vietnam's territorial waters to a mainland hospital for treatment.
He Liming, a 30-year-old Chinese national, fell from a height of seven meters into the hatch while working on the deck of Seiyo Honor on Saturday morning. He suffered severe back and chest injuries and was unable to move his arms.
Seiyo Honor, which was proceeding from Bong Sen (Lotus) Port in HCM City to the Kelang Port in Malaysia, was about 68 nautical miles southwest off the southern province of Ba Ria-Vung Tau when the accident happened.
As the sailor's condition worsened, the ship's captain had sent out an SOS. The centre instructed the ship to return to Vung Tau City and provided first-aid guidance. It also dispatched ship SAR 413 with doctors on board.
The doctors were able to improve the sailor's condition before he was taken from Vung Tau to the French-Viet Nam Hospital in HCM City for further care and treatment. 
VNS