Photo exhibition on Vietnam-Laos relations opens in Vientiane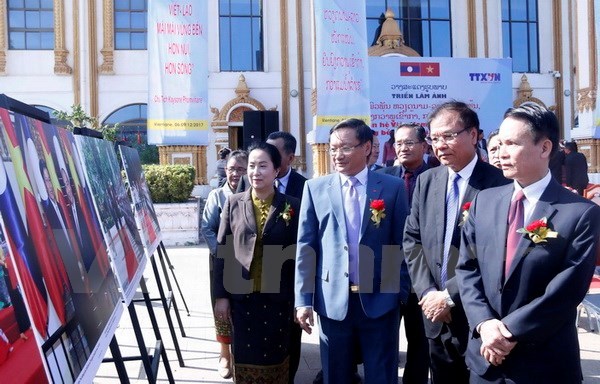 VNA Director General Nguyen Duc Loi (R) and visitors at the photo exhibition
A photo exhibition on Vietnam-Laos relations opened at the Lao National Cultural Hall in Vientiane on December 6 to mark the Vietnam-Laos, Laos-Vietnam Friendship and Solidarity Year 2017.

The exhibition, jointly held by the Vietnam News Agency (VNA) and the Lao News Agency (KPL), will last until December 9.

On showcase are over 100 black and white and colour photos captured by Vietnamese reporters reflecting solidarity and cooperation of Vietnamese and Lao people in resistance wars against colonists and imperialists and each country's nation building and safeguarding cause.

Speaking at the opening ceremony, VNA Director General Nguyen Duc Loi stressed that the year 2017 is of significance to the bilateral relations as numerous activities have been held to celebrate the 55th anniversary of diplomatic ties (September 5) and 40 years of the signing of the Treaty of Amity and Cooperation. 

This is also a chance for the countries' Party members and people to gain full and deep understanding of the importance of the relations.

Lao Deputy Minister of Information, Culture and Tourism Savankhone Razmonty spoke highly of the organisation of the exhibition of VNA and KPL, affirming that it manifests not only the traditional friendship and special solidarity between Laos and Vietnam, but also the long-lasting cooperation between the two news agencies.

According to the official, the collaboration has become an important factor boosting the development of information and communications in the two countries, and contributing to encouraging young generations to maintain and nurture the special solidarity and comprehensive cooperation between Laos and Vietnam.

After the exhibition, the VNA will present all exhibited photos to the KPL to serve the dissemination work about the bilateral relations.

Chinese nationals expelled over false visa information

A group of 52 Chinese were given administrative fines and forced to return to China, the police of Quảng Ninh Province reported.

According to the province's immigration department, the Chinese nationals were fined in connection with providing false immigration information.

The police reported that the group came to Việt Nam on tourist visas, but, in fact, after entering, they hired hotel rooms in Quảng Ninh Province's Móng Cái City to operate an online trading activity via China's Tabao website.

Upon checking their rooms in Kim Hoàng Hotel in Trà Cổ Ward, the police found 40 laptops, 25 computers and some other equipment used for their illegal trading.

The group comprises 46 men and six women. 

ASEAN students gather to build prosperous bloc

The Ho Chi Minh City National University, the Can Tho University and the ASEAN University Network (AUN) jointly held the second student affairs network meeting and the sixth ASEAN student leaders' forum in 2017 in Ho Chi Minh City on December 6.

Associate Prof. Dr. Huynh Thanh Dat, Director of the Ho Chi Minh City National University said that the annual events aim to strengthen exchanges and the sharing of viewpoints and commitments of officials in charge of student affairs and students' associations of the AUN member universities.

The events drew more than 90 delegates from 22 AUN universities. Exploring commitments and actions for a prosperous ASEAN, the forum focused on strengthening students' skills to prepare for the free labour movement in the ASEAN region.

Running through December 9, the event will highlight challenges and opportunities for youngsters stemming from the ASEAN free labour movement, as well as necessary skills for students to join the movement, and the role of the AUN member universities in support students during the integration process. 

Participants will also discuss support commitments for students to become well-prepared for the movement.

They will join many cultural exchanges and activities to explore the development history of Ho Chi Minh City and Mekong delta Can Tho city.

HCM City get-together marks Japanese emperor's birthday

Japanese Emperor Akihito and Empress Michiko during avisit to Vietnam in March 2017 

A get-together was held by the HCM City Union of Friendship Organisations (HUFO) and the Vietnam-Japan Friendship Association of HCM City on December 6 to mark Japanese Emperor Akihito's birthday (December 23, 2017).

The event was attended by Japanese Consul General Kaweue Junichi, Japanese businessmen and people living in HCM City.

Congratulating Emperor Akihito on his 84th birthday, President of the Vietnam-Japan Friendship Association of HCM City Nguyen Cong Tanh said this year's celebration of the Japanese emperor's birthday takes place when the two countries' relationship is in its prime after they established the diplomatic ties 44 years ago.

This year, Emperor Akihito and Empress Michiko visited Vietnam for the first time, greatly contributing to the development of the bilateral relations in all fields, particularly politics, economics, culture and people-to-people exchange, he noted.

Tanh added that the association will closely coordinate with the Consulate General of Japan in HCM City and other Japanese organisations to host a wide range of events in celebrations of the 45th anniversary of the Vietnam-Japan diplomatic relationship in 2018.

Consul General Kawaue Junichi thanked the HUFO and the Vietnam-Japan Friendship Association of HCM City for the celebration event and said he hopes to receive continued support from the two organisations in cultural exchange activities between the two nations in HCM City in 2018.

Worshipping of Mother Goddesses introduced in Russia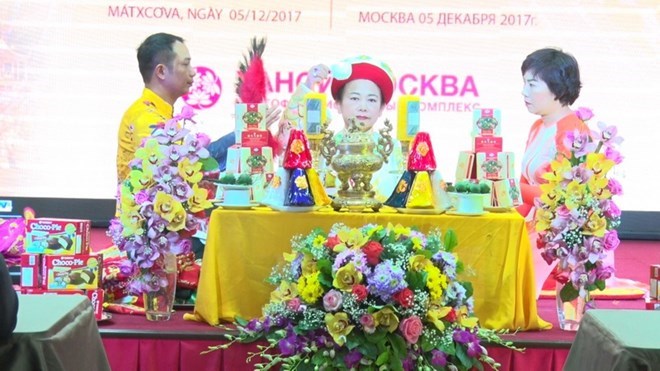 A seminar was held in Moscow, Russia, on December 5 to introduce the Vietnamese worship of Mother Goddesses of the Three Realms.

Mother Goddess worship, which was officially recognised by UNESCO as an intangible cultural heritage of humanity in late 2016, is a traditional practice in Vietnam with a long history, having stood the test of social changes. The belief in Mother Goddess reflects people's desire for health, wealth and fortune. 

Speaking at the event, Venerable Thich Tam Kien briefed participants on cultural values of the belief.

According to him, the Mother Goddess Worshipping belief is very important to Vietnamese people. The Mother Goddesses are Thoai Thoai who is in charge of Water, Thuong Thien (Lieu Hanh) who is in charge of the Heaven, Dia in charge of Earth and Thuong Ngan in charge of Mountains and Forests.

The "hau dong" ritual is the most important part in practising the worship, Kien added.

The practitioners are comprised of temple guardians, ritual priests, spirit mediums, mediums' assistants, musicians who perform the songs for the spirits, disciples and lay adherents who share the same beliefs in the spiritual power, supernatural strength and protection of the Mother Goddess spirit pantheon. All of these practitioners form groups who worship together, take part in traditional festivals and perform spirit possession rituals at temples and palaces dedicated to Mother Goddesses.

Vietnamese Ambassador to Russia Nguyen Thanh Son said that the event was a good chance to introduce to Vietnamese people living in Russia and Russian friends Vietnam's world-recognised cultural heritage.

Photo exhibition showcases Argentine tourist attractions

An "Exhibition of Tourism Photos of Argentina" opened at Ho Chi Minh City's Youth Cultural House on December 4 night.

Organised by the Embassy of Argentina in Vietnam, the exhibition aims to introduce visitors in HCM City and southern provinces to the beautiful landscapes and culture of Argentina. It includes 18 photos featuring famous tourist attractions in the country.

One of the highlights is the image of Perito Moreno Glacier in the Los Glaciares National Park in Santa Cruz Province. The glacier, covering about 250 square kilometres, became a UNESCO World Heritage site in 1981.

Photos of Buenos Aires and the Madero Harbour and Planetario, and The Galileo Galilei planetarium are shown as well.

Each photo includes written information about tourist services of each destination.

The exhibition will close on December 9. The cultural house is located at 4 Pham Ngoc Thach street in District 1.

Vietnam National University continues to adopt CDIO

The Vietnam National University - Ho Chi Minh City (VNUHCM) will continue to adopt conceiving-designing-implementing-operating (CDIO) as the framework for its member universities' curriculum planning and outcome-based assessment until 2020.

At its conference held on December 4 to review implementation of the CDIO Initiative since 2010, the university also called for adopting the framework for the country's entire higher education system to develop an educational model appropriate for Industry 4.0.

The CDIO Initiative focuses on incorporating entrepreneurial thinking in technical programmes whose students are often very technically skilled and know how to solve well-defined and often non-realistic problems.

The initiative was designed as an innovative educational framework for producing the next generation of engineers.

But the VNUHCM has also adopted it for non-engineering majors at some member universities.

Assoc Prof Dr Nguyen Hoi Nghia, Vice President of the VNUHCM, said the CDIO Initiative is a standard educational framework to help set up and carry out training programmes to achieve comprehensive development of knowledge, skills, virtue, and capacity.

Graduates from universities that have adopted the initiative have been able to work in other member economies of the ASEAN Economic Community and elsewhere in the world, he said.

Thirteen universities in Vietnam have learnt about the CDIO for possible adoption while more than 100 universities around the world have already adopted it.

A representative of VNUHCM-University of Technology, whose mechanical engineering faculty was one of the first two departments to adopt the initiative in 2009, said many enterprises have appreciated its alumni's communication, teamwork and leadership skills.

According to VNUHCM-University of Social Sciences and Humanities, it has adopted the CDIO model in its journalism and communication, English linguistics and literature, and education management courses since 2015, and it has played a vital role in improving quality.

Vietnamese Culture -Tourism Festival in RoK opens

The Vietnamese Tourism-Culture Festival will be held in the Republic of Korea (RoK) as part of activities celebrating the 25th anniversary of the Vietnam-RoK diplomatic relations (December 22), according to Vietnam's Ministry of Culture, Sports and Tourism.

During the festival, a tourism promotion programme will introduce tourism potential and policies of Vietnam as well as new tourism products of the country. The event is expected to draw 100 delegates from RoK travel firms and media agencies.

According to the Korean Tourism Organisation in Vietnam, 2017 is a successful year of the RoK tourism sector in Vietnam. As of November 19, over 302,200 Vietnamese tourists visited the RoK, a rise of 29.9 percent year on year, making Vietnam the eighth largest market of the RoK.

Vietnam is also a popular destination for RoK travelers, welcoming over 1.54 million arrivals in 2016, up 38.7 percent compared to 2015. At the end of November this year, more than 2.15 million RoK tourists came to Vietnam, a surge of 55.3 percent year on year. The RoK ranks second only after China in the number of visitors to the Southeast Asian country.

Vice Director of the Vietnam National Administration of Tourism Ha Van Sieu said that over the past years, tourism cooperation between Vietnam and the RoK has been growing. He expressed his hope that in the coming time, businesses of both sides will foster connectivity, contributing to lifting bilateral tourism ties to a new height, thus boosting socio-economic growth in both countries.

PM promises optimal conditions to Korean investors

The Vietnamese Government always supports and creates favourable conditions for domestic and foreign investors, including those from the Republic of Korea (RoK), to expand business operations in the country, said Prime Minister Nguyen Xuan Phuc.

PM Phuc made the statement while receiving Chang Dae-Whan, Chairman of the RoK-based Maekyung Media Group, in Hanoi on December 5.

He lauded the coordination between Maekyung and the Vietnam Chamber of Commerce and Industry (VCCI) to hold a Vietnam-RoK economic forum, marking the 25th founding anniversary of diplomatic relations between the two countries.

The PM said Vietnam wants RoK groups to develop manufacturing hubs in different fields such as electronics and auto components in the country, adding that investors must ensure environmental standards.

As a major communications group in the RoK, Maekyung needs to disseminate more information so as to encourage Korean enterprises to invest in Vietnam, thus contributing to the bilateral friendship and cooperation, he said.

Chang Dae-Whan said Vietnam is emerging as a leading nation in ASEAN, adding that the RoK government expects that the Vietnamese government will provide more support for Korean enterprises, particularly for those who are carrying out major industrial projects.

He expressed his belief that the Vietnam-RoK economic forum would be a success, thus attracting more Korean investments into the country.

Vice Chair of EP's Int'l Trade Committee welcomed in Hanoi

Deputy Prime Minister Vuong Dinh Hue hosted a reception in Hanoi on December 5 for Jan Zahradil, Vice Chair of the Committee on International Trade under the European Parliament (EP) and Chairman of the Friends of Vietnam Group at the EP.

Hue thanked Zahradil for his efforts to help establish the Friends of Vietnam Group at the EP as well as his contributions to the relationship between Vietnam and the European Union (EU) and between the Vietnamese National Assembly and the EP.

He stressed the important role and contributions of the Committee on International Trade to the two sides' economic and trade cooperation process.

According to him, the EU-Vietnam Free Trade Agreement (EVFTA) is one of the excellent agreements on trade liberalisation.

Vietnamese ministries and agencies are checking the draft EVFTA and Investment Protection Agreement and will reply the EU soon, Hue said.

The Vietnamese Government wants to welcome the Friends of Vietnam Group to the country in the soonest time, he added.

Jan Zahradil stated that the Friends of Vietnam Group at the EP plays an important role in canvassing the EP to approve the EVFTA in 2018.

Once taking effect, the agreement will stimulate bilateral economic, trade and investment ties, thus helping meet aspirations of the two business communities.

He shared the group's stance of avoiding the supplementation of non-trade matters to the EVFTA in order to soon submit it to the EP and the Vietnamese NA for discussion and approval.

NA Chairwoman Nguyen Thi Kim Ngan meets Can Tho voters

National Assembly Chairwoman Nguyen Thi Kim Ngan had a meeting with voters in Phong Dien town of the Mekong city of Can Tho to brief them on the outcomes of the NA's fourth session.

Phong Dien voters spoke highly of the outcomes of the session, saying NA deputies performed soundly their role and the PM and ministers frankly clarified issues asked by deputies.

They raised their opinions on various issues, including education, anti-corruption, BOT (build-operate-transfer) toll fee collection, health insurance, markets for agricultural products, and credit support for high technology application.

Answering the voters' question on transport-related BOT projects, the top legislator acknowledged some problems in the location of toll stations, toll fee level and duration of toll fee collection. She cited the postponement of the operation of Cai Lay BOT toll station as a lesson in the work.

She clarified that the NA Standing Committee issued a resolution on some tasks and solutions to continue completing and speeding up the implementation of some legal policies in investment and exploitation of some transport works in BOT form. In the future, the NA will continue to supervise the work.

On anti-corruption issues, the NA Chairwoman said that the NA is considering the adoption of the revised Anti-Corruption Law. She stressed the Party and State's policy of focusing on prevention corruption and applying strict punishments on violators.

Responding to voter Trang Huu Thu's worry on impacts of the addition of environmental fee to petrol price on production, Ngan said that a suitable roadmap will be designed to minimise the impacts on the life and production of the people.

Meanwhile, replying voter Nguyen Kim Chi's request on solutions to problems in health care services for health insurance card holders such as overload situation and limited number of paid medicine, Ngan said that the NA will consider measures to deal with the matters during discussion of the outcomes of the Law on Health Insurance.

She also stressed the important role of the people in monitoring the implementation of policies and laws related to health insurance.

US Pacific Command finances kindergarten in Thua Thien-Hue

A kindergarten built with funding granted by the US Pacific Command was inaugurated on December 5 in Quang Dien district in the central province of Thua Thien-Hue.

Located in Quang Vinh commune, the two-storey building consists of 10 classrooms, with construction costs amounting to 531,328 USD.

The school will help improve kindergarten infrastructure in Quang Dien to meet national standards. The location is also earmarked as a shelter for local residents during storms and floods.

On this occasion, leaders of Thua Thien – Hue extended their gratitude to the US Pacific Command and US Embassy in Vietnam for their aid, thus contributing to the province's socio-economic development.

Thai late King Bhumibol's birthday marked in HCM City

The Thai Consulate General in Ho Chi Minh City held a ceremony in the city on December 5 to mark the 90th National Day of Thailand and the birthday of late King Bhumibol Adulyadej.

Addressing the event, Thai Consul General in Ho Chi Minh City Ureerat Ratanaprukse highlighted the devotion of the late Thai King to the country's development on the foundation of efficiency economy philosophy.

The King's birthday, December 5, has been chosen by the United Nations as the Soil Day in honour of his initiatives related to soil.

Regarding the Vietnam-Thailand relations, the diplomat underscored the dynamism and the sound economic-political partnership between the two countries with many visits of senior leaders as well as growing trade and investment cooperation.

Meanwhile, Le Thanh Liem, Vice Chairman of the Ho Chi Minh City People's Committee conveyed greetings to Thai people on the day, while showing his belief that the friendship and all-round collaboration between the two countries and the relations between the city and Thai localities will continue thriving.

Liem noted that Thai investors are running 458 projects worth 8.2 billion USD in many Vietnamese localities. Thailand is the 10th largest out of 116 foreign investors in Vietnam.

With more than 180 invested projects with total investment of more than 270 million USD, Thailand is the 13th biggest foreign investor in Ho Chi Minh City, he said.

In 11 months of 2017, trade between the city and Thailand reached nearly 2.7 billion USD, while over 100,000 Thai tourists visited the city in the period, added Liem.

Conference seeks to lure Chinese investments in Vietnam

The Bank of China in Ho Chi Minh City and China's Shenzhen Stock Exchange held a conference in HCM City on December 5, aiming to seek cooperation with Vietnamese securities companies to lure Chinese investment to Vietnam. 

Speaking at the conference, a representative from the Vietnamese Ministry of Planning and Investment said Vietnam is exceptional among major markets in Southeast Asia. 

The official explained that in the first 11 months of this year, especially November, many foreign companies participated in divestments of Vietnam's State-run groups and corporations. 

Vietnam's stock market has grown the best in the region, even surpassing Thailand, Indonesia and the Philippines, with the index up 45 percent compared with earlier this year, the official said.

Hanoi leader receives Canada's Ontario Premier, Pakistani guest

Chairman of the People's Committee of Hanoi Nguyen Duc Chung hosted a reception on November 5 for Premier of Canada's Ontario state Kathleen Wynne, during which the two sides sought measures to forge cooperation in many areas.

Chung expressed hope that the visit will strengthen bilateral collaboration in education and training, high technology application on administrative reform, health care, human resources, tourism, green technology transfer, and business experience exchange.

Chung noted that Ontario is running 22 projects worth nearly 6 million USD in Hanoi, while two-way trade reached about 100 million USD. However, he said potential remains to improve ties, stating that Hanoi wishes to work with Ontario in all fields.

For her part, Wynne said that Canadian businesses are interested in the Vietnamese and Hanoi market. Her visit aims to show Canadian goodwill for cooperation in a hope to deepen relations between the two sides, she said.

Wynne told her host that Ontario is one of the economic driving forces of Canada with strength in green technology. She affirmed that Ontario is willing to support Hanoi in all areas, especially education and training.

Stressing the need for the governments of both localities to pay more attention to linking businesses of both sides, she suggested that the two localities' officials hold dialogues regularly.

The same day, Chung also met with Vice Director of the Lahore National School of Public Policy of Pakistan Mian Muhammad Jamil Ahqi who is leading a Pakistani delegation to Hanoi to learn experience in managing and implementing development policies.

Chung said that Hanoi is focusing on infrastructure development, human resources and administrative reform, especially streamlining public servant system.

Mian Muhammad Jamil Ahqi said that his delegation learnt helpful experience during the visit. He expressed his hope that Vietnam and Pakistan will continue increasing cooperation and experience exchanges.

Vietnam sci-tech academy's support to Laos appreciated

Lao Prime Minister Thongloun Sisoulith recognised the support the Vietnam Academy of Science and Technology (VAST) has given to the Lao Ministry of Science and Technology and National Academy of Science (LNAS) while receiving VAST President Chau Van Minh on December 5 in Vientiane.

The host leader spoke highly of the VAST delegation's visit from December 4 to 8 as it is made in Vietnam-Laos Friendship and Solidarity Year.

The development of the LNAS is important to the socio-economic development of Laos, he noted, asking the VAST to share experience with the LNAS to effectively use funds for science and technology research projects, especially in research outcome application and manpower training.

VAST President Minh said cooperation between the VAST and the LNAS has resulted in important outcomes which have contributed to their respective countries' development.

The two sides will enhance cooperation and assistance to fulfill tasks assigned by the two parties and states, helping intensify Vietnam-Laos relations, he noted.

Earlier the same day, the VAST delegation had talks with their Lao counterpart led by LNAS President Boviengkham Vongdara, also Minister of Science and Technology of Laos. They lauded the outcomes of cooperation between the VAST and the Lao ministry and academy, particularly in a project boosting the LNAS's capacity for scientific research and technological application.

Thanks to this project, funded through official development assistance from the Vietnamese Government between 2016 and 2018, science and technology laboratories in Laos will reap research outcomes to contribute to the two countries' development, they said.

They agreed to increase delegation exchanges at all levels, share experience in science and technology research, apply and transfer research outcomes, and coordinate to effectively implement joint projects.

The VAST side also pledged to continue helping the Lao ministry and academy in training science-technology manpower.

Also on December 5, the Vietnamese delegation attended a ceremony to unveil a laboratory under the project boosting the LNAS's capacity of scientific research and technological application.

VAST President Minh and some members of the Vietnamese academy were granted with orders and medals of Laos in recognition of their contributions to the country's development.

World Dream cruise ship docks at Tan Cang – Cai Mep port

The World Dream cruise ship with 3,600 people abroad arrived at the Tan Cang – Cai Mep port in the southern province of Ba Ria-Vung Tau on December 5.

The 18-storey ship is 335 metres long and capable of accommodating over 5,376 passengers and crewmen. 

It was freshly built in Germany and Vietnam was chosen among destinations of its maiden trip.

Following the arrival, World Dream passengers were scheduled to tour key tourist areas in Ho Chi Minh City, before leaving for the coastal city of Nha Trang in the central province of Khanh Hoa on December 6.

The ship was set to conclude its Vietnam's trip from Cam Ranh port in Khanh Hoa province at 9 pm on December 6.

PM works with An Giang on key socio-economic project implementation

Prime Minister Nguyen Xuan Phuc had a working session with authorities from the Mekong Delta province of An Giang in Hanoi on December 6 to seek measures to implement key socio-economic projects in the locality.

Among the projects, the Ba Chua Xu Spiritual Cultural Tourism – Sam Mountain Cable Car System is expected to turn tourism into a spearhead economy in the province as well as increase local budget collection, job generation, and sustainable gross regional domestic product growth.

The project invested by MGA Vietnam Co., Ltd is located in Chau Doc city, which welcomes more than 6 million domestic and foreign tourists annually. It will feature an entertainment park, restaurants, pagodas and temples, and a cable car system.

Concluding the working session, PM Phuc urged An Giang to review its socio-economic development targets in 2017, striving to complete and even surpass these objectives, especially in State budget collection. 

At the same time, An Giang should take the initiative to soon realise targets for 2018, he said, asking the locality to speed up the implementation of centrally-invested projects. 

The PM also requested the province accelerate the restructuring process, particularly in agriculture, paying attention to high-tech agriculture and large-scale rice fields towards climate change adaptation. 

He asked the Ministries of Natural Resources and Environment and Agriculture and Rural Development to support An Giang to take advantage of its strength in agriculture. 

Apart from farming, An Giang needs to heed the tourism and service sector, considering this an economic spearhead, while boosting the border economy, he said. 

The leader expressed his approval for the Ba Chua Xu spiritual tourism site- Sam Mountain cable car system, saying the project should run with national defence and security. 

He, therefore, assigned the Ministry of National Defence to define the land area for the project.

Cambodia upgrading monuments to friendship with Việt Nam

All 17 Việt Nam-Cambodia friendship monuments in Cambodia will see their repairs and upgrades completed by the first quarter of next year, the Cambodian side reported to the Vietnamese military, which is funding the work.

Speaking at the third review meeting in HCM City on Tuesday, Nhem Valy, vice chairman and general secretary of the National Council of the Solidarity Front for Development of Cambodian Motherland, said: "These monuments are not only dedicated to Cambodians and Vietnamese volunteers who laid down their lives for Cambodia's liberation, but are also an everlasting symbol of the time-honoured solidarity and friendship between the two countries.

"We are very grateful to receive support fund from the Vietnamese Ministry of Defence to upgrade the monuments and make them public spaces for local residents."

The work began late last year at a cost of US$7.8 million to mark the 50th anniversary of diplomatic ties between the two countries this year.

Deputy Minister of Defence Senior Lieutenant General Lê Chiêm said: "The Việt Nam-Cambodia friendship monuments, which are in various localities in Cambodia, have significant historical and cultural value.

"They are a symbol of the warm sentiments, solidarity, bravery and sacrifices of the people and armies of Việt Nam and Cambodia.

"We would like to express our thanks to the Cambodian central and local governments, relevant authorities, and local residents who have helped us complete the work."

Upgrades to 12 of the monuments have been completed while work is under way at three others and will begin at the remaining two soon.

The Cambodian side has asked for more funds for expanding some of the 17 monuments and also planned to review other monuments that have not been taken up for repairs or upgrades now.

The two sides have agreed that more monuments could be built in localities with historical significance for their joint forces but without a monument yet.

They will also consider conferring friendship medals on people making great contributions to their bilateral relationship.

Thái wins third stage of cycling event

With the support of his teammates, Phan Hoàng Thái of Domesco Pharmacy Đồng Tháp won the third stage of the Bình Dương Television Cycling Tournament, Ống Nhựa Hoa Sen Cup, on December 5.

Thái triumphed in the 106km stage from Ninh Hòa to Krông Pắk of Đắk Lắk Province after clocking a time of 2:36.50. During the race, he had to conquer the Phượng Hoàng mountain pass which posed a significant challenge.

The yellow jersey award for the best overall time still belonged to Phạm Quốc Cường of Đồng Tháp. Nguyễn Minh Luận and Trần Nguyễn Duy Nhân were the runners-up.

National cyclist Lê Nguyệt Minh of VUS-HCM City maintained the green jersey award as the best sprinter with 28 points. Huỳnh Thanh Tùng of the Việt Nam team is in the race for the green jersey award with Minh, as Tùng now has 23 points.

The white jersey award for the best young cyclist went to Nguyễn Minh Luận of Vĩnh Long.

Thái's performance helped his team Domesco Pharmacy Đồng Tháp take the lead in the team rankings with a time of 23:21.23 after three stages, followed by VUS-HCM City and Gạo Hạt Ngọc Trời An Giang.

Today, cyclists will compete in the fourth 134km stage from Buôn Mê Thuột City in Đắk Lắk to Chư Sê District in Gia Lai Province.

Ankle injury forces Linh out of U23 team

Striker Nguyễn Tiến Linh has dropped out of the U23 team following an ankle injury.

Linh is one of six strikers called by South Korean coach Park Hang Seo for the national U23 team for the final round of the 2018 Asian Football Federation (AFC) U23 Championship.

Linh of Bình Dương was named to the U23 squad because of his outstanding performance at the National U21 Football Championship.

During a training session on December 2, he sustained an ankle injury and was forced to suspend practice.

Doctors said Linh needs at least two weeks to recover so coach Park allowed him to leave the team and return to his club.

Other injured players including Nguyễn Tuấn Anh, Bùi Tiến Dũng and Trần Hữu Đông Triều have recovered and began training with the team yesterday.

To prepare for the AFC event, Việt Nam will hone their skills through the M-150 international friendly tournament held in Thailand on December 9-15 in which Việt Nam are grouped with U23 Myanmar and Uzbekistan.

After this event, Việt Nam will play a friendly match against South Korea's Ulsan Huyndai club, who are fourth in the K-League Classic 2017, in Hà Nội on December 21.

Government supports 200 tons of rice to Quang Tri storm victims

Central Quang Tri province People's Committee has allocated 200 tons of rice funded by the Government to local people who were affected by the recent storms and floods.

Accordingly, Huong Hoa district received 50 tons, Dakrong (35 tons), Vinh Linh (30 tons), Trieu Phong (24 tons), Hai Lang (24 tons), Gio Linh (22 tons), Cam Lo (10 tons), Quang Tri town (4 tons) and Con Co island district (1 ton).

Each person is given 15kg of rice a month.

The People's Committee has asked districts and town to allocate rice to the people in need in an open and transparent manner.

Vietnam wins Top-Coder title at WeCode 2017

The Vietnamese national team won the championship title in all three categories (Top-Coder) at Digital Campus WeCode (WeCode 2017) held recently at Sunway College in Malaysia.

Tran Hoang Le Thanh from Doan Thi Diem Primary School in Hanoi championed at the Apprentice category, Hoang Tran Nam Khanh from FPT Secondary School in Hanoi won first prize at the Intermediate Category and Bui Tuan Kiet from Nguyen Truong To Junior Secondary School was awarded a gold medal at the Advance Category.

A Wecode 2017 national contest was held in Hanoi earlier to choose 73 outstanding contestants from Hanoi, Da Nang and Can Tho for the international competition. Top four entries was sent to the international final round.

This is the third time Vietnam has taken part in the WeCode International Competition Finale and championed at all three categories. Contestants also bagged many other important awards. It's noteworthy that Vietnam set a record with the youngest contestant winning the first prize at the Intermediate Category.

Korean band NCT 127 performs in Hanoi

The Korean band NCT 127 hit the stage of Lotte Hotel Hanoi on December 5 with an amazing performance.

This is not the first time NCT 127 has been to Vietnam. The Korean band has given several very attractive concerts in the country.

Previously, the boyband released a video clip, expressing their excitement to return to Vietnam and showing their appreciation for Vietnamese fans' support.

At the awards ceremony of Mnet Asian Music Awards (MAMA) in Hong Kong on December 1, NCT 127 won New Asian Artist title.

Debuted in July 2016, the band includes 9 members from different countries. Their recent MV Cheery Bomb hit 25 million views after 6 months of release.

Hanoi writers, poem lovers meet Korean poet Ko Un

A talk with Ko Un, a famous poet from the Republic of Korea, was held in Hanoi on December 5 where he introduced his renowned poetry volume – Ten Thousand Lives.

The event was organised by the Vietnam Writers' Association (VWA).

Speaking at the event, VWA Vice President Nguyen Quang Thieu said the VWA Publishing House has published two volumes of Ko Un's poems so far, including "Ten Thousand Lives" which were launched in Vietnam last year. 

The event provides an opportunity for the publishing house to introduce the Korean poet's life and works and for the poem lovers to listen to him reading his works and learn about his outlook for literature and life, Thieu noted.

Korean Ambassador to Vietnam Lee Huyk, for his part, said lives of people in the book reflect the poet's 85-year journey of life and the RoK's development. He hoped that poems of Ko Un will attract more interest of Vietnamese people, particularly those from the "Ten Thousand Lives", in the future.

Ko Un was born in 1933 in Gunsan city, Jeohbuk, the Republic of Korea. He does write poems and novels and travel guides. He has to date published more than 150 books in 33 languages. He has been nominated for the Nobel Prize in Literature for many times.

PM urges Lao Cai to protect Sa Pa traditional culture

Prime Minster Nguyen Xuan Phuc has stressed the need to preserve Sa Pa's traditional culture, considering this the most important job during the transformation process.

At a working session with key leaders of the northern border province of Lao Cai in Hanoi on December 6, the PM agreed in principle to transform Sa Pa district in the province into a town, aiming to seek an international status for Sa Pa, which has been recently recognised as a national tourism site. 

Apart from protecting traditional culture, it is a must to improve living standards of local people, the leader said. 

He urged relevant ministries and agencies to coordinate with Lao Cai to roll out typical criteria for Sa Pa, explaining that the development of a mountainous town differs from that in the delta area. 

Therefore, an assessment council should be established to submit the plan to the Government before it is sent to the National Assembly's Standing Committee, the PM said. 

Regarding Lao Cai's socio-economic development, the leader asked the province to pay attention to border economy, tourism and organic agriculture, and complete local infrastructure to promote the economic corridor which links Lao Cai, Hanoi, Hai Phong and Quang Ninh of Vietnam with China's Yunnan province.  

He also agreed with the province's proposals to turn Lao Cai into a leading locality in the North-western region, in terms of not only poverty reduction but also budget balance. 

In 2017, Lao Cai recorded an economic growth rate of about 11 percent, with gross regional domestic product (GRDP) per capita reaching 51.2 million VND (2.247 USD), up 11.3 percent over the previous year, ranking second among northern midland and mountainous provinces, after Thai Nguyen. 

Covering more than 68,000ha, Sa Pa has a population of 65,000, belonging to six ethnic groups, of which ethnic minorities make up 87 percent of the total population. 

Located 350km northwest of Hanoi capital city, Sa Pa is 1,600m high above sea level, with the average temperature of 15-18°C. The whole town is dominated by the Hoang Lien Son mountain range which is famous with the Indochina's highest mountain of Fansipan at a height of 3,142m above sea level.

Discovered in 1903 by the French, Sa Pa has many natural scenic sites such as Ham Rong Mountain, Thac Bac (Silver Waterfall), Cau May (Rattan Bridge), Bamboo Forest and Ta Phin Cave. 

Last year, Sa Pa welcomed 1 million tourists, up 35 percent year-on-year, earning more than 2.5 trillion VND (110 USD) from the tourism sector. The number of holiday-makers to Sa Pa is expected to reach 2.5 million in 2017, about 4 million in 2020 and over 8 million in 2030. 

Deputy PM surveys private preschools in Dong Nai

Deputy Prime Minister Vu Duc Dam made a field survey of private preschools and social houses for workers in Bien Hoa City, Dong Nai province on December 5.

Early in the morning, the Deputy PM visited Ngoc Hung private preschool in Long Binh Tan district, Bien Hoa city and private child care centres for children of workers living in Long Binh district.

Dam also dropped into the lodging houses in the locality to talk with workers and listened to their opinions on their living conditions and preschool education for their children.

After the field survey, the Deputy PM held a working session with leaders of Dong Nai province on the management of preschool education and the development of social housing projects for workers at industrial zones in the locality.

According to the People's Committee of Dong Nai province, the province has 324 preschools including 99 private preschools in addition to 1,067 private child care centres with a total number of children up to 172,780.

Private child care centres mainly serve children of workers at industrial zones in Dong Nai which reports approximately one million workers at industrial zones with 70% of them being immigrant population.

Many female workers showed their dissatisfaction as they have had to quit jobs in order to take care of their children because public preschools prioritise children of permanent residents and only receive children over two years old. Meanwhile, private preschools are costly and the education quality and facilities are unreliable.

Thus, female workers hope that the Government calls on enterprises to build social houses for workers and preschools for their children while assisting preschool teachers in paying social insurance.

Deputy PM Dam asked leaders of Dong Nai to resolve the inadequacies to encourage private child care centres to upgrade to preschools and create favourable conditions for the establishment and building of more preschools for local children.

He also directed the province to continue the project on building 20,000 social houses for workers in the 2016-2020 period.

WWF & Intel join in restoring Forests & ensuring livelihoods in Lang Sen

After the joint efforts in reforesting part of Lang Sen wetland with more than 12,000 trees in 2016, Intel Products Vietnam (Intel) and WWF continue the partnership in restoring wildlife habitats and ensuring livelihoods for local people in Lang Sen Wetland Reserve (LSWR), Long An Province, by planting an additional 7,000 trees at the end of 2017. On December 4, 270 Intel volunteers joined in  the reforestation activities with the LSWR and local community.

Officially established in 2004, LSWR is among the few natural remnants of the Plain of Reeds (Đồng Tháp Mười) and home to almost 400 flora and fauna species. The reserve provides natural resources and an ecosystem, such as fresh water and fisheries to 9,000 people in the surrounding areas.

Recent rapid changes in climatic factors like temperature and rainfall, as well as the hydrological regimes of the Mekong River, have led to serious degradation in the area's forests. These changes have put further pressure on the ecosystem that plays a critical role in the regulating water in the Mekong Delta and providing sources of income for the local community.

In order to overcome this emerging challenge, WWF started its partnership with Intel in 2016 to restore the degraded forests, provide habitat for wildlife and ensure livelihoods for the local people whose lives heavily rely on the area's ecosystem.

More than 12,000 native trees (plant species that have developed, occurred naturally, or existed for many years in an area and play a key role in local ecosystems) were planted during the project in 2016. The reforestation, with average tree survival rate over 80 percent, has contributed to WWF's efforts in maintaining favourable conditions for wildlife, improving water regulation capacity of the wetland to better mitigate the negative impacts of floods and droughts, and providing non-timber products (such as Melaleuca oil, honey, medicinal herbs and forest ecotourism services) to support poor and considered-poor households in Lang Sen.

"The continual support from Intel to plant 7,000 more trees in 2017 will further replicate the positive impacts of the project since 2016 to the 5,030ha area of Lang Sen," said Ms. Trinh Thi Long - Programme Coordinator, Freshwater, WWF-Vietnam, "it also contributes to WWF's strategic plan in increasing the resilience of Lang Sen Wetland Reserve and surrounding communities in the ever-changing context of climate change."

The program runs till December 9.

Wood processing factory dumps unprocessed water into residential area

Residents in Nghia Dan and Quynh Luu districts in Nghe An Province are increasingly concerned over illegal disposal of waste of Nghe An Wood Processing Factory.

The factory has released foul-smelling black water into Nghia Hoi commune in Nghia Dan District and Quynh Thang commune in Quynh Luu District. The unprocessed waste aslo enters canals and Vuc Mau Reservoir, the largest irrigation reservoir in the province.

The firm has been accused of causing environmental pollution and mysterious mass fish deaths.

Hundreds of local people on December 1 gathered outside the factory to ask the enterprise to stop dumping into residential area and waterways.

Nghe An Wood Processing Factory under the May Forestry Joint Stock Company (the project's direct investor is Vietnam's TH Group) was inaugurated in the industrial park of Nghia Dan district, central Nghe An province in last September.

Book launched to mark Finland's 100th anniversary

The Ho Chi Minh City Culture–Literature And Arts Publishing House in cooperation with Saigon Book Publisher released Icebreaker Snow -book series by Finnish writer Teemu Leppälä.

The book launch aims to celebrate the 100th anniversary of Finland's independence (December 6).

Icebreaker Snow -book series describe exciting stories that take both children and adults on freezing adventures on the icy seas.

Author Teemu Leppäla earned a M.S. in Marine Sciences. He is founder and CEO at POB Production Ltd and currently living in Helsinki

Publishing contract with Vietnamese publishing houses is also part of POB's strategy to be more internationally recognized brand. The plan is to make Snow more familiar for Vietnamese and licensing contracts with different product partners.

'Cocoon' winner at 'Housing solution for disaster areas' contest

"Cocoon" as a housing architecture model by a group of students from the Dalat-based Camus of the HCMC Architecture University, has just won the first prize of a contest named "Housing solution for disaster areas" organized by TOTO Vietnam. The three students, comprising Pham Quang Linh, Cao Hoang Son and Huynh Thi Thuy Dung, outperformed 35 other groups to bag the award with a cash prize of VND15 million at a ceremony in HCMC last Saturday.

The students introduced the "Cocoon" as a compact housing unit for a family of four. The structure has the frame made of steel, while the floor is made of ready-tailored panels, while the wall and the roof are made of water-proof canvas. The housing unit is anchored to the ground, and can be towed from place to place.
The award ceremony took place as part of the "Works & Humanitarian Activities" event last weekend in HCMC, attracting up to 1,500 architecture students and those who work in the field. The event was held by TOTO Vietnam and TOTO Gallery MA.

Shigeru Ban, a Japanese architect known for his innovative works with cardboard tubes, was invited by TOTO Vietnam to give a speech at the event. Shigeru Ban is known to have helped the community via his housing solutions for homeless people as well as those who have lost their home due to natural disasters, by utilizing unique, low-cost, and eco-friendly materials.

Ban noted that many people are suffering in the aftermath of natural disasters. Instead of providing them temporary shelters with poor infrastructure as authorities often do, Ban can help them live comfortably in unique shelters for disaster victims.

Thanks to his innovative talent, Shigeru Ban was awarded the 2014 Pritzker Prize, a highly prestigious honor often regarded as the Nobel Prize of Architecture.

Nguyen Tan Van, chairman of the Vietnam Association of Architects, said in a statement that Vietnam and Japan share a special relationship due to the similarities between the two economies and societies, and various Japanese projects and construction experiences have become educational examples for Vietnamese architects.

The "Housing Solution for Disaster Areas" contest is an architectural design competition for university students in Vietnam, inspired by Shigeru Ban's humanitarian architectural works.

In addition to announcing the results and holding the awards ceremony for the Top 3 best designs, the organizer also dedicated a special award chosen by the Honorary Judge Shigeru Ban. The winning ideas will also be displayed at the "Works & Humanitarian Activities" exhibition space.

Half of HCMC residents have household health insurance

The HCMC Social Insurance Agency has issued over 1,600 household health insurance cards so far this year, so around half of the city's residents are now medically insured thanks to this policy.

Luu Thi Thanh Huyen, deputy director of the HCMC Social Insurance Agency, said about 81% of local residents have taken part in the health insurance program. But this figure is below the nation's average of 82%.

Among 6.7 million medically insured residents in the city, more than five million receive partial or entire assistance from the State. Meanwhile, those volunteering to join the program make up a fraction, she noted.

It is hard for the municipal government to have 90% of residents gaining access to medical insurance in the coming time.

The HCMC Social Insurance Agency has tried to help workers rent homes so that they can purchase household health insurance. For example, if workers who have temporary residence at industrial parks want to take part, grassroots authorities will just confirm how many people live in these rented houses, and the social insurance agency will then support them.

If workers in the same rented house want to have household health insurance cards, they will have to prove they are family members to enjoy lower insurance fees.

Workers from other parts of the country who come to HCMC for work can still use the card for medical examinations and treatments at hospitals citywide.

However, experts said complicated procedures make it difficult for workers to prove they are from the same rented home or family.

Tang Chi Thuong, deputy director of the HCMC Health Department, said more than 25 million patients from other provinces and cities had come to the city for medical examination and treatment services in the year to September, a year-on-year rise of 12%. Of them, 11.2 wanted the insurer to cover their health care expenses, up 15.3% year-on-year.

Another vaccination centre opened in HCM City

Another vaccination centre was launched in Ho Chi Minh City's Phu Nhuan district on December 6, aiming to meet the increasing demand of immunization of local people. 

As the second centre of its kind in the country after the first in Hanoi, the establishment includes 17 rooms for checkups and 13 others for inoculation, enabling it to serve up to 2,500 people a day. 

The centre provides all vaccines, including scarce ones such as five-in-one Pentaxim vaccine, six-in-one Infanrix Hexa, Synflorix, and Hepatitis A and B vaccines. 

According to Ngo Chi Dung, Chairman of the Board of Directors of the Vietnam Vaccine Joint Stock Company, immunization safety at the center is always put on top with free screening examinations before vaccination, and all nurses working in the centre have been trained in injection skill.

Tran Dac Phu, Director of the Preventive Medicine Department under the Ministry of Health, highlighted the significance of the centre in satisfying vaccination demand of local residents in the southern region. 

The centre will also help reduce overloading at vaccination establishments in the city, he said. 

Phu also stressed the necessity to strictly obey inoculation regulations to ensure absolute safety in the work.

Vocational schools improve quality to meet businesses' requirements

Improving the quality of vocational education in line with businesses' requirements was the main focus of a forum held in Ho Chi Minh City on December 5.

Director of Vietnam Skills for Employment Project (VSEP) Michael Emblem said the annual forum gathers Vietnamese educational leaders and policy makers to discuss developing vocational education to meet the demand of the labour market – which is changing rapidly in the country.

The project aims to help Vietnam develop a vocational education system according to Canadian models and help youngsters access education and training services and seek high-income jobs.

President of Ho Chi Minh City-based Vietnam National University Huynh Thanh Dat said reforming to meet social development is a big challenge for the education sector.

He added universities and vocational training facilities are working to forge links with businesses to train high-quality students who can use new technologies. 

Director of the National Institute for Vocational Education and Training under the Ministry of Labour, Invalids and Social Affairs Vu Xuan Hung reported that the country has nearly 2,000 vocational education facilities.

Some businesses have worked with schools to provide employment requirements, technical information, and scholarships for students and taken them on for work experience, he said. 

However, ties between enterprises and vocational schools are still small scale and unsustainable, he added.

The ministry is striving to develop 70 high-quality schools by 2020, including 40 reaching the level of developed countries in ASEAN.

To realise the target, Hung suggested reforming State management in vocational education, including refining legal regulations and policies in the field.

He suggested promoting autonomy in vocational schools and building national standards to ensure quality of training.

Director of the General Directorate for Vocational Training under the Ministry of Labour, Invalids and Social Affairs Nguyen Hong Minh recommended increasing career guidance and professional skills competitions for employees in businesses.