VietNamNet Bridge – Local authorities have been asked to complete re-inforcing a broken dyke on one river in Binh Dinh Province and inspect risky points around the clock to prevent further outbursts.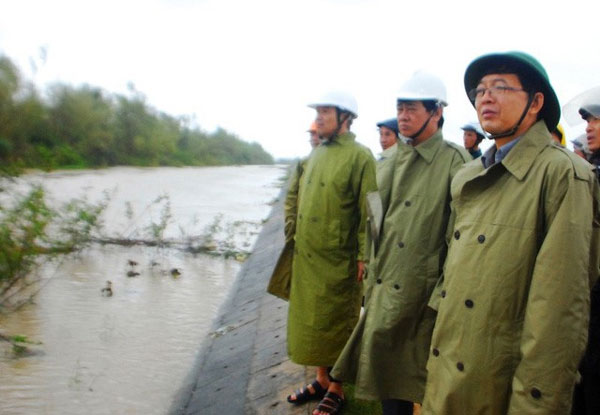 Binh Dinh Province People's Committee chairman Ho Quoc Dung checking prevention measures for floods. — Photo dantri.com.vn
Binh Dinh Province People's Committee chairman Ho Quoc Dung on Monday visited areas suffering flood losses this week, checking on measures to prevent similar disasters and making sure residents were getting sufficient food and other aid. 
He asked the Irrigation Management Ltd Co to operate reservoirs in accordance with approved procedures to ensure they were safe and did not flood downstream areas.
Since early November, provincial residents have suffered four floods and one typhoon.
Statistics reported nearly 26,900 homes were waterlogged by floodwaters, four collapsed.
A total of 724m of river dykes, 1.3km of rice-field canals and five bridges were damaged. Flooded roads cut off many areas.
According to dantri.com.vn online newspaper, many provincial roads from Tuy Phuoc Town to Phuoc Thang and Phuoc Hoa communes are still flooded under up to a metre of water. Residents have to travel by boat or truck, not by walking or peddling.
Nguyen Dinh Thuan, chairman of Tuy Phuoc District People's Committee, said rain combined with water flowing from upstream and rising tide-water caused eastern communes to become deeply waterlogged.
Go Cham River dyke in Phuoc Hung Commune was found to have cracks in several areas.
Thuan said that more than 11,140 households in five communes were inundated and isolated by the floods. Floodwater overflowed the Tri Thien River dyke downstream from Thanh Hoa dam in Phuoc Quang Commune, causing deep surface erosion for 30m.
Tuy Phuoc District authorities supplied 1,000 sandbags to upgrade embankments to prevent landslides.
Floodwaters also overflowed 10m of dyke on the Cay Me River and 9m of dyke along the Truong Giang River.
Chairman Ho Quoc Dung warned the heavy rains and flood were reportedly continuing so local authorities have to prepare flood-coping measures.  
Meanwhile, in Quy Nhon City, more than 7,000 households in Bui Thi Xuan, Nhon Binh and Nhon Phu wards are still flooded.
Hung Vuong Road, a main road linking districts with Quy Nhon Port, is deeply waterlogged.
People have to travel by three-wheel vehicles or small trucks while all trading activities have stopped.
Phan Trong Ho, director of the province's Department of Agriculture and Rural Development, said due to heavy rains, the levels of water in reservoirs had increased rapidly.
At present, 165 reservoirs in the province are now at 86 per cent of total design capacity (578 million cu.m), 150 per cent more than in the same period last year. 
Source: VNS