VietNamNet Bridge – Building smart cities is the main and priority orientation in the Vietnamese Government's development strategy.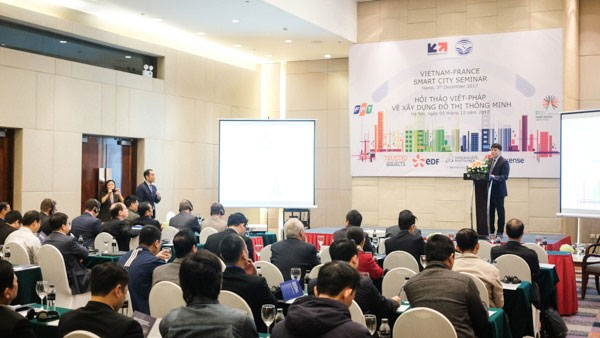 Representatives discuss at the seminar. — Photo: VNN
This was what experts agreed to at the Viet Nam-France Smart City seminar held on Tuesday in Hanoi by the Ministry of Information and Communications (MIC) in coordination with the Embassy of France in Vietnam.
The event was focusing on closer co-operation between France and Vietnam in the information technology sector based on the memorandum paper signed by the two countries last year.
The experts said that looking to the 4.0 Industrial Revolution, Vietnam has been developing information technology infrastructure and services to develop the country's economy so that it can catch up with the region and the world.
The MIC is expanding the plan of setting up an electronic Government in the period of 2016-20, with focus on building a digital system. The ministry is also improving international co-operation to learn from experiences of other countries and then implementing a smart city model which is suitable to Vietnam.
Phan Thao Nguyen, director of the International Cooperation Department under the MIC, said that since last year, provinces and cities across the country, such as Hanoi, Da Nang, Thua Thien-Hue, Lam Dong and HCM City, have approved and conducted smart city projects.
Building a smart city was a good measure to implement targets of developing the socio-economy in the medium and long term.
French Ambassador to Viet Nam Bertrand Lortholary said that by 2020, two thirds of the Vietnamese population would live in urban areas instead of one third like present. Thus the country should change the way it is managing urban areas to make it more effective and suitable with the times.
Vietnam's problems were ones that France had experienced, so France would share its experiences and lessons, he said.
At the seminar, different French enterprises and organisations introduced technological measures emulating a three-dimension technology, which could be applied in transport, infrastructure and urban plans. The technology has been applied effectively in France. 
Source: VNS