VietNamNet Bridge – Le Van Viet remembers very clearly the day he was rushing his father to the Cho Ray Hospital in an ambulance.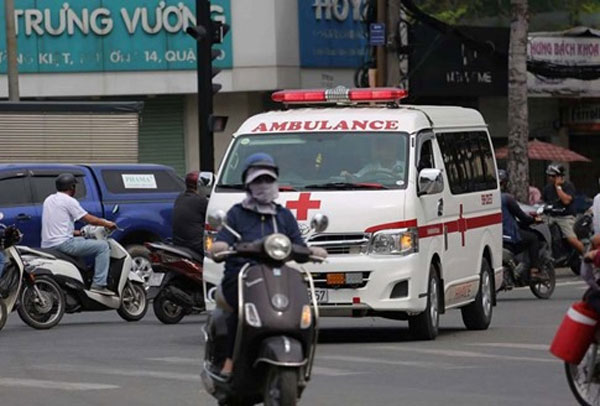 A motorbike cuts across the path of an ambulance in HCM City. — Photo thanhnien.vn
It was a medical emergency, but very close to the hospital, the ambulance was stuck because a taxi had stopped at a red light and did not move to one side although there was sufficient space to do so.
Viet, a resident of HCM City's District 5, told the Thanh Nien (Young People) newspaper that many people had to bang on the taxi's doors and shout at the driver to move his car.
"His attitude was very bad," Viet said.
Many road users in the city seem to be ignoring the rule of giving priority to ambulances.
Tran Quang Loc, an ambulance driver with the city's 115 Emergency Centre, said that when he was taking a traffic accident victim to Nhan Dan Hospital via Lac Long Quan Street last week, a taxi refused to give way and he had to drive left and encroach on the side with opposing traffic.
And it is not just taxi drivers, a lot of motorbike drivers also ignore the blaring of ambulance horns, he said.
"They act like they've heard nothing," he said.
Another ambulance driver at the centre said that "heartless" people forced him to drive for two hours, to pick up a patient from the Hoc Mon General Hospital and take him to Cho Ray Hospital in District 5. The total distance was just 40km.
Tra Thanh Vinh, chief nurse at centre said "Drivers now only focus on themselves and the road, and ignore the ambulance's horn."
Something must be done to change the public's awareness, attitude and response, Vinh said
The centre's drivers always tried to run as fast as possible to take patients to hospital. However, running fast but still ensuring safety was never easy task, he said.
Patients' relatives often blame the drivers for coming late, "but ambulances cannot fly, they cannot be fast if other road users do not support them."
What to do
Tang Chi Thuong, deputy head of the city's Department of Health, said it was imperative that regulations giving priority to ambulances were strengthened.
The Thanh Nien report quoted Dao Le Hoa An, a psychologist, as saying other agencies, like the traffic police, should assist ambulances. Loud speakers must be used to call on road users to make way, she suggested, adding that additional sanctions should be imposed on those violating the rules.
Road users should also be taught the ways in which they are supposed to let ambulances through.
Under the Article 22 of the Law on Road Traffic, issued in 2008, road users are told to give priority to ambulances and fire-fighting vehicles. The ambulances and fire-fighting vehicles are allowed to run in all roads without limiting their speed. They can pass red light and only follow instructions of traffic police.
The Government Decree 46/2016/NĐ-CP, issued in 2016, said that a car driver will receive a fine of VND2-3 million (US$88-132) and be revoked his/her driving licence between one and three months if they fail to give priority to ambulances and other prioritised vehicles. A motorbike driver will be fined VND500,000-1 million ($22-44) and be revoked his/her driving licence between one and three months. 
Source: VNS