VietNamNet Bridge – Vietnam needs US$140billion to $179 billion in the next 20 years for climate change reduction and adaptation, as well as technology.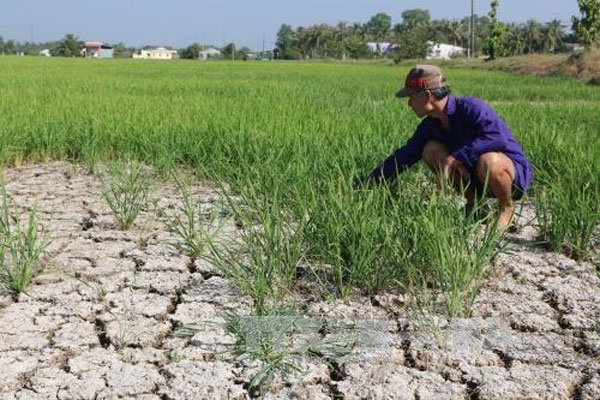 Droughts and saline intrusion in Long An Province in 2016. — VNA/VNS Photo
However, the current budget can meet only some 5 per cent of the estimated demand, Nguyen Ngoc Hung, deputy head of People's Aid Coordination Committee under the Viet Nam Union of Science and Technology Association told the Dai Doan Ket (Great Unity) newspaper. 
In a recent workshop on mobilising sources to adapt to climate change in An Giang Province, environmental experts said that Vietnam needs some $30 billion to reach the target of reducing greenhouse gas by 2020. The budget to realise this target accounts for 0.1 per cent of GDP. 
Out of more than $3.3 billion assistance given by non-governmental organisations to Vietnam between 2001 and 2016, only $2.5 million, equivalent to 7.4 per cent, was for natural resources and the environment sector. 
In the first six months of this year, Cuu Long (Mekong) Delta region was in need of some $10.2 million for climate change adaptation and rising sea water level. 
Associate Professor, Le Anh Tuan, from Can Tho University, said that while waiting for investment sources for climate change adaptation work for the Mekong Delta region (the region hit the hardest by climate change in Vietnam), localities must play an active role to implement climate change adaption works by themselves. 
Tra Vinh Province, for example, has built a climate change adaptation capacity, with the engagement of community and agriculture-rural development agencies. They have invested in sustainable agricultural livelihood through financial tools and equipment and the study of community-based development in the sector.
 This month, Prime Minister, Nguyen Xuan Phuc, signed a resolution to sustainably develop the Mekong Delta as part of an effort to cope with climate change. The resolution also highlights the necessity of the Mekong Delta to create sustainable and prosperous development on the foundation of actively adapting and mobilising its strength and potential and transforming challenges into opportunities for development. 
The Mekong Delta region, home to 19 per cent of the country's population, has contributed to half of the rice production of the country, 65 per cent of aquaculture and 70 per cent of fruit production. Due to impacts of climate change, saline intrusion and landslides have been major threats to local agriculture. 
According to a survey conducted by Aid for Social Protection Programme Foundation in Vietnam (AFV) in August and September this year in three districts of An Giang, Soc Trang and Tra Vinh provinces in the Mekong Delta region, nearly 13 per cent of households have totally lost their land or been forced to abandon their land or water surface due to climate change. 
The cost to revive the soil for production is VND19.16 million ($830) per household, per year.
Surprisingly, more than 50 per cent of the households affected by climate change have never heard of or heard of but have no idea about the phrase, "climate change." More than 32 per cent of climate change-affected households are not concerned about climate change. 
For these reasons, experts said it is necessary to change the mindset of the community towards climate change in the Mekong Delta region. It is also necessary to share climate change information among sectors and mobilise sources from international non-governmental organisations, cooperation development agencies and social organisations. 
Pham Van Tan, deputy head of the climate change department under the Ministry of Natural Resources and Environment, said that the agricultural production structure in the region should be built on three key sectors: aquaculture-fruit trees-rice attached with micro eco areas. Besides agriculture, the processing industry and the supporting industry must also be given attention. 
Source: VNS