Audio books library for the blind inaugurated in HCM City
The audio books library for the blind was inaugurated in Ho Chi Minh City after three years of reconstruction.
The library covers on an area of 632 square meters at 18B Dinh Tien Hoang Street in District 1.
The new building includes a studio for recording at a high quality, an audio book production studio, a computer training room, chess learning area and other facilities.
The audio books library has produced more than 1,800 talking books with over 402,000 copies that have been served for free 103 branches of the Blind People Association and schools for the blind nationwide. Its website has reached about 16.7 million viistors.
Fire at wood processing company causes financial damage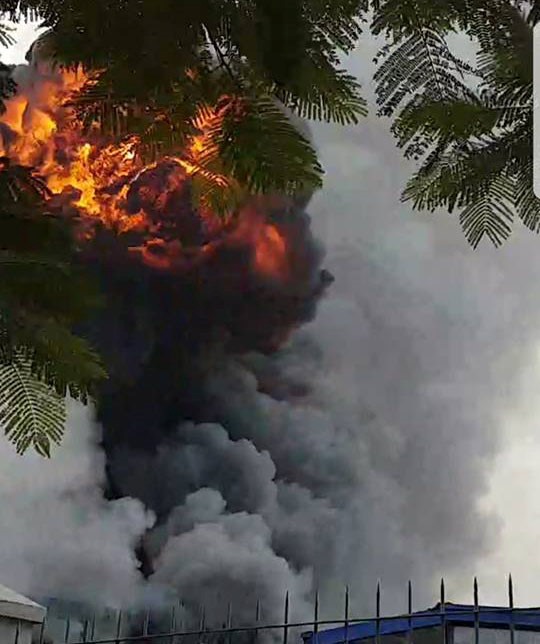 A fire occurred in Nam Hải Wood Processing Company in Dĩ An Town, the southern province of Bình Dương, on Tuesday, causing serious financial damage.
Since the facility contained several flammable substances and objects, the fire quickly spread to the neighbouring areas. It took the firefighters one hour to extinguish the fire.
Fortunately, all the workers escaped safely from the burning site.
On the same day, another fire burnt all the commodities in KCC Hà Nội Company's 300sq.m paint factory in Yên Phong Industrial Zone, the northern province of Bắc Ninh.
According to Yên Phong District Police, the functional forces successfully evacuated all the workers. The fire was brought under control after 45 minutes. However, the loss of property has not yet been estimated.
Korean-invested KCC Hà Nội Company has two factories in Đồng Nai Province and Bắc Ninh Province.
Passengers banned from flights for fake documents
The Civil Aviation Administration of Vietnam (CAAV) has given a 12-month ban to three passengers who used boarding passes under different names and falsified identification cards.
Passengers, including Nguyen Y Thanh, Do Manh Hung and Nguyen Thi Be have been banned from November 27, 2017 to November 18, 2018. They will then have to undergo compulsory checks in 6 months to board a flight.
The CAAV has also asked all Vietnam airline firms and foreign aviation firms that are operating in Vietnam are not allowed to provide domestic or international flight services these passengers during the above-mentioned period.
Free examination provided to kids suffering child abuse
Under the guideline of People's Committee in Ho Chi Minh City's district 12, 18 kids who suffered child abuse in Mam Xanh daycare center in the district have been gratis examined in local infirmary. 
District hospital Director Nhan To Tai yesterday said doctors examined the children, victims of child abuse in Mam Xanh daycare center in the district, for effect of child maltreatment as per the guideline.
Doctors not only checked kids by carrying out test but also provide consultation to their parents.
Isolated rooms were arranged for examination of abused children. Dr. Tai said a few kids had bruise but no one showed psychological and mental effects.
The hospital and local administrations encouraged parents to take their kids for medical check-ups to discover possible psychological effects.
As per the article on Sai Gon Giai Phong newspaper on November 26, Pham Thi My Linh, born in 1974 from the Central Highlands province of Lam Dong and her assistants were filmed physically abusing kids in their daycare center.
The clip showed the owner and two assistants kicked on children's back and hit toddlers with plastic casks. Police investigators soon apprehended the three women and began to prosecute them.
Police bust football betting ring
Police in central Hà Tĩnh Province busted a football betting ring worth VNĐ310 billion (US$13.6 million) and arrested three people for allegedly organising the ring.
The three people arrested from the gambling network included Dương Minh Tuấn, 26, Bùi Bá Việt, 32, and Phan Sỹ Hoàng, 26.
As many as 27 other people have also been summoned for their alleged involvement in the ring.
An initial investigation showed that the three accused set up the betting activities since September 18.
The case is under investigation.
UN provides extra $4m for flood relief
The United Nations has approved an additional allocation of US$4.21 million from the Central Emergency Response Fund to assist 150,000 people, including 46,973 children, in six provinces affected by the devastating Typhoon Damrey.
Earlier, an emergency cash grant of US$100,000 was made from the Office for the Co-ordination of Humanitarian Affairs to support immediate relief operations.
The additional funding will allow UN agencies to scale up water, sanitation and hygiene, food security and emergency shelter recovery after more than 300,000 houses were damaged or destroyed.
"The UN funds will cover immediate life-saving needs and support time-critical interventions over the next six months," said Kamal Malhotra, UN resident co-ordinator in Việt Nam.
The funding will allow four UN agencies - FAO, IOM, UNDP and UNICEF - to meet the most urgent needs of affected communities. The agencies will use the funding to provide people whose homes have been damaged with shelter materials and cash grants to make repairs, provide water filtration systems and hygiene kits to prevent the spread of diseases; and unconditional cash transfers and vouchers to compensate for the loss of livelihoods and to procure agricultural supplies.
Typhoon Damrey made landfall on November 4, causing widespread flooding and destruction across the central and south-central regions of Việt Nam. An estimated 4.33 million people have been affected, including 400,000 people who require humanitarian assistance. 
Vietnam, China launch joint anti-smuggling campaign
Vietnam and China on November 27 began a joint campaign against the smuggling of drugs, firearms, counterfeit money, endangered animals and plants as well as unquarantined products.
The five-month campaign is run by customs authorities of Vietnam's Quang Ninh, Lang Son, and Cao Bang provinces which share borderline with China, and the Guangxi Zhuang Autonomous Region of China.
According to China's General Administration of Customs, customs of both sides will discuss single-window clearance, recognise prioritised enterprises, enhance information sharing on smuggling activities and join hands to improve efficiency of the fight against cross-border smuggling.
HCMC to build more dorms for workers
Ho Chi Minh City plans to build eight worker dormitory projects on the area of 18 hectare supplying 4,962 dwellings.
Two projects invested by Thien Phat Commercial Tourism Construction Company will be implemented this year including dorm in Linh Trung No.2 Industrial Park in Thu Duc District providing 1,500 accommodation and in Hiep Binh Phuoc Ward of Nhon Hoa Balance Company with 720 dwellings.
Other six projects in districts of 2, 9, Binh Tan, Binh Chanh and Cu Chi will be launched in 2018 and scheduled to complete in 2020.
The above-mentioned projects has been approved by Deputy Chairman of People's Committee Tran Vinh Tuyen.
In order to encourage firms to take part in social housing projects for workers in the city, HCMC authorities announced to adjust regulations for managing worker dormitories and rental houses for laborers in accordance with the current one; additionally, it will amend policies on loans and provide preferential loans to attract investors.
Furthermore, the municipal authorities also asked the Department of Construction to beef up construction speed of social housing projects for workers as well as put forward solutions for hiccups along the way.
The Labor Union is required to forecast workers' demand of accommodation and entertainment in three industrial parks to develop policies and organize sport and leisure activities for them.
The Department of Construction said that the current accommodation with 39,400 dwellings just meet 15 percent of demand.
Before, HCMC had adopted policies of preferential loans for investors of worker dormitory projects; yet, limited state budget plus complex paperwork have disheartened investors.
No land for building worker dormitories in the industrial parks make the problem to be more difficult. From now to 2020, the city needs to build additional 240,000 dwellings to satisfy the increasing demand. In 2018, the city plans to build more 2,220 dwellings for workers with 32,000 square meter.
National Action Month for HIV/AIDS Prevention and Control 2017 launched in HCMC
On November 27, the Ho Chi Minh City HIV/AIDS Prevention and Control Center hosted a meeting at Le Thi Rieng Park in response to the National Action Month for HIV/AIDS Prevention and Control 2017 and the World AIDS Day (December 1).
According to the center, Ho Chi Minh City has reached 73 percent of 90 of HIV-infected people knowing their HIV status; 75 percent of 90 of people diagnosed with HIV being treated with antiretroviral (ARV) medicines; and 96 percent HIV-infected people treated with ARV medicines limiting the virus to low levels.
Speaking at the evnt, Deputy Chairwoman of the People's Committee of HCM City Nguyen Thi Thu officially launched the National Action Month for HIV/AIDS Prevention and Control 2017 in the city.
She has called Society to join hands in participating in HIV/AIDS prevention activities and international organizations to support the city in implementing the action plan on HIV/AIDS prevention and control in 2017 and responding the 90-90-90 targets of the UN by 2020, including 90 percent of HIV-infected people knowing their HIV status, 90 percent of people diagnosed with HIV being treated with antiretroviral (ARV) medicines and 90 percent of HIV-infected people treated with ARV medicines limiting the virus to low levels.
Fire burnt down 300 year-old communal house in Thai Binh
A huge fire happened in the ancient communal house of Luu Xa, Dong Phuong commune, Dong Hung district, Thai Binh province yesterday morning. 
Chairman of the People's Committee of Dong Phuong Commune Pham Xuan Canh said that a massive blaze suddenly burnt and gutted the national historical site at 10 AM.  
After receiving the information, local people and authorities made their effort to control the blaze. 
Fire Police of Dong Hung district quickly sent two fire trucks to the scene in order to extinguish the blaze.
 The blaze was extinguished by 2 AM. 
Although nobody was hurt and killed in the fire, the massive flame gutted the 300 year- old communal house. 
 Accordingly, Luu Xa communal house had total area of 170 square meters which was recognized as the National Historic Site in 1990. 
Currently, the functional agencies are investigating the reasons of the fire.
ICFO supports Vietnamese fishermen
Chairman of the International Cooperative Fisheries Organisation (ICFO) Kim Im-Kweon has agreed to provide 10,000 USD to support fisheries cooperatives and fishermen in Vietnam's central coastal provinces of Khanh Hoa, Phu Yen and Ninh Thuan, which were severely affected by the recent typhoon Damrey.
Chairman of the Vietnam Cooperative Alliance (VCA) Nguyen Ngoc Bao will present the cash to fisheries cooperatives in Phu Yen on November 29 and Khanh Hoa and Ninh Thuan on November 30.
Earlier he had a working session with Kim Im-Kweon – who is also Chairman of the National Federation of Fisheries Cooperatives of the Republic of Korea (NFFC) to exchange the development situation of Vietnamese fisheries cooperatives and share difficulties they are facing.
He proposed the ICFO provide both material and spiritual assistance for fisheries cooperatives in the central part of Vietnam, which suffered heavy losses caused by the storm.
The ICFO, one of the sectoral organisations of the International Cooperative Alliance (ICA), was founded in 1976. It assists fisheries development by providing information on fisheries to fisheries cooperatives around the world, and promotes exchange of expertise and experience among them through training, symposiums, seminars, and other means. 
Typhoon Damrey, the 12th major storm in the East Sea, hit Vietnam's south central coast on November 4. Following downpours and floods had claimed 89 lives and left 18 missing and 174 others injured in central and Central Highlands localities as of November 7, according to the National Committee for Search and Rescue.
Imex Trà Vinh's former director to be investigated
The Police Department for Economic Crimes and Corruption (C46) under the Ministry of Public Security and Trà Vinh Province Police, on Tuesday, began an oficial investigation into former leaders of a State-owned food company in the southern province.
Trần Văn Tâm, 42, former director of Trà Vinh Food Company (Imex Trà Vinh) and three other former officials were also arrested.
Following an initial inspection, functional forces found that since 2011, because of a loss of profit, Tâm asked his staff to make fake business contracts and misdeclare the company's inventory to hide a fiscal deficit of VNĐ659 billion (US$29 million).
Simultanously, his staff proposed fake reports to both Southern Việt Nam Food Corporation (Vinafood 2) to ask for more funding and to banks for loan disbursement.
As the unprofitable company was unable to pay loans, the capital deficit kept increasing, causing serious damage to the State budget.
Other suspects include Nguyễn Tấn Vinh, former manager of finance and accounting, Phan Văn Hiệp, former director of Imex Trà Vinh's Cầu Kè Food Processing Faculty, and Võ Văn Sen, former director of Đại Phúc Company.
C46 are collecting dossiers for a deeper investigation and case expansion.
Early last month, Vinafood 2 collaborated with the AASC audit firm to inspect its companies and factories. They then found that the actual amount of stocking rice in Imex Trà Vinh's warehouse was only 4,000 tonnes, in comparison to the 87,000 tonnes presented in its reports.
Vietnam, India step up judicial cooperation
Chief Judge of the Supreme People's Court Nguyen Hoa Binh has suggested the Supreme Court of India (SCI) dispatch a group of experts in reconciliation and e-court to help Vietnam in these fields. 
Chief Judge of the Supreme People's Court of Vietnam Nguyen Hoa Binh (R) ​and Chief Justice of the Supreme Court of India
Binh made the suggestion during his talks with SCI Chief Justice Dipak Misra in New Delhi on November 28 as part of his working visit to India from November 27-29. 
After being briefed on India's court system and its recent reforms, the Vietnamese Chief Judge applauded reconciliation work at Indian courts.  
He took the occasion to invite Misra to pay a visit to Vietnam in 2018. The Indian Chief Justice accepted the invitation with pleasure and pledged to send judges and experts to assist Vietnam in areas of the country's interests. 
The same day, Binh had a working session with Chief Justice of the Delhi High Court Gita Mittal, who introduced a reconciliation model recently piloted in the Indian court system to her guest. 
Binh asked the Indian side to help Vietnamese courts in the settlement of disputes, by sharing information, organising training courses and dispatching judicial experts and officials to Vietnam and vice versa.
HCMC alerted against highly-toxic fumes from incinerators
Exhaust emissions from incinerators in HCMC will be a big threat to the environment and the health of residents living near waste-to-energy plants, so the city government should be carefully screen such projects, said experts at a seminar in the city on Sunday.
At the seminar to call for investment in waste-to-energy projects, Nguyen Toan Thang, director of the HCMC Department of Natural Resources and Environment, said the city discharges about 8,700 tons of solid waste a day including 60-80% being food waste. With such a big amount, the city will need dozens of waste-to-energy projects in the coming years.
The city's garbage is currently collected and transported to two waste treatment complexes, Da Phuoc in Binh Chanh District and Tay Bac in Cu Chi District, for treatment. The two complexes, which daily receive 5,500 tons and 3,100 tons of garbage respectively, are in fact dumpsites where waste is mainly buried.
Apart from around ten waste-to-energy projects in the pipeline, HCMC needs to build two or three more waste-to-power plants, a plant to process hazardous waste, and another for medical waste treatment as the volume of waste may annually increase 5% to nearly 13,000 tons by 2025. These projects together with existing ones will generate 200 MW of electricity by 2025.
At the seminar, Dang Huy Dong, Deputy Minister of Planning and Investment, proposed the HCMC government set out strict requirements for waste-to-energy projects, as such plants may pose huge problems for the environment and public health.
The city should closely control such projects as it is more complicated to deal with fumes from waste-to-energy plants than those from coal-fired power plants, although public concerns so far largely center on the coal-fired power plants.
The seminar was attended by 40 investors who are interested in developing waste-to-energy projects in HCMC. Some of them and scientists presented technologies claimed to be advanced for garbage treatment.
Deputy Minister Dong, however, cast doubt on such technologies, asking environment agencies in the city to carefully appraise technology and exhaust volume of projects before approving them.
Phan Tri Dung, chairman of Petech Science Technology Corporation, told the Daily on the sidelines of the seminar that garbage must be burned at more than 1,200 degrees Celsius to reduce toxic gases. The required temperature for plasma incinerators is 2,000 to 4,000 degrees Celsius, which is a more suitable technology for such projects.
A survey on 100 incinerators showed that toxic gases from these incinerators are 100 times higher than permitted. Therefore, HCMC should apply suitable technology to reduce toxic gas emissions from waste-to-energy plants, Dung noted.
Northern Son La province builds 550-bed hospital
The Health Department of the northern mountainous province Son La has held a groundbreaking ceremony for the construction of a 550-bed general hospital.
The 9.06ha hospital is located in the Chieng Sinh ward of Son La city.
The total cost of the project is upwards of 1.5 trillion VND (66 million USD), primarily sourced from government bonds.
The Son La General Hospital features two seven-floor buildings serving as technical facilities and inpatient areas and one four-floor building for medical examinations and outpatient treatment, in addition to several auxiliary buildings.
The hospital campus boasts large areas of green space and other decorations.
The project is expected to be completed and put into use in 2020.
Speaking at the groundbreaking ceremony, Chairman of the provincial People's Committee Cam Ngooc Minh stressed that the hospital would significantly improve treatment in the region.
"The hospital will be an important link in the expanding network of the province's health care facilities in the region, to timely and efficiently serve people's healthcare demands," he said.
HCM City to install CCTV in kindergartens to prevent child abuse
Ho Chi Minh City authorities are set to apply specific measures, including the installation of surveillance cameras, to end the physical abuse of children at local kindergartens and childcare facilities.
The municipal People's Committee convened a meeting with relevant agencies on November 27 to seek solutions to child abuse, following a recent article by Tuoi Tre (Youth) newspaper.
The story shined the spotlight on the Mam Xanh childcare facility in Distinct 12, where its manager and employees had been discovered beating children aged two to five on a daily basis.
Speaking at the gathering, Bui Thi Diem Thu, deputy director of the city's Department of Education and Training, said that daycare centers have mushroomed across the southern hub due to increasing demand in recent years.
However, the oversight of these venues is still limited, Thu assessed.
"The local education sector is responsible for letting such a serious case develop," the official remarked.
In a bid to prevent similar cases, Thu suggested the installation of CCTV cameras at local kindergartens and childcare facilities.
The proposal was backed by the municipal Department of Police as surveillance cameras provide close monitoring of the situation at these places.
However, the locations of such devices should be taken into careful consideration in order not to violate human rights, another police official stated.
Following the discussion, the municipal education department was tasked with formulating a detailed plan for the installation of CCTV cameras at kindergartens across the city.
The cameras will be added to all rooms except for bathrooms and other sensitive areas.
In addition to existing safety requirements, new childcare centers will need to have surveillance cameras installed in order to be granted a legitimate license.
In another relevant development, the Ho Chi Minh City Party Committee on Monday ordered a comprehensive inspection of non-public childcare facilities across the metropolis.
Any action that violates the law and well-being of children must be severely punished, Deputy Secretary of the city's Party Committee Tat Thanh Cang said in a statement.
Vietnam supports solidarity with Palestinian people
President Tran Dai Quang has cabled congratulatory messages to Secretary-General of the United Nations Antonio Guterres and Chairman of the UN Committee on the Exercise of the Inalienable Rights of the Palestinian People Fode Seck on the occasion of the International Day of Solidarity with the Palestinian People (November 29).
He also congratulated President of the State of Palestine Mahmoud Abbas on the day. 
President Quang affirmed the support and solidarity of the Vietnamese State and people to Palestinian people in the just struggle for their fundamental national rights.
Deputy PM hosts Foreign Press Agency delegation
Deputy Prime Minister Vu Duc Dam hosted a reception in Hanoi on November 28 for a delegation from the Foreign Press Agency (FPA) in Switzerland and Liechtenstein led by President Jean Musy. 
Dam informed them about socio-economic development in Vietnam, affirming that the country will spare no effort to improve the business climate, build synchronous infrastructure, and pay attention to environment protection and education reform. 
He said the success of the Asia-Pacific Economic Cooperation (APEC) Year 2017 and the APEC Economic Leaders' Week recently held in Vietnam proves the inevitable trend of economic connectivity, integration and trade freedom among economies. 
The host also expressed wish to build a country of peace, stability and sustainable well-being. 
Musy, for his part, said the FPA was founded in 1928 and based in Geneva, Switzerland with 120 member organisations. It gathers professional journalists of different nationalities covering the latest news about Switzerland, the United Nations and international organisations in Geneva. 
He informed the host that the FPA and the Vietnam Journalists' Association (VJA) signed a cooperation agreement for 2017-2018, under which both sides pledged to encourage its member units to increase the exchange of delegations and offer mutual support in information sharing. 
The same day, FPA and the Vietnam News Agency (VNA) held a workshop to increase Vietnam-Switzerland press exchange. 
VNA Deputy General Director Le Quoc Minh briefed guests about VNA's role and mission, saying that VNA is the only news agency in Vietnam to have a 2,500-member staff, including nearly 1,200 journalists. It has set up representative offices in all 63 cities and provinces nationwide and 30 others overseas. VNA has issued nearly 60 publications in all forms and joined major press networks in the region and the world and partnered with around 40 international press agencies and outlets. 
He expressed wish to increase partnership with foreign press agencies, including the FPA, to improve the delivery of external news.
Musy said in order to make Asian and Vietnamese news attractive to European readers, they should be more general and written in reader-friendly style. He suggested holding more cultural events to make both sides closer. 
In the afternoon the same day, the VJA held talks and signed a cooperation agreement for 2017-2018 with the FPA. 
VJA Chairman Thuan Huu updated the guests about press activities in Vietnam, adding that VJA expanded partnerships with foreign press agencies from China, the Republic of Korea and ASEAN member states. 
The FPA President wished to welcome more VJA delegations to Switzerland in the near future. 
The FPA delegation is in Vietnam from November 27 – December 3.
Binh Dinh fishing vessel sinks in Vung Tau waters
Rescue forces recovered the bodies of two crewmembers 6 nautical miles from sunken fishing vessel 30366 TS of central Binh Dinh province on the morning of November 28.
The Maritime Rescue Coordination Centre (MRCC) Region III received a report from a local man that the fishing vessel with six fishermen on board had capsized for unknown reasons around 42 nautical miles southeast of Vung Tau.
The MRCC Region III immediately implemented rescue measures and transmitted emergency messages, asking all vessels in surrounding areas to search for and rescue fishermen in distress. It also dispatched rescue vessel SAR 272 to the scene.
 They found the bodies of two fishermen on the morning of November 28, the search for the remaining four missing crewmembers continues.
Vietnam, Singapore strengthen cooperation in intellectual property
Vietnam wants to learn from Singapore's experience in developing the intellectual property (IP) system in order to make IP an effective tool supporting technology development and boosting socio-economic development.
Vietnamese Minister of Science and Technology Chu Ngoc Anh made the statement at his meeting with Indranee Thurai Rajah, Senior Minister of State for Law and Finance of Singapore's Ministry of Law, on November 28 within the framework of the official visit to Singapore of National Assembly Chairwoman Nguyen Thi Kim Ngan.
The Ministry of Science and Technology is building a National Strategy on Intellectual Property to be submitted to the Prime Minister for approval in 2018, Anh said.
Rajah agreed on the Vietnamese minister's proposals, affirming that Vietnam always receives Singapore's priority and attention due to its diversity in business and investment activities.
At the meeting, both sides witnessed the signing of a cooperation plan for 2018 between the National Office of Intellectual Property of Vietnam and the Intellectual Property Office of Singapore (IPOS).
Earlier, Minister Anh had a working session with representatives from Singapore's Agency for Science, Technology and Research (A*STAR), during which he asked the A*STAR to consider the signing of a legal document to serve as a foundation to carry out international research cooperation programmes.
National Library celebrates 100th anniversary
The National Library of Vietnam held a ceremony in Hanoi on November 28 to mark its 100th anniversary.
Minister of Culture, Sports and Tourism Nguyen Ngoc Thien said 100 years is a glorious and proud moment for the National Library of Vietnam in raising people's knowledge, cultivating human resources, and developing reading culture in Vietnam.
Established in November 1917, the library has become the largest of its kind in Vietnam with more than 2.5 million documents.
A number of precious collections from the 17th century are being preserved at the library. In recent years, the library has developed new documents, creating a collection of digital documents with more than 5,000,000 pages of materials.
The library serves more than 2,000 readers each day on average and more than 6,500 online readers.
Vietnamese, Lao young officers hold exchange
A seminar was held in Hanoi on November 28 for Vietnamese and Lao young officers who shared information on military youth operations, especially activities celebrating 40 years since the signing of the Vietnam-Laos Treaty of Friendship and Cooperation and the 55th anniversary of diplomatic relations.
The two sides noted that over the years, military youth of both sides have and promoted the tradition of the two nations and armies.
At the same time, they have worked together for the growth of friendship between the two Parties, States, armies and peoples of Vietnam and Laos.
They agreed on the need to continue strengthening communications and education on the ties.
Lao Cai seeks measures to optimise poverty reduction aid
The People's Committee of Lao Cai province held a meeting on November 28 with representatives from several foreign embassies and non-government organisations in Vietnam to review their collaboration and exchange ideas for managing poverty reduction projects in the locality.
From 2013 to October 2017, the northern mountainous province received aid worth nearly 248 billion VND from 24 non-governmental and 123 international organisations, which reduced poverty and boosted development in the locality.
Health care drew the most assistance with 14 projects and more than 50 billion VND, or 32.9 percent of the total support. The projects focused on providing equipment, improving health care staff capacity and service quality, and HIV/AIDS prevention and control.
Addressing the meeting, Dang Xuan Thanh, Vice Chairman of the provincial People's Committee hailed the role of the aid in the province's poverty reduction efforts.
He noted that poverty ratio of Lao Cai dropped from nearly 43 percent in 2010 to only 12.11 percent in 2015. The percentage of poor households per the multi-dimensional poverty line also fell from 34.3 percent in 2015 to 27.41 percent in 2016 and was estimated at 22.9 percent in 2017.
Meanwhile, Tran Dai Hai, Director of the Lao Cai Department of Foreign Relations acknowledged some obstacles in receiving aid in materials as well as administrative procedures. He pledged that in the future, Lao Cai will design policies to support the operations of its partners.
On the occasion, the provincial People's Committee presented certificates of merit to collectives and individuals from the embassies and organisations in recognition of their support to the locality.
Book on Chăm fairytales published
The first book of Chăm fairytales collected and translated into Vietnamese by teacher Kinh Duy Trịnh of Bình Thuận Province has been released.   
Truyện cổ Chăm (Fairytales of the Chăm People) contains 25 stories with illustrations by Tôn Nữ Thị Bích Trâm of Kim Đồng Publishing House.
They feature stories of gods, forests, animals, friendship, love and offer a window into Chăm history, culture and lifestyles.
Kim Đồng has signed a copyright deal with the author.  
Trịnh, 61, who lives in Palay Chavet Village in Tuy Phong District, used to work as a Chăm language teacher at pedagogic colleges and universities in the region before moving to the provincial Department of Education and Training.  
He and his colleagues have written and edited 20 books in the Chăm ethnic languague that are used in primary schools in Bình Thuận and other provinces.  
He has spent years collecting and translating Chăm fairytales into Vietnamese.
Trịnh said: "My collection Truyện cổ Chăm features the best fairytales of the Chăm people. Through the book, I wanted to preserve and take Chăm culture and literature to young people of different nationalities in Việt Nam."
For the compilation and translation, he said he used Chăm-Vietnamese-French, Chăm-French and Chăm-Vietnamese dictionaries.  
"I hope my books will help young readers, particularly children, improve their mind and character."
He said the next book of the series has been completed and will be printed early next year.
Bà Nà Hills to host Christmas celebration
The Christmas Lighting Ceremony will be held at French Village in the Bà Nà Hills Mountain resort in the central city on December 9th, starting a month of performances and events to celebrate the New Year.
At the ceremony, visitors can enjoy the three-metre Christmas Tree in front of the Hôtel de Paris with fun games, a buffet and drinks.
Hotel staff will perform carols in the Saint Dennis church.
The unique Christmas tree, made from more than 300 bottles of wine, will surely bring warm feelings to cold winter nights at the resort, located 20km west of Đà Nẵng city.
Visitors can also enjoy the cozy atmosphere of Christmas in two unique Bà Nà Hills French Village restaurants, L'Étable and La Crique. The restaurants are decorated for the season and offer a festive space for family and friends to gather, with live music from December 23-25.
The mountain resort also hosts a countdown-to-the-New Year at La Piscine Pool, a cozy indoor pool on top of Bà Nà Hills, on December 31st.
Christmas for kids with cancer
Also on the occasion, students from Đà Nẵng's Đông Á College have launched a campaign to make 1,000 paper Sunflowers and paintings to raise money and gifts for kids with cancer at the city's oncology and pediatrics hospitals.
The college also called for donations of gifts, books and toys among students at universities in Đà Nẵng during a week-long charity campaign.
All gifts and donations will be given to kids at hospitals next month in celebration of the Christmas season.
Bình Dương top Group A at U-21 event
Becamex Bình Dương beat Promotion Fund for Vietnamese Football Talent FC (PVF) 3-2 in the opening match of the National U-21 Football Championship's Group A yesterday in Bình Dương Province.
Nguyễn Tiến Linh made a double and Nguyễn Trọng Huy scored for Bình Dương while Nguyễn Thành Lộc and Hà Đức Chinh netted for PVF.
The win pushes Bình Dương to the top of the group with three points.
In an earlier match of the group, Sông Lam Nghệ An tied with An Giang 1-1.
Sông Lam Nghệ An's Đồng Văn Đoàn opened the score in the last minute of the half with a penalty.
Thanh Sang levelled for An Giang just four minutes after the interval with a low straight finish.
In the next fixture, Sông Lam Nghệ An will see PVF while An Giang meet Bình Dương.
Today will see activities of Group B. Hoàng Anh Gia Lai will play Đồng Tháp and Viettel will face Huế.
Thái Sơn Bắc, Cao Bằng in Futsal final
Thái Sơn Bắc secured the first slot in the finals of the National Futsal Cup after defeating Tân Hiệp Hưng 3-2 in a penalty shoot-out yesterday in Đà Nẵng.
The second leg match ended 5-2 for Tân Hiệp Hưng. The aggregate result after two legs was 6-6, forcing two teams to the penalties.
After two successful finishes for each side, Tân Hiệp Hưng's Thái Huy shot found goalkeeper Văn Huy's face and the ball went out. Later, Minh Quang did not waste his chance to score the third goal for Thái Sơn Bắc and his team advanced into the final.
The two other teams in the final are Cao Bằng and Sanest Tourist Khánh Hòa after their wins over Hoàng Thư Đà Nẵng and Kim Toàn Đà Nẵng, respectively.
The finals will begin on Thursday at the Tiên Sơn Sports Palace.
Region's poor lack reproductive health access
Poor and marginalised communities in Việt Nam and other countries in the Asia-Pacific region lack access to good quality health services, especially in sexual and reproductive health.
While rapid growth in the region has lifted millions from poverty, the benefits and costs of development are not equitably shared among countries and population groups, according to experts at the 9th Asia Pacific Conference on Reproductive and Sexual Health and Rights. The event was hosted by the Việt Nam Public Health Association yesterday in Hạ Long City in northeastern Quảng Ninh Province.
The three-day event, which will conclude on November 30, attracted around 1,000 delegates from over 40 countries. It will seek to advance the implementation of the Programme of Action of the 1994 International Conference on Population and Development and contribute to achieving the 2030 Agenda for Sustainable Development, underpinned by the Sustainable Development Goals.
Five main topics of sexual and reproductive health are being discussed during the conference.
The topics include overcoming social, cultural and religious barriers in sexual and reproductive health, achieving a just economic order for sexual and reproductive health, strengthening justice systems for sexual and reproductive health and rights, making good quality sexual and reproductive health education available to all and advancing justice and equity in sexual and reproductive health.
At the event, Deputy Minister Nguyễn Viết Tiến said the sexual and reproductive health sector had improved in recent years. The rate of people using contraceptives reached 80 per cent in 2015 and the rate of maternal mortality has fallen to 60/100,000.
Despite progress, there is still a disparity in sexual and reproductive health between vulnerable groups and the rest of the population.
Lê Vũ Anh, president of the Việt Nam Public Health Association, said the conference provided a platform for participants to share their experiences and lessons learned. It will also offer opportunities for individuals and networks to strengthen regional co-operation to advance sexual and reproductive health and rights for all.
The Asia Pacific Conference on Reproductive and Sexual Health and Rights is a biennial gathering of civil society organisations, young people, academics, government officials, media and private sector firms concerned with sexual and reproductive health and rights. This is the first time Việt Nam hosted the conference.