Vietnam Railway (VNR) has announced that the first container block train connecting Vietnam with China arrived at Yen Vien Station, Hanoi, on November 25.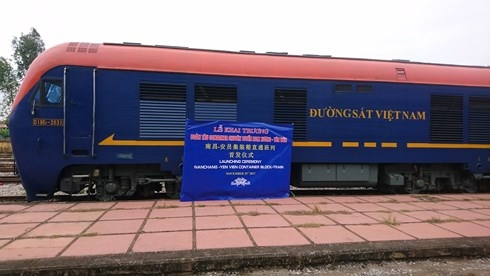 The first container block train connecting Vietnam with China  
Earlier on November 25, VNR and China Railway (CR) jointly held a ceremony to welcome the container block train at Dong Dang Station in Vietnam's northern province of Lang Son.
The train departed from Huanggang Station in Nanchang city, Jiangxi province, China, on November 22 and arrived at the Yen Vien Station in Hanoi on November 25.
The train includes 33 containers of 40 feet in length, carrying Chinese goods exported to Vietnam such as office furniture, food and car spare parts, among others.
After arriving Vietnam, the train will travel back to China carrying Vietnamese goods exported to China, such as agricultural products, minerals, and electronic products, among others.
The transportation using the container block train has brought about considerable benefits to customers, as it has helped to shorten the transport time to only four days instead of 15 days by sea. It has also halved the freight rate in comparison to the freight via road transport.
It is scheduled that, the VNR and CR will operate one route per week before increasing it to three routes per week.
According to the VNR, the two sides are working to operate more train routes from other Chinese provinces to Vietnam and are attempting to transport goods from Europe, Russia and Middle-Asian countries through China to Vietnam.
Nhan Dan