Vietnamese expatriates raise funds to support typhoon victims
The Vietnamese Embassy in Mexico has organised a fund-raising drive to support people in central and Central Highlands provinces that were devastated by floods caused by typhoon Damrey earlier this month.
The event drew the participation of the embassy's staff, representatives of the Vietnam News Agency (VNA)'s Bureau and Vietnamese people community in the host country.
Vietnamese Ambassador to Mexico Nguyen Hoai Duong thanked Vietnamese expatriates in Mexico for their practical contributions to help victims of natural disasters in the past years.
The Vietnamese Embassy in Laos also joined efforts to support typhoon victims by launching a fund-raising campaign on November 25. This was the third time in 2017 the embassy has raised funds to aid people affected by natural disasters in the home country.
The third drive, which will run until December 1, collected 6,830 USD on the first day. Earlier, Vietnamese people in Laos donated 10,000 USD to support flood-hit people in central and Central Highlands provinces.
Typhoon Damrey made landfall in Vietnam on November 4 with winds of up to 135 km/hour, 50 km south of Nha Trang (Khanh Hoa province), and became one of the worst storms to strike Vietnam's southern coastal region in years. 
The typhoon and subsequent floods claimed 89 lives and left 18 missing and 174 others injured in central and Central Highlands localities as of November 7. 
More than 1,480 houses collapsed while 119,200 others were damaged. Nearly 8,000ha of rice and 14,600ha of other crops were flooded.
Vietnamese wastewater workers complete German training programme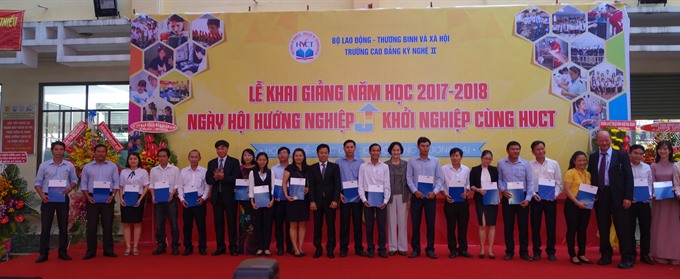 Twenty three lecturers at the College of Technology II and 17 workers of six wastewater companies receive the Certificates of Equivalence to the German standard at a graduation ceremony held on November 25 in HCM City. Photo courtesy of the Deutsche Gesellschaft für Internationale Zusammenarbeit (GIZ)
Twenty three lecturers at the College of Technology II and 17 workers at six wastewater companies have received certificates of German standard equivalence after completing a training programme for sewage engineering technicians.
The training programme titled "Vocational Training for Skilled Workers in the Wastewater Sector" is part of the Vietnamese-German "Reform Programme of Technical and Vocational Education and Training in Việt Nam" that is being implemented by the Deutsche Gesellschaft für Internationale Zusammenarbeit (GIZ).
The involvement of six companies and the Việt Nam Water Supply and Sewerage Association ensures demand for the training and thus the employability of the graduates.
From 2014 to 2017, six lecturers and 17 in-company trainers of wastewater companies in HCM City, Cần Thơ City and Bình Dương, Bà Rịa-Vũng Tàu, Đồng Nai, and Khánh Hòa provinces have been qualified to follow the intensive training that was conducted by German experts from the Chamber of Industry and Commerce Dresden (IHK Dresden), the Dresden Sewage Company (SEED Dresden) and the Pirna Vocational Training Centre of Technology and Economy.
In September and October, after three years of receiving training, trainers took the final proficiency examination oriented to the German standard of sewerage engineering technicians.
All the trainers passed the exam, which means they have qualifications equivalent to those trained and recognised technicians in Germany.
The cooperative training programme for sewage engineering technicians is a cooperation model of a vocational college, an association and enterprises in the field of water supply and sewerage, said Ass. Prof. Lê Quân, Deputy Minister of Labor, Invalids and Social Affairs.
"The success of this model has proven that cooperative vocational training with the business sector is an indispensable, feasible and effective trend."
Trainers receiving the Certificates of Equivalence to the German standard will be the core officials at vocational schools and businesses to contribute to the development of a skilled workforce in the wastewater sector in the future, he said at a graduation ceremony held last Saturday in HCM City.
Wastewater drainage and treatment is an important field of green economic development in Việt Nam.
In order to achieve the Vietnamese Government's ambitious goal of increasing the share of treated wastewater to 60 per cent, a skilled workforce for the wastewater sector is needed.
By 2020, it is estimated that Việt Nam will need more than 8,000 qualified technicians to operate and maintain the infrastructure in the wastewater sector, according to a report released by GIZ.
Illegal sand exploitation increasingly complicated in HCMC
Illegal mineral exploitation has been more and more complicated in HCMC especially in areas adjacent to neighboring provinces, reported the Department of Natural Resources and Environment.
At a meeting with Economics-Budget Committee under HCMC People's Council yesterday about management and exploitation of minerals in the city in the period of 2015-2016, the department said that police and border military forces have spotted and penalized many illicit sand dredging cases since early this year.
Specifically, waterway police units have detected 25 cases, captured 118 offenders, 43 sand mining means, three barges and nearly 15,000 cubic meters of sand with the total fine of VND6 billion ($264,000).
Meantime, border military forces have spotted 37 cases, handled 91 violators and seized 89 means and 14,240 cubic meters of sand with the total penalty of VND1.9 billion ($84,000).
Violators have used more sophisticated tricks and been more reckless, raising much difficulty for authorized agencies to inspect and handle.
At the meeting, delegates said that HCMC should step up cooperation with neighboring provinces of Dong Nai, Ba Ria-Vung Tau, Ben Tre and Long An to tackle the issue. In addition, city agencies should work together more synchronously.
The city should propose the Government to supplement regulations against transport of unclear origin minerals and increase fines on illegal mineral exploitation.
Hanoi builds plan of four underground parking lots
The Prime Minister has approved a proposal by the Ministry of Planning and Investment to choose consultant firms to build a 1:2000 scale plan of underground parking lots in four districts Hoan Kiem, Ba Dinh, Dong Da and Hai Ba Trung in Hanoi.
While implementing the plan, the People's Committee of Hanoi city will get opinions of the Ministry of Construction and the Ministry of Justice.
According to the committee, Hanoi had 5.9 milion vehicles last year with the average growth rate reaching 4.6 percent a year.
Urban construction area approximates 3,861 hectares with parking lot area accounting for 15.6 percent in the four inner districts. So the area for static traffic is only 0.4 percent while it must be 2-3 percent to meet requirements.
At present, building more parking lots on the ground is unfeasible so implementation of the plan is suitable.
Hanoi, Vientiane strengthen multifaceted cooperation
Hanoi always gives high priority to promoting multifaceted cooperation with Vientiane for the development of the two cities as well as the special traditional friendship between the two Parties, States and people, said Secretary of the Hanoi municipal Party Committee Hoang Trung Hai.
During his talks with Secretary of the Party Committee and Mayor of Vientiane Sinlavong Khutphaythoune in the Lao capital on November 25, Hai said that it was the first time high-ranking delegations of the two cities have paid mutual visits in a year.
Khutphaythoune hailed Hai's visit which took place as the two countries are celebrating the 55th anniversary of diplomatic ties and the 40th anniversary of the signing of the Vietnam-Laos Treaty of Amity and Cooperation.
They noted with satisfaction the bilateral comprehensive links over the past years with a number of effective projects, adding that Hanoi assisted Vientiane in building the Vientiane Politics – Public Administration School and the traditional house of the Vientiane Military Command, as well as launching joint agriculture projects.
The two officials expressed their wish to continue stepping up cooperative activities in different areas.
The two sides signed a Memorandum of Understanding on cooperation for the 2017-2020 period, under which the two cities will continue the exchange of visits by high-ranking delegations and strengthen coordination between departments and agencies. Hanoi will help Vientiane with administrative management and technological application in State administrative agencies.
The cities agreed to boost trade and exports and consider a project to build Hanoi trade and tourism centre in Vientiane and a similar one of Vientiane in Hanoi.
The two officials vowed to strengthen the traditional friendship, special solidarity and comprehensive partnership between Vietnam and Laos.
On the occasion, the Vietnamese delegation presented 20 sets of computers to the municipal Party Committee and administration of Vientiane.
Charity event for children with cancer held in Hà Nội, HCM City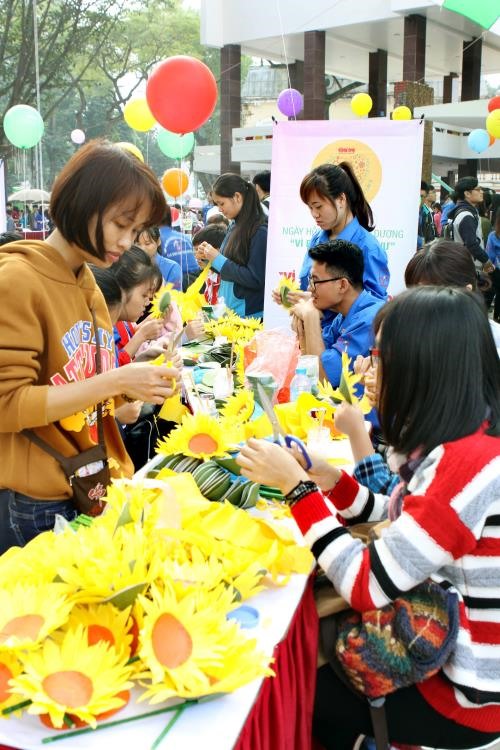 Volunteers make sunflowers at Sunflower Charity Day last year.
The 10th Sunflower Charity Day hosted by Tuổi Trẻ (Youth) newspaper will take place in HCM City and Hà Nội on November 26.
The annual event commemorates the death of Lê Thanh Thúy, a high school girl famous for her long fight against bone cancer before she died on November 2, 2007, as well as the establishment of the newspaper's "Thúy's Dream Foundation" to support children with cancer.
The event features many activities such as blood donations, an exhibition to auction paintings by child patients, a flea market, traditional games, and music and dance performances among others.
On the sidelines of the event, a marathon will be held on November 25 at Đầm Sen Amusement Park in HCM City's District 11  to raise funds for child cancer patients.
Marathon participants can have free access to the park, with tickets available at the park and Tuổi Trẻ's office in District 11.
Local medical firm ECO Pharma JSC commits a donation of VNĐ50,000 per person taking part in the marathon and VNĐ30,000 for each sunflower painting and posted on Facebook with hashtag #ngayhoihoahuongduonglan10 and #10namuocmocuathuy.
At the gala night of the event, the organisers will award 150 scholarships to children who have recovered from cancer and a thousand gifts to child patients, and recognise the contributions of donors and volunteers over the last 10 years organising the event.
Deputy PM urges greater efforts for UN 90-90-90 Goals
Deputy Prime Minister Vu Duc Dam has called on the entire society to join hands for the United Nations 90-90-90 Goals by 2020.
Dam made the call during a meeting held in the northern province of Hai Duong on November 26 in response to the National Action Month for HIV/AIDS Prevention and Control (November 10 – December 10) and World AIDS Day (December 1).
The UN 90-90-90 Goals mean that by 2020, 90 percent of all people living with HIV will know their HIV status, 90 percent of all people with a diagnosed HIV infection will receive sustained antiretroviral (ARV) therapy while 90 percent of all people receiving antiretroviral therapy will have viral suppression.
In his speech, Dam said the HIV/AIDS epidemics appeared for the first time in the world 35 years ago and was discovered in Vietnam 25 years ago with 250,000 infection cases and over 90,000 deaths reported.
Thanks to efforts of departments, agencies and mass organisations, HIV/AIDS infections and deaths have kept falling in recent years. Apart from international support, the Vietnamese government will allocate more finance for the fight against the epidemic and issue health insurance of HIV patients, Dam noted.
Vietnam is the first country in the Asia-Pacific region to commit to the UN 90-90-90 Goals, he said, adding that awareness campaigns should be enhanced to make it easier for HIV carriers to be treated with ARV and protect them from discrimination.
According to the Health Ministry's Vietnam Authority of HIV/AIDS Control, the Joint UN Programme on HIV/AIDS reported that there are more than 36.7 million living HIV carriers now and around 35 million have died from the disease.
2017 is the 10th consecutive year that Vietnam has seen reductions in the number of newly-discovered HIV infections, the number of transmissions to full-blown AIDS and the number of AIDS-caused deaths. Each year, about 10,000 new HIV infection cases are discovered in the country, mostly via sex.
After the meeting, students and members of armed forces joined a parade to call on mass organisations and people to join the fight against HIV/AIDS.
On the occasion, the Health Ministry's Fund in Support of HIV/AISD Patients granted VND200,000 to each of the 60 children under treatment in the provincial Centre for HIV/AIDS Prevention and Control.
Representatives from organisations and businesses also offered gifts to local children living with HIV.
HCMC University of Architecture wins two first Loa Thanh prizes
The Vietnam Federation of Civil Engineering Associations in co-ordination with the Ministry of Construction, the Vietnam Association of Architects and the Ho Chi Minh Communist Youth Union yesterday presented Loa Thanh Awards to 48 winners at Van Mieu - Quoc Tu Giam (Temple of Literature) in Ha Noi.
The organizer has selected 48 prizes amongst 114 entries from 23 universities nationwide including four first prizes, 19 second prizes and 25 third prizes.
According to the organizers, the quality of participant projects is improve gradually and the idea of design is from real social demand. Especially, this year, architecture schools in the south captured high prize thanks to their innovation.
The award showcases the talents of the best fifth-year architecture students from Vietnam's schools of architecture. The University of Architecture in HCMC won two first prizes. Student Tang Vinh Anh Duy of the school won the prize with project " Semi-desert natural south-central coastal museum" with negative space of sandy hills, the design falling in line with nature , giving impression to viewers.
Student Le Kien Quoc won the competition with ornamental tree in Sa Dec District in the Mekong delta province of Dong Thap representing specific space of local wharf.
Amongst second prizes, the project " Museum without number " of student Dang Tran Con of Construction school in the Central Vietnam is also impressive.
Annual Loa Thanh Award is the competition organized for students who specialize in civil engineering and architecture by Vietnamese Association for Civil Engineering, Vietnamese Association for Architects, Central Board of Ho Chi Minh Communist Youth Union and the Ministry of Construction. The competition aims to improve training quality in architecture and construction.
French consulate general honors teachers of French
More than 100 teachers of the French language at high schools and universities in HCMC and Can Tho City on Tuesday night attended a meeting at the French consul general's residence in District 1, HCMC on the occasion of the Vietnam Teachers' Day.
Since 2015, the French consulate general in HCMC has teamed up with the French Institute in Vietnam to host a special day for Vietnamese teachers to honor their contributions to teaching French in the country.
The event was marked by the launch of fresh projects for French language teachers and schools with bilingual classes. Especially, an intensive French training program called "BELC ASEAN" is scheduled to be implemented in March next year in the city for 150 French language teachers in Vietnam and other regional countries.
Consul General of France in HCMC Vincent Floreani expressed appreciation of the effective operation of the association for French-teaching people (FIEF) under the umbrella of the Vietnam-France Friendship Union in HCMC and Can Tho where French language teachers can meet up and share their experiences in teaching.
The French consul general told the Daily in an interview that there are around 6,500 Vietnamese students in France and that some 1,400 new students come to France a year. This is obvious evidence that the French language has grown popular in Vietnam, he said.  
"Promoting the development of the French language in Vietnam is our main priority as France has been trying to spur cultural exchanges, academic programs and economic cooperation between the two countries in the coming time."
The French Institute in Vietnam is rolling up its sleeves to develop "Espace France" in provinces and cities throughout the country to support cooperation and cultural exchange.
Pham Hong Thien Phuc, a 12th grader at Le Hong Phong High School for the Gifted in District 5, HCMC, told the Daily at the meeting that he dreams of becoming a French language teacher in the future so he began pursuing French courses at the Institute of Cultural Exchanges with France (Idecaf) in District 1 when he was still in junior high school as a preparatory step to fulfill his dream.
"The love for French culture and lifestyle urged me to stick to the French language though the language is much harder to learn than English," the 18-year-old added.
Dang Ngoc Nhu Quynh, a teacher of French at Nguyen Thi Minh Khai High School in District 3, said that she has been teaching French for more than four years and it is her joy to introduce French culture and language to the young Vietnamese generation.
"No words could express my joyful feelings as the French agencies in the country have paid much attention and praised Vietnamese teachers' efforts and contributions to the teaching of French," Quynh shared.
Last year, the French consulate general in HCMC also launched IFprofs, a social network for teachers of French, to assist teachers to gain easy access to teaching materials and methods.
IFprofs, developed by the French Institute in Paris, has heaped praise from around 4,500 members in 29 countries in the world, with 186 of them Vietnamese.
Nguyen Hong Son runs music concert to raise funds for Truong Sa
Major General/Musician Nguyen Hong Son, who serves as director of Military Hospital 175, will organize a concert to raise funds for Vietnam's Truong Sa islands off Khanh Hoa Province at the Army Theater in HCMC's Tan Binh District on December 2 and at the Hanoi Opera House on December 10.
The first part of the concert is expected to feature songs praising the love for the country and Vietnamese people, performed by some famous artists such as People's Artist Tran Hieu, People's Artist Quang Tho, Meritorious Artist Quang Huy, and Meritorious Artist Ta Minh Tam among others.
During the rest of the show, audiences can listen to the songs composed by musician Nguyen Hong Son himself, who has used music as a means to express his love for the country's seas and islands.
All the proceeds raised from the concert will be used to purchase medical equipment for Truong Sa medical center.
Thai Binh hairstylist wins first prize at L'Oreal contest
Tran Thi Hau from the northern province of Thai Binh has defeated 25 other contestants to bag first prize on the final gala night of a hair-dressing contest called "Colors of Life Trophy" launched by the cosmetics company L'Oreal Vietnam.
As part of the community project titled "Beauty for a Better Living" initiated in 2009 to mark the 100th anniversary of the company, the competition was designed for hairstylists with underprivileged background families around the country to nurture the passion for the career of hair styling and honor their efforts to overcome the challenges in life to lead a meaningful life.
More than 200 candidates from across the country had registered for the contest, and 26 best contestants were chosen to compete in the final round which took place on November 20 and 21.
At an award ceremony on Wednesday night in HCMC's District 10, Tran Thi Hoai Linh from HCMC was named as the second winner of the hair-styling contest while the third prize went to Tran Thi Bich Tran from the capital city of Hanoi.
Rebecca Brent, a professional hairdresser from New Zealand with more than ten years of experience in hair-dressing, showed up in Vietnam to serve as head of the judging panel of the contest and introduce her latest collection of hair fashions to young Vietnamese people.
Over the past eight years, L'Oreal has spent a total of VND14 billion on building the free hair design training project in many provinces and cities across the country such as HCMC, Hanoi, Nghe An, Quang Binh and Can Tho and gave support to more than 1,500 underprivileged women and students nationwide to establish a new way of life.
The program focuses on providing practical skills for learners to meet the demand for skilled labor in the hair-styling industry and enable them to open their own business after graduation. Especially, the community program is dedicated to assist the learners in gaining self-esteem and securing a stable job to earn their daily bread by their own efforts.
HCM City seeks stronger trade, investment ties with Slovakia
Chairman of the People's Committee of Ho Chi Minh City Nguyen Thanh Phong on November 25 received Peter Pellegrini, Slovakian Deputy Prime Minister for Investments and Informatization, who is paying an official visit to Vietnam from November 25-29.
At the meeting, Phong said Pellegrini's visit will enhance the traditional cooperation between the two countries in general and between HCM City and Slovakian localities in particular.
As the traditional cooperation between Vietnam and Slovakia has been consolidated, relations between HCM City and Slovakian localities, including Kosice city, are also being enhanced, he said.
HCM City will create optimal conditions for Slovakian companies to promote trade, investment cooperation and do long-term business in fields that the city has high demand such as chemical industry, smart solutions, sustainable development, food industry and health, Phong added.
He asked the Slovakian Deputy PM to encourage Slovakian firms to foster trade and investment cooperation with Vietnam and HCM City in particular, contributing to the sustainable development of bilateral relations between Vietnam and Slovakia.
Lauding the traditional friendship, Pellegrini said that Vietnam and Slovakia, as well as HCM City and Slovakian localities, hold huge potentials to strengthen cooperation, especially in economy, trade and investment.
He thanked the city for its support towards the construction of a Vietnam-Slovakia friendship building, a symbol for the two countries' sound traditional friendship, and also called for the city's businesses to explore Slovakia's investment climate as a gateway towards entering the European market.
More patients trust district-level, private hospitals
There have been more patients visiting private and district-level hospitals in HCMC for medical examination and treatment, easing the pressure on hospitals at higher levels.
This is evident in a slight fall in patients at city-level hospitals in the first nine months of the year.
According to the HCMC Department of Health, the number of patients visiting city-level hospitals made up 48.3% in the nine-month period, down 2.7% year-on-year, while district-level and private hospitals saw respective increases of 1.1% and 3.1% to 27.2% and 18.7%.
In addition to the hospitals of districts 2, Thu Duc, Tan Phu, Binh Thanh and Binh Tan, patients at Cu Chi District Hospital grew more than 70%, District 11 Hospital 20%, and the hospitals of districts 9, 5, 1, Nha Be and Binh Chanh over 10% over the year-ago period.
More people have come to lower-level hospitals thanks to cooperation between public and private hospitals. For example, Children's Hospital No. 1 offers medical services at the private Trieu An Hospital and Children's Hospital No. 2 also has representatives at the private Hong Duc Hospital.
The HCMC Oncological Hospital provides goiter treatment services at the oncological ward of the Hong Duc Hospital and People's Hospital 115 cooperates with the private City International Hospital.
The examination departments of district-level hospitals providing services at ward-level clinics have attracted more patients. The presence of Thu Duc District Hospital's examination department at Binh Chieu Ward's medical center and that of Tan Phu District Hospital at Tay Thanh Ward's medical center help bring in 100 and 30 patients a day respectively.