Anti-flooding pumps halt operation in Nguyen Huu Canh street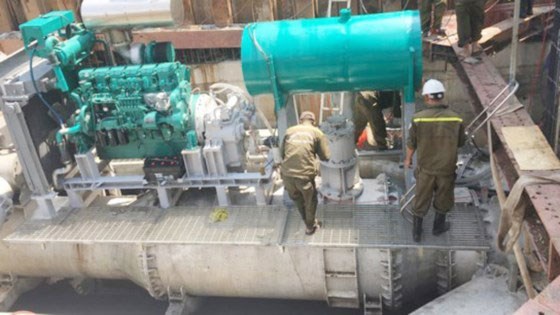 Anti-flooding pumps in Nguyen Huu Canh street (Photo: SGGP)
Investor has proposed to temporarily halt operation of the pumping system in Nguyen Huu Canh street to wait for authorized agencies' conclusion about the reason why the street was still inundated during a rain on October 17 when pumps were running normally. 
That was announced by Mr. Nguyen Tang Cuong, director general of Quang Trung Industry Joint Stock Company yesterday.
Mr. Cuong said that the company has sent the proposal in writing to the HCMC Steering Center of Urban Flood Control Program.
The halt started at 4 p.m. on October 20 and lasts till the dark on October 24. During this time, the company is being completed installation and improving the pumping system while workers have collected garbage from sewers.
Pumps of HCMC Urban Drainage Company has operated to cope with flooding in case of heavy rains.
On October 17, a 45 minute long rain with the precipitation of 50mm submerged Nguyen Huu Canh street although the pumping system was operating normally.
Right after the flooding, the company and the Steering Center of Urban Flood Control Program inspected the street and found lot of garbage in sewers, said Mr. Cuong.
According to documents, total garbage collected from the area is 24.7 cubic meters.
Workers focused on checking six out of 40 manholes in the street. Of these, the most garbage was got from the manholes in front of houses at numbers 45 and 59A adjacent to The Manor residential area.
HCMC to hire consultants to estimate anti-flooding pumps
The HCMC People's Committee has assigned the HCMC Steering Center of Urban Flood Control Program to urgently hire consultants to estimate the efficiency of anti-flood pumping system in Nguyen Huu Canh street, said that center yesterday.
The consultants will also propose a process to check and take over and operate the pumping system, it said.
The committee has also tasked the Department of Planning and Investment to cooperate with the center and relevant agencies to work with investor of the system Quang Trung Industry Joint Stock Company on contents of a pilot contract.
They should report results to the city People's Committee within seven days after receiving the requirement.
Vietnam Airlines reschedules flights between Vietnam & Japan due to storm
National flag carrier Vietnam Airlines rescheduled flights on Vietnam-Japan route due to Typhoon LAN which made landfall in Japan as early as October 22.
Flights will not coincide with the original scheduled departure time. Accordingly, aircrafts including VN310, VN300 from Hanoi/HCM City to Tokyo's Narita Airport; VN330, VN320 from Hanoi/HCM City to Osaka from the evening October 22 to the early morning of 23 will depart 90-150 minutes late.
The VN364 from Hanoi to Nagoya will be 6 hours late. Other flights on Narita - Hanoi/HCM City routes will also be affected by the delays from 120-150 minutes; flights between Nagoya and Hanoi will be scheduled to leave 4 hours late.
The carrier notifies passengers to access its websites, or contact the ticket offices of the airline throughout the country for further information about flight delay or cancellation.
More than 95 percent of Hanoi's dengue hotbeds under control
Hanoi has put 95.31 percent of dengue hotbeds under control with no new infections in a 14 day period, while the other 240 remained active, according to statistics from the city's Department of Health.
The department said on October 23 that the capital city recorded 862 cases of dengue fever between October 16 and 22, a decrease of 159 cases from the previous week. Twenty-four of 30 districts saw a decline in infections, it added.
It estimated that about 34,450 people have contracted dengue since the beginning of this year, seven of whom died due to the disease.
The department's deputy director Hoang Duc Hanh warned that the current weather was still favourable for the development of mosquitoes. Districts and communes must continue taking preventive measures to control the disease, he urged.
The Hanoi Preventive Medicine Centre alongside medical centres at Chuong My and My Duc districts are responsible for directing environmental cleanups in the districts' areas affected by floods early this month to prevent new outbreaks, he noted.     
Workshop looks to boost support for vulnerable groups
An international workshop was opened by the Vietnam Peace and Development Foundation (VPDF) and Germany's Rosa Luxemburg Stiftung in Hanoi on October 23 to encourage the further involvement from society to support vulnerable groups.
In his introductory speech, Dong Huy Cuong, Secretary-General of the VPDF and deputy head of the department for multilateral affairs under the Vietnam Union of Friendship Organisations, said Vietnam, a war-torn country which is also prone to natural disasters, is now in the process of industrialisation and urbanisation. Therefore, the number of people in vulnerable groups is very big.
He cited statistics of the Ministry of Labour, Invalids and Social Affairs (MOLISA) that vulnerable groups account for more than 20 percent of the country's population. About 9.2 percent of them are the elderly, 7.2 percent are persons with disabilities, and 5 percent are in low-income families.
They also include about 1.5 million children with special backgrounds, 1.8 million households that need support due to natural disasters, fires and lean harvest, 234,000 discovered HIV patients, 204,000 drug addicts, and 30,000 domestic violence victims.
These groups are facing a number of challenges and barriers relating to their interests, responsibility, self-esteem, health care, education, information, employment, capital, and support systems, Cuong noted.
Over the past years, Vietnam has issued concrete policies to support vulnerable groups, non-governmental organisations of Vietnam and other countries have also launched many programmes and projects to assist them. However, because of both objective and subjective reasons, there remain limits of these groups' access to the help of the State and non-governmental organisations (NGOs).
Pham Dai Dong, head of the policy and social assistance division at the MOLISA's Department of Social Assistance, noted ensuring social welfare is an important task of the whole political system and the entire society. Models of social support must be diverse and include both material and spiritual support. 
Social support should be shared by the State and the society, and it should ensure that persons encountering risks receive timely assistance from the State, organisations and the community, he added.
Sharing her country's experience, Iris Assenmacher – Counsellor in charge of social issues at the German Embassy in Vietnam – said the German Government's viewpoint on social welfare for the disabled is to combine regulations and policies in all fields, from social assistance, social insurance to employment aid, while respecting their self-determination.
At the two-day workshop, participants are set to discuss such issues as the reform and development of social assistance in Vietnam, Germany's social support system, local NGOs' experience in supporting vulnerable groups, ASEAN's social support for the disabled, and social support for migrant workers.
Outstanding Huế artisans honoured by local agency
Eighteen outstanding artisans in central Thừa Thiên-Huế Province have been honoured for their technical inventions that helped ease work in various production fields.
The province's Union of Science and Technology Associations honoured the artisans yesterday for the first time for their significant contribution to the local technical and processing sectors. They were selected from among 60 prominent artisans around the province.
The 60 artisans were shortlisted based on several criteria. Firstly, their innovation could be applied to practical production in the locality this year and would not consume the local government's budget. At the same time, they must not be involved with any research centres and not trained in a professional institute.
At the meeting, kite-making artisan Nguyễn Văn Hoàng was noticed for his flying and ornamental kites, which were presented at kite festivals held in France, India and Thailand. Hoàng has 16 different types of flying kites, which the meeting organisers said were appraised by the locals and visitors to Huế. He also created ornamental kites in the shapes of dragons, Vietnamese legendary figures, such as Sơn Tinh, Thủy Tinh, Âu Cơ and Lạc Long Quân, and various insects.
Artisan Nguyễn Văn Chư was honoured for his outstanding woodcarving skills. Chư has his own workshop in the province, which is home to more than 100 practitioners from disadvantaged families, and he created many tools that have helped produce excellent carving works. The organisers said Chư was honoured for his smart use of natural wood stripe to feature his ideas.
Farmer Lê Hữu Minh was honoured for his inventions of hydraulic peanut oil refining tools and ginger drilling machine. The organisers noted that Minh did not complete  his secondary school education and stopped at Grade 8, but his innovations have helped thousands of farmers throughout the province to reduce the time period consumed by manual work.
Ministry wants funds for Belt Road 3
The Ministry of Transport plans to seek approval for funding from the South Korean government for a portion of Belt Road 3 from Tân Vạn District to Nhơn Trạch District in Đồng Nai Province, according to the Ministry of Transport.
The ministry is seeking approval of the South Korean investment from Prime Minister Nguyễn Xuân Phúc.
Around 8.7km of a 17.8-km section of the Belt Road 3 project would be funded by loans from the Republic of Korea and the rest from investments under a BOT (build-operate-transfer) model, according to Trần Văn Thi, CEO of the transport ministry's Cửu Long Corporation for Investment, Development and Project Management of Infrastructure.
The PM has approved detailed planning for Belt Road 3, which will have a total length of 89.3km and pass through HCM City and the provinces of Đồng Nai, Bình Dương and Long An.
The Asian Development Bank (ADB) has funded a total of 47km for the Belt Road 3 project from Bình Dương Province's Thuận An District to National Road 22 in HCM City's Hóc Môn District, as well as from National Road 22 to Long An Province's Bến Lức District.
The first phase of the road project will include construction of four lanes, while the second phase will add four more lanes, Thi said.
Six lanes of the road will be used for commuting and two lanes for emergency stops. The road, which will connect highways and national roads, is expected to reduce congestion in the inner city and boost inter-provincial transport services.
The project has total investment of VNĐ55.805 trillion (US$2.46 billion) sourced from the State budget, Official Development Assistance and the private sector.
Helmets for Kids programme launched in Yên Bái Province
The Helmets for Kids programme on Monday expanded its road safety education efforts to the northern province of Yên Bái and donated 1,500 high-quality helmets to the school community.
All six of the schools in the province are located in high-risk and traffic-dense areas along National Highways No. 37 and 32C.
Pre-implementation surveys revealed that the average student helmet-use rate at these schools was only 31 per cent, and the majority of helmets being used were substandard.
Nguyễn Trọng Thái, chief of the Secretariat of the National Traffic Safety Committee, said that the six schools were selected for the programme because of their low rates of quality helmet use and dangerous locations near national highways.
"Helmets for Kids" has significantly helped communities by raising awareness about road safety and encouraging parents to provide helmets to their children.
In addition to expanding to Yên Bái Province, Helmets for Kids will continue in the provinces of Gia Lai and Quảng Nam.
During the current academic year, nearly 5,100 quality helmets and road safety education classes are being provided to students at 20 primary schools in the three provinces.
The programme is organised by the National Traffic Safety Committee in co-operation with the Asia Injury Prevention (AIP) Foundation and Johnson & Johnson. 
The Warriors beat the Buffaloes at VBA
Thang Long Warriors defeated Hanoi Buffaloes 80-69 in the last derby of the Viet Nam Basketball Association (VBA) League in Hà Nội on Sunday.
The Warriors played confidently, as earlier, they beat the Buffaloes twice but the first quarter ended in draw of 15-15.
In the second quarter, coach Todd Purves of the Buffaloes was forced to leave the game following a technical mistake with the referees.
Taking advantage of this, the Warriors quickly took the lead 33-28 with accurate throws by Jaywuan Hill and Justin Young.
In the third period, the Warriors' score was 44-30 against the Buffaloes. But with effective three-point shots, Vincent Nguyễn and Nguyễn Phú Hoàng narrowed the gap.
Although Ryan Lê of the Warriors left the match, the Warriors still proved their skills and won 80-69 in the final.
It is the third win in a row for the Warriors against the Buffaloes in this tournament, helping the Warriors top the rankings.
The next challenge of the Buffaloes will be with HCM City Wings on October 28, while the Warriors will play Danang Dragons at the Military Zone 5 in Đà Nẵng on October 26.
In another match, Saigon Heat crushed defending champions Danang Dragons 93-78 at CIS Arena in HCM City.
Taking advantage of playing on their home turf, the Heat played impressively by taking the lead of 20-14 in the first period.
In the next stage, the Dragons bounced back with Trần Đăng Khoa, Horace Nguyễn and Rudolphe Joly. Khoa scored five points, Joly alone scored 11 points, while Nguyễn had three successful three-point throws. These players helped the visiting side finish the second quarter at 40-35.
However, after the break, the hosts made fans jump for joy with their outstanding performance.
Lê Ngọc Tú và David Arnold helped the Heat level the score of 50-50 when the third period remained half of time.
Following this excitement, Darius Lewis and Nguyễn Huỳnh Hải scored seven points each to finish the third quarter 66-55 in favour of the Heat.
Although the Dragons made every effort in the last period, they still suffered a loss of 78-93.
With this loss, the Dragons will have to cut short their dream of playing in the event's play-offs.
The Heat defended their third place in the rankings, and will next meet Thang Long Warriors at the CIS Arena on October 29. 
Vietnamese Embassy in Russia raises funds for flood victims
The Embassy of Vietnam in Russia on October 23 launched a fundraising ceremony to help people in Vietnam overcome consequences of natural disasters.
Representatives from the Business Association and the Vietnamese Association in Russia and overseas Vietnamese in Russia attended the event along with the embassy's staff.
At the event, Vietnamese Ambassador to Russia Nguyen Thanh Son called on the participants to aid affected people, helping them to overcome aftermath of the recent floods and stabilise their lives.
After the drive, the embassy will send a working mission to visit and hand over the donation to flood victims in provinces that suffered the most in the recent downpours and floods.
In the flooding in late 2016, the working delegation of the embassy and the Vietnamese Association in Russia presented 10 motorboats worth 40 million VND (1,760 USD) each and 100 life jackets to people in the central provinces of Ha Tinh and Quang Binh.
Continuous downpours from October 10 triggered floods and landslides in Vietnam's northern and north central regions, causing huge losses in humans and property. 
Up to 75 people were killed, 38 injured and 28 others went missing. More than 2,600 households were forced to evacuate.
Bac Ninh promotes spiritual tourism potential
The northern province of Bac Ninh has actively applied numerous measures to fully tap its spiritual tourism potential.
Nguyen Van Anh, Deputy Director of the provincial Department of Culture, Sports and Tourism, communication campaigns will be promoted in order to raise the awareness of the role of tourism, particularly spiritual tourism, among levels, sectors and the community.
Besides, the province has been investing in technical infrastructure for tourism, including the expansion of tourism services and the construction of ports, wharves and infrastructure facilities along the Duong and Cau Rivers to connect spiritual tourism destinations. 
Apart from mapping out number of typical spiritual tourism tours, Bac Ninh will focus on personnel training, particularly tour guides and safety and security for tourists.
Bac Ninh is home to 1,558 historical and cultural relic sites. Of which, nearly 200 are national relic sites and four are national special relic sites, including  1,000-year-old Phat Tich Pagoda in Tien Du district, Do Temple in Tu Son township.
The province also features 547 traditional festivals and 60 traditional trade villages.
Over the past years, the province has issued numerous policies to promote spiritual tourism potential. Hundreds of billions of Vietnamese dong have been poured into upgrading and restoring local relic sites.
The province welcomes around 3 million visitors each year, mostly to religious sites and festivals in the Spring.
 Local researchers aided to get access to international journals
A series of training workshops on Research 123, a toolkit that assists researchers in getting their papers published internationally, opened in Hanoi on October 23.
The National Agency for Science and Technology Information (NASATI) in collaboration with the Singaporean-based Innovative Education Services launched the events in a bid to help Vietnamese experts access international output and integrate into the global scientific community.  
Speaking at the workshop, NASATI Deputy Director General Dao Manh Thang stressed the number of Vietnamese research papers published in international scientific journals has surged in recent years but still falls short of expectations.
He pointed to the fact that local scientists face difficulties in selecting publishers, following publication process, and saving their internationally published works.
At the workshop, experts from Singapore, Malaysia and Hong Kong have introduced the Research 123 kit and provide relevant consultancy and knowledge for participants.