Lao Cai hosts Northwest Cuisine Festival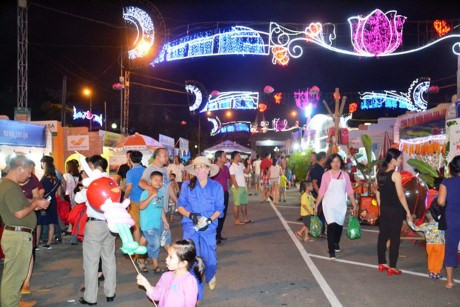 The Northwest Cuisine Festival opened in the northern mountainous province of Lao Cai on October 20 as part of the National Tourism Year 2017.

With 55 booths, the festival aims to promote typical dishes of the five northwest provinces of Lao Cai, Lai Chau, Dien Bien, Hoa Binh and Yen Bai, as well as those from Hanoi, northern Thai Nguyen, Ninh Binh and Bac Giang provinces, and the central provinces of Ninh Thuan and Thua Thien-Hue.

Speaking at the opening ceremony, Deputy General Director of the Vietnam National Administration of Tourism Ngo Hoai Chung said that the event is held in the context that Vietnam's tourism sector is receiving much attention from the Vietnamese Party and State and the entire society.

In the first nine months of 2017, Vietnam welcomed 9.4 million foreign tourists, a year-on-year rise of 28.4 percent, making it one of the world's 10 nations with the highest growth in the number of foreign tourists.

This is a premise for Vietnam to achieve an increase of at least 30 percent, or 13 million international visitors this year, Chung added.

The festival will open to visitors until October 23.

Czech Republic's National Day marked in HCM City

The Vietnam Union of Friendship Organisations (VUFO) and the Vietnam-Czech Republic Friendship Association of Ho Chi Minh City co-hosted a ceremony in the city on October 21 to mark the Czech Republic's 99th National Day (October 28).

Addressing the event, representatives of the two nations affirmed that Vietnam and the Czech Republic have a traditional friendship. 

The multifaceted cooperation between Vietnam and the Czech Republic has developed fruitfully, both bilaterally and multilaterally, with numerous cooperation agreements signed.

Nguyen Muoi, President of the Vietnam-Czech Republic Friendship Association of Ho Chi Minh City, said the Vietnamese people have kept in mind the material and spiritual support the Government and people of the Czech Republic have provided for Vietnam during the past struggle for national liberation and current national construction and protection, particularly in human resource training.

Numerous activities have been conducted to connect the people of HCM City and the Czech Republic, Muoi said, adding that people-to-people diplomacy will be further promoted in the coming time, thus helping to consolidate and develop the traditional relationship between the two countries.

ZDenek Degen, a representative of the Czech Trade Office in the HCM City, said the two nations should boost bilateral trade as well as cooperation between their localities.

The Czech Republic is one of the leading trade partners of Vietnam in Central and Eastern Europe, with two-way trade value reached 912.5 million USD in 2016, up 20.7 percent from 2015. The figure hit 390 million USD in the first half of 2017, up 6 percent year on year.

Former Quang Da Party Committee marks founding anniversary

A ceremony was held in central Da Nang city on October 21 to celebrate the 50th founding anniversary of the Party Committee of the former Quang Da Special Zone, now Quang Nam province and Da Nang city.

Secretary of the municipal Da Nang Party Committee Truong Quang Nghia said shortly after its establishment in October 1967, the zone's Party Committee actively prepared for the General Offensive and Uprising against the US in the spring of 1968. In this offensive, soldiers and people of the Quang Da Special Zone directly attacked the enemy's key agencies, contributing to the whole southern region's victory.

The Quang Da Party Committee also played a crucial role in the General Offensive and Uprising in the spring of 1975, which liberated Da Nang and later the whole southern Vietnam, leading to national reunification, he added.

Secretary of the Quang Nam provincial Party Committee and Chairman of the provincial People's Council Nguyen Ngoc Quang said history proved the righteousness and creativity in the establishment of the Quang Da Special Zone's Party Committee, demonstrating the Party Central Committee's right assessment of Quang Da area's strategic location and importance to the southern battlefield in the resistance war against the US.

In his speech, Prime Minister Nguyen Xuan Phuc highly evaluated the celebration of the 50th founding anniversary of the zone's Party Committee. 

This activity, along with the inauguration of a memorial site of the Quang Da Party Committee at Hon Tau Base in Duy Xuyen district of Quang Nam, showed the respect to veteran revolutionaries' sacrifices in the war, he said.

Quang Nam and Da Nang are now independent administrative units, PM Phuc said, asking their authorities to continue coordinating with and supporting each other for mutual development.

PM presents certificate of merit to late VNA reporter

The Prime Minister's certificate of merit will be posthumously awarded to Vietnam News Agency (VNA)'s reporter Dinh Huu Du, who laid down his life while reporting the recent floods in the northern mountainous province of Yen Bai.

The decision to this effect was signed by Deputy Prime Minister Truong Hoa Binh on October 20.

Du, who was standing on Nghia Lo town's Ngoi Thia bridge to record images of the floods, was swept away when the bridge collapsed due to the strong flood on October 11.

He was born in 1988 in Ninh Binh city, the province of the same name. He started working as a VNA correspondent in Yen Bai province in October 2016.

Previously, he was one of the reporters honoured by the provincial People's Committee for outstanding achievements in reporting floods and heavy rains in Mu Cang Chai district in August.

Workshop talks Vietnam-US ties in IT application in agriculture

A workshop talking Vietnam-US cooperation in information technology (IT) application in agriculture took place in Ho Chi Minh City on October 20. 

Speaking at the event, deputy head of the management board for HCM City Hi-tech Agricultural Park Tu Minh Thien said Vietnam only uses IT to improve output, track sources of origin, and access the market and value chains. Meanwhile, countries worldwide are adopting technological advances to access financial services, manage land and risks, and support small-scale farming households. 

He added that the Hi-tech Agricultural Park and Quang Trung Hi-tech Park in Ho Chi Minh City are stepping up initiatives and measures to help farmers access value chains more effectively, including the US-based Silicon Valley forum. 

As the agricultural hub of the country, the Mekong Delta has applied IT in building a database, maps of epidemics forecast and tra fish farming. 

The Can Tho city's chapter of the Vietnam Chamber of Commerce and Industry is building an e-commerce model and a logistics centre for key exports, and connecting with start-up programmes in localities, especially those regarding technology. 

Experts said though only 1 percent of the US population relies on agriculture, their farm produce are enough for domestic market and even for export thanks to technological application, adding that IT applications in agriculture are becoming popular investment deals in Silicon Valley. 

They shared the view that agricultural ties between Vietnam and the US remain modest because Vietnam mostly uses technologies from Israel, the Netherlands, Japan, Taiwan (China).

Head of the International Relations at the Silicon Valley Forum Klaus Wehage said Vietnamese firms should adopt technologies to cut workforce and costs in the future.  

The event was hosted by the Vietnam Information Technology Outsourcing Alliance.

Dak Lak launches online single-window administrative services

The Central Highlands province of Dak Lak, on October 20, launched a system that offers online single-window administrative services to its residents.

The move is in line with the Government's Resolution No 36a on e-government, which was issued on October 14, 2015. 

Leaders of the province ordered relevant agencies to make public the online services and promptly update information on the processing of submitted documents.

The system, as part of the local administrative reform, is expected to boost socio-economic growth in Dak Lak.

Vietnam students heat up music night of world youth festival

Vietnamese students staged a performance opening an outdoor musical event in Sochi, Russia, on October 20, as part of the ongoing 19th World Festival of Youth and Students.

The performers wearing ao dai (traditional Vietnamese dress) received loud applauses from the audience.

Since the early days of the festival, the students have run a Vietnamese space, which promotes the country's signatures and goods, as well as provides information on Vietnam in Russian and English.

Lasting from October 15 to 22, the festival draws nearly 50,000 delegates, compared to the initial estimation of 20,000. 

Up to 5,000 volunteers, including 314 foreigners, were mobilised to support delegates.

Cambodia presents literature, art works to Vietnam

A representative from the Cambodian Defence Ministry presented outstanding literature and art works lauding Vietnam – Cambodia, and Vietnam-Laos-Cambodia friendship to the Vietnam's Defence Attaché Agency in Phnom Penh on October 20. 

The works were chosen from more than 600 ones in a competition launched by the Cambodian Defence Ministry in response to the campaign on composing literature and art works on the Vietnam-Laos-Cambodia fighting solidarity. The campaign was co-organised by the General Political Department of the Vietnam People's Army, the Royal Cambodian Army and the People's Army of Laos in celebration of the 50th anniversary of Vietnam-Cambodia ties, the 40th anniversary of the signing of the Vietnam-Laos Treaty of Amity and Cooperation and the 55th anniversary of Vietnam-Laos relations. 

Speaking at the event, General Director of the Cambodian Defence Ministry's Defence Services Meas Savon said the competition helps Cambodian officers and soldiers improve their writing, photographing and filming skills and understand more about the friendship between the three countries' armies. 

Entries were mostly paintings, poems, stories, films and photos, many of them praised valuable support of the Vietnamese volunteer soldiers in the fight against the Pol Pot regime, saving Cambodian people from the genocidal catastrophe. 

Vietnamese defence attaché in Cambodia Col. Nguyen Anh Dung said these literature and art works will contribute to strengthening the friendship among Vietnam, Laos and Cambodia, and between Vietnam and Cambodia in particular.

Yen Bai exerts all efforts to search for missing people after flood

The northern mountainous province of Yen Bai is taking maximum efforts to search for missing people after a historical flash flood recently swept through the locality, said Do Duc Duy, Chairman of the provincial People's Committee.

All local resources including army soldiers, police, militias and local residents have been mobilised to join the efforts.

Machines have been deployed to clear landslide areas to ensure traffic flows while locals and their assets have been evacuated from affected and vulnerable areas, he said, stressing the need to enhance monitoring and supervision to promptly take measures against landslides, erosion and floods.

Dinh Van Thoan, chief police of Son An commune, Van Chan district said 100 local people were mobilised to help soldiers to look for the five missing.

Yen Bai reported 18 deaths, 10 missing and nine others injured in the recent downpours and floods. Nearly 2,000 houses were damaged while more than 140 families had to evacuate due to landslides and flash floods. 

Floods also devastated more than 900ha of crops, tens of thousands of livestock and poultry, and over 42ha of aquaculture area. Total damage was estimated at over 700 billion VND (30.8 million USD).

Vietnam, RoK share experience in public sector reform

A high-level seminar on the reform of public sector, theme of the second-year research between Vietnam and the Republic of Korea (KOICA), took place in Hanoi on October 20, as part of the Development Experience Exchange Programme (DEEP) for the Vision of Vietnam. 

Co-hosted by the Ho Chi Minh National Academy of Politics (HCMA), Yonsei University of the Republic of Korea, and the Korea International Cooperation Agency (KOICA), the event was meant to celebrate the 25th anniversary of the Vietnam-RoK diplomatic ties and the eighth anniversary of the bilateral strategic partnership. 

The DEEP project was approved by the two governments and funded by the KOICA. The theme of the first-year research is the development of high-level human resources while theme of the third year is refining Vietnam's market economy mechanisms.

Speaking at the event, HCMA President cum Director of the project Nguyen Xuan Thang said the seminar takes place at a time when the Vietnamese Party and State are stepping up institutional reform, particularly following the sixth plenum of the 12th Party Central Committee.

Recently, the Communist Party of Vietnam (CPV) has issued two resolutions on renewing apparatus of the political system towards streamlined operations and improving operating efficiency of public administrative units, he said. 

He expressed his wish that scientists and policymakers will actively discuss effective measures to complete the report on public sector reform to improve State governance capacity and sustainable development of Vietnam. 

Director General for Development Cooperation of the RoK's Foreign Ministry Jeong Jin-kyu said the RoK highly appreciates contents of the report on public sector reform, which he said, will help improve trade between Vietnam and partners. 

The RoK will continue working closely with Vietnam to devise long-term orientations to bilateral coordination based on the outcomes of the project, he said. 

Participants gave opinions on how to apply research outcomes of the DEEP project during its first and second years in Vietnam; along with reform of institutions and administrative procedures, human resources and public spending management.

Petrol price falls slightly

The prices of RON 92 petrol and bio-fuel E5 fell by 124 VND and 97 VND per litre, respectively, as from 4:55 pm on October 20.

Following a joint decision by the Ministry of Industry and Trade and the Ministry of Finance, the prices of diesel 0.05S and kerosene dropped by 434 VND and 104 VND per litre.

Under the joint decision, RON 92 and E5 are sold at no more than 17,875 VND (0.78 USD) and 17,634 VND (0.77 USD) per litre, while the ceiling prices of diesel 0.005S and kerosene are 14,410 VND (0.63 USD) and 12,999 VND (0.57 USD) per litre.

This is the 20th adjustment of fuel prices this year, with nine falls, seven increases and two times unchanged.

The ministries said the global price of RON 92 during the last 15 days to October 20 was 66.983 USD per barrel, while that of diesel 0.05S was 68.142 USD per barrel.

They also decided to keep using the price stabilisation fund for RON 92 at 130 VND per litre, and for E5 biofuel remained at 110 VND per litre.

Hanoi told to keep cultural identity to boost development

Hanoi needs to pay due attention to maintaining its cultural identity which is the spiritual support to the capital city's development, said General Secretary of the Communist Party of Vietnam (CPV) Nguyen Phu Trong.

The CPV leader made the request during a working session between the Politburo and the Hanoi Party Committee's Standing Board on October 20 to review the five year-implementation of the Politburo's Resolution 11-NQ/TW on development directions and tasks for the capital between 2011 and 2020.

According to the municipal Party Committee, Hanoi has recorded an average gross regional domestic product (GRDP) growth rate of 7.57 percent each year while per capita GRDP is estimated at 79.4 million VND (3,500 USD), up 1.7 times from 2011. 

Services now make up 67.09 percent of the local economy, followed by industry-construction 29.69 percent and agriculture 3.22 percent. With the considerable improvement of its investment climate, Hanoi ranked 14th among the 63 provinces and cities nationwide in the 2016 provincial competitiveness index, jumping 37 places from 2012.

The city has reaped many achievements in terms of culture, education, health care and sports. It has also ensured absolute safety for Party and State agencies, external activities of the nation and major political events, the municipal Party Committee said.

Speaking at the session, General Secretary Trong underlined the particularly important role of Hanoi capital. Amid the reform period and national industrialisation and modernisation, Hanoi needs to pay due attention to maintaining its cultural identity since this is the spiritual resource to create the strength for the capital city's development.

He stressed that as Hanoi is the location of other countries' diplomatic representative agencies, international organisations and central agencies, it must be a civilised city and do external work better.

There remains much to be done in terms of the Party and political system building, he said, adding that Hanoi's Party organisation is the biggest of its kind in Vietnam with nearly 400,000 Party members, including senior leaders of the Party and the State. Therefore, Hanoi's Party organisation must be a role model for others nationwide.

The Secretary General also told the capital city to optimise support from central agencies and sectors and other localities so as to make stronger breakthroughs in local development.

NZ officials suggest upgrading ties with Vietnam

Senior officials from New Zealand have suggested Vietnam and their country work towards Strategic Partnership when meeting with Truong Thi Mai, head of the Mass Mobilisation Commission of the Communist Party of Vietnam Central Committee from October 18-20.

During the visit to NZ, Mai and her entourage met Christopher Finlayson, Attorney-General of New Zealand, Minister for Treaty of Waitangi Negotiations, Minister in Charge of Government Communications Security Bureau, and Minister in Charge of the Security Intelligence Service in Wellington. 

The Vietnamese delegation also had working sessions with Mayor of Wellington City Justin Lester and officials from the Ministries of Foreign Affairs and Maori Development and the New Zealand – Vietnam Parliamentary Friendship Group.

During the meetings, senior officials from NZ spoke highly of the good progress of the Comprehensive Partnership between the two countries since it was found in 2009. Since then, two-way trade has climbed nearly three-fold and a direct flight route has been launched between HCM City and Auckland.

The two nations have become an important partner to each other in multiple areas, working together towards peace and stability in the region. The officials also asked for effort from both sides to take the relation to Strategic Partnership.

Mai, for her part, praised the robust development of New Zealand in all fields. She said Vietnam always attaches importance to New Zealand in its foreign policy and looks forward to taking the Comprehensive Partnership to new height.

She also updated her hosts on the latest developments in the East Sea, expressing hope that New Zealand will coordinate closely with Vietnam, ASEAN and other involved parties in ensuring security and freedom of navigation and overflight there and pushing for the settlement of disputes in the sea via peaceful means in line with international laws, including the 1982 UN Convention on the Law of the Sea.

While in the NZ, Mai and her entourage met representatives from the Vietnamese community and the staff of the Embassy of Vietnam.

Binh Thuan: Cham Brahman community celebrates Kate festival

The ethnic Cham Brahman people flocked to the Po Sah Inu tower in Phan Thiet city of central Binh Thuan province to attend the Po Sah Inu Goddess costume carrying ceremony – an important ritual of the Kate Festival.

Falling on the first day of the seventh month of the Cham calendar, Kate is biggest event in the year of the Cham followers of Brahmanism to pay respect to gods and pray for productive harvests and multiple natural and human resources. 

Together with the Goddess costume carrying ceremony, the festival also features other traditional rituals and performances, including Linga-Yoni altar bathing rite, prayers for peace as well as games and competitions at temples and towers. 

The Cham people have several distinctive festivals including the Ramuwan, the Rija Nugar, and the Chabun.

There are about 153,000 Cham people in Vietnam, of whom over 41,000 live in Binh Thuan province, mainly in Bac Binh, Tuy Phong and Tanh Linh districts.

The percentage of poor Cham households dropped to 4.8 percent in 2016 in comparison with 25 percent in 2004.

Japanese Government helps residents in flood areas

The Japanese Government, via the Japan International Co-operation Agency (JICA), on Friday sent relief to residents in Yên Bái and Hòa Bình provinces after they suffered serious losses due to the recent typhoon and landslides.

Nagai Katsuro, envoy of the Japanese Embassy in Việt Nam, and Fujita Yasuo, chief representative of JICA Việt Nam, gave the relief, including 40 sets of waterproof canvas, 47 water filters and more than 5,000 blankets to representative of Việt Nam Trần Quang Hoài, director of the Flood and Typhoon Prevention and Control Administration under the Ministry of Agriculture and Rural Development (MARD).

Nagai Katsuro offered his sympathy to local residents who lost family members and property in the typhoon.

Fujita Yasuo appreciated the efforts of the Flood and Typhoon Prevention and Control Administration, and hoped that the relief would help ease local residents' difficulties.

Director Hoài said that it was meaningful help from the Japanese Government and expressed close co-operation between the two countries.

Heavy rains occurred in Yên Bái, Hòa Bình, Sơn La and several other northern provinces from October 10-13. Serious landslides occurred in Phú Cường Commune, Tân Lạc District in Hòa Bình Province.

More than 100 people were killed, 38 others were injured, nearly 300 houses were damaged and 2,600 household required evacuation. More than 162,600ha of agricultural land was submerged, according to the MARD.

Samsung Vietnam funds water filters for schools in Bac Giang

Twenty-six schools in the northern province of Bac Giang will have new toilets and water filtering systems thanks to a programme funded by Samsung Electronics Vietnam.

The document to this effect was jointly signed by representatives from Samsung Electronics Vietnam, the Korea Food for The International Hungers (KFHI), and local authorities in Hanoi on October 20.

The project, worth 6.7 billion VND (294,800 USD) to be carried out in October-December, aims to improve infrastructural facilities at the targeted schools.

At the signing ceremony, Vice President of the Vietnam Union of Friendship Organisations Don Tuan Phong highlighted the friendship and multi-faceted cooperative ties between Vietnam and the Republic of Korea have benefited their people, contributing to peace, stability, cooperation and development in the region and the world.

The project features a model of partnership of enterprises and foreign non-governmental organisations in performing social responsibility.

Deputy Director General of Samsung Electronics Vietnam Bang Hyun Woo said the project helps ensure a healthy and clean school environment, raising the living quality for local students.

ICAV – friendship bridge between Argentina and Vietnam

The Argentina-Vietnam Culture Institute (ICAV) has well performed its role as a bridge for the friendship between the two countries since it was established 20 years ago.

Vietnamese Ambassador to Argentina Dang Xuan Dung made the remark at a ceremony in Buenos Aires on October 20 to mark the 20th founding anniversary of the institute (1997-2017).

The diplomat spoke highly of the ICAV's valuable contributions to promote the images of the Vietnamese land and people in Argentina.

Attending the event, former Vice President Truong My Hoa affirmed the Vietnamese people's gratitude to Argentinian friends for their valuable assistance given to Vietnam during the past struggles against foreign invaders as well as the current national renewal process.

She expressed her wish that the ICAV will continue diverse activities to help foster the friendship and solidarity between the two countries and their people.

ICAV President Poldi Sosa Schmidt affirmed the Argentinian people's good sentiments towards Vietnam. She said she admires the socio-economic achievements the Southeast Asian nation has made in recent time.

On the occasion, Ambassador Dung presented the Vietnam Union of Friendship Organisation (VUFO)'s certificate of merit to the ICAV and the "For Peace and Friendship among Nations" insignia to Schmidt.

Overseas Vietnamese share difficulties with Ukrainian people

The Vietnamese Association in Odessa province, Ukraine, has presented more than three tonnes of food to locals who are living in difficult circumstances. 

The donations, which were collected for more than one month, were channeled through the Odessa province Red Cross. 

Addressing the hand-over ceremony, President of the Vietnamese Association in Odessa province Nguyen Nhu Manh shared difficulties facing local people in the context that Ukraine is encountering a crisis. 

The Vietnamese in Odessa have considered Ukraine as their second homeland and want to support Ukrainian people, he said, adding that the charity campaign is held annually. 

President of the Odessa province Red Cross Alexsandr Bunkov said this has been the sixth charity campaign launched by the association since the crisis began in Ukraine.

Maximizing golden population structure for national development

Since 2006 Vietnam has entered a period of optimal population structure, with more than half of its 93 million people of working age. Vietnam has devised appropriate policies to make full use of population opportunities for national development.

Recent studies show that the golden population structure will have positive effects on Vietnam for at least the next 20 years. 

But one of the challenges is that only 20% of the workforce has been professionally trained. Vietnamese workers also lack teamwork and problem solving skills.

Dang Van Hung, a worker at Thang Long Industrial Park in Hanoi, said "Automation will reduce human employment opportunities. I'm very worried because with my current qualifications, it would be quite difficult for me to find a new job."

The Fourth Industrial Revolution threatens low-skilled and semi-skilled workers. Tens of thousands of Vietnamese workers could lose their jobs before they reach retirement age.

If Vietnam doesn't find some solutions soon, it will lag behind other countries and have a harder time in ensuring social security.

"Vietnam can no longer rely on low-cost labor and commodities. It's time to change," said economist Pham Chi Lan.

Vu Quang Tho, Head of the Institute for Workers and Trade Unions under the Vietnam General Confederation of Labor, said taking advantage of the young workforce will require training.

"What workers must do now is improve their skills or find jobs suitable to their qualifications. The social security system, especially social insurance and unemployment insurance, should be made more efficient so that when these people become unemployed they will have money to attend vocational training courses and find new jobs. 

These things should be done immediately so that Vietnamese workers can adapt to the changing labor market," Tho elaborated. 

During this period of optimal population structure, the brainpower of young workers should be exploited to ensure social security before Vietnam enters a period of population aging.

Vi Van Om, a labor hero in Northwestern border area

Vi Van Om of the Xinh Mun ethnic group in Yen Chau district, Son La province, was honored in 2005 with the title Labor Hero in the Renewal Period for his contribution to national unity and poverty reduction in his locality.

In recent years, rural areas near the border in Son La province have seen big changes. New roads connect Yen Chau district to the Na Cai border station.

These changes are partly attributed to Vi Van Om, former Vice Chairman of Chieng Om commune. 

Mr. Song Lao Dia, current Chairman of Chieng Om commune, said, "Since 2004, Mr. Om has helped to mobilize funds from Son La province to build a road from the district to the border gate. Local people are benefiting a lot from it".

Vi Van Om returned from the army in 1972. Life in the locality was difficult then. There were no paved roads and local farmers lacked modern production techniques. 

Mr. Om used what he learned in the army and his ability to speak ethnic languages to teach local people how to apply modern science to their agricultural production. 

He also researched new methods to help farmers boost their incomes. In 1986, on a trip to Dan Phuong district, Hanoi, Om learned about a new maize variety which was easier to grow and produced higher profits. He brought it to the local farmers. 

Vang Lao Du of Yen Chau district, said, "We used to farm using habits that were not very effective. Thanks to new methods introduced by Vi Van Om, our agricultural productivity has increased".

Mr. Om encouraged farmers to abandon old cultivation techniques and shift to growing wet rice. He traveled to other provinces to purchase new fruit tree varieties and piloted them in his area. 

Om first grew 500 plum trees in Chieng Om. Farmers followed his lead and expanded plum trees to 20 hectares. 

Many local farmers have become richer by growing fruit trees: "Only when basic living conditions are assured can other issues like national defense and border demarcation be addressed. Recently, local people have worked closely with border soldiers to prevent illegal border crossing and drug trafficking".

Despite his age, Vi Van Om is still active and consults with local authorities about crop selection and husbandry models that can improve people's lives.

Vi Van Bien, a local from Yen Chau district, said, "Mr. Om is a role model in production. We trust him". 

VOV hands TV Channel over to National Assembly Office

The Voice of Vietnam (VOV) has handed the National Assembly TV Channel over to the National Assembly Office.

At a ceremony in Hanoi on October 20, Head of the National Assembly Office Nguyen Hanh Phuc, said that on August 18, 2017, the National Assembly Standing Committee issued a resolution on the takeover and that the channel will be renamed Vietnam National Assembly TV. 

Mr. Phuc added that "We and the Vietnam National Assembly TV hope to receive continuous support from the Voice of Vietnam to successfully fulfill our tasks".

VOV President Nguyen The Ky said over the three years since its establishment, the Vietnam National Assembly TV Channel has operated effectively and accomplished its tasks.

Goethe-Institute concert combines German poems, Vietnamese folk music

Earlier this month, the Goethe institute in Hanoi hosted a concert which blended Vietnamese folk music and romantic verses by German poet Heinrich Heine.

The poems and music filled every corner of the concert hall. Emeritus artist Kieu Oanh sang the poem "Lovesick" accompanied by a Hue folk chant.

This poem was translated into Vietnamese and set to Hue music by members of the Dong Kinh Co Nhac troupe, who are dedicated to Vietnamese traditional music.

Musician Dam Quang Minh said, "Most of the poems performed in this show are from Henrich Heine's collection 'Romance'. What we did was to match the romance of the lyrics and the music as much as possible so that the performance would touch the audience's hearts". 

The show also used cheo (opera theatre), chau van (ceremonial singing), tuong (classical opera), and other traditional genres, to convey the satirical humor and poignant emotions of unrequited love expressed in Heine's poems.

People's artist Thanh Hoi talked about her feelings singing those poems on stage: "The emotions expressed in German poems suit the various genres of Vietnamese traditional music. Satirical verses can go well with humorous xẩm singing, while nostalgic verses match certain chèo songs. We are happy to see the audience show emotions with us through different performances".

Musician Vu Nhat Tan, a member of the Dong Kinh Co Nhac troupe and the show's poetry editor, said, "Personally, I consider this show a great success. The German poems, translated into Vietnamese, combined with Vietnamese music nicely. They sound authentically Vietnamese". 

Tran Ngoc Quyen, who loves traditional music and used to live in Germany, said, "The show today was very exciting. Combining poems with traditional music is a new idea. The audience was delighted by the performance of different folk genres. The artists' great efforts made the concert a success".

Henrich Heine, Germany's renowned poet, wrote many romantic poems that have been set to music. This poetry night at the Goethe-Institute was a celebration of Heine's 220th birthday. 

Piloxing barre: a new sports trend for women in Vietnam

Boxing and dancing together is proving the perfect combination of exercise for a rising number of women in Vietnam.

Piloxing barre, the official name of the sport, was introduced to female sports lovers in the Southeast Asian country only two weeks ago via a program named 'Power Women Series,' organized by a well-known sports brand.

The sport has quickly gained a lot of attention and become a new trend in exercise.

"Piloxing barre is well cut out for the ladies. The movements are strong enough to make us sweat but also maintain poise in dancing," Ngoc Yen, a newcomer to the sport, said. "It is exhausting yet very exciting."

At a dance center in District 2, Ho Chi Minh City, piloxing barre classes have been open for several months, instructed by Swiss coach Sandrine Barblan.

Barblan previously taught zumba and belly dancing in the Vietnamese city before achieving her piloxing barre certificate last year.

The classroom she uses is equipped with air conditioners and surrounded by mirrors.

Following a warm-up, learners begin their practice by executing basic boxing moves such as jab, hook, and uppercut.

The movements are mixed with lively dance steps to the sound of up-tempo music.

During the lessons, each student stands next to a set of horizontal bars, akin to those used in ballet training, to help them keep balance.

Piloxing barre can be thought of as an elegant form of boxing or a tougher form of dancing, coach Barblan said, adding that it is a good cardiovascular exercise that usually lasts for 45 minutes.

The sport can help improve strength and endurance, she elaborated.

It can also be a good choice for people with heart and joint conditions, the Swiss instructor said.

However, she recommended that her trainees undergo proper health-checks to understand whether they are suitable for the sport.

Emmanuelle Dupasquier, a French expat who has practiced piloxing barre for some time, said that women were often afraid that certain types of exercise would affect their figures.

Previously taking part in dancing, aerobics, and bodybuilding, Dupasquier considered piloxing barre a perfect harmony of strength and flexibility.

Piloxing barre was invented by Viveca Jensen, a professional dancer in Sweden, who also has a master's degree in pilates.

'Piloxing' is the combination of pilates and boxing, while 'barre' represents the horizontal bars included in the lessons.

The sport has been introduced in 92 countries and attracted about 1.5 million registered students.