VietNamNet Bridge – Tip-toeing through the door after a phone call at midnight, Cuong used to run from his house. His mother would try to follow him, calling his name and crying in vain. He was bent on getting his fix.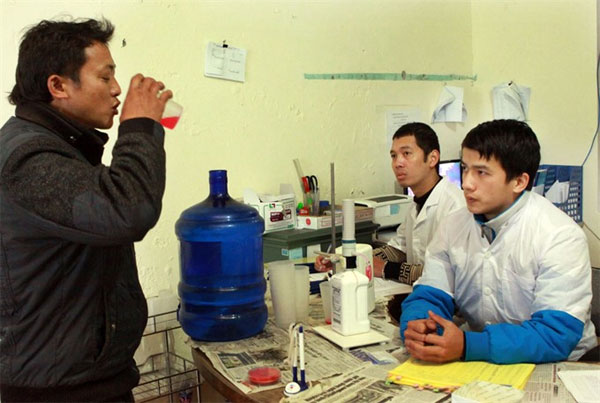 A drug addict takes Methadone at a healthcare centre in Dao San Commune, Phong Tho District, northern province of Lai Chau. By the end of March this year, there were 280 methadone treatment facilities in 63 cities and province in Viet Nam, offering treatment to more than 51,000 drug addicts. — VNA/VNS Photo 
Nguyen Viet Cuong of Buon Ho Town in the Central Highland province of Dak Lak took drugs for almost 14 years, since he was 16, as evidenced by the needle marks on his arms. For years, he used to go out at night to meet other drug addicts whom he called friends. They gathered in local cemeteries or other quiet spots to inject drug.  
"At that time, I was not scared of darkness or danger. I did not care how my family felt," he said. "The only thing on my mind after getting a phone call was how to get out of the house as soon as possible."
Cuong said he first used drugs to satisfy the curiosity of a teenager, wanting to know how it felt and what effect they had. By the time he got the answers, he was hooked.
He used to spend about VND500,000 ($22) daily on drugs, he said, adding that one dose cost VND200,000 but he needed at least two. He was relatively lucky. Other drug addicts spend about VND1 million or a few million Vietnamese dong every day.
Cuong said he would do anything to get money for drugs. He sometimes asked his mother and relatives for money or he stole from them. Once they ran out of money, he threatened and stole from other people on the streets. "The drug had a power that I could not escape. I became someone else," he said.
"I hurt my mother, physically and mentally," Cuong recalled, adding that his mother was so worried that she lost weight and sleep.
His mother looked for doctors and remedies to help him. Cuong said his mother took him to so many rehabilitation centres that he could not remember them all. "When anyone suggested a good rehabilitation centre, doctors or remedies, she wanted me to try," Cuong said. "Many times, my mother and I cried together. She encouraged me. I promised to stop using. But shortly after leaving the rehabilitation centres, I relapsed and injected even more drugs."
Methadone treatment
In the last two years, Cuong drives his motorbike nearly 40 km every day from his hometown to Dak Lak Province's HIV/AIDS Prevention and Control Centre in order to receive methadone treatment.
He never misses a day; the only time he didn't go was on the day he took his driving exam.
People at the centre are familiar with the sociable Cuong. Looking at him, few people can imagine another Cuong, a pale, skinny, scared and shy drug addict. He looks healthy, happy and confident, and has gained at least ten kilos.
Cuong said to Vietnam News Agency that he wanted to change his life. He said he planned to get married this year to the girlfriend he has loved for seven years. "She is the reason I gave up the drug," Cuong said.
Le Dinh Vinh, director of the province's HIV/AIDS Control and Prevention Centre, said methadone treatment was first introduced in the province in December 2015 and has been offered to 302 local addicts. The youngest was 19, the oldest 61.
Vinh said he was happy to see patients like Cuong who strictly followed the treatment regimen.
The centre plans to open a methadone treatment facility in EaH'leo District with a capacity to treat 400 people.
Four years ago, the Government launched a drug detoxification project expecting to offer methadone treatment to 80,000 drug addicts by 2015. By the end of March this year, there were 280 methadone treatment facilities in 63 cities and province in Viet Nam, offering treatment to more than 51,000 drug addicts.
The project implementation has met many difficulties, including poor infrastructure and services at rehabilitation centres, high rates of relapse – more than 90 per cent - and increased numbers of drug addicts.
Incomplete data by the Ministry of Labour, Invalids and Social Affairs show that the country has more than 200,000 drug addicts, although the real number is likely much higher.
Cao Thuy Giang
VNS