VietNamNet Bridge – Despite the increasing challenges facing land transport, HCM City has yet to use nearly 1,000km of rivers and canals for the purpose.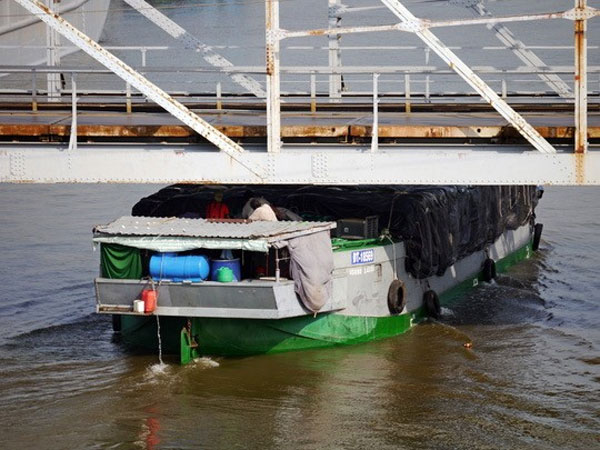 The low clearance of Binh Loi Bridge over the Sai Gon River prevents navigation by large vessels. VNS File Photo
The city has 109 rivers and canals with a combined length of 973km, including shipping and inland waterway routes.
Figures from the city Department of Transport reveal that there are also 40 seaports with a total length of 13,959 metres of piers, and 342 inland river ports.
But these facilities are not fully operational despite the rising traffic problems on land.
According to Nguyen Ngoc Thach, director of the port authority of the Zone 3 Inland Waterway Department, the city can only exploit 3 per cent of its waterways due to problems like narrow passages and low bridges.
The low clearance (of less than 3 metres) of some 200 bridges in HCM City is one of the main hindrances to waterway passenger and cargo transport.
Large volumes of goods transported from the 13 industrial parks in Binh Duong Province to HCM City cause serious congestion on Highway No 13, yet the section of Sai Gon River in Binh Duong Province, which is nearly 20 meters deep and can allow large vessels and ferries to transport containers from these IPs, are unused.
The low clearance of Binh Loi Bridge, at only 1.8 metres, hinders transport down the river.
But the Te, Doi and Cho Dem – Ben Luc canals, which connect HCM City with other provinces, are only deep enough for vessels of up to 500 DWT, and the city should invest in dredging them so that they can accommodate 1,000 DWT vessels, Thach said.
Besides, the Binh Loi Bridge must be raised to enable the use of the Sai Gon River for transport to Binh Phuoc, Binh Duong, Dong Nai and the Southern Focal Economic Zone Area, he said.
Rising land transport costs
HCM City is a transit hub for cargo transportation, but 70 per cent of the cargo transported from the Mekong Delta provinces to ports in HCM City are carried by land because the waterways are not navigable.
But since land transport costs are higher, the transport costs increase by 10-60 per cent.
According to the Institute for Transportation and Development Policy, all four waterway routes linking HCM City Sea Port (on the Soai Rap River) with the Can Tho City Sea Port (on the Hau River) run through the Cho Gao Canal, making it congested.
The bridges along the route, such as Nang Hai, Mang Thit and Tra On, all have low clearance, causing problems for vessels carrying cargo for import and export.
The institute called for investing in river routes between HCM City and the Mekong Delta, including in upgrade of the Cho Gao Canal and a part of the Mang Thit River.
It also called for spending on upgrades to the ports of An Phuoc (in Vinh Long Province) and Long Binh (in HCM City) to increase their container handling capacity.
VNS