ID cards: Ministry told to address inefficiency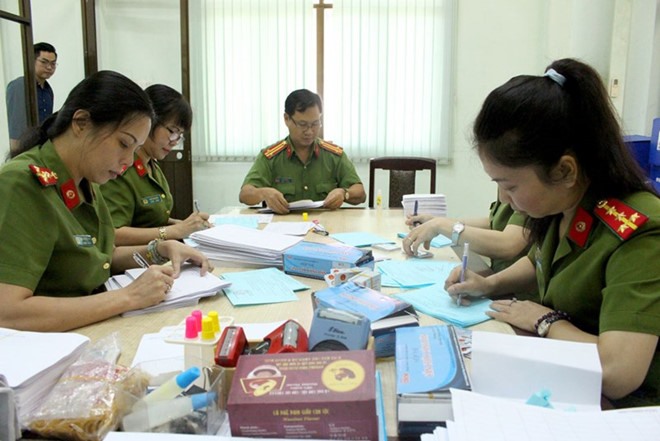 Deputy Prime Minister Trương Hòa Bình has ordered the Ministry of Public Security to quickly address its tardiness in issuing and renewing identification cards for citizens.

The move came after mass media recently reported that the ministry failed to issue ID cards for citizens as scheduled, causing problems for people because the ID cards were required for many activities in their daily lives.

For example, online newspaper Zing reported that the ministry's Police Department on Register, Residence management and National population data handed over thousands of ID cards to HCM City's Police Department on Thursday after three months. The reason for the delay was the lack of material to make the cards.

Bình also required the ministry to deal with citizens' complaints that they were forced to visit the police department several times to collect the cards and this made them uncomfortable.

The ministry was instructed to send its report before October 31. 

Deputy PM directs flood recovery efforts in Thanh Hoa

Deputy Prime Minister Pham Binh Minh held a working session with authorities of central Thanh Hoa province on October 15 to direct the recovery from the heavy rains and floods that recently hit the province. 

He praised the province for evacuating 18,588 households out of landslide-prone areas and asked for more search and rescue efforts and attention on ensuring environmental hygiene, disease prevention and supplying water. 

The Deputy PM requested the Ministry of Agriculture and Rural Development to promptly repair two dykes in Xuan Minh and Tho Truong communes, Tho Xuan district, which pose risks to more than 440,000 households in districts of Tho Xuan, Yen Dinh and Thieu Hoa if another downpour occurs. 

Chairman of the provincial People's Committee Nguyen Dinh Xung suggested that the government, ministries and agencies offer aid of 580 billion VND (25.21 million USD) from the State budget to Thanh Hoa to repair dykes and other transport works, as well as add several dyke upgrade projects into the list of medium-term State investment at a total cost of roughly 700 billion VND. 

The province also asked for State financial assistance to support affected farmers and sought permission to upgrade dykes along Cau Chay, Hoat and Thi Long rivers at a rough cost of 1 trillion VND. 

The disaster killed 16 and left five others missing in the province. It also flooded 28,146 houses, destroyed 28,833ha of trees and winter crops, and 6,055ha of aquaculture, costing nearly 2.7 trillion VND. 

The same day, National Assembly Vice Chairwoman Tong Thi Phong arrived in the northern mountainous province of Son La to inspect damages of floods from October 9-11 and direct recovery efforts. 

As of October 14, the flood had claimed six lives and left two missing, swept away hundreds of houses and 22 bridges, and damaged more than 960ha of rice. 

By October 15, five communes and 26 villages were still isolated. 

On the occasion, Phong together with local leaders presented gifts to affected families.

Scientists mull world water shortages

Some 150 scientists gathered in Hanoi to discuss how to develop environmentally friendly, economically viable and energy efficient process to treat and preserve the world's limited water resources.

The three-day conference on Green Technologies for Sustainable Water 2017 (GTSW) that began on October 14 was organised by five universities – the University of Technology Sydney, University of Wollongong, Tianjin Polytechnic University, Vietnam's University of Science and Vietnam-Japan University (VJU).

Speaking at the opening ceremony, VJU rector Furuta Motoo said the development of environment-friendly technologies for water resource utilization and management is of vital importance in the context of population growth. With global water resources being gradually depleted, especially for countries strongly affected by climate change like Vietnam, demand risks exceeding supply.

"There is an urgent need to exploit and develop appropriate green technologies that promote design, production and supply chain because the major cause of the world's water shortage and continued environmental deterioration is the unsustainable, unregulated pattern of consumption and production," said Executive chair of the GTSW 2017 conference, Ngo Huu Hao.

The limitations on the amount of fresh water from natural sources forced the water industry  to expand supplementary sources, such as rainwater, storm water, desalinated water or recycled water, which in most cases need extensive treatment to ensure human health and environmental safety, he added.

Prof Ashok Pandey from India's Centre of Innovative and Applied Bioprocessing, one of the 150 scientists participating in the conference, presented microalgae-based research, which he said has extensively progressed for the production of value added products and biofuels.

"Coupling mass cultivation of microalgae along with industrial waste waters, seawater with industrial waste carbon sources seems to be beneficial for minimizing the use of fresh water, reducing carbon, nutrient cost and producing algal biomass as resources for biofuels and other high commercial value metabolities," he said.

Prof Xiaochang C.Wang from China's Xi'an University of Architecture and Technology presented anaerobic digestion of waste-to-resource recycling from food waste.

Food waste contains recoverable resources and anaerobic digestion is a promising technology. A combination of food waste treatment and waste-activated sludge treatment by anaerobic digestion could become the new direction of urban waste management through which the utilizable bio-resource can be recovered for both nitrification enhancement and bio-energy production.

Dang Bao Trong from HCM City University of Technology presented a study evaluating the treatment performance of sponge membrane bioreactors in treating hospital wastewater with elevated concentrations of ciprofloxacin (CIP) – a widely used antibiotic in Viet Nam.

High concentration of various antibiotics has been detected in wastewater of healthcare facilities in HCM City. The average concentration of CIP in hospital wastewater in HCM City was 4-5 times greater than in other Asian countries, he said.

Sponge membrane bioreactors have been reported as an effective biological treatment process for hospital waste water treatment.

Besides presentations, lectures and reports, participants are also visiting the Yen So Waste Water Treatment Station in Hanoi to learn about local water management and treatment.

VNA correspondent's body found

The body of Đinh Hữu Dư, a Vietnam News Agency correspondent in Yên Bái Province, was found near Văn Phú Bridge on Friday afternoon following two days of continuous search.
Dư, 29, was swept away on Wednesday while on duty reporting about the floods, triggered by heavy rains, on Nghĩa Lộ Town's Thia Bridge.
Due to the strong floods, the bridge, where Dư was standing to record a film about the floods, suddenly collapsed.
Vice chairman of the provincial People's Committee Tạ Văn Long said Dư's body was found 100km away from the scene of the accident.
Dư, from northern Ninh Bình Province, graduated from the Academy of Journalism and Communication in 2011.
Deputy Prime Minister Trương Hòa Bình on Friday asked Vietnam News Agency to send a proposal to the Government asking the latter to award a certificate of merit to Dư posthumously.

Vietnam steps up relations with Japanese localities

Vietnamese Ambassador to Japan Nguyen Quoc Cuong visited Mie and Shiga prefectures from October 11-13 to promote relations between Vietnam and Japanese localities.

In Mie, he met with Governor of Mie Prefecture Eikei Suzuki, the mayors of Yokkaichi and Matsuzana cities, head of the Federation of Mie Prefecture Chambers of Commerce and Industry and some local businesses.

Suzuki informed the Vietnamese diplomat of the sound relations between Mie and Vietnam, particularly after Prime Minister Nguyen Xuan Phuc's visit to the locality while attending the expanded Group of Seven (G7) Summit in Japan in May.

As Vietnam has surpassed China and Thailand to become the top market of Mie enterprises, he said he will lead a delegation of more than 90 firms to Vietnam in November to seek business opportunities.

Ambassador Cuong pledged to support the delegation's visit.

Visiting Yokkaichi, the largest seaport city in Mie, Cuong asked the city to transfer technology and train human resources in environmental treatment, in which it has experience.

Mayor of Yokkaichi city Mori Tomochiro agreed to support Vietnam in the field.

During his stay in Shiga prefecture, Cuong met with governor of the prefecture Mikazuki Taizo, deputy governor Toshie Ikenaga and heads of the local industrial, agricultural and tourism sectors. He briefed the Japanese officials on Vietnam's socio-economic development policies and highlighted investment opportunities in Vietnam.

Mikazuki said that Shiga attached much importance to cooperation with the Southeast Asian nation, adding the prefecture has signed a cooperation deal with Ho Chi Minh City and will sign another with Quang Ninh soon.

On the occasion, Cuong also visited businesses in Mikazuki.

Traditional cultural values of ethnics in northwestern region promoted

The first Cultural, Sports and Tourism Festival opened in the northern mountainous province of Lai Chau on October 13, in response to the Lao Cai – Northwest National Tourism Year. 

The event featured a brief introduction of ethnic groups in the province, folk sports and signature festivals, thereby highlighting tangible and non-tangible cultural values of local ethnic groups. 

Tong Thanh Hai, permanent Vice Chairman of the provincial People's Committee and head of the event's organising board, said the festival introduces tourist and cultural products and farm produce in the northwest and Lai Chau in particular to visitors. 

A parachuting competition and exhibition on cultural space of ethnic groups will be also held. 

The three-day festival also enables the province to attract investment in tourism, culture and farm produce.

Phu Yen displays winning works of travel photo competition

Over 90 travel photographs depicting the pristine beauty of the south central coast province of Phu Yen are on display in the province's cultural centre until October 20.

The photos are winners of the first Phu Yen travel photo competition this year, jointly held by the provincial Department of Culture, Sports and Tourism and the Vietnam Association of Photographic Artists to promote the province as a friendly and appealing destination.

Some 110 out of 235 beautiful travel snaps by 35 photographers sent to the competition went through the next round, showing the beauty of Da Dia Reef, Mon Beach – Dien Cape, Xuan Dai Bay, O Loan Lagoon, Xep Beach, Ba River and more. 

About 90 works selected for the exhibition, which opened on October 14.

The judges gave the first prize to a photo named "Dem trai Hon Yen" (A camping night in Yen Islet) by Le Hong Nguyen and awarded 15 others.

According to Director of the provincial Department of Culture, Sports and Tourism Ho Van Tien, many photographs were taken by flycams from breathtaking angles that normal cameras cannot capture. These artworks will help promote Phu Yen's tourism among tourists both at home and overseas, he said.

Nearly 1,100 Lao students trained in Thua Thien-Hue

Nearly 1,100 Lao students have been trained at the Thua Thien-Hue College of Education over the past 15 years under a bilateral agreement inked between the central province of Thua Thien-Hue and seven localities in Laos.

The information was heard at a ceremony held in Hue city on October 14 to mark the college's 15 years of training and managing Lao students.

The college has issued and carried out Vietnamese B1 Language course for foreigners while working to improve lecturers' quality and infrastructure to meet studying demand of the students.

A student dormitory was set up to serve 500 Lao students while areas for Vietnamese practice and sport activities were constructed as well. In addition, the college has paid due attention to research activities, fact-finding tours and cultural and sport activities to celebrate significant events of the two countries.

Speaking at the event, Nguyen Dung, Vice Chairman of the provincial People's Committee, said that scholarships are granted for Lao students in Salavan, Sekong, Champasak, Khammuon, Savannakhet every year, ten in each locality. 

The province will foster cooperation with central and southern localities of Laos during 2017-2021 through collaboration between universities, colleges and education training centres of both sides. It will continue scholarship programmes and launch graduate and post graduate programmes in pharmacy, economics and forestry with Savannakhet and Champasak universities, he stressed.

On the occasion, the provincial People's Committee and Sekong, Champasak and Savannakhet provinces presented their certificates of merit to excellent individuals and collectives of the college for their achievements in training Lao students.

Việt Nam Bank for Social Policies hailed for poverty fight in HCM City

Some 730,310 poor households and other welfare beneficiaries in HCM City have got soft loans from the Việt Nam Bank for Social Policies since 2003.

The information was released at a conference to review social policy credit in 2003-17 under the Government's Decree 78/2002/NĐ-CP held on Thursday by the city People's Committee.

The conference was attended by leaders of the city Party Committee and People's Committee and officials from the Việt Nam Bank for Social Policies (VBSP) and relevant agencies from the city's 24 districts.

The director of the city VBSP, Trần Văn Tiên, said in HCM City his bank had had 10 key programmes for lending to poor families since it was established in 2003.

These loans helped more than 225,460 poor and policy beneficiary families escape poverty, created 220,380 jobs, 275 of them abroad, and helped over 88,850 poor students to continue studying.

It has also funded the construction of nearly 210,700 rural clean water and environmental treatment facilities and enabled more than 56,400 families to acquire land.

As of the end of August the HCM City branch had loans outstanding worth around VNĐ2.85 trillion (US$126 million), nearly 19 times up from 2003, with bad debts accounting for only 1.9 percent.

The city poverty rate declined from 0.57 percent in 2013 to zero percent last year.

Representatives of the city Association of War Veterans, Women's Union and branches of the VBSP in the city's districts also reported on results, shared experiences and suggested solutions for implementing the policy.

Lương Thị Lan Hương, a resident of Cần Giờ District's Long Hòa Commune, said she had got loans that helped her family escape poverty and improve its living standard and enabled her children to continue studying.

With the loans she set up a shop and also sold vegetables.

"Now my older child is working at Hospital 115 in District 10, and the younger one is studying in a college in the city."

The general director of Việt Nam Bank, Dương Quyết Thắng, praised the VBSP's achievements in implementing the Government's decree on credit for poor people and other beneficiaries over the last 15 years.

"The HCM City VBSP has enabled people to escape poverty and helped the city become one of the leaders in implementing the national programme on sustainable poverty reduction."

Nguyễn Thị Thu, deputy chairwomen of the city People's Committee, said the VBSP should focus on addressing its shortcomings, improving its efficiency further, and follow the city's orientations and development targets to improve people' lives and reduce poverty.

On the occasion, 64 individuals and eight organisations were awarded certificates of merit for their contributions to the implementation of social policy credit in 2003-17.

Craft and Design Challenge launched

The first ever Craft and Design Challenge Prize 2017 has been launched for Vietnam's design students, young designers and entrepreneurs who either show an interest and ability in craft-based design or have experience running craft and design projects and businesses.

The contest, organised by the British Council Vietnam, aims especially to create new and more inclusive opportunities for women in sustainable and ethical craft-based production. The contest is also a response to the increasingly endangered field in the face of globalisation and rapid economic development. 

Female artisans, who constitute a majority in this sector, are particularly vulnerable due to lack of knowledge and skills necessary for sustaining their business. The combination of traditional craft and contemporary design is expected to generate a renewed interest in crafts through creative processes, informed research and storytelling.

Organisers said the contest will create opportunities for designers and entrepreneurs to train in design and business management and work in collaboration with artisans on skills and product development, focusing on communicating cultural identity which will also enhance market access.

A panel of judges who are experts in the field of craft, design and entrepreneurship will select 15 successful candidates who can demonstrate strong interest in craft and design, and wish to create value from working with craft-maker communities through design.

Those 15 candidates will have to take part in different activities as preparation for the Craft and Design Challenge. The first one is a series of three professional development workshops to be held in November in Hanoi, which will provide participants with practical knowledge and skills in craft, design and business planning, so as to be better prepared to enter the challenge.

The second stage is a residency programme planned to take place in November and December to facilitate the necessary connection and experience between the participants and female craft communities, so that the participants are better prepared to work with craft communities for the challenge.

After the residency, participants will have two months, tentatively January and February, to prepare for a design-led intervention and business plan for the Challenge. Project proposals could include the design of a prototype in collaboration with the artisan communities, new tools and ways of maximising economic benefit and sustainability which might support the livelihoods of female artisans and the sustainability of their craft practice.

Finally, a showcase of the craft and design projects/products will be organised for all entries of the Challenge. The showcase will be held during three weeks in March or April 2018, offering an opportunity for participants to present their product designs/prototypes as well as raise funds for their business plans.

First prize winner will get 60 million VND (2,640 USD), and the two runner ups will get 50 million VND and 40 million VND. Prize winners will be expected to use the award as a seed fund to implement their newly formulated craft and design development projects. 

Application packages should be sent to vnarts@britishcouncil.org.vn by 25 October 2017.

HCM City, Luang Prabang beef up cooperation

Leaders of Ho Chi Minh City and Luang Prabang province of Laos agreed to promote multi-sectoral collaboration during their talks in the southern largest economic hub of Vietnam on October 14.

Khamkhanh Chanthavisouk, Secretary of the Luang Prabang Party Committee and governor of the Lao province, thanked HCM City for its effective assistance in human resources training, infrastructure development and agriculture.

He expressed his hope that HCM City and Luang Prabang, based on the traditional friendship, special solidarity and comprehensive cooperation between the two Parties, States and people, will further promote cooperative ties for mutual benefits.

Having acknowledged the cooperation willingness of Luang Prabang, Nguyen Thanh Phong, Deputy Secretary of the HCM City Party Committee and Chairman of the municipal People's Committee, believed that relations between the two localities will be enhanced to be on par with the Vietnam – Laos relationship.  

At the end of talks, the leaders signed the work minutes. They agreed to increase delegation exchanges and boost joint work across sectors, including Party building, education, trade, health, agriculture, culture, tourism, and business connectivity.

Vietnam and Laos is celebrating 55 years of diplomatic ties (September 5) and 40 years of the signing of the Vietnam-Laos Treaty of Amity and Cooperation.

Vietnam responds to Global Handwashing Day

As many as 2,000 primary teachers and pupils in Hanoi joined officials and delegates from international organisations at a meeting held in the city on October 15 in response to Global Handwashing Day.

Speaking at the event, Vietnamese Deputy Minister of Health Nguyen Thanh Long said washing hands with soap is a simple action but the rate of frequent hand-washing with soap remains low in Vietnam, even at medical establishments. 

Long stressed that it is an effective and affordable way to prevent diseases such as hand-foot-mouth disease, diarrhea and typhoid fever, particularly among pupils.

The official called on sectors, administrations at all levels, organisations and media agencies to join hands with the health sector in promoting communication campaigns in different forms to raise public awareness of the importance of hand-washing.

At the meeting, the Ministry of Health, the Ministry of Education and Training and the Unilever Vietnam Fund pledged to jointly carry out programmes on improving public health and developing green, clean and strong schools in Vietnam for 2017-2022.

All participants washed their hands with soap at the meeting. 

Since 2008, Vietnam has actively responded to Global Handwashing Day through various communication campaigns. 

Diarrhea, which is caused by poor sanitation and clean water shortage, was ranked second among common diseases in Vietnam. However, many locals are yet to form the habit of regular hand-washing with soap.

Permanent Deputy PM meets voters in Long An province

Permanent Deputy Prime Minister Truong Hoa Binh and other National Assembly (NA) deputies in the Mekong Delta province of Long An met local voters in Chau Thanh district on October 14.

At the meeting, voters raised their voices on current issues, particularly preventing and combating corruption and expressed their delight at the Party's and Government's determination in the fight against corruption and dealing with violators.

The constituents also suggested administrations at all levels and sectors take stronger measures to settle illegal logging and sand mining, environmental pollution, and unhygienic food.

On behalf of the NA deputies, Deputy PM Truong Hoa Binh cleared up the voters' concerns.

Regarding the fight against corruption, Binh said this is a common task of the entire political system, adding that the Party, State have taken drastic measures to address the issue in order to build a transparent, pure political system.

Ministries and sectors have also actively implemented the instructions of the Government and inspected localities with environmental pollution to find out suitable solutions, Binh said.

Scholar's memorial house to be renovated

The 19th century home of scholar Huynh Thuc Khang in the central province of Quang Nam will get a facelift with an investment of 50 billion VND (2.2 million USD) approved by the provincial People's Committee.

The project will be implemented in the 2017-19 period, including leveling of the surface to extend its total area to about 20,500 sq.m and upgrading the road, water, electricity and lighting systems.

The main hall, exhibition and reception rooms will also be renovated, as will the surrounding garden, park, tea hill and lake.

"The aim of the project is to promote the values of the house, making it appropriate for the historical roles and significant contributions of scholar Huynh Thuc Khang," said Vice Chairman of the Tien Phuoc District People's Committee Phung Van Huy.

"Besides, it is expected to create favourable conditions for visitors, helping educate young Vietnamese about patriotism and revolutionary tradition and exploit the local tourism and socio-economic development potential," he added.

Huynh Thuc Khang was born in 1876 in Thanh Binh village in Tien Phuoc district, becoming a feudal scholar. In 1904, he passed the imperial examination and received his doctorate. He was one of the initiators of the Duy Tan, a movement espousing non-violent patriotic activities, and the founder of Tieng Dan (People's Voice).

After the success of the August 1945 Revolution, President Ho Chi Minh invited him to join the government system, and Khang served as Acting State President. He died in 1947 while on an inspection tour of the central region.

The Memorial House was built by his father in 1869 on a total area of over 1,700 sq.m in the style typical of Nguyen Dynasty (1802-1945) architecture. It is a three-section house with a tiled roof and skillfully carved wooden frame. Many artifacts and documents relating to Khang's revolutionary life are on display there.

The Memorial House was recognised as a national historical and cultural relic in 1990 and has been through many renovations and embellishments.

Breast cancer screening campaign launched

A ceremony was held in Ho Chi Minh City on October 15 to launch the campaign entitled "Screening for breast cancer at the age of 40". 

Speaking at the event, Minister of Health Nguyen Thi Kim Tien warned that around 12,500 new cases of breast cancer are detected each year in Vietnam, accounting for 25 percent of the total cancer cases in women. More seriously, breast cancer cases are discovered at younger ages. 

During the campaign, co-organised by the Health Ministry and the Support Fund for Cancer Victims – For a Bright Future from October 14 – November 11, hospitals having cancer departments in Hanoi, Hue and Ho Chi Minh City will offer free health check-ups and ultrasound scan to 10,000 women aged above 40 suspected of suffering breast cancer. 

They include K, Bach Mai and Hanoi Oncology Hospitals in the capital city of Hanoi, Hue Central Hospital, Ho Chi Minh City Oncology Hospital, Cho Ray Hospital and Ho Chi Minh City University Medical Centre. 

The campaign also brings the medical services to women in Kim Chung commune in Hanoi's outlying district of Dong Anh, several localities in the northern provinces of Bac Ninh, Phu Tho and Ha Nam, and firms such as Garment 10 Corporation, Viet Thang garment company, Tan Thuan Export Processing Zone, Tay Bac Cu Chi industrial park, and Sai Gon Sapuwa pure water company. 

According to the Health Ministry, there were 12,533 cases of breast cancer in 2010. The figure is forecast to rise to 22,612 by 2020. Each year, around 4,500 die of the disease.

If the disease is discovered in the first stage, the survival rate could reach over 80 percent. In the second stage, the rate is 60 percent while in the fourth stage, the treatment only prolongs patients' life.

Ambassador strives to bridge Vietnam with Czech localities

Vietnamese Ambassador to the Czech Republic Ho Minh Tuan paid a visit to Usti Region on October 13 in an effort to foster ties between Vietnam and Czech localities, bridge enterprises of the two sides and draw more attention from local authorities to the Vietnamese community here.

The diplomat had meetings with Usti Region Governor Oldrick Bubenicek and the provincial committee for ethnic minority affairs Pavel Vodsedalek, where the two sides agreed to soon take bold steps to enhance cooperation between Usti and Vietnam's cities and provinces. Ambassador Tuan suggested the two sides partner in mechanical engineering, mining, tourism, education, skilled worker training and more.

About 8,000 Vietnamese people are living in Usti, forming the region's third largest ethnic minority group. Tuan urged authorities in Usti to provide better support to the Vietnamese community so they can contribute more to the local society and preserve traditional culture and national identity.

He also asked the region to create conditions for Vietnamese children to learn their mother tongue language and consider allocating a land for building of a Vietnamese cultural centre.

He met with mayor of Plzen city Martin Zrzavecky a day before to discuss the possibility of cooperation in economics, tourism and culture between the city and Vietnamese localities and about the Vietnamese community here.

Ambassador Tuan has been busy visiting cities and regions in the Czech Republic and meeting leaders there over the past three months.

President affirms continued anti-corruption efforts

The Party and State will increase inspections to detect and strictly deal with corruption cases as well as speed up the investigation, prosecution and judgment of serious cases, said President Tran Dai Quang. 

Meeting with voters in Ho Chi Minh City's Districts 1, 3, 4 on October 13 to prepare for the upcoming fourth session of the 14th National Assembly, the State leader said thanks to drastic directions of the Party Central Committee, the Politburo, the Central Steering Committee on Corruption Prevention and Control and joint work among agencies concerned, serious economic and corruption cases have been brought to the light. 

He stressed the need to promptly discover negative phenomena and law violations as well as strengthen supervision over duty fulfillment, especially personnel work and administrative discipline.

As regards transport works under BOT model, he admitted the lack of transparency in project approval and price appraisal. He also shared voters' concern over unreasonable toll collection in several localities that has recently worried the public. 

The Party Central Committee and government have drastically directed comprehensive supervision over BOT projects, he assured, adding that legal regulations will be fine-tuned to fix shortcomings, he said. 

According to him, food hygiene and safety has been added into the list of fields under utmost supervision by the legislature, and the government must report to the NA the outcomes of State management in the regard.

At the meeting, voters were reported that the NA plans to adopt five bills, give opinions on nine draft laws and discuss socio-economic issues and supervision over other important issues. 

President Tran Dai Quang said in the amended Law on Complaints, forms of complaint application and regulations on protecting complainants have been added. Meanwhile, in the revised Law on Corruption Prevention and Control, those subject to asset filing and accountability for asset origin have been extended. 

The leader added that the Party Central Committee's sixth plenum issued a resolution on continued renovation and arrangement of the political system's apparatus towards streamlined, efficient and effective operations.

PM pledges continued support for business community

Prime Minister Nguyen Xuan Phuc has affirmed that the Government will continue to protect the business community and their legitimate rights and interests, while working harder to reduce costs and interest rates to help enhance domestic firms' competitiveness in international integration.

The Government leader made the pledge during his meeting in Hanoi on October 13 with more than 100 delegates representing the Central Council of Vietnamese Business Associations and major enterprises on the occasion of the Vietnam Entrepreneurs' Day. 

The Government remains steadfast in its policy of facilitating and accompanying businesses, towards fulfilling socio-economic targets of the 2016-2021 period, PM Phuc said.  

He acknowledged that domestic businesses have unceasingly grown in terms of both scale and quality of operation, and asked that business associations become more involved in the policy making process through proposing suitable mechanisms and policies, and informing the Government on arising problems for timely settlement. 

The associations should serve as an important information channel helping the Government assess the efficiency of policies, thus making suitable adjustment and revision, PM Phuc said. 

Mentioning the goal of having 1 million enterprises, the PM requested agencies and administrations at all levels to continue listen to the business community, remove difficulties and accompany with the community in socio-economic development. 

Chairman of the Vietnam Chamber of Commerce and Industry (VCCI) Vu Tien Loc expressed high expectations of the Government's action programme to implement the 12th Party Central Committee's Resolution 10 on developing the private economic sector into an important driving force of the socialist-oriented market economy. 

Representatives from business associations urged the Government to push forward with efforts to improve the business environment towards more transparency and safety with suitable business cost and low risk, thus facilitating investment, production and business activities.    

Vietnam always accompanies world youth: official

The government and youth of Vietnam always accompany young people around the world, a Vietnamese official said at the Meeting of Ministers Responsible for Youth held in Moscow, Russia on October 12-13.

Deputy Minister of Home Affairs Nguyen Trong Thua said Vietnam' policy is to build a generation of youngsters with comprehensive development, patriotism, revolutionary morality, sense of civic responsibility and socialist ideals. 

They must be well educated and have jobs, good health, soft skills and strong will, as well as master science and technology, becoming high-quality human resources meeting requirements of the era of stepping up industrialization and modernization, he said.

Besides opportunities, Vietnamese youth are now facing many challenges such as lack of jobs, soft skills and knowledge on health care and personal development, he said, adding that they are yet to be independent, active and creative, failing to meet international integration requirements. 

The Vietnamese representative spoke highly of Russia's initiative to coordinate with the UN in organising this meeting, which offers governments an opportunity to share experience in realising youth development policies. 

He suggested the UN adopt a global agenda on defining the role of young people in achieving sustainable development. Countries need to devise mechanisms to ensure youth's involvement in building and implementing policies, especially those related to them, he said. 

They should commit to investing in realising young people's initiatives to boost the development of the society and community for sustainable development as well as fostering international cooperation to share experience in building and enforcing youth development policies, he added.

Attracting over 70 delegations from the five continents, the meeting aimed to share good practices on each country's youth policy, define the role of youngsters in achieving sustainable development and build a contingent of active and adaptable young people.

Party General Secretary meets with outstanding farmers

General Secretary of the Communist Party of Vietnam (CPV) Nguyen Phu Trong urged the farmer class to overcome difficulties and challenges in the context of international integration and climate change in order to reap more achievements in agricultural production, looking towards sustainable agriculture. 

Speaking at a meeting with 87 farmers who made outstanding performance in 2017 and over the past 30 years of reform in Hanoi on October 13, the Party chief highlighted the important role played by farmers who account for 70 percent of the population. 

Agriculture has served as a pillar of the national economy, contributing to stabilising the macro-economy and ensuring social welfare, while supporting industry, trade and services, he said. 

The leader called on the Vietnam Farmers' Union to conduct more diverse activities, increase experience exchange and duplicate role models so as to contribute to materialising guidelines and polices of the Party and the State on developing agriculture, farmers and rural areas. 

The farmers shared difficulties they have met in accessing loans, material facilities, technologies and land, along with challenges caused by severe weather conditions and natural disasters. 

They expressed their hope that the Party and State will pay more attention to developing high-quality human resources, applying technological-scientific advances, fighting counterfeit goods, developing Vietnamese brand names and expanding the export market.

WB delegation discusses wastewater treatment project in Binh Duong

A World Bank (WB)'s technical working group led by water resources management expert Abedalrazq Khalil held a working session with authorities of southern Binh Duong province on October 13 to discuss a project on wastewater drainage and treatment in Di An town. 

At the event, Khalil asked the provincial authorities to step up the progress of bid invitation approval and estimate of ongoing tender packages, as well as properly allocate capital for implementation of the packages. 

Vice Chairman of the provincial People's Committee Tran Thanh Liem said his province always prioritises investing in wastewater treatment projects.

Agreeing with requests of the WB delegation, he said that the provincial Department of Construction and Binh Duong water supply and drainage company will accelerate bid invitation in line with law. 

Invested by the provincial People's Committee, the project costs more than 115 million USD, over 92 million USD of which is provided by the WB. 

It aims to strengthen water resources pollution control in industrial and residential areas amid climate change, ensuring that Dong Nai river basin could supply enough water to households in the southern key economic zone, including Ho Chi Minh City and the provinces of Binh Duong, Dong Nai and Ba Ria – Vung Tau.

Party, State leaders donate money to help flood victims

Party General Secretary Nguyen Phu Trong, President Tran Dai Quang and National Assembly Chairwoman Nguyen Thi Kim Ngan have joined the fund-raising campaign to support flood victims in northern mountainous and central localities. 

On October 13, the Party Central Committee's Office raised over 400 million VND (17,606 USD), after staff at the office each donated at least one-day salary to the fund.

The same day, the Presidential Office, the National Assembly Office and the Party Central Committee's Mass Mobilisation Commission also raised funds to support people in flood-hit areas.

Northern mountainous provinces and part of the central region have been submerged by widespread floods resulting from torrential rains on October 10 and 11.

Widespread floods killed 54 people, left 37 missing and 31 injured as of 22:00 pm on October 12, according to the Central Steering Committee for Natural Disaster Prevention and Control.

On October 12, the Vietnam Red Cross Society launched a "texting" campaign "Vi dong bao vung lu" (For flood victims) calling people from across the country to make donations via texts. By texting UH to 1409, the sender will contribute 20,000 VND.

All money collected from the campaign, running through November 7, will be used to support affected people with necessities, housing and livelihoods, helping them overcome difficulties.

By late October 12, the campaign received approximately 108,000 text messages, equivalent to over 2.1 billion VND (92,400 USD).

Television programme raises fund for the poor in Hanoi, HCM City

A programme broadcast on Vietnam Television linking Hanoi and Ho Chi Minh City with the theme "Joining hands for the Poor – Leaving no one behind" took place in Hanoi on October 15. 

The event was in response to the Month for the Poor (October 17 – November 18) launched by the Prime Minister. 

Speaking at the event, PM Nguyen Xuan Phuc said the Party and State have paid special attention to poverty reduction over the past 72 years. 

The country now has more than 1.9 million poor households, 1.3 million of which need assistance in housing, education, vocational training and livelihoods, particularly those living in remote, mountainous and disaster-prone areas, he said. 

The leader added that the Party and State aim to reduce poor households nationwide by 1-1.5 percent annually and fulfill goals set in the United Nations Agenda for Sustainable Development 2030. The government will also continue with the national target programme on sustainable poverty reduction and new rural construction. 

He took the occasion to call on people nationwide to join hands for the poor. The PM also expressed his wish to receive support from individuals and organisations at home and abroad for the efforts. 

Participants also responded to the text messaging campaign "For the Vietnamese Poor 2017" launched by the Ministry of Information and Communications. 

President of the Vietnam Fatherland Front (VFF) Central Committee Tran Thanh Man said businesses, units, foreign organisations and Vietnamese nationals abroad donated more than 13.4 trillion VND to the "For the Poor" fund and more than 36.21 trillion VND to local social welfare programmes. 

In collaboration with local authorities, the VFF Central Committee built over 1.4 million charity houses for poor households and assisted millions of poor families with production materials and welfare works. 

Secretary of the Ho Chi Minh municipal Party Committee Nguyen Thien Nhan, former President of the VFF Central Committee, shared his memories about supporting the poor. 

On the occasion, individuals and organisations provided 284 billion VND to "For the Poor" fund. 

The organising board also displayed products made by the poor in the two cities.

VN needs to improve forecasting, disaster management

In the context of increasing instances of extreme weather, Viet Nam has to significantly improve its forecasting capabilities, Deputy Prime Minister Trịnh Đình Dũng said yesterday.

Speaking at a conference held in Hà Nội to mark the the International Day for Disaster Reduction, he specified that meteorologists in the country were not able to provide disaster warnings early enough, especially for specific areas.

At the conference titled "Integrated Disaster Risk Management and Strengthening Resilience to Climate Change in Việt Nam," participants discussed policy options to mitigate the impact of disasters, improving institutional capacity and finding financing solutions.

Việt Nam has, step by step, improved its coping capacity, in evacuating people from vulnerable areas, building flooding-proof housing, investing in transportation systems, and shifting production models to adapt to climate change, the Deputy PM said.

"It is important to raise the awareness on natural disasters and promote the role of people and local forces, especially those living in flood prone areas," he said.

Nguyễn Xuân Cường, Minister of Agriculture and Rural Development and Chairman of its Central Committee for Disaster Prevention and Control (CCDPC), said that the more economic activities developed, the greater the risk of natural disasters, especially in countries where there was a lack of uniformity in many aspects.

"Thus, disaster prevention and control is a key task that is given top priority by the Government. It is also an important factor in deciding the scale and speed of growth, as well as poverty reduction."

The Agriculture Minister stressed that it was essential to continue developing essential infrastructure and apply scientific and technological advances in forecasting and managing natural disasters.

Natural disaster prevention and control should also be integrated into socio-economic development plans at all levels, branches and localities, he said.

Other participants noted that Viet Nam was highly prone to natural disasters, with over 70 percent of the population exposed to risks from natural hazards.

Over the past two decades, natural disasters have taken more than 13,000 lives and caused property damage in excess of US$6.4 billion.

Economic loss from natural disasters is estimated at 1-1.5 per cent of the GDP. The agriculture sector has been hardest hit by most natural disasters.

"Việt Nam is the seventh most disaster-prone country in the world, with drought, severe storms and flooding causing substantial economic and human losses," said Achim Fock, acting Country Director for the World Bank in Việt Nam.

"The Vietnamese Government has made considerable efforts to respond to climate disaster risks. Natural disasters can undo decades of development and the costs of rebuilding can be more than the costs of investment in disaster resilience," he added.

Experts at the conference agreed that Việt Nam could mitigate risks by implementing an integrated disaster risk management strategy.

They said Việt Nam faced several key challenges in disaster risk management, including institutional fragmentation, ineffective processes for sectoral planning, and the absence of a cost-effective strategy for financial protection.

In the event of a major disaster, losses could exceed 4 percent of GDP, they said, adding that climate change was expected to increase the impact of disasters, with higher frequency, severity and intensity.

Conference participants discussed several options to address the challenges, including clarifying and consolidating disaster risk management responsibilities across agencies and establishing robust disaster preparedness and response systems.

Global best practices show that effective planning and implementation begin with the right policies, according to participants.

The 2017 International Day for Disaster Reduction has the slogan: "Safe home: reduce risk and evacuate when disaster strikes."
Yesterday's conference was jointly organised by the Ministry of Agriculture and Rural Development's Central Committee for Disaster Prevention and Control (CCDPC), and the World Bank.

Contest to celebrate Việt Nam's timeless charm

The Việt Nam National Administration of Tourism (VNAT) launched a contest with the theme 'Việt Nam – Timeless Charm' today in Hà Nội.

The contest is open to all Vietnamese and foreigners who have travelled to the country and want to share their experiences and feelings about the landscape, destinations and culture.

Participants can send written work and videos to the co-organiser of the contest, Lao Động (Labour) Newspaper before May 31, next year.

The awards ceremony will take place on July 9, next year at the Hà Nội Opera House.

Nguyễn Văn Tuấn, head of the VNAT, said the contest will gather many entries to promote Vietnamese tourism as well as ideas from travellers to improve tourism services.

Screwed with a screwdriver

Whether it is Mission Impossible or The Italian Job, the gadgetry deployed by brilliant thieves in Hollywood blockbusters has had us in thrall. The story of Mai Xuân Hải is no blockbuster, but he was good bloke at busting into apartments and robbing them.

His gadgetry was even more impressive than all the Hollywood stuff. All he needed was a screwdriver to break into more than a dozen apartments in Hà Nội's Nam Từ Liêm District.

Hải was familiar with the apartments' layout because his job required him to install clothes hangers in them. This led to a surprising discovery. Despite sturdy doors and digital locks, the apartments' windows could easily be unscrewed from the outside.

Armed with his trusted screwdriver, Hải broke into 14 apartments in the area and stole cash and goods worth about VND2 billion (US$90,000). Since he put the windows back where they belonged, there was no sign of breaking in, leaving the police scratching their heads.

The head scratching turned to hair pulling when one victim reported that his safe, which had been stolen earlier, was returned, stripped off its money and valuables, but with all important documents intact. There was still no sign of a break in, but the cops soon got their break via security camera footage, and Hải was in their custody.

"I only took their money and valuables. The papers were of no use to me, but were very important to them. That's why I gave it back," Hải told the police.

The considerate thief will have ample to time to consider his actions in a new light, one that will hopefully open a new window into his soul.

Egg on their faces

Three men were recently forced to pay a very high price for exotic food in the southern island district of Côn Đảo – VND50 million ($2,200) for a few eggs.

The men were sentenced to a total of 21 months of non-custodial reform and ordered to pay a VNĐ50 million fine after they were caught selling and buying turtle eggs.

While the turtles have been listed as an "endangered species" by the country for some time, it is the first time that such severe punishment has been handed down by the nation's courts. Hopefully, this will offer some serious food for thought for those craving dishes that are not on normal menus.

Something you cannot paper over

An old couple in HCM City's District 6 couldn't believe it when they were asked to move out their own house by someone claiming to be the new owner.

Their protestations that they had not sold the house to anyone fell on deaf ears. I have the papers, the new owner said. Indeed he did.

The couple's daughter, the man's daughter from a previous marriage, to be precise, had forged a letter showing her father had given her the power of attorney to sell the property for him. She'd submitted many legal documents including notarised copies of the sales contract to the local government to legalise the sale.

Police investigations concluded that the old man's letters and signatures were all forged, but it took a two-year legal battle and a lot of heartache for the old couple to reclaim their property.

The fraudulent sale could never have gone ahead if the notary office had done their work with due diligence. They are not supposed to be rubber stamps; quite the opposite, but in this case, their stamp trampled on the legitimate rights of some senior citizens. Their excuse: the daughter had all the required papers!

The old couple have said that they do not wish to press criminal charges against their daughter. That the law will be as lenient and forgiving about forgery is unlikely. And despite all the papers that she forged, her dream will remain on paper, and nightmares about what she tried to do her parents cannot be ruled out.

Strange life of daughter of peasant hero

Memoirs written by the daughter of Hoàng Hoa Thám, the leader of the Yên Thế peasant insurrection against the French, about her troubled childhood have gone on sale throughout Việt Nam. 

The memoirs, entitled Kỷ Niệm Thời Thơ Ấu (Childhood Memories), were translated into Vietnamese from the hand-written original version of the memoirs in French language by late poet Hoàng Cầm.

Born in 1901, Hoàng Thị Thế is daughter of Đặng Thị Nho (or Ba Cẩn, the third wife of Hoàng Hoa Thám -- 1858-1913), the leader of the Yên Thế peasant insurrection, who held out against French domination in northern Việt Nam for 29 years.

The Yên Thế Insurrection (1884-1913) was a popular revolt in the Yên Thế Mountains in Bắc Giang Province. It defied the Nguyễn dynasty's collaborative stance. Hoàng Hoa Thám has since been respected as a national hero.

Thế is known for her strange destiny. At the age of  nine, she and her mother were arrested by French colonialists. After her mother was sent into exile in the South American French colony of Guiana, the girl was raised in Hải Phòng city and studied at a French school.  

Not many people know that after her father's death in 1913 following the bloody suppression of the insurrection, she was adopted by Albert Sarraut, governor-general of French Indochina, and sent to France in 1917. He changed her name to Marie Beatrice Destham .  

In 1925, when she finished her studies at high school, she was sent back to Việt Nam and worked as a librarian at the Palace of the Superior Resident for Tonkin. She went back to Paris in 1927.

In Paris, Sarraut presented her as a princess of Việt Nam. Paul Doumer, then President of France after previously being Governor-General of French Indochina from 1897 to 1902, became her adopted farther and provided her with a special allocation. 

Being interested in cinema, she started to play roles in several films in France from 1930.

In the 1960s, she came back to Hà Nội with the help of  Phan Kế Toại, deputy prime minister of the Democratic Republic of Việt Nam. She first began to live in  Hà Bắc (the old name of the region comprising the provinces of Bắc Ninh and Bắc Giang). And then, she lived in Hà Nội from 1974 until her death in 1988.

Her Childhood Memories were written in 1963 in Hà Bắc. She wrote about her childhood and the ups and downs of her family which were marked by the battles in Yên Thế mountains during the insurrection.

The book was translated by poet Hoàng Cầm under the pen-name Lê Kỳ Anh and was first published in 1975. It was recently reprinted and was released nationwide this week by Omega Books and Social Science Publishing House.

Danang showcased for APEC

The image of a beautiful Danang City has been featured in a trailer which promotes the 2017 APEC Summit which is scheduled to take place in the city next month.

The coastal city of Danang is near to the former imperial capital at Hue, the Cham religious site of My Son and Hoi An Town. For many years, Danang has topped nationwide in provincial competitive index.

Danang has attractive rivers, beaches, forests and mountains. The city's Son Tra Peninsular is home to the red-shanked douc langur. The city also has many landscapes such as the Marble Mountain and Museum of Cham Sculpture.

The Danang Department of Tourism recently launched the Danang Smile Campaign to promote a 'civilised' lifestyle among local residents, which is among activities in preparation for the upcoming APEC Summit.

HCM City transport infrastructure lags behind population growth

As overpopulation remains a major issue in Ho Chi Minh City, the sluggish development of its transport infrastructure makes moving around a nightmare for city dwellers.

According to the Ho Chi Minh City Department of Transport, as of 2016 the city had only had 1.93 kilometers of road per square kilometer of land.

That number is around six times lower than what is required by Vietnam's national construction standards, which is 10-13.3km/km2.

The southern metropolis currently spares just under 7,500ha, or 3.58 percent, of its total area for the development of transport infrastructure, while urban planners put the ideal number down to over 22,300ha.

Considering only construction land, this proportion still sits at 8.23% ompared to the planned 22.3%.

Meanwhile, over 70% of roadways in Ho Chi Minh City measure under seven meters in width, posing a challenge for the development of public transport.

Buses and taxis currently meet only 9.3% of the city's massive commuting needs, while key projects to develop the first bus rapid transit (BRT) and metro line have either been scrapped completely or slowed down due to capital allocation issues.

VOV, ROK's Gyeonggi province strengthen cooperation

The Voice of Vietnam (VOV) wants to boost information exchanges with ROK's Gyeonggi province and enhance mutual understanding between the two peoples, said VOV President Nguyen The Ky during October 14's reception for Jung Ki Yeol, Chairman of the Gyeonggi provincial Assembly.

Ky said, in September the Prime Minister approved VOV's plan to broadcast a program in the Korean language, demonstrating Vietnam's policy of treasuring ties with the Republic of Korea (ROK).

"VOV and Gyeonggi province's radio station signed an agreement in 2016 to promote Gyeonggi's land, people, culture, and tourism potential. VOV wants to expand cooperation with other media agencies in Gyeonggi province. We hope Vietnam-ROK friendship will continue to flourish," Mr. Ky noted. 

Chairman Jung said he hopes there will be more radio programs about Vietnam to be broadcast in Gyeonggi.

On October 15, the first show produced by Gyeonggi province's KFM radio station was aired on VOV24/7 English Channel under a bilateral exchange program.

60 dead, 37 missing in severe flooding

Sixty people are dead and 37 still missing following devastating flooding caused by a tropical depression affecting central and northern mountainous provinces of Vietnam.

The number of casualties was announced by the Central Steering Committee for Natural Disaster Prevention and Control on October 14. The northern province of Hoa Binh has been hit the hardest with 20 dead and 13 missing. 

Heavy rainfall has also caused a landslide which buried four houses and 18 people on October 12 in Khanh hamlet, Phu Cuong commune, Tan Lac district. Eleven bodies have so far been recovered by rescue forces while seven others remain unaccounted for.

Meanwhile, typhoon Khanun, which emerged in the East Sea recently, has been developing into another potentially dangerous storm.

Border guards in coastal provinces from Quang Ninh to Phu Yen have been assigned to keep 62,000 vessels informed about the typhoon's path and alert them to move out of any dangerous areas. 

Photo exhibition celebrates 20th anniversary of Blue Wave

The celebration of the 20th anniversary of Làn Sóng Xanh (Green Wave), a radio programme launched by the Voice of HCM City (VOH) radio station to promote Vietnamese music, opened with a photo exhibition on Nguyễn Huệ Pedestrian Street in District 1 on October 14-15.

The exhibition titled "The 20 Years of Làn Sóng Xanh Show" showcases images of the programme, concerts and Blue Wave awards ceremonies held in the last 20 years.

The exhibits feature photos of numerous Vietnamese singers and composers who got exposure through the programme, such as Phương Thanh, Đan Trường, Hà Anh Tuấn, Lê Quang and Bảo Chấn. They are considered to be the golden generation of Vietnamese music.

Along with the exhibition is a two-night concert featuring famous singers, including Cẩm Vân, Thanh Lam, Mỹ Linh, Lam Trường and Phương Thanh.

The singers will perform the 20 songs which brought them Blue Wave Awards.

Composer Lê Quang, general director of the concert, said "The two-night outdoor concert will be a party of music to the city residents and visitors. The 20 favourite songs will be remixed to surprise the audiences."

Following these events will be a Gala VIP show held on January 12 at the 7th Military Zone Gymnasium in Tân Bình District.

At the event, the organisers will give away awards to organisations and individuals who have contributed to the country's music industry over the last 20 years.

On January 19, a Gala Music Festival, the 20th Làn Sóng Xanh, will take place at the 7th Military Zone Stadium.