VietNamNet Bridge – Five children drowned on Sunday while fishing in Ca Lo River which passes through Viet Long Commune in Ha Noi's Soc Son District.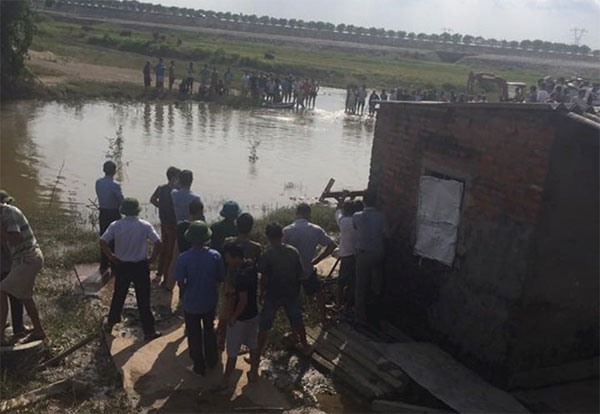 Local authorities and residents fish out the bodies of the five students who drowned in Ca Lo River in Ha Noi's Soc Son District. — Photo news.zing.vn
Nguyen Ngoc Chuyen, chairman of the Viet Long Commune, said relevant authorities and local residents rushed to the scene as soon as they were informed of the incident.
However, all the students were already dead when they were brought out of the water.
The victims were identified as Nguyen Van Them, 9, Nguyen Trung Thuc, 11, Nguyen Thien Nhan, 5, Nguyen Van Sung, 13 and Nguyen Minh Hop, 13. Thuc and Nhan are siblings.
A deeper investigation is underway.
According to a report from the Health Environment Management Agency under the Ministry of Health, the number of children and teenagers dying from accidents is increasing.
As many as 6,600 people aged between 0 and 19 years die of accidents in Viet Nam every year. Drowning is currently the top of cause of death among children in Viet Nam, with 3,500 dying of water-related accidents, the report said.
Drowning deaths are mostly seen among children aged between 0 and 4 years (36 per cent), while 25 per cent are seen in those aged from 5 to 9 years, and 26 per cent are in the age group of 10-14 years. In particular, fatalities among boys are three times higher than among the girls. 
VNS