VietNamNet Bridge – The roads to Nam Hai Village in Ha Noi's suburban district of Chuong My are so flooded that the village has been receiving safe water via canoes sent daily by the district's High Command. At the edge of the village in Nam Phuong Tien Commune, the water line reaches towards some roofs and treetops.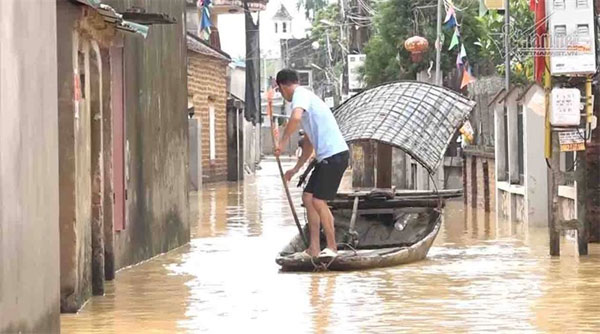 The roads to Nam Hai Village in Ha Noi's suburban district of Chuong My are so flooded that the village has been receiving safe water via canoes sent daily by the district's High Command. — Photo: VNN
Many outlying districts of Ha Noi have been seriously flooded as a result of prolonged heavy rains in the north over the past few days. Canoes and other boats are the only functional means of transport. Nearly 1,000 households in the district are affected, with nearly 400 households in lowland areas considered deeply flooded, according to local authorities. Many local roads in the suburbs of the city are submerged, paralysing traffic in some areas. In some locations, the water has risen waist-deep.
The worst troubles for Nam Hai and seven other villages began when a 10m section of the dyke of the Bui River broke last Thursday morning. The floods have affected more than 200 households in Nam Hai Village, and some areas are flooded of up to 3m.
Hearing the sound of officials' announcements from the canoe on a recent day, Nam Hai residents rushed outside, using self-made boats to get to the canoe to receive water for drinking, cooking and bathing.
Bui Thi Bay, who had been waiting on the canoe all morning, felt very happy to receive 19 litres of clean water, which she said would only be used for cooking and drinking. "My well was completely submerged," she told VnExpress online newspaper.
Bay said she had not dared to sleep over the past few days for fear of another section of the dyke could break as rains keep pounding the north.
The breaking of the dyke, which occurred just a few days before, had already become enshrined in local memory as a historic crisis. The day the dyke broke, the whole village scrambled to prepare. Many people brought their animals and domestic fowls to other villages to ask for relatives to take care of them. Some households even took pigs up to their roofs to avoid the floods.
Chairman of the People's Committee of Nam Phuong Tien Commune Nguyen Chien Thang said no one thought that section of the dyke could break, as it had just been upgraded a few months earlier.
The water also flooded schools, forcing nearly 700 students in the commune to miss school.
Local residents have found ways to cope with their new water-logged reality. They wear trousers rolled up high, groping their way through the water. Many people carry small bags with them, containing some belongings to place at friends or relatives' flood-free houses, or some fish they hope to prepare in a friend's dry kitchen.
Chuong My authorities estimated that over 1,000ha of rice and crops and nearly 700ha of aquaculture were damaged. Floods also killed more than 9,000 poultry. Hundreds of people have had to evacuate.
Thang, chairman of Nam Phuong Tien Commune, told the newspaper it will take an estimated 40 days for the water to recede completely.
Heavy rains also caused water levels in many rivers to rise to the second and third warning level and caused landslides along dyke systems in Hoai Duc, Phu Xuyen and Quoc Oai districts.
Many households in Quoc Oai District had their aquaculture cages swept away, inflicting a loss of hundreds of millions of dong on each household.
Ha Noi authorities have asked the local administration of these districts to take drastic measures to support residents in flooded areas, by providing basic necessities such as medicine, food, clothes and safe water.
Local authorities were also instructed to provide regular weather forecasts, assign people to guard dyke systems around the clock, inspect landslide-affected areas and evacuate people in high risk areas. Rains are forecast to continue hitting the northern region, including Ha Noi, in the next few days. 
VNS