VietNamNet Bridge – Residents of Cao Duong Commune in Hoa Binh Province call the stone quarries scattered around their modest homes "death valley". The name reflects reality. Residents say at least six miners died this year while working at the mines, where employers exploit both stone and workers.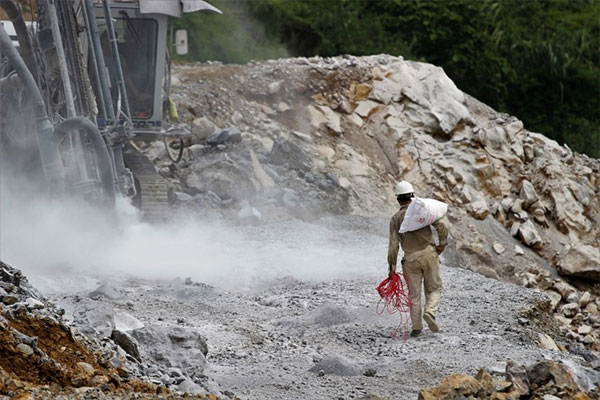 Local residents carry explosives to blast rock. — Photo Lang Quan - Tam Ninh
The image of workers standing precariously at the top of quarries, drilling without protective equipment, is a familiar one. So are residents carrying bags of explosives to the top of the mountain.
Mine owners, for their part, often hire cheap labour and ignore safety regulations in order to extract as much stone as possible and maximise profits. They know their employees need to make a living and have no other work.
When an accident occurs, the mine owners pay compensation to the worker's relatives, sums that are still likely lower than what proper safety precautions would cost them.
Bui Thi Nga, 62, whose son Bui Van Khoi, 29, died in a mining accident at Quarry 9 run by Thach Kim One Member Ltd Co, sits crying in her dilapidated house. "The night before the day he fell off the mountain, I told him to find another job as it was too dangerous. But he refused, saying he was about to get married and needed the money," she said. 
She could not do anything except tell him to be careful, Nga said. "I don't care how much compensation mine owners give to me. I just want my son alive," she said, adding that they had promised to pay her about VND200 million (US$8,800).
Daily bread
Bui Minh Bien, chairman of the Cao Duong Commune People's Committee, said that accident victims were transported to hospitals and mine owners often promise the relatives compensation to keep them quiet. He said the commune is home to 12 mines. 
There are around 100 stone mines operating in Hoa Binh with licences for 20 to 30 years. Most are concentrated in Luong Son District.
Nguyen Van Dung, a resident of Cao Duong Commune in Luong Son District, said he remembers the first day he worked at a stone mine. After being given plastic construction hats, Dung and other villagers climbed to the top of the mountain and started to drill without any safety equipment.
"Our job is a very dangerous one. We might lose our lives but we must carry on because of daily bread," Dung said. It was normal to see local residents carrying explosives to blast rock, he added.
Only after his brother, Nguyen Van Tung, died at the age of 22 after falling from a mine just in front of their house, did Dung decide to quit.
Bui Thi Men, wife of Bui Van Cheng, who died last week at Quarry 9, said: "When my husband fell off the mountain, he was not equipped with protective rope or hat." 
Bui Van Lung, Cheng's brother in law, who witnessed his death, said he had to drink wine every day to forget his misery and trauma.
The manner in which mine owners treat the victims' relatives also deepens their pain. After the death of Nguyen Van Thieu, 43, mine owners tried to bargain over the compensation. 
"At first they offered VND120 million, then VND140 million, VND150 million and VND180 million finally," said Quach Thi Hoa, Thieu's aunt.
Loose management
"My husband worked at the mine for a year, but the mine owners did not buy occupational accident insurance for him," said Nguyen Thi Mo, Thieu's wife.
Just a month after that, Nguyen Van Dao, his brother-in-law, was also killed in a mining accident. Dao's families received VND150 million ($6,600) in compensation.
The difference in compensation was attributed to the fact that Dao's children were older than Thieu's.
Bien, chairman of Cao Duong Commune, blamed the accidents on loose management.
"Because mine owners know inspection dates in advance, it isn't easy for inspectors to detect violations," he said.
Tran To Chinh, deputy head of Hoa Binh Province's Department of Construction, said an inspection team from the Ministry of Construction last year found 43 out of 96 mines didn't meet regulations on labour safety. Mine owners were asked to make a road which is big enough for workers and vehicles to operate on.
Punishments had been imposed on violators, however, no inspection has been conducted since then, she said. 
Lang Quan - Tam Ninh
VNS