The prolonged heavy rain has caused landslides, overwhelmed reservoirs and destroyed important dams across Viet Nam.

Thanh Hoa Province is suffering from levee breaches along Chu, Yen and Cau Chay rivers. The local authorities have repaired those failures.
In eighty-five of 286 anti-flood water reservoirs in northern provinces, water now exceeds half the height of the reservoir.
Broken dikes in Nam Dinh Province are continuing to erode.
Meanwhile, the water level of Day River in Ha Nam and Ninh Binh provinces has exceeded warning Level 3, indicating an extremely serious flood.
Hoang Long River in Ninh Binh has witnessed the record water level of 5.53m. The local authorities are trying to postpone opening the floodgates by reinforcing the dike.
Dong Van Tu, head of Dam Safety Department under the Directorate of Water Resources, said that reservoirs had not broken since the outside water level is also high.
Reservoirs in the central region are facing the same situation. Eleven floodgates are being opened to discharge water.
Reservoirs in Bac Giang and Lang Son provinces, however, were not threatened by flooding.
According to the Central Steering Committee on Natural Disaster Prevention and Control, heavy rain has destroyed about 8,000ha of rice and more than 30,000ha of corn and vegetables, drowned 897ha of fruit trees and killed 41,000 cattle and poultry.
As heavy rain prevented farmers from working their fields, in the Northern Delta, people have harvested just 45 per cent of the rice yield, while farmers of the northern central region gathered crops in 140,000 over 170,000ha of the rice fields. 
Students in the mountainous area of Thanh Hoa Province have been allowed to stay at home until Thursday, according to the provincial Department of Education and Training.
In another development, rising tides in the Mekong Delta are threatening to break the dike system.
With the height of 1m92, a rising tide broke six dams on Soc Trang Province's Dung Island in six places. Moreover, the tide flooded a broad area of farm land, causing serious damage. 
PM inspects dykes, flood response in Ninh Binh Province
In the face of abnormal and serious flooding over the past few days, Prime Minister Nguyen Xuan Phuc cancelled a scheduled meeting with voters in Hai Phong City on Thursday, travelling instead to the northern province of Ninh Binh to check on local dykes.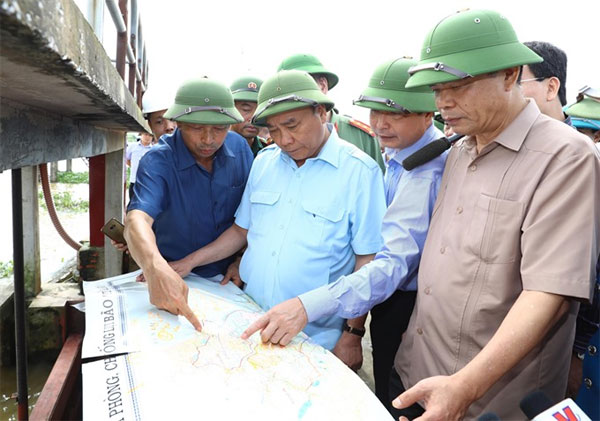 PM Nguyen Xuan Phuc and leaders of Ninh Binh Province inspect a dyke on Thursday as the province is hit hard by serious flooding. — VNA/VNS Photo 
The PM inspected the Hoang Long River dyke, which protects Ninh Binh City and National Highway 1A from the swollen river. Water level in the Hoang Long River in Nho Quan and Gia Vien districts reached 5.3m, higher than the record flood level in 1985. 
According to Dinh Chung Phung, vice chairman of the Ninh Binh Province People's Committee and deputy head of the provincial steering committee for natural disaster prevention and search and rescue, provincial authorities are considering allowing flood water to overflow some sections of the dyke to prevent it from breaking. 
PM Phuc asked Ninh Binh to devise plans for rescue operations, evacuation of residents and flood discharge. The province was also urged to stay vigilant and keep close watch on dykes, dams and reservoirs. 
Northern mountainous provinces and part of the central region have been submerged by widespread floods resulting from torrential rains on October 10 and 11. 
The death toll climbed to 29 as of 5pm on October 11, according to the National Committee for Search and Rescue. 
The fatalities included eight people in Thanh Hoa, six in Nghe An and Hoa Binh provinces each, five in Son La and four in Yen Bai Province. Another 21 people are missing, nine in Yen Bai and five in Hoa Binh.
VNS