Many national historic relic sites in Hanoi have been encroached upon for parking areas under the lax management of local authorities, Tien Phong (Vanguard) newspaper reported.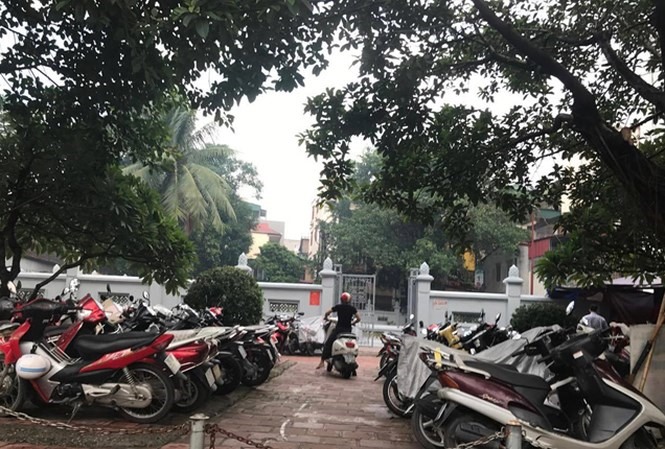 Motorbikes are parked in front of Kim Lien Temple. – Photo tienphong.vn
In front of Kim Liên Temple, one of four guardian god temples of the ancient city, rows of motorbikes are parked on the pavement along Xã Đàn Street. A portion of the historic complex covering an area of hundreds of square metres has been encroached upon for parking.
Motorbikes are even parked by the Ngọc Well area inside the relic. Although the parking sign tells everyone that the parking space is only for visitors to the temple, the motorbike owners parking here are mostly employees of nearby offices.
There is no parking fee mentioned on the ticket by the temple's security team, however, the fee has been set at VNĐ5,000 (20 US cents) per motorbike, higher than the regulated fee of the city.
Deputy Chairman of Phương Liên Ward's People's Committee Trần Vũ Đại told Tiền Phong that the parking lot of Kim Liên Temple is under the management of the temple's relic management committee. The parking lot is open for visitors on festivals and full-moon days of lunar calendar.
The ward's authorities would inspect the case and impose penalties, he said.
In the Old Quarters area, illegal encroachment for parking is more common, especially at Đông Thành Temple on Hàng Vải Street, Phúc Kiến Temple on Lãn Ông Street and Quan Đế Temple on Hàng Buồm Street. Pavements in front of the relics are used for parking and fee is collected.
The front portion of Quan Đế Temple on Hàng Buồm Street is always full with parked motorbikes, although there are only a few visitors inside the temple. The parking fee is VNĐ10,000 and no parking ticket is given to the riders.
According to Đặng Đình Bằng, head of the Hà Nội Old Quarters Management Board, Kim Ngân and Quan Đế temples and the Hà Nội Old Quarters Cultural Exchange Centre are encroached upon day and night for parking, not only affecting the relic's scenery, but also causing difficulties for visitors.
"The solution to make a fence is not feasible as it spoils the look and encroaches upon pedestrians' space," he said.
Leaders of Hàng Buồm Ward confirmed with Tiền Phong that illegal encroachment to make parking lots is happening due to the high demand for parking space, since there is a lack of legal parking areas, especially in the densely populated and narrow areas of the Old Quarters.
However, local authorities confessed that imposing fines in connection with illegal parking lots is difficult as there has been no action that can be taken against those who are reluctant to pay the fines . 
VNS