Đồng Nai to focus on factory workers' social life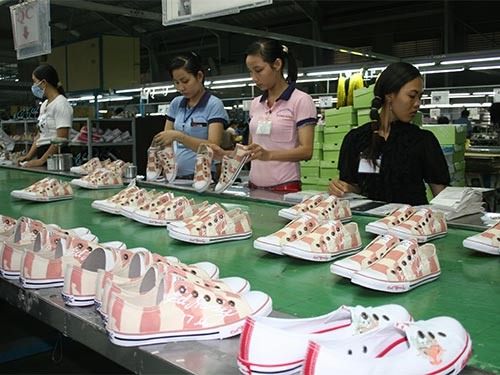 Đồng Nai Province's Department of Culture, Sports and Tourism and the Hà Nội University of Culture on Wednesday held a seminar on improving factory workers' social life in the southeastern region.

Đồng Nai has the largest index growth compared to other provinces, attracting about one million labourers working in factories and industrial zones, 70 per cent of whom come from other provinces, according to the Việt Nam's General Statistics Office. 

Although many labourers are from Đồng Nai, their personal and social lives need more attention and care. Many businesses, for example, have not satisfied entertainment needs of their workers or provided them with quality accommodations.

Thousands of workers are renting rooms in unsafe areas with poor infrastructure to save accommodation costs.

At the seminar, many officials discussed measures to enhance workers' social life in Đồng Nai and neighbouring provinces. More sports halls, libraries, hospitals, schools and cultural houses should be built in the future, they said.

After the seminar, about 80 projects were submitted to authorities.

North-western ethnic minorities equipped with disaster response skills

As many as 57,000 ethnic minority people in Vietnam's north-western provinces of Lai Chau and Son La have been equipped with knowledge about natural disaster and catastrophe prevention, and gender equality under a project funded by several foreign agencies. 

The community-based catastrophe risk management with gender integration in ethnic minority-inhabited areas in Vietnam's north-western region was implemented by the Vietnam Red Cross (VRC) with the support of the French Red Cross (FRC) via the Ready Fund, the French Development Agency and the American Red Cross (ARC). 

A workshop held in Hanoi on October 5 to review outcomes of the project heard that between April 4, 2014 and September 2017, the project came to 12 wards and communes of Lai Chau and Son La provinces.

With a total budget of 39 billion VND (1.72 million USD), the project organised 36 exercises on natural disaster and catastrophe response for more than 2,200 residents and over 2,800 pupils and teachers of elementary schools; and provided training on natural disaster and catastrophe prevention, safe schools and emergency aids for 336 teachers. 

It also helped to carry out 44 sub-projects on mitigating vulnerability in communes and schools, benefiting 3,500 local residents and 5,000 students. 

During the period, 12 vulnerability and capacity assessments (VCA), which uses various participatory tools to gauge people's exposure to and capacity to resist natural hazards, and community-based disaster risk assessments were conducted, with the participation of more than 2,200 local officials and people. 

Two provincial catastrophe response teams and 12 community action for disaster response teams were also established with a total of 320 members. 

Of note, during the materialisation of the project, a gender integration framework was formed and implemented in all activities. 

Speaking at the workshop, FRC Chief Representative in Vietnam Eric Legendre said the project has developed prevention, combat and rehabilitation skills for the community in the targeted localities. 

Nguyen Thi Nhat Hoai, from the FRC, said the gender integration framework focused on improving awareness of women as well as their participation and leadership.

The project has developed a communication kit on reducing disaster risks using symbols and illustrations, which allows those who cannot read and write to understand how to prevent and combat natural disasters, she added.

Workshop looks at obstacles in developing renewable energy

In the context of rapidly growing power demand, it is necessary to revise the planning and development of renewable energy, otherwise renewable energy sources may not be able to meet demand, heard a workshop in Hanoi on October 5.  

Vietnam is step by step increasing the ratio of renewable energy in the national power output in order to ensure energy security, mitigate climate change and achieve sustainable development, said Deputy Minister of Industry and Trade Hoang Quoc Vuong. 

The Deputy Minister said existing hydropower plants contribute to ensuring energy security, as they accounted for over 40 percent of total national electricity generation capacity and electricity output in the first eight months of 2017.

In some localities such as Hoa Binh, Son La, Lai Chau, Nghe An, Gia Lai, Kon Tum, Dak Lak and Lam Dong, such plants have made significant contributions to the local budget, he added.

Along with developing hydropower and technical infrastructure, the local living standards and production have been improved. 
The total hydropower installation capacity is projected to reach 21,600 MW in 2020 and increase to 24,600 MW in 2025 and 27,800 MW in 2030. 

However, the quality and operation of hydropower plants has posed many problems causing public concern, the Deputy Minister said, attributing the causes to a lack of experts and due attention on the part of relevant agencies in localities and low capacity of investors and contractors. 

Participants at the workshop shared experience in developing small and medium hydropower in localities and discussed measures to develop renewable energy in a safe, efficient, and sustainable fashion in the coming time.

Improving production efficiency and energy usage via establishing a policy framework and diversifying supply sources are drawing attention from managers and experts, Deputy Minister of Science and Technology Tran Van Tung said, adding that the key issue is to master the technology and gradually localise technology and equipment to avoid dependence on imports.

The Ministry of Science and Technology has implemented a number of mechanisms, policies and programmes to encourage and support energy research and development, including the strategy to develop science and technology through 2020, Tung noted.

It also studies the application of new energy and renewable one in addition to seeking scientific and technological solutions to energy saving and increasing efficiency in energy production, transmission and consumption.

Tung suggested devising proper policies to encourage domestic manufacturers to develop small and medium hydropower equipment and limit imports.

Regarding wind power, the country aims to achieve total installation capacity of 800 MW by 2020 (at present 180 MW) which will increase to 2,000 MW by 2025 and 6,000 MW by 2030.

Vietnam, Japan cooperate in countering fake goods

Vietnam and Japan co-organised a training conference on countering counterfeit products and enforcing intellectual property rights in northern Lang Son province on October 5.

The conference was held by the Japanese Ministry of Economics, Trade and Industry and the Japan External Trade Organisation (JETRO) in partnership with the General Department of Vietnam's Customs' anti-smuggling division. It aimed to share experience from Japan in preventing fake goods and enforcing the intellectual property rights to Vietnam.

At the event, delegates from the division were instructed in how to distinguish between genuine and counterfeit items of some Japanese brands.

The delegates also learned about how the Japanese government has worked to prevent fake products and process for customs clearance in Japan.

According to Chief Representative of JETRO Hanoi Kitagawa Hironobu, the training conference is among JETRO's annual activities to improve capacity of law enforcement forces in Vietnam.

It has been held multiple times in Hanoi and HCM City.

Exhibition spotlights Vietnam's reform process

An exhibition entitled "Doi moi (Reform) – Journey of dreams" and "Kim Ngoc – Pioneer in the reform journey" was kicked off in the northern province of Vinh Phuc on October 5.

The event was co-organised by the National Museum of Vietnamese History and the People's Committee of Vinh Phuc province to mark the 100th birthday of late Secretary of the provincial Party Committee Kim Ngoc.

The exhibition featured more than 300 documents, remembrances and images which help visitors, especially young generations, better understand the country's reform process as well as the life and career of the late secretary and his contributions to the revolutionary cause.

The show re-enacts Vietnam's reform period through household appliances, working tools, subsidy coupons, along with images of local people, proving the country's reform successes.

Kim Ngoc, whose real name was Kim Van Nguoc, was born October 10, 1917, in a poor farmer family in Binh Dinh commune, Yen Lac district, Vinh Phuc province.

He put forth several innovative policies to foster the province's development, particularly a resolution on management of rural labourers in cooperatives, which laid a foundation for the Party Central Committee to issue Directive No. 100 dated January 13, 1981 and Resolution No. 10 dated April 5, 1988, resulting in basic changes in Vietnam's agricultural economy.

Dak Nong, Dak Lak build patrol route along Vietnam-Cambodia border

The Central Highlands of Dak Lak and Dak Nong on October 5 launched a project to build a 100km-long border patrol road.

The route, which is scheduled to complete in 2020, is the area that the two Vietnamese localities and Cambodia's Mondulkiri finished border demarcation and marker planting.

According to Major General Thai Dai Ngoc, Vice Commander of Military Zone 5 and head of the management board of the project, once completed, the project will create favourable conditions for patrol and activities to protect sovereignty and maintain border security of armed forces of Dak Nong and Dak Lak.

It is expected to contribute to boosting local socio-economic development, while improving both spiritual and material life of ethnic minority groups along the border.

The building of the joint border patrol road will contribute to build a borderline of peace, friendship, cooperation and development, while further fostering the traditional friendship between Vietnam and Cambodia.

Conference talks UNCLOS's role in managing marine global commons

A conference on the United Nations Convention on the Law of the Sea (UNCLOS) is being held in Port Blair, Andaman and Nicobar Islands of India, taking the theme "UNCLOS: Solutions for Managing the Maritime Global Commons".

The event from October 4-6 drew diplomats of the Philippines, Laos, Thailand, Singapore, Myanmar, Indonesia, Vietnam, Japan, and Germany, along with Indian officials and local and foreign researchers.

Speaking at the conference, India's Vice Admiral Vinay Badhwar highlighted the role of UNCLOS, stressing that this convention created a legal framework for the sustainable development of oceans and seas so as to balance the rights and obligations of non-landlocked countries towards others.

Jagdish Mukhi, Lieutenant Governor of Andaman and Nicobar Islands, said UNCLOS is broadly recognised as a "constitution of the oceans" when it sets up a legal framework with which all activities in oceans and seas must comply, including the conservation and sustainable use of oceans and their resources.

He expressed his hope that the conference would discuss an array of issues, including the UNCLOS's long-term legality, the continued application of the convention, the role of the UNCLOS in creating conditions for peacefully resolving disputes, and solutions to settle sea disputes harmoniously.

Maritime issues have been emerging as one of the most important security problems in the Indian and Pacific Oceans, making many powerful countries adjust their policies towards this region, he noted.

Each country's adherence to all international law and rulings of international courts is critical to global peace, Jagdish Mukhi affirmed, calling on all countries to augment capacity building efforts in order to protect oceans and bring about chances to all countries to use marine resources in a peaceful, equal and sustainable fashion.

In his speech, Vietnamese Ambassador to India Ton Sinh Thanh underscored the importance of the East Sea in terms of its strategic location and natural resources. 

He noted two types of disputes in the East Sea at present which are territorial disputes over islands and disputes over maritime boundary, and they are related to each other.

The Hague tribunal's verdict over the Philippines' lawsuit against China last year is a foundation to solve not only issues between the Philippines and China but also disputes between parties with sovereign claims in the East Sea, Thanh said, adding that thanks to this ruling, disputed areas in the waters have reduced considerably.

However, the diplomat said, the East Sea situation remains complicated and the only solution to this problem is peaceful negotiation in line with international law, especially the 1982 UNCLOS.

He urged parties with sovereign claims in the East Sea to avoid complicating the situation by not altering the status quo of this area and respecting the Declaration on the Conduct of Parties in the East Sea (DOC). 

Thanh also stressed the role of the collective strength of regional nations and powerful countries in the world, including India, in the East Sea issue.

16 sand exploitation vessels seized on Đà River

Hoà Bình Province's Traffic Police Department yesterday seized 16 illegal sand exploitation vessels on Đà River in Hoà Bình City.

The captains of the vessels failed to show licences for sand exploitation and vessel registration papers.

The case is under investigation.

Previously, at a meeting on July 31, vice chairman of the Provincial's People's Committee, Bùi Văn Khánh, announced that the province had suspended all sand exploitation activities of two local companies in Đà River in Kỳ Sơn District.

Hùng Yến Construction Co. Ltd and Sahara Mineral Exploitation JSC were found to be using vessels with excessive capacity than that allowed in their registration certificates, annoying local residents.

The committee also asked the provincial Department of Natural Resources and Environment to join hands with relevant organisations to prepare documents about the two companies' violations in mineral exploitation, and to check the quantity of sand and gravel being exploited by the two companies.

The Russians come to town

The stunning beauty of Russian nature is captured in photos displayed at an exhibition that opened yesterday in Hà Nội.

The exhibition entitled The Nature of Northern Russia displays 60 photos reflecting the beauty of the White Sea, forests, lakes, historical sites, flora and fauna of the North Pole.

Through the photos, the authors want to inspire people to preserve the pristine beauty of  nature.

The exhibition will run until October 10 at the Việt Nam Culture and Arts Exhibition Centre, 2 Hoa Lư Street, Hà Nội.

It is a part of activities during a Russian Cultural Days programme in Việt Nam. The exhibition was previously displayed in Laos, Cambodia and Philippines.

The programme started yesterday at Hà Nội Opera House with a performance by the highly professional Beryozka Folk Dance Ensemble. The troupe will also perform in HCM City on Friday.   

For years, the Beryozka troupe has been a trade mark for Russian culture. Its artistry has won audiences in 80 countries and its repertoire is rich and unique. The group allows people to better understand the Russian soul.

The Việt Nam National Academy of Music in Hà Nội has also hosted a concert by pianist Andrey Diev and violinist Aleksey Koshvanets. Both of them are named Honoured Artist of the Russian Federation. 

Alexandr Vladimirovich Zhuravskiy, Vice-minister of  Russia's Culture Ministry said cultural exchanges played an important role in enhancing mutual understanding and co-operation.

Nguyễn Ngọc Thiện, Vietnamese Minister of Culture, Sports and Tourism, said audiences had a rare chance to enjoy special performances representing Russian culture, of which they were fond. 

Artist gets German exposure

Seven oil paintings by Vietnamese painter Nguyễn Minh Nam will go on display at a solo exhibition at the Kayser Trade Galleries in Berlin, Germany, from October 19-21.
Most of the paintings expose the conflicts between the traditional and modern cultures in Việt Nam, which is reflected through the ideas of painting humans and objects in transparent style.

Nguyễn Minh Nam graduated from Việt Nam University of Fine Arts. The 39-year-old painter won first prize in the last year's Viet Art Today competition for young painters. He has held two solo exhibitions, including Son Vàng Một Thuở (Once upon a Magnificence) in 2015 and Ký Ức Nhạt Nhòa (Fading Memories) in 2016. 

Bình Dương, Military beat HCM City at Championship

Title favourites, HCM City, lost in the women's and men's team events, at the National Tennis Championship at the city's Lan Anh Club on Wednesday.
The women's team lost to the Military squad in the semi-finals, and the men were defeated by Bình Dương in the quarter-finals.
On the women's class, former No. 1, Huỳnh Phuơng Đài Trang, of HCM City was beaten by Savanna Lý Nguyễn 1-6, 2-6 in the first singles match. Sỹ Bội Ngọc leveled the result after beating Bé Xuyên 6-4, 1-6, 7-6 (5).

Trang along with Trần Thị Tâm Hảo could not win over Savanna and Kim Ngân in the doubles match. The HCM City pair lost 2-6, 1-6.

The Military will play the final against Kiên Giang, who beat Hà Nội 2-1 in the other semis.

On the men's side, former champion Đỗ Minh Quân lost 1-6, 2-6 to raising star Nguyễn Văn Phương. Phương's teammate Trịnh Linh Giang met no difficulty in beating current Việt Nam No. 2 Nguyễn Hoàng Thiên 6-4, 6-2.

Bình Dương will meet the People's Police in the semi-final round. The other semi match will see the Military versus Đà Nẵng.

Sông Lam Nghệ An aiming for fourth trophy

Sông Lam Nghệ An Football Club (FC) are ensuring an optimum performance at the National Cup.

They will book a berth in the final match even if they lose to hosts Quảng Nam in the second leg of the semi-finals today at the Quảng Nam Stadium in Tam Kỳ City.

The former champions won 4-1 in the first leg of the match on September 27. A minimum loss of 0-1 or even 0-2 would push Sông Lam Nghệ An into the finals, due to their better goal difference.

Sông Lam Nghệ An under coach, Nguyễn Hữu Thắng, moved to Quảng Nam's neighbouring city of Đà Nẵng for several days to practice.

The team is in a comfortable position with four wins, one draw and one loss in all domestic tournaments. In the last four matches, they lost to Quảng Nam by one goal.

"I am happy with my players who are always trying their best at every match," said Thắng. "We are really determined to win the National Cup for the fourth time. Now, we are at the semi-finals, just one more step towards becoming finalists," he said.

Sông Lam Nghệ An won the National Cup in 2001, 2002 and 2010.

Thắng will put forward his strongest line-up, who he said were ready for the upcoming match.

On the other hand, apart from a defeat at the National Cup's semi-final, Quảng Nam FC have shown an outstanding performance at the Premier League that saw them standing at No. 3 after 20 rounds. They have the same number of points as second-placed Hà Nội FC and only two points less than the winner, FLC Thanh Hóa.

Coach Hoàng Văn Phúc has the support of national team members Đinh Thanh Trung and Nguyễn Huy Hùng. Other players such as Phan Thanh Hưng, Hà Minh Tuấn, Thiago and Dos Reis Claudecir make up a thick defence and strong midfield against any rival.

Before losing to Sông Lam Nghệ An last week, Quảng Nam  beat "big stone" Hải Phòng and "dark horse" Cần Thơ.

Phúc and his players will have a home ground advantage and local supporters on their side in this match. They need to score as many as three goals and suffer none.

The match will be aired live on VTV6 channel from 5pm.

The second semi-final match is between Becamex Bình Dương and SHB Đà Nẵng at the Gò Đậu Stadium in Bình Dương City.

In the first match, Bình Dương won 3-1 at Đà Nẵng's holy land of Xuân Hòa Stadium.

The second semis will be broadcast live on BTV2 channel, from 5pm.

HCM City introduces high-tech method of tracing poultry, egg origins

As of October 3, smartphones can be used as a tool for Ho Chi Minh City consumers to check a products place of origin when shopping for eggs and poultry in District 1's Ben Thanh Market.

Customers can use their phones to scan the QR code on the label and quickly obtain information on the product including its origin and the production, vaccination and packaging processes it underwent prior to arriving at the point of sale.

In addition to Ben Thanh Market, customers at Co.op Mart Nhieu Loc in District 3 can take advantage of the new technology as well.

An app called Te-Food is also now available, listing the outlets that sell tested eggs and providing warnings about contaminated foods.

Both are part of a program of management, identification and tracing of eggs and poultry launched by the city's Department of Industry and Trade on October 3.

According to the department's deputy director Nguyen Ngoc Hoa, there are 1,749 retail outlets in the city selling traceable poultry, meat and eggs.

So far 35 chicken farms, 431 poultry farms, 61 egg farms, 17 chicken slaughterhouses and poultry packaging units as well as nine egg packaging companies have registered with the program.

Pham Thi Huan, general manager of Ba Huan Co, said that they have supplied about 20 thousand chickens per day that are part of this program.

The plan has also been welcomed by San Ha Co, who supplies more than 15 thousand produce items, or 80-90 percent of its stock per day.

In December 2016, a similar program was launched by the city's Department of Industry and Trade to trace the origin of pork at modern retail outlets.

Consumers can use the same method of scanning QR codes on labels to obtain the pork's place of origin and journey to market.

EVN, WB jointly promote gender equality and career advancement for women

The Electricity Vietnam (EVN) and the World Bank (WB) convened on October 6 a joint technical discussion to highlight the important role of gender equality.

The event will be followed by the piloting of a "Women in Leadership" training program for select EVN staff, to take place from October 9 to October 13, 2017.

"EVN is committed to promoting gender equality in its operations, and providing a working environment that is beneficial and rewarding for female and male employees alike," said Mr. Khuat Quang Mau, Chairman of the Trade Union of EVN.

"By increasing its focus on gender equality, EVN will be better placed to successfully meet its goals for productivity, skills and customer service, by ensuring that all employees, regardless of gender, can develop their talents and operate to the best of their abilities," Mr Mau noted.

One of the main activities under the joint EVN/WB project is the launch of a new leadership programme for women, designed to enhance women's capacity to advance into senior management positions and to increase overall numbers of women in management.

This new programme will support EVN's capacity to reach one of the primary goals outlined in the Gender Actions Plan (GAP) in order to increase the share of women promoted to management level from 12.7% in 2015 to 14.5% in 2020.

"The World Bank commends EVN for their proactive efforts to reach their GAP targets. We welcome the opportunity to provide practical advice on how to achieve this, based on international experience of what works," said Mr. Achim Fock, Portfolio and Operations Manager of the World Bank in Vietnam.

 evn, wb jointly promote gender equality and career advancement for women  hinh 1 "This will not only create a more inclusive environment for EVN's workforce, but it can also bring organizational benefits for EVN that will contribute to establish a more resilient and sustainable power sector in Vietnam", Mr. Achim Fock added.

EVN and WB are also considering further joint activities to support the implementation of EVN's Gender Action Plan, including adjustments to human resource management procedures to ensure that women are always included on the list of candidates considered for recruitment and promotion.

The event provided a platform for EVN to learn from international best practice on gender equality in the energy sector.

HCM City buildings combat flooded parking basements

Parking garage managers in Ho Chi Minh City buildings have been asked to take preventative measures against potential flooding at their facilities.

The requirement issued by the municipal People's Committee is an important step in safeguarding vehicles from floodwater damage.

A total of 15 inundated parking facilities, primarily in District 2, were recorded between June 21 and October 2, according to the city's Department of Firefighting and Prevention Police.

Colonel Nguyen Quang Nhut, chief of staff of the fire department, said that parking basements in the neighborhood are equipped with drainage systems and water pumps.

The pumping machines, however, have low capacity and are thus unable to cope with serious flooding, Col. Nhut elaborated.

In a recent inspection by the Department of Construction on 89 buildings across the southern hub, developers of 37 buildings failed to present plans for drainage systems in their parking basements.

In most cases, the underground parking lots are inundated as floodwater flows into the venues from the streets and nearby sewer systems, a representative from the construction department said.

In order to solve the issue, a building must be equipped with suitable drainage pump systems to prevent flooding and be designed in such a way that water cannot flow into the basement from surrounding roads.

In 2016, torrential rain caused the underground parking lot at 5 Nguyen Sieu Street, District 1, to be heavily flooded, causing the vehicles inside to be submerged.

Dang Cong Duy Khanh, the owner of the lot, was forced to pay 10% of the repair cost for his customers.

Learning from the previous lesson, Khanh equipped the venue with a high-capacity pump and erected several brick walls around the parking lot to protect it from street water.

Thanks to his efforts, the parking basement stayed dry during recent downpours, according to the manager.

Developers of other buildings have also adjusted their designs and improved their drainage systems to prevent inundation.

Cao Dai followers in Tay Ninh celebrate their biggest festival

Millions of Cao Dai followers and visitors nationwide flocked to the Cao Dai Tay Ninh Church in Hoa Thanh district, the southern province of Tay Ninh, to attend "Hoi Yen Dieu Tri Cung", the biggest festival of the sect.

"Hoi Yen Dieu Tri Cung" is a great religious banquet for the Great Mother and nine female immortals of the Dieu Tri Palace (Jasper Pond Palace) held annually on the fifteenth day of the eighth lunar month. 

Cao Dai followers believe the banquet implies a practice that enables them to achieve their goal of liberating themselves from the cycle of birth and death.

Cao Dai followers displayed over 90 trays of fruit and food at the Temple of the Great Mother to pray for favourable weather, a peaceful and prosperous country and happy people.

Speaking at the event, Vice Chairman of the provincial People's Committee Nguyen Thanh Ngoc extended the best wishes for Cao Dai Church, dignitaries and followers.

He called for Cao Dai dignitaries and followers to support each other and join hands in the nation building cause.

HCM City seeks solutions to promote hi-tech agriculture tourism

Ho Chi Minh City has great potential to develop hi-tech agricultural tourism products in order to attract more visitors, said Bui Ta Hoang Vu, director of the municipal Department of Tourism, at a seminar today (October 5).

Tourists to the city not only want to visit architectural monuments or study cultural and historical values but also take part in activities closely attached to agriculture and rural life. However, only a few tour operators offer such tourism opportunities.

Hi-tech agricultural tourism products like 'Be a farmer for one day', a program to plant and harvest mushrooms and vegetables, drew more than 100,000 visitors. To further develop such novel tourist activities, relevant agencies should advertise it and include it in the tours of travel agents, said Mr Vu.

At the seminar, the HCM City Department of Tourism, the Management Board of Hi-tech Agriculture Parks and Hoa Lua Cu Chi Farm signed plans to develop these tourism products in the city.

Hanoi FC welcomes capital fans with brand-new decoration

After the successful street football festival, Hanoi Football Club has continued to bring fans back by giving the stadium totally new façade decoration, especially an entertaining pre-match mini game where fans were invited to join and win special gifts.

The activities are the offspring of a cooperation with leading Thai conglomerate SCG, which is also the club's main sponsor for the 2017-2018 season to provide fans new experiences and encourage more spectators to watch games at the stadium.

"As committed at the beginning of our sponsorship, SCG appreciates working with Hanoi FC to enhance the level of professional football in Vietnam via promoting football club standards, attracting more fans to  enjoy football as well as using free time to exercise for their well-being and healthy lifestyle. 

The attractive ambiance with astounding decoration, together with the engaging activities for spectators are another  step to inspire Hanoi fans, especially the younger generations to visit the stadium," said Montri Mahaplerkpong, SCG Vietnam deputy country director.

Following its commitment to bring up football movements in the locality, SCG and Hanoi FC have made efforts to create attractive visuals over the facade of Hang Day Stadium, highlighting outstanding players from Hanoi under "The Pride of Capital Football" banner.

Besides, fans were invited to join an exciting Penalty King game to win free gifts from the Thai conglomerate.

These moves follow "The Pride of Capital Football" campaign of SCG and Hanoi FC throughout September, where a street tournament was held for the first time in the middle of the iconic pedestrian street of Hanoi, attracting more than 10,000 fans to celebrate for a one-day festival.

On September 17, 2017, SCG and Hanoi FC organised a mini football clinic called "Kick and Share by SCG" in the southern province of Ba Ria-Vung Tau, where the superstars of Hanoi FC taught football skills for 160 local kids, including disabled children.

"Hanoi FC is excited to partner up with SCG and bring more professionalism to the team in both technical and marketing performances. We are excited to see fans starting to flock to the stadium during our Sunday matches, which shows their increasing interest in football and our club," said Nguyen Quoc Hoi, chairman of Hanoi FC.

SCG, one of the leading conglomerates in the ASEAN region, comprises of three core businesses: SCG Cement-Building Materials, SCG Chemicals, and SCG Packaging.

With more than 200 companies and approximately 57,000 employees under its umbrella, SCG creates and distributes innovative products and services that respond to the current and future needs of consumers.

SCG began operations in Vietnam in 1992 with trading business and gradually expanded investment into the cement-building materials, chemicals, and packaging industries.

Below are some images of the refreshing activities at Hang Day Stadium during the second home match between Hanoi FC and Long An FC.

Thua Thien-Hue welcomes 1.07 million foreign tourists

The flow of foreign tourists to the central province of Thua Thien-Hue increased 31.29 percent to 1.07 million in the first nine months of 2017.

The Republic of Korea ranked first in terms of number of holidaymakers visiting Thua Thien-Hue, making up 26 percent of the total number.

In the reviewed period, the province served a total of 2.78 million visitors. The Hue Relics Preservation Centre alone welcomed 2.4 million visitors, up 18.55 percent from the same period last year.

In September 2017, the provincial Department of Tourism and Traveloka Vietnam Company signed a Memorandum of Understanding on tourism development, which aims to connect accommodation establishments, airlines and potential customers.

The locality also signed a cooperation agreement with the national flag carrier Vietnam Airlines to promote Hue at domestic and foreign tourism trade fairs as well as increase flights and launch new routes to the imperial city.

In 2017, Thua Thien-Hue province expects to attract over 3 million tourists, of which international visitors will make up 40-45 percent, and raking in more than 3 trillion VND (131 million USD).

Hue, which was the imperial capital of Vietnam for hundreds of years, is home to five heritages recognised by UNESCO, which are Hue ancient citadel relic complex - a World Cultural Heritage site; Nha Nhac (Hue royal court music) - an intangible cultural heritage item; Nguyen Dynasty's wood blocks - a documentary heritage item; Nguyen Dynasty's Chau ban (royal administrative documents) - part of the Asia-Pacific Register of UNESCO's Memory of the World Programme; and literature on Hue royal architecture - a documentary heritage.

The Hue imperial citadel relic has been ranked second among top seven tourism attractions of Vietnam in 2017.

Dong Nai to focus on factory workers' social life

The Department of Culture, Sports and Tourism of Dong Nai province and the Hanoi University of Culture have held a seminar on improving factory workers' social life in the southern region.

Dong Nai has the largest index growth compared to other provinces, attracting about 1 million labourers working in factories and industrial zones, 70 percent of whom come from other provinces, according to the General Statistics Office. 

Although many labourers are from Dong Nai, their personal and social lives need more attention and care. Many businesses, for example, have not satisfied entertainment needs of their workers or provided them with quality accommodations.

Thousands of workers are renting rooms in unsafe areas with poor infrastructure to save accommodation costs.

At the seminar, many officials discussed measures to enhance workers' social life in Dong Nai and neighbouring provinces. More sports halls, libraries, hospitals, schools and cultural houses should be built in the future, they said.

After the seminar, about 80 projects were submitted to authorities.

Two killed after passenger bus loses control

Two passengers were killed and 14 injured on October 6 after a passenger bus lost control, hit a kiosk and an electricity pylon.

The accident occurred at around 3 am when a 25-seat bus driven by Huynh Ngoc Tan was going from Can Tho to An Giang Province. In Long Hung Ward, Can Tho City, the driver lost control and drove into a kiosk before hitting an electricity pylon.
 
The bus was flipped, killing two people immediately. The injured people were transferred to nearby hospitals. The police are taking statements for the investigation.

Nguyen Van Hoang, a local living on the street, said, "I was sleeping when I heard a loud bang and screams for help from many people. Those who still had the strength crawled out of the bus, and we pulled three out the bus."
 
According to the witnesses, there were 20 passengers on the bus at the time of the accident. When reaching Long Hung Ward, the driver realised that he had forgotten some documents and decided to return. After 1km, he lost control.

Dr Le Quang Vo from Can Tho City General Hospital said they received five patients as of 4.30 am with one patient with a severe head injury. Two other patients were transferred to the Central Hospital, one was in critical condition.

The Traffic Safety Committee of Can Tho City visited and gave encouragement to the patients on the same day.

Pilot sick leave affects Jetstar Pacific flights

A number of Jetstar Pacific pilots have taken sick leave, which has affected the budget carrier's flights.

According to the airline representative, many Jetstar Pacific flights have been late or even cancelled due to a wave of sickness affecting their pilots. 

Dinh Viet Thang, Head of the Civil Aviation Administration of Vietnam (CAAV), said that the CAAV urged other airlines to conduct more flights to support Jetstar Pacific. Vietnam Airlines has announced to provide 41 additional flights between September 29 and October 15. Meanwhile, Vietjet increased five flights on October 2-3 and it will run more flights in the coming days.

Jetstar Pacific is operating 16 A320/A321 planes. It has a total 86 pilots of different countries.

Under the aviation regulations, each A320/321 needs at least eight pilots. Vietnam Airlines have also sent pilots to work for Jetstar Pacific for six months.

The Jetstar Pacific representative said most of the pilots who took leave sick have returned to work.

Hai Duong: Con Son-Kiep Bac Autumn Festival opens

The Con Son-Kiep Bac Autumn Festival 2017 kicked off in the northern province of Hai Duong on October 5 or the 16th day of the eighth lunar month.

The festival aimed to mark the 717th death anniversary of General Tran Hung Dao (or Tran Quoc Tuan), one of the most revered figures in Vietnam's history.

Under the Tran Dynasty (1225 – 1400), the Supreme Commander led the Dai Viet (Great Vietnam) army to victories over three major Mongolian invasions, making him one of the most accomplished military strategists in the world history. He passed away on the 20th day of  the eighth lunar month in 1300 at the age of 70.

To commemorate the hero, local residents built Kiep Bac temple, which was recognised as a national heritage site in 1962 and a special national heritage site in 2012. 

The festival featured a range of traditional rituals and cultural activities such as incense-offering ceremonies, a water puppetry festival and a military parade on river.

Covering an area of more than 8 hectares in Chi Linh town, the Con Son - Kiep Bac historical site is closely associated with the lives and careers of Tran Hung Dao and great poet Nguyen Trai (1380-1442), who was recognised as a Great Man of Culture of the World by UNESCO in 1980.

The Con Son - Kiep Bac spring and autumn festivals were recognised as national intangible cultural heritage in 2012.

The Autumn Festival will last until October 9.

HCM City advised to fully tap agritourism potentials

Ho Chi Minh City's tourism sector needs to make sweeping changes in developing high-tech agritourism, which is expected to earn the city millions of USD, heard a conference held in the southern hub on October 5.

Nguyen Minh Tri, from the municipal Department of Tourism, said HCM City, endowed with various natural resources and diverse culture, holds huge potentials for agritourism development. Eco-tourism, garden tourism, waterway tourism, orchid gardens and local staples will be attractive to tourists, he said.

Tran Thi Kim Hang from the management board of the city's high-tech agriculture zone told participants that the zone welcomed about 12,000 visitors in 2016, up 5,000 from 2014.

However, the lack of professional human resources, accommodation facilities, entertainment areas and vehicles to transport tourists is a major barrier hindering the development of agritourism, she said, adding that orientations should be well mapped out in the time to come.

The tourism sector should pay due attention to training skills for tourism workers and connecting travel agents with high-tech agriculture zones in provinces and cities, Hang suggested.

In recent years, agritourism has brought tens of millions, even billions of USD, to regional countries like Thailand, Japan, the Republic of Korea and China thanks to their practical policies. 

Thailand has encouraged farm model since 1997, the RoK has implemented a policy to increase farmers' incomes through agritourism development since 1984 while rural hostels have been built across Japan since 1995.

VNA/VNS/VOV/SGT/SGGP/TT/TN/Dantri/VNEVET