VietNamNet Bridge – The HCM City Department of Education and Training has urged administrators at primary and secondary schools to reduce traffic congestion during peak hours when parents and others pick up students.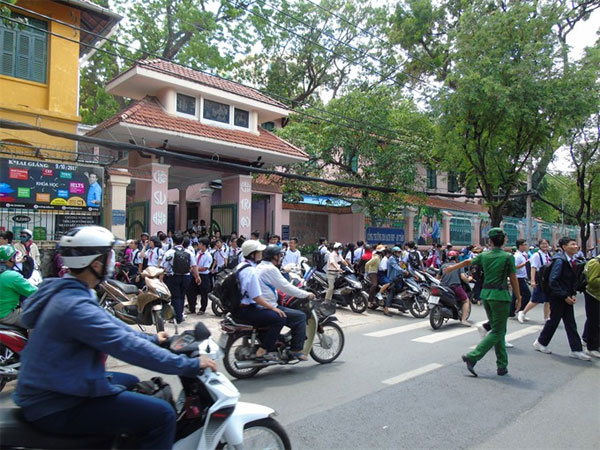 Students at Le Quy Don Secondary School at the end of their morning shift. — VNS Photo Anh Vu
Nguyen Van Gia Thuy, the department's representative, said that schools with big yards should continue to allow parents to park their motorbikes in the space.
For schools without a large yard space, the People's Committee said they should continue to find alternative parking spaces so that parents do not park in front of schools on roads. "Such parking leads to traffic jams," Thuy said.
Principals at schools were also told to continue to carry out the project "Avoid Traffic Jams through Staggered Hours", which was introduced in 2007.
To avoid traffic congestion, many schools in the city vary their start and finish times. Pre-schools, for example, start at 7.30am and finish at 4pm.
Primary, secondary and high schools open 15 and 30 minutes earlier, and the morning shift ends at 11am and 11:30am, respectively.
The afternoon shift begins at 1pm for high school students, while those who study at primary and secondary schools start at 1:15pm.
Primary school students finish their day at 4:45pm; secondary schools at 5:15pm; and high schools at 5:30pm.
On streets with high traffic, the department said that foreign education centres must also reduce traffic congestion in front of their schools.
At a conference held on Wednesday in HCM City, Dr Du Phuoc Tan, head of the urban management studies department at the HCM City Institute for Development Studies, said the project had helped reduce traffic jams during peak hours but that congestion still occurred at schools located intersections or markets.
After school, many students gather at vendors or stalls in front of schools, blocking traffic.
"The number of students is expected to continue to increase, causing pressure during the peak pick-up hours," Tan said.
A representative of the city traffic police said that schools with exits on more than one street should open their doors to relieve overcrowding when students leave school.
The police representative said there were "too many foreign language centres" and some even located on the same street, causing traffic jams when students are picked up.
He said the city's Department of Education and Training should carefully review plans on opening new foreign language centres.
The department's deputy head, Bui Thi Diem Thu, told Viet Nam News that the department would work with traffic police and fine parents for parking on streets during pick-up hours at schools.
The department is also working with the Department of Transport and transport companies to provide bus pick-up services for students at a reasonable fee, according to Thu. 
VNS