Expressway traffic up 22 per cent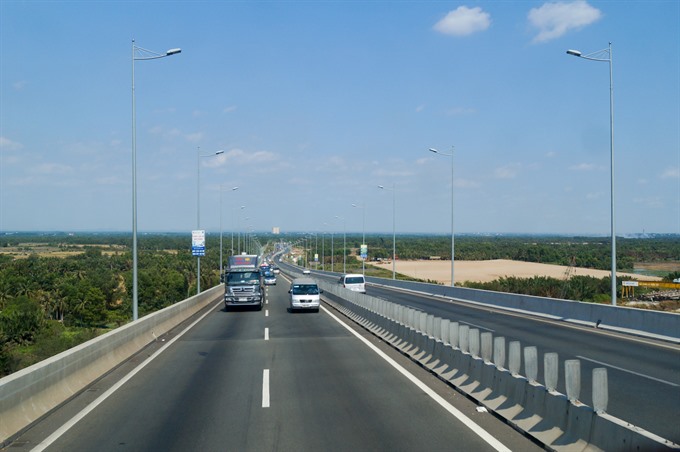 The traffic volume on the four expressways managed by the Việt Nam Expressway Corporation (VEC) over the past nine months increased 22 per cent over the same period last year to 27.4 million vehicles,  
VEC reported Tuesday.   
In the north, the Cầu Giẽ-Ninh Bình Expressway traffic grew 35 per cent compared to last year, with 9.7 million vehicles. Traffic on the Nội Bài-Lào Cai Expressway grew 25 per cent with over 6.6 million  
vehicles.
In the south, the HCM City-Long Thành–Dầu Giây Expressway was the busiest, with over 11 million vehicles, an average flow of 35,000-40,000 vehicles per day.
A 65km-long section of Đà Nẵng–Quảng Ngãi Expressway, the first in the central region, was just put into operation last August, and has served nearly 86,000 vehicles, with an average flow of 1,400-1,600  
daily.    
Although VEC was facing with difficulties in controlling the growing transportation load, it has instructed member units to protect the road infrastructure, improve road quality and minimise maintenance costs.
In the first three quarters of the year, the number of vehicles that were banned from the expressways due to excess weight doubled compared to the same period last year, reaching over 2 million.
The management board of the 265km-long Nội Bài-Lào Cai Expressway, the longest route in Việt Nam, reported it banned a number of overloaded vehicles from the road, accounting for 1.86 per cent of the  
total vehicles examined.
Also in the past nine months, there were 63 traffic accidents on the expressways managed by VEC, mainly involving drivers who failed to keep a safe distance from other cars.
Of the six expressway projects invested by the VEC, four are already operational, totalling 415km. Two other projects are under construction, the Đà Nẵng–Quảng Ngãi Expressway's second section, and  
Bến Lức-Long Thành Expressway.
Supplements and medicines of unknown origin detected

Some 24 types of supplements and medicines of unknown origin were found by the Department of Crime Prevention and Environmental Crime (PC 49), under Cần Thơ City Police on Wednesday.
According to PC 49, on Tuesday, 37-year-old Nguyễn Văn Ngon of Cái Răng District was caught red-handed distributing 354 boxes of supplements and medicines to pharmacies in Cần Thơ City and Hậu  Giang Province's Ngã Bảy Town by the PC 49 force. He could not show any receipt or certificate of origin.
Ngon said that those commodities belonged to Hồng Mai Pharmaceutical Company Limited in Ninh Kiều District, legally presented by 43-year-old Nguyễn Đình Phong.
On Wednesday, the police collaborated with other functional forces to investigate into the company. The forces found 24 types of supplements and medicines with 98,450 tablets and 111 bottles. The origin of  all the products in unknown.
Experts call for increasing awareness against hospital-acquired infection

Health experts called on doctors and medical staff to tighten infection control to minimise cases of infection acquired at hospitals and medical facilities at a ceremony on Wenesday in Hà Nội.
The event is part of Saint Paul General Hospital's campaign to increase health workers' awareness and practices in connection with hospital-acquired infection prevention as part of efforts to minimise bacteria  transmission between health workers and patients.'

"Hospital-acquired infection is one of the health sector's biggest concerns and challenges in Việt Nam and the world. Hospital infection leads to an increase in fatality rate and prolongs patient's treatment time  and expenses," hospital director Nguyễn Đình Hưng said at the launch ceremony.

Hưng said hospital infection could be prevented through effective implementation of infection control programmes, of which hand hygiene was undisputedly the single most effective infection control measure  in prevention of hospital-acquired infection, especially transmission of antimicrobial resistance.

Hưng said the campaign, titled 'Protecting life: Let's clean your hands', aimed to strengthen awareness, knowledge and practices on hand hygiene of health workers involved in patient care at the hospital.

Statistics from the health sector revealed that some 7 per cent of illnesses in the country are due to hospital-acquired infection. A treatment course with antibiotics for 7 to 10 days after surgery is seen as a  popular method at many medical facilities, which, however, has a high risk of antimicrobial resistance and resulted in increasing expenses for patients in Việt Nam.

According to the World Health Organisation, some two million patients contract hospital-acquired infections, of which 90,000 die yearly due to health workers not closely following personal hygiene regulations  at hospitals, especially washing hands before direct contact with patients. 

Thua Thien-Hue pledges to speed up Truong Son Xanh project

Nguyen Van Cao, Chairman of the People's Committee of the central province of Thua Thien Hue, has pledged that the locality will speed up the implementation of Truong Son Xanh, a US Agency for  International Development (USAID)-funded project on climate change response in the locality.

Meeting USAID Director in Vietnam Michael Greene on October 3, Cao thanked USAID for sponsoring the project, which protects local forest biodiversity and reduces losses in forest development.

He said that after the project is approved, the province will implement it immediately.

Cao noted that climate change directly threatens the realisation of sustainable development goals of Vietnam where forests, animals and people living near forests face increasing risks of unsustainable  development.

Truong Son Xanh, which covers Quang Nam and Thua Thien-Hue provinces to 2020, has a total cost of about 24 million USD and supports Vietnam's transition to growth adapted to climate change and  emission reduction by improving forest protection, biodiversity preservation and the sustainability of local communities.

The project also aims to increase locals' income by encouraging investment in smart agriculture and conserving natural forests and biodiversity.

Michael Greene said that he hopes with the experience of USAID, the Truong Son Xanh project will be successful, meeting the expectation of both sides in protecting biodiversity and sustainable forest  development.

He also suggested his group work with Thua Thien-Hue in training local doctors and to increase USAID support in caring for disabled people in the province.

Can Tho steps up measures to prevent dengue fever

Authorities of the Mekong Delta city of Can Tho have asked the local health sector and relevant agencies to work to prevent the spread of dengue fever in the locality.

The city began a campaign to spray chemicals in all areas with outbreaks in August, which runs until December. The local health sector has also launched communication campaigns to raise public  awareness of dengue fever prevention.

In the first nine months of 2017, dengue fever cases in Can Tho rose 66 percent year-on-year while in September alone, the figure jumped 101 percent.

The disease was reported in all nine districts of Can Tho, with the number of dengue cases in Thot Not district in January-September surging 146.8 percent year-on-year.

Can Tho Pediatrics Hospital recorded about 4,000 cases of dengue fever during January – August period.

The number of dengue fever cases has been rising due to the seasonal variation and frequent rains, which help infected mosquitoes spread.

HCM City leader seeks stronger economic ties with Cuba

Ho Chi Minh City wants to step up economic and trade cooperation programmes with Cuba, a local official said on October 4. 

Le Thanh Liem, Vice Chairman of the HCM City People's Committee, told visiting Cuban Minister of Foreign Trade and Investment Rodrigo Malmierca Diaz that the southern largest economic hub is ready to share its experience in economic management and development with Cuba, contributing to the development of friendship relations between Vietnam and Cuba. 

He said the success of the 35th meeting of the Vietnam-Cuba Intergovernmental Committee, which took place in Hanoi on October 2, will open up new opportunities for development cooperation, especially in  trade and investment, between Cuba and Vietnam, including HCM City. 

The people of HCM City in particular and Vietnam in general always keep in mind good sentiments and wholehearted support of the Cuban people during the past struggle for national independence and  reunification as well as the present cause of national construction and development, Liem said.

HCM City's leaders and people always stand side by side with the Cuban people in the process of national construction and development, thus helping to nurture and develop the special friendship between  the two countries, he added.

For his part, Minister Diaz congratulated HCM City on its strong and dynamic development and affirmed that the Cuban people treasure and want to boost the solidarity, friendship and fraternity with the  Vietnamese people, including those in HCM City.

The minister noted that bilateral cooperation has yet to match great potentials of both countries, adding that during the 35th meeting of the Vietnam-Cuba Intergovernmental Committee, both sides agreed to  advance economic ties on par with the fruitful political relations. 

They also consented to create the best possible conditions for trade promotion and cooperation between Vietnamese and Cuban businesses.

Overseas Vietnamese teachers in Thailand visit homeland

A delegation of 84 former Vietnamese teachers living in Thailand began an eight-day trip to their home country on October 5.

The trip, following a similar one last year, is organised by the National Committee for Overseas Vietnamese under the Ministry of Foreign Affairs.

The delegates have made significant contributions to the teaching of the Vietnamese language within their expatriate community in Thailand.

While in Vietnam, they are scheduled to meet State and government leaders, and tour historical – cultural sites in Hanoi, Nghe An, Ninh Binh, and Quang Binh.

Vietnamese Cultural Week celebrated in Cambodia

A Vietnamese Cultural Week began in Phnom Penh, Cambodia on October 4, aimed to bring the country's beauty closer to international friends and deepen ties between the two countries.

The event was held by the Ministry of Culture, Sports and Tourism (MoCST) and Cambodian Ministry of Culture and Fine Arts (MCFA) to celebrate Vietnam and Cambodia's 50th anniversary of diplomatic  relations.

MoCST Deputy Minister Vuong Duy Bien said that in the past five decades, Vietnam and Cambodia have enjoyed robust relations in politics, economy, culture and education, bringing benefits to people of  both sides.

Cultural exchange programmes help the two peoples get deeper insights into each other's culture, Bien stated, stressing that the Vietnamese Cultural Week in Cambodia will feature Vietnamese art  performances, photos of natural landscapes, culture, people, especially natural, tangible and intangible heritages recognised by UNESCO.

He expressed his hope that the event will contribute to elevating cooperation relations to a new height.

Meanwhile, MCFA Minister Phoeurng Sackona said that Cambodia wants to bolster cooperation with neighbouring countries, including Vietnam. She noted that the Vietnamese Cultural Week accentuates  cultural collaboration and creates opportunities for experts from both sides to share experience in culture.

"Vietnamese colour" photo exhibition and art performances are also included in the week.

The same day, Bien and Sackona inked a culture and art cooperation plan for 2018-2022. Accordingly, the two sides will jointly organise Vietnamese cultural weeks in Cambodia in 2018 and 2020,  Cambodian cultural weeks in Vietnam in 2019 and 2021 and cultural weeks in both nations in 2022 to mark the 55th anniversary of diplomatic relations.

In addition, the two ministries will facilitate delegation and experience exchanges. Vietnam will also train Cambodian students in cultural fields.

Tuyen Quang fulfills afforestation plan for whole year

The northern province of Tuyen Quang has planted 12,323 hectares of forest, exceeding its 2017 plan by nearly 1,200 hectares, raising forest coverage to 60 percent, one of the highest rates in the country.

With the result, Tuyen Quang has completed its yearly forest planting plan two months ahead of schedule.

Along with directing forestry plantations and nurseries to prepare saplings to ensure supply ahead of the tree planting season, the province has also zoned 209,400 hectares for growing material trees for  local wood processing and paper factories.

At the same time, Tuyen Quang has mobilised financial resources from different economic sectors for developing production forest in parallel with preserving protection forest to prevent flood.

The province has also encourage locals to engage in afforestation, while granting forest use rights for 50 years to households and providing them with tree saplings for planting.

Tuyen Quang currently has nearly 435,000 hectares of forest land, accounting for 76 percent of its total natural land. According to the province's forest planning, special-use forests will cover 47,000 hectares,  protection forests - 212,6000 hectares and production forests - over 266,422 hectares.

In recent years, forest has played an important role in the locality's poverty reduction as well as disaster prevention.

In 2017, Tuyen Qyang plans to exploit over 9,750 hectares of planted forest for 844,000 cubic metres of wood.

Da Nang's firefighters launch special operation for APEC week

The firefighting forces of central Da Nang city launched a 45-day special operation on fire prevention in a ceremony on October 4 to ensure safety for the APEC Economic Leaders' Week slated from  November 5 to 11.

They will be on high alert to actively detect and prevent any conspiracy to cause chaos and fires while relevant authorities were asked to conduct inspection at buildings across the city, as guided by the  firefighting forces, in order to ensure safety ahead and during the event.

The forces have actively prepared for the event in terms of funding, infrastructure, facilities and equipment and will watch out around the clock for any emergency.

Da Nang's firefighting forces have held 20 fire drills with different scenarios at venues where APEC events will take place and at accommodations of delegates. They also worked with other agencies to put in  place plans to respond to different terrorist attack and rescue scenarios.

Da Nang has installed a network of security cameras all over the city and undertaken precautious measures to prevent disease outbreaks, and ensure environmental sanitation, water supply, and quarantine  services at the Da Nang International Airport for the upcoming APEC week.

Established in 1989, the Asia-Pacific Economic Cooperation (APEC) comprises 21 economies, including Australia, Brunei, Canada, Chile, China, Hong Kong (China), Indonesia, Japan, the Republic of  Korea, Malaysia, Mexico, New Zealand, Papua New Guinea, Peru, the Philippines, Russia, Singapore, Chinese Taipei, Thailand, the US, and Vietnam.

They account for 39 percent of the world population, 57 percent of the world GDP and 47 percent of the global trade, according to statistics in 2014.

EDM show comes to City

Việt Nam's leading DJs and singers will perform at an electronic music dance show "Top DJ's – Electro Mix" at BFF Zone on October 8.

The show will feature DJs Hoàng Touliver, Tripple D, Teddy Doox and Hoaprox, rapper Big Daddy, and singers Tóc Tiên and Soobin Hoàng Sơn.

The event will take place from 7:30pm to 11:30pm at 4 Phạm Ngũ Lão Street in District 1. Tickets start at VNĐ149,000 and can be purchased at www.ticketbox.vn.

IVY moda, ELLE launch new fashion collection

IVY moda on October 4 announced its collaboration with ELLE on their latest exclusive fashion collection called "ELLE x IVY moda – Parisian Mode" for the 2017-18 fall winter season in Việt Nam. 

"This collaboration will offer fashion connoisseurs an enjoyable experience. They can easily and conveniently own strong Parisian style clothing, which has a free-spirited and elegant style, yet is very  accessible, at IVY moda," IVY moda said in its statement.

The designs in this collection have been inspired and carefully selected by ELLE magazine's (France) fashion editor and ELLE Boutiques' artistic advisor Tamara Taichman. In addition, IVY moda's best  designers have harmoniously modified these top trends to make them more suitable for Vietnamese women. This unique synergy will result in exclusive outfits that can only be found at ELLE x IVY moda.

"The collaboration of two brands, or two fashion personalities, to introduce one mutual collection is a popular trend in the world, but is making its presence for the first time in Việt Nam," Preeyarat  Suttapattanon, general manager of Thailand's South East Asia Lagardere Active Enterprises, representative of ELLE, said.

Nguyễn Vũ Anh, chairman of IVY moda, said his firm always aims to introduce bring exciting fashion experiences to its customers.

"ELLE x IVY moda cooperation is an excellent opportunity for our customers in Việt Nam to know and understand world fashion trends," he said.
These collections will be introduced from October 16 onwards at limited selected showrooms by IVY moda and at www.ivymoda.com. 
VNA/VNS/VOV/SGT/SGGP/TT/TN/Dantri/VNEVET