VietNamNet Bridge – Associate Professor Luong Ngoc Khue, head of the Health Ministry's Department of Medical Examination and Treatment, has asked K (Cancer) Hospital to review its treatment procedure of a female patient who died after a drug was injected.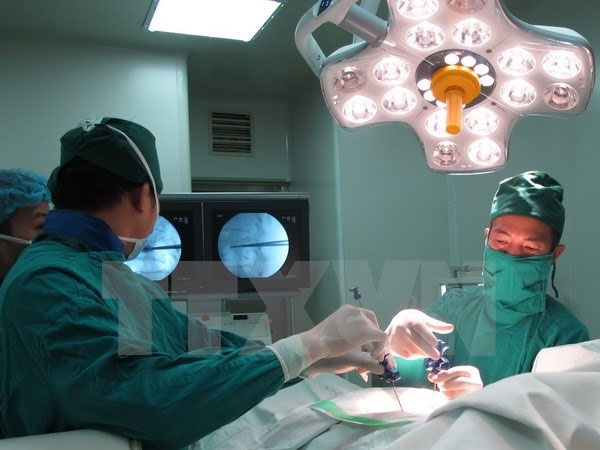 Contrast medium may cause anaphylactoid shock. - VNA/VNS Illustrative Photo
The 45-year old patient, who is a teacher hailing from central Nghe An Province, was diagnosed with cervical cancer and underwent surgery to cut her cervix in May this year at Nghe An Oncology Hospital. 
On September 21, she was transferred to K Hospital in Tan Trieu Commune, Thanh Tri District, Ha Noi because her cancer had returned. Doctors at K Hospital conducted X-ray and ultrasound tests. 
On September 29, the patient was injected with ultravist 80ml, a contrast medium, before the tests. Following the tests, she began experiencing difficulty in breathing and developed rashes and edema. 
Upon being diagnosed with anaphylactoid shock, the patient was moved to the Emergency Medicine Department. However, on September 30, she died. 
According to the initial diagnosis of the hospital, the patient died after suffering from anaphylactoid shock caused by the contrast medium. 
Khue called the death of the teacher an unfortunate and rare case at the hospital's Radiology Department.
He asked doctors to learn from the incident and review treatment procedures not only in this case, but also all for other patients being treated at the hospital. 
The hospital must conduct an autopsy and report the result to the Health Ministry to clarify the cause, he said. 
Medical contrast medium is a substance used to enhance the contrast of structures or fluids within the body during medical imaging. It is commonly used to enhance the visibility of blood vessels and the gastrointestinal tract in X-rays, ultrasounds and computed tomography scans. 
According to Doctor Nguyen Tien Quang of K Hospital, the result of controlled clinical trials in which ultravist injection was administered to 1142 patients showed that as many as 273 had developed side effects following the injection. Seven out of ten people who suffered from anaphylactoid shock died within five days. 
In Viet Nam, between 2006 and 2011, 134 patients developed side effects after injection of contrast medium, including Telebrix, Ultravist and Xenetic. 
Doctor Quang said most anaphylactoid shock cases are unpredictable. To clarify the cause, a professional council must conduct a forensic exam. 
VNS