VietNamNet Bridge – HCM City and southern provinces are being battered by heavy rains in the first 10 days of October. The heavy rains, together with high river tides, will cause flooding in many places, the Southern Hydrometeorology Station has forecast.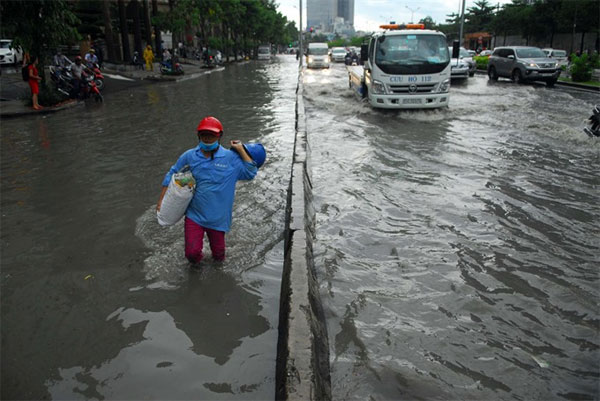 A person walks through an inundated section of Nguyen Huu Canh Street in HCM City's Binh Thanh District. 
The rains in fact has occured since the last day of September and flooded around 40 streets, badly affecting traffic across the city.
On Nguyen Huu Canh Street, where a US$4 million smart, super-pumping system is being trialled, within one hour of the rain starting motorbikes and cars stalled in the rising waters. 
The huge pump had to wait until the water reached a depth of 60cm to start operating, but within an hour had pumped the water into the Sai Gon River.
"The rain had dumped around 100,000 cubic metres of water on Nguyen Huu Canh Street," Nguyen Tang Cuong, general director of Quang Trung Corporation, which owns the pumping system, told Tuoi Tre (Youth) newspaper.
"Nguyen Huu Canh Street got rid of the floodwaters after our pump began operating, while other places suffered for a long time."
The rain had also drowned most of Thu Duc District in 1m of water, not sparing even Vo Van Ngan Street despite the fact that the city has built a 109cu.m smart, flood-prevention lake there to drain floodwaters.
It is one of 109 such lakes built around the city by Sekisui of Japan.
Dr Ho Phi Long, the director of the Water Management and Climate Change Centre (WACC) at the National University – HCM City, agreed that pumping systems are badly needed at places that flood, but said the giant system used on Nguyen Huu Canh Street is not efficient enough.
"The system is so huge that it needs a large volume of water to operate. Nguyen Huu Canh will suffer from flooding until the water level reaches 60cm."
Instead, authorities should invest in smaller pumping systems around the city, he said.
Speaking about the lake in Vo Van Ngan Street, he said it is too small to prevent flooding.
"The city will need thousands of such lakes and they will take 10 – 20 years."
The drainage system is decrepit and blocked by waste, he said.
"A new, modern drainage system is the most important requirement in coping with flooding. Lakes and pumping systems are for support.
"To stop flooding, HCM City needs to spend US$6 billion. So far only one third of the money has been spent and so, of course, the flooding will persist."
Tran Van Chinh, chairman of VMC Corporation, a partner of Japan's Sekisui, said: "When the city uses any technology for flood prevention, the connectivity of the drainage system is the most important factor."
High-rise buildings in the city have been warned about their basements flooding due to the forecast rain and told to install pumps and generators.
VNS