VietNamNet Bridge – Doctors at Trung Vuong Hospital in HCM City have performed their first ever surgery to reduce the curvature in the spine of a patient with Marfan syndrome.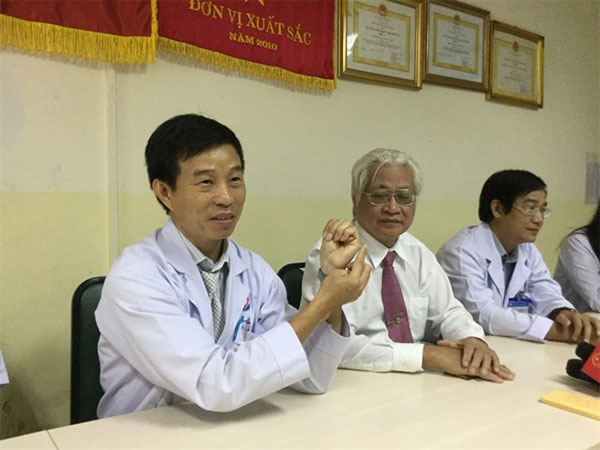 Dr Ho Nhut Tam, head of Trung Vuong Hospital's spinal department, talks about symptoms of Marfan syndrome that parents should watch out for. 
They said the patient, a 15-year-old girl, suffered from scoliosis caused by the syndrome, a genetic disorder affecting connective tissues which play an important role in the body's growth.
She suffered from a 69-degree curvature of the spine, which they reduced to 19 degrees.
According to the patient, she had been diagnosed with scoliosis during a routine health examination at school when she was 13.
She was prescribed a back brace to stop the scoliosis from worsening but failed.
At a press briefing at the hospital yesterday, Prof Vo Van Thanh, a consultant at the hospital, said patients with serious curvature of the spine should not be made to wear a back brace.
"A surgery was needed. When she was brought to the hospital, doctors at the spinal unit decided to perform the surgery."
Without it, the patient's heart and respiratory organs would have been affected and she might not have survived to 30, he said.
The use of advanced equipment meant she did not bleed profusely during the surgery, he said.
Dr Ho Nhut Tam, head of the hospital's spinal unit, said the surgery was done on September 26 and the patient is recovering well and would be discharged next week. She would be examined periodically for the rest of her life, he said.
Nearly 1 in 5,000 people around the world have Marfan syndrome, but there are no official statistics on its incidence in the country, he said.
According to the US-based Marfan Foundation, some people suffer from symptoms at birth or as young children, including some serious ones like heart vessel enlargement.
Others have fewer symptoms when young and do not develop aortic enlargement and other signs until they are adults, it said.
Some conditions, like those affecting the heart, blood vessels, bones and joints, can worsen over time, it said.
This makes it very important for people with Marfan syndrome and related disorders to be diagnosed accurately and early and treated, it said.
VNS