VietNamNet Bridge – Luong Duy Hanh, dismissed as head of the Environmental Protection Department for his wrongdoings in the 2016 Formosa plant pollution disaster, was later appointed deputy head of the team inspecting the company's activities.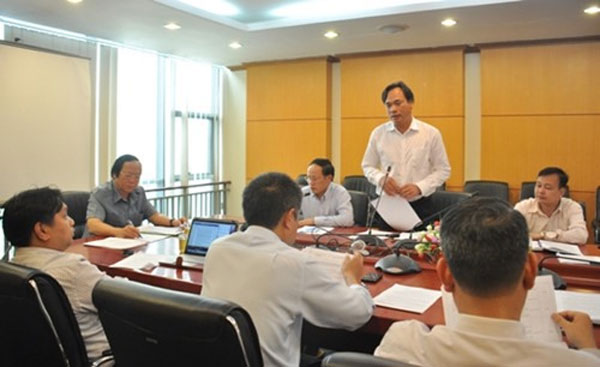 Luong Duy Hanh (standing), dismissed from his post over the Formosa fish deaths disaster, is currently working at the Legal Department of the Ministry of Natural Resources and Environment. – Photo thanhnien.vn
The appointment was discovered by the local media recently, raising questions about its suitability. 
Hanh was accused of irresponsibility over the flawed environmental treatment systems at the Formosa steel plant that resulted in mass marine deaths off the coasts of four central provinces.
However, a list of the team members investigating environmental treatment activities of Formosa's plants in Ha Tinh Province, issued on July 17 this year by the Environment Administration, named Hanh as the vice head. 
The team has completed its tasks and delivered its report to the Ministry of Natural Resources and Environment (MoNRE) to present to the Prime Minister.
Speaking to the media, a representative of the Environment Administration confirmed that Hanh had been appointed as second in command of the team. However, due to the controversial nature of the appointment, his position was changed and he then joined the team merely as a representative of the legal department under the environment ministry.
In April 2017, the Party Central Inspection Committee decided to dismiss Luong Duy Hanh from all party positions. In June, he was discharged from his position as head of Environmental Protection Department and assigned as a specialist in the ministry's Legal Affairs Department. 
VNS